April 8, 2011 (New Orleans, Louisiana) – "Another one bites the dust." That's how one expert described the failure of delcasertib (KAI Pharmaceuticals/Bristol-Myers Squibb), an inhibitor of ð-protein kinase C (ð PKC), to prevent reperfusion injury following acute MI, during a panel discussion following presentation of new phase 2b results with the drug.

Dr A Michael Lincoff
Previously shown in animal models to reduce infarct size as well as myocyte and endothelial cellular damage, delcasertib, administered intravenously, is another drug that showed promise in experimental studies but ultimately failed to reduce infarct size when tested in patients with ST-segment elevation MI (STEMI) undergoing PCI. The study, known as the PROTECTION-AMI trial, was presented this week at the American College of Cardiology 2011 Scientific Sessions, and investigators observed no consistent reduction in markers of infarct size across the dosing ranges.
"Overall, we're left with a negative trial," lead investigator Dr A Michael Lincoff (Cleveland Clinic, OH) told the media during a press conference. "The question still remains whether the sort of injury that we're trying to prevent to the heart muscle is something that can be prevented. There's never been an agent that has been successful in large-scale trials, and there have been many that have tried. The protection of the heart muscle continues to be of interest for research because it continues to be one of the last frontiers, so to speak, in improving the outcomes of patients with heart attacks."
Long List of Failed Attempts . . .
As reported by heartwire , the Direct Inhibition of δ-Protein Kinase C Enzyme to Limit Total Infarct Size in Acute Myocardial Infarction (DELTA-MI) previously tested the intracoronary administration of delcasertib in a dose-escalation study, and investigators did observe a favorable impact of the drug on multiple biomarkers of reperfusion success.
That study led to PROTECTION-AMI, a trial testing the intravenous administration of three doses of delcasertib--50 mg/hour, 150 mg/hour, and 450 mg/hour--in 908 patients, including those randomized to placebo, with anterior STEMIs undergoing planned primary PCI. In addition, investigators randomized 150 patients with inferior STEMIs to placebo or to delcasertib 450 mg/hour.
Treatment with the various doses of delcasertib in the anterior and inferior MI groups had no effect on CK-MB area under the curve (AUC), the study's primary end point, when compared with placebo, and had no effect on peak CK-MB, a secondary end point. In addition, other markers of reperfusion success, such as ECG ST-recovery AUC and time to stable ST recovery, were not significantly improved compared with placebo. A subgroup analysis of patients based on pre-PCI TIMI flow revealed a trend toward improvements in patients with TIMI 0/1 flow.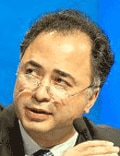 Dr Sanjay Kaul
Speaking during the panel discussion, Dr Sanjay Kaul (Cedars Sinai Medical Center, Los Angeles, CA) said delcasertib "joins a long list of treatment interventions targeting reperfusion injury where the promise of cardioprotection seen in the experimental models has not been translated into clinical evidence."
As to why the treatment failed, Kaul questioned whether the treatment was given on time, given that encouraging trends were observed among preperfusion patients, such as those with TIMI 0/1 flow. Compared with animal models, noted Kaul, the exact duration of ischemia is uncertain in humans, and it is possible patients were treated too late. Kaul also wondered whether high enough of doses of delcasertib were prescribed and about the route of administration, given that that the DELTA-MI trial tested the intracoronary route and PROTECTION-AMI tested intravenous administration.
Lincoff noted that the partnership between Bristol-Myers Squibb and KAI Pharmaceuticals to develop the drug has ended, with Bristol-Myers Squibb not going forward in other testing for this indication. KAI, on the other hand, is still interested in testing the drug to prevent injury in other settings, such as in stroke or coronary artery bypass graft (CABG) surgery.
The trial was sponsored by KAI Pharmaceuticals, with collaborators Bristol-Myers Squibb, the Cleveland Clinic, and Duke University. The authors report no conflicts of interest.
Heartwire from Medscape © 2011 Medscape, LLC

Cite this: Delcasertib Fails to Reduce Reperfusion Injury - Medscape - Apr 08, 2011.