February 2, 2011 — An estimated 10 million patients have used the pain reliever propoxyphene and were sent scrambling to doctors' offices when it was recently pulled from the market. Many physicians are still dealing with the aftermath of the product, first approved by the US Food and Drug Administration (FDA) in 1957.
"Propoxyphene is the worst drug in history," Ulf Jonasson, doctor of public health, from the Nordic School in Gothenburg, Sweden, told Medscape Medical News. The researcher played a role in the decision to stop the pain reliever in the United Kingdom, Sweden, and later in the entire European Union.
"No single drug has ever caused so many deaths," Dr. Jonasson said.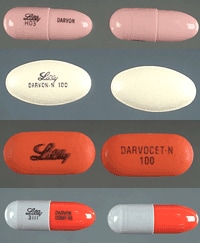 Clinicians are now prescribing analgesic alternatives to propoxyphene.
Propoxyphene was banned in the United Kingdom 5 years ago because of its risk for suicide. It was taken off the market in Europe in 2009 over concerns about fatal overdoses and now in the United States for arrhythmias.
"I agree that propoxyphene is among the worst drugs in history," Eduardo Fraifeld, MD, president of the American Academy of Pain Medicine, said in an interview. "I'm surprised it stayed on the market so long. It's addictive, in my experience not very effective, and toxic."
"I'd probably add Demerol to the list too," Dr. Fraifeld said. "It's toxic and sedating, and my personal opinion is it should not be used at all."
Also known as pethidine, Demerol was the first synthetic opioid synthesized in 1932 as a possible antispasmodic agent. Its analgesic properties were recognized later. For much of the 20th century, pethidine has been the opioid of choice for many physicians treating acute and chronic severe pain.
"The writing has been on the wall for both of these drugs," Dr. Fraifeld said. "With adverse events, prescription abuse increasing, and questionable effectiveness, this isn't innocuous."
Burden on Prescribers and Patients
A growing number of products are entering the US market, Dr. Fraifeld noted. "It's unrealistic to expect regulators to be able to closely track every single one." Prescribers and patients must therefore pay close attention to any emerging side effects, he said. "Unfortunately, clinicians are not using adverse event reporting systems adequately," Dr. Fraifeld added. "I think it's fair to say that many physicians have no idea how to even use the system, and this is a problem."
Propoxyphene was first developed by Eli Lilly and later sold to Xanodyne Pharmaceuticals, which marketed the drug under the brand names Darvon and Darvocet.
Since 1978, the FDA has received 2 requests to remove propoxyphene from the market. In January 2009, an advisory committee voted 14 to 12 against the continued marketing of propoxyphene products. At that time, the committee called for additional information about the drug's cardiac effects.
In terms of benefit to risk ratio, "I would say, little 'b', big 'r' for this drug. And that's unsettling," committee member Ruth Day, PhD, from Duke University in Durham, North Carolina, who voted to remove propoxyphene, said at the time.
The drug is a narcotic opioid. "It looks like it offers placebo benefits with opioid risks," added committee member Sean Hennessey, PhD, an epidemiologist from the University of Pennsylvania in Philadelphia.
Later in 2009, the FDA decided to allow continued marketing of propoxyphene, but with a new boxed warning added to the drug label alerting of the risk for fatal overdose.
That came to an end in November 2010, when regulators disclosed new study results, combined with epidemiologic data, and medical examiner reports prompting the drug's market removal.
New study results showed propoxyphene puts patients at risk for potentially serious or even fatal heart rhythm abnormalities.
Should FDA Have Acted Sooner?
Gerald Dal Pan, MD, director of the Office of Surveillance and Epidemiology, said in November that regulators did not feel there was sufficient evidence earlier. "The new information on the effects of the electrical activity on the heart was the final piece to the puzzle," he said.
"Long-time users of the drug need to know that these changes to the heart's electrical activity are not cumulative," Dr. Dal Pan added. "Once patients stop taking propoxyphene, the risk will go away."
Although most say they are glad to see propoxyphene finally off the market, there are those who found it useful. "In 20 years, I can't recall a single problem," cardiologist Melissa Walton-Shirley, MD, from TJ Samson Community Hospital in Glasgow, Kentucky, told Medscape Medical News. "I was not a huge prescriber of propoxyphene meds, preferring other options, but when I did, it was Darvocet N-100."
Dr. Shirley is forum moderator for theheart.org. She questioned the regulatory action in a recent blog. "The FDA decided to withdraw the medication after 53 years on the market but provided little in the way of data to help us understand its decision, undermining the confidence of the lay public in the FDA, the prescribers, and the pharmacists who have served them for their entire adult lives."
Dr. Fraifeld said he had a very small number of patients in his practice taking propoxyphene. "I never liked the drug but had some patients I had inherited from other practices who were taking propoxyphene and were reluctant to change when I suggested it. I've prescribed alternatives, such as acetaminophen or other opioids, and everyone has transitioned quite well."
Table. Analgesic Alternatives to Propoxyphene
| | |
| --- | --- |
| Analgesic | Adverse Events |
| Acetaminophen | Hepatotoxicity, serious allergic reactions |
| Aspirin | Gastrointestinal bleeding, tinnitus, hypersensitivity, and asthma |
| Nonsteroidal anti-inflammatory drugs | Gastrointestinal bleeding, serious cardiovascular events, renal injury, liver injury, serious skin reactions |
| Tramadol | Respiratory depression, seizures, nausea, vomiting, serotonin syndrome |
| Codeine in combination with acetaminophen | Respiratory depression, constipation, sedation, nausea, vomiting, hepatotoxicity, serious skin reactions |
| Hydrocodone in combination with acetaminophen | Respiratory depression, nausea, vomiting, constipation, sedation, addiction, hepatotoxicity, serious skin reactions |
| Schedule II opioids | Respiratory depression, central nervous system depression, sedation, nausea, vomiting, constipation, addiction |
"It's so important that we don't become complacent and continue to closely monitor patients," Dr. Fraifeld said. "It can be tough because chronic pain patients are often complaining, and some of their concerns may get overlooked. We have to stop, pay attention, and, if something seems off, we have to take a look because we never know what could be the next propoxyphene."
Medscape Medical News © 2011 WebMD, LLC

Send comments and news tips to news@medscape.net.
Cite this: Physicians Say Good Riddance to 'Worst Drug in History' - Medscape - Feb 02, 2011.