Clinical Presentation: A Woman With Gingival Hyper-pigmentation
A 56-year-old white woman presented with discolored and worn anterior teeth, as well as a blackish area directly adjacent to the attached gingiva on 1 of her front teeth.
The patient was dismayed and embarrassed about comments that there was "something stuck" between her teeth when it was not so. She was also concerned about several other areas of brownish-black spots on her upper and lower lips that had developed concurrently. Her concerns prompted her to seek treatment for these unusual developments.
Medical History and Dental Examination
History. This patient had significant contributory medical history. In 2001, she was diagnosed with idiopathic thrombocytopenia purpura (ITP), a low platelet count believed to be associated with an autoimmune disease. Thereafter, the hematologist advised the patient to avoid dental surgery or extractions because of insufficient clotting factors. Between 2001 and 2005, she was treated by her local physician with periodic prednisone injections to reduce intermittent bleeding and bruising. From 2005 to 2007, the patient saw a rheumatologist and was given a secondary diagnosis of lupus erythematosis, and treated for ITP with Plaquenil, 200 mg twice daily. This medication seemed to give her more relief than she received from prednisone.
Approximately 4 months following initiation of treatment with Plaquenil, the patient developed a dark pigmentation in linear bands under her fingernails and 1 toenail, as well as on both upper and lower lips. She sought opinions from 3 dermatologists, primarily because of concerns about the linear bands of pigmentation. Because the patient used a tanning bed routinely, the pigmentation was initially believed to be caused by ultraviolet damage. Subsequently, the patient underwent a biopsy on her upper lip to rule out melanoma. The pathology report for the biopsy indicated solar elastotic plaque.
Dental examination. A dental examination revealed oral melanotic macules (brownish-black flat pigmentations usually less than 1 cm in diameter) of various sizes and distributed throughout the oral cavity, including the palate, and on her lips. However, the patient was most unhappy with the appearance of her anterior teeth, particularly the black pigmentation on the disto-buccal attached gingiva of tooth #8 (Figure 1). An oral cancer exam was performed and findings were negative.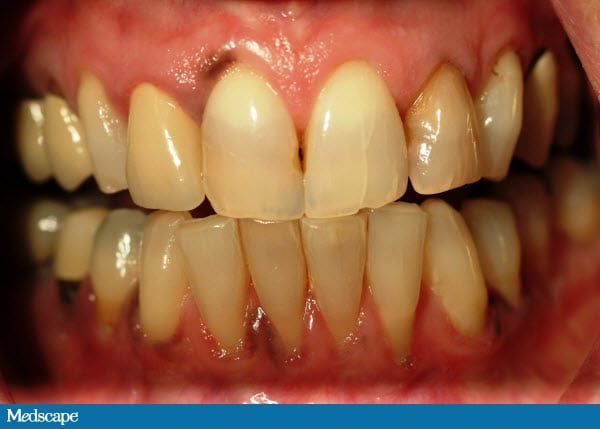 Figure 1. Preoperative pigmentation of gingiva, area of tooth #8.
X-Rays. A full panoramic x-ray was taken. No abnormalities were noted.
Medscape Dental & Oral Health © 2010  WebMD, LLC

Cite this: An Unusual Case of Gingival Hyperpigmentation - Medscape - Dec 30, 2010.