Hello, I am Dr. Renée Ned from the Office of Public Health Genomics at the Centers for Disease Control and Prevention (CDC). I am speaking to you as part of the CDC Expert Commentary Series on Medscape.
Today I would like to talk to you about familial hypercholesterolemia (or FH), a common genetic disorder that causes high levels of low-density lipoprotein (or LDL) cholesterol that are present from birth. While this disorder is more common than expected, familial hypercholesterolemia remains underdiagnosed. However, FH cases can be easily and effectively identified using cascade testing; and early detection and treatment of FH can help reduce the risk for coronary heart disease and death in these patients.
FH is the most common inherited cause of premature coronary heart disease among people of European descent. Approximately 1 of every 500 people in the United States has FH, or an estimated 600,000 people.
Very few people with FH have inherited 2 mutations -- they are, literally, 1 in a million. Those who have inherited 1 FH mutation comprise the vast majority of people with the disorder. They have a less severe form of the disease, but still have a high cumulative risk for coronary heart disease: greater than 50% in men by age 50, and at least 30% in women by age 60.
So, how is FH diagnosed?
After excluding secondary causes of hypercholesterolemia, FH should be considered in patients who have increased total cholesterol and LDL levels, especially if they have a personal or family history of premature coronary heart disease. A clinical diagnosis of FH is typically based on a combination of factors:
First, total cholesterol and LDL levels are elevated. Among patients with 1 inherited FH mutation, LDL levels are typically twice the level that is normal and are even higher in those patients who have 2 mutations. This is often accompanied by low HDL and normal triglyceride levels.

Second, certain clinical characteristics, such as tendon xanthoma or corneal arcus, may be present, in either your patient or your patient's first- or second-degree biological relatives. However, such characteristics do not appear in all patients with FH.

Lastly, there is genetic testing. Mutations in 3 genes have been found to cause FH, with those in the LDL receptor accounting for the vast majority identified. Genetic testing is not always feasible, so a diagnosis of FH can be made using the previously mentioned clinical criteria.
How is FH treated?
Therapeutic lifestyle changes, including changes in diet and exercise, are highly recommended in patients with FH. However, lipid-lowering drug therapy is usually also needed in adult patients, and statins are the treatment of choice for most people with FH. In one 2008 study, statins were shown to reduce both total cholesterol and LDL levels and to reduce coronary heart disease by approximately 80% in adult patients with FH.[1] Another 2008 study that compared coronary mortality before and after statins became widely available, showed that FH patients 20-79 years old treated with statins had an overall 37% reduction in death related to coronary heart disease.[2]
The treatment picture is less clear for children. While statin use can also improve lipid levels in children with FH, the long-term benefits and harms of statin treatment in children are not well known.
How can we better identify people with FH in the population?
Because FH is an autosomal dominant disorder, 50% of first-degree relatives of people with FH will also be affected. Therefore, it is highly advantageous to systematically identify and test biologic relatives of people with FH, even those with no physical signs of the disorder. This method is known as cascade testing (also known as cascade screening or family tracing.)
Currently, there are no formal clinical guidelines or recommendations in the United States regarding cascade testing for FH. In the United Kingdom, the National Institute for Health and Clinical Excellence (or NICE) provides guidance based on rigorous review of the available evidence to the National Health Service. NICE recommends cascade testing for FH that combines genetic testing and LDL cholesterol measurements to identify affected biologic relatives of patients with a clinical diagnosis of FH.
What are the benefits of cascade testing for FH?
Research has shown that cascade testing for FH can be highly cost-effective. This method has a number of other benefits, including decreasing the average age of diagnosis and increasing the percentage of people with FH receiving appropriate treatment.
So, how do you use cascade testing to identify FH cases?
If you have a patient with FH, you can work with your patient to identify his or her biologic relatives.
If a mutation has been identified, NICE recommends genetic testing for the identified mutation in at least the first- and second-degree biologic relatives, and when possible, third-degree relatives of the patient. Use the gene mutation, and not LDL cholesterol measurements, to identify affected relatives.
If no mutation has been identified, NICE recommends that you diagnose FH using separate gender- and age-specific criteria for LDL cholesterol that have been developed for use with relatives of a patient with FH. This is important, since applying the original criteria used to diagnose the patient may lead to under-diagnosis in relatives. A simple graphic accompanies the transcript of this podcast that outlines the use of cascade testing to identify patients with FH (Figure).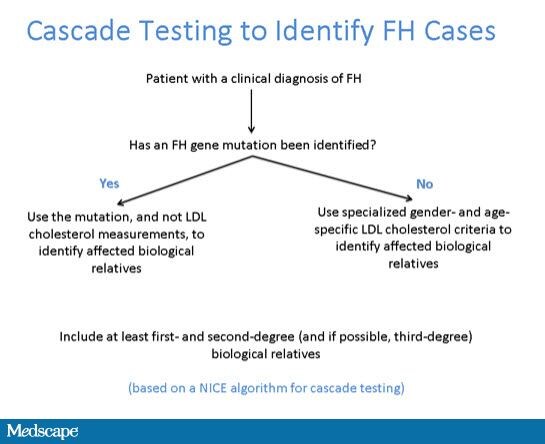 Figure. Cascade-testing algorithm for FH.
In closing, early detection and treatment of familial hypercholesterolemia has tremendous potential to prevent the onset of, and death related to, coronary heart disease. Encourage patients to document their family health history, and make sure to collect and continually monitor this information. Once a patient with FH is identified, use cascade testing to enable the early detection and treatment of affected relatives.
If you need additional information, a link to the NICE guidelines and other resources is provided. Thank you.
Web Resources
National Institute for Health and Clinical Excellence (NICE). Identification and management of familial hypercholesterolaemia. NICE clinical guideline CG71. Issued August 2008.
https://www.nice.org.uk/guidance/CG71
Make Early Diagnosis to Prevent Early Death (MEDPED)
Online Mendelian Inheritance in Man (OMIM)-- Hypercholesterolemia, Autosomal Dominant
World Health Organization (WHO). 1999. Familial Hypercholesterolaemia (FH): Report of a second WHO Consultation. Geneva.
Renée M. Ned, MMSc, PhD, is a geneticist in the CDC Office of Public Health Genomics (OPHG), which serves as the national focus for integrating genomics into public health research and programs for disease prevention and health promotion. Dr. Ned joined OPHG in 2005, where she conducts genetic epidemiologic studies and helps to coordinate multi-center genomic research that uses DNA samples from the National Health and Nutrition Examination Survey (NHANES), a series of large, nationally representative epidemiologic surveys designed to assess the health and nutrition status of the US population. She also researches and produces scientific reports on genetic testing for the Evaluation of Genomic Applications in Practice and Prevention initiative (EGAPPTM) and the Genetics for Early Disease Detection and Intervention (GEDDI) project.
Dr. Ned received her BS degree in biology from the Massachusetts Institute of Technology and completed her PhD in genetics from Harvard University. Dr. Ned also obtained a Masters in Medical Science from Harvard Medical School, a program designed to provide scientists with a basic foundation in medicine.
Public Information from the CDC and Medscape
Cite this: Renée M. Ned. CDC Expert Commentary: Familial Hypercholesterolemia - Medscape - Sep 20, 2010.