Introduction
The profession of medicine is changing, especially the future physician workforce (Figure 1). The following factors are fueling this change:
Important new rules that govern the residencies that train medical school graduates to become board certified practitioners;

Cultural differences between the current generation Y and previous generations; and

The evolving gender demographics of medical trainees.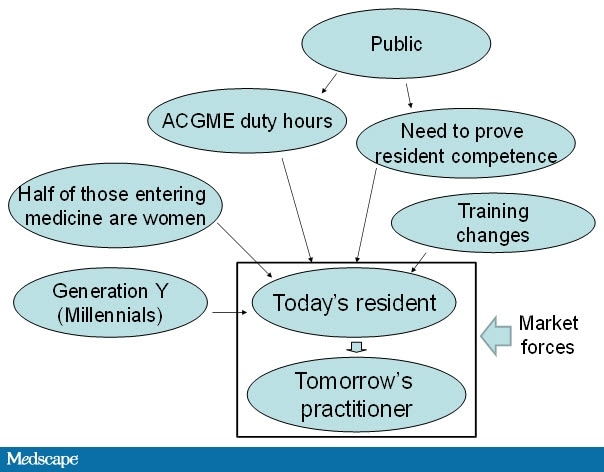 To successfully recruit and retain the most capable and talented new physicians, it is vital to understand these forces. This article will analyze the status and future of a single medical specialty (anesthesiology) and:
Characterize the personal characteristics, attitudes, and preferences of current Generation Y ("millennial") trainees;

Describe the evolving gender demographics whereby half of current medical students in the United States are women, the highest percentage in history;

Explain how the Accreditation Council of Graduate Medical Education (ACGME) outcomes movement is intended to change residency from an "apprenticeship" model with a fixed, predetermined number of years in training, to a competency-based system, in which progress is determined by reaching specific milestones, such that residencies will vary in length;

List the ACGME duty hour regulations and their effect on residency education; and

Itemize the ongoing changes in the way that anesthesiologists are trained, which are designed to provide them with state-of-the-art skills in perioperative medicine.
Generation Y: Millennial Trainees
A generation is defined as those individuals born within a 20-year period leading to adulthood. Such a cohort is shaped by common icons, events, and societal forces.[1] The millennial generation is the demographic cohort that followed Generation X (born 1965-1981), and are largely the children of the baby boomers (born 1946-1964) (Figure 2).[2]

Baby boomers often entered medicine as a calling, when society's perception of being a physician was at a high point. Baby boomers are typically described as optimistic, driven, have a "pay your dues" mentality, and have a desire for personal gratification. Millennials are sometimes nicknamed the "trophy kids" (children who get a trophy simply for participating in a youth sport), meant to symbolize a sense of entitlement sometimes perceived by those interacting with millennial individuals (Table 1).
Table 1. Characteristics of the Millennial Generation
Largest generation of young people in the country's history, likely surpassing the aging baby boom generation (78 million)[3]
Economically, they may not be better off than their doting parents, especially after the 2008 worldwide financial crisis
The most ethnically and racially diverse cohort of youth in United States history: 60% (a record low) are white, 19% are Hispanic, 14% black, 4% Asian; and 3% are mixed race or other.[4] They are comfortable with heterogeneity in living arrangement or socioeconomic class
Team-oriented, banding together to socialize rather than pairing off, acting as each other's resources or peer mentors
Civic-minded with a desire to make a positive contribution to society and to the health of the planet[5]
Have been spurred to achievement and display a self-confidence that reflects their being raised in a child-centered world
Comfortable with Web communications, media, and digital technologies (eg, Facebook, YouTube, Google and Wikipedia)
Easier social communication through technology may explain the reputation of the millennial generation for being peer-oriented
Accelerating technologic change may create shorter generations, as young people just a few years apart have different experiences with technology[6]
Increased global exposure through the Web, leading students and residents in record numbers to seek international educational experiences
Many millennials (42% of women and 30% of men) talk to their parents every day and many are still financially dependent on their parents; this has led to a new acronym: KIPPERS (Kids in Parents' Pockets Eroding Retirement Savings).[7] As the skills required for certain jobs become more specialized, many young people return to school for professional degrees with the hope that this additional training will help them land a job. This creates more dependence on others, such as their parents, for financial support.

The values and behaviors of members of each generation can affect the workplace environment. Physicians now at the middle or end of their careers had a high likelihood of being unmarried during their residencies, had a definable body of knowledge to assimilate, and expected to move up in a hierarchical system by "putting their time in." Baby boomers often plan to "work until they die." This ideology and culture can clash with Generation Y, unless both sides attempt to understand the other. Older physicians may equate the desire for work-life balance on the part of the trainee with a lack of professionalism or poor work ethic; sense of humor or manner of dress can also clash. Some employers note that millennials have excessive demands and expectations about work and desire to shape their jobs to fit their lives rather than adapt their lives to their work.
Meeting the Workplace Expectations of Millenials
To attract and recruit the best and brightest millennial graduates, anesthesia employers and residency programs must make communication a priority and develop a more personalized, and supportive work environment with, for example, team building and group activities. At the same time, organizations must acknowledge millennials' commitment to outside activities and family, and other lifestyle needs.
The millennial generation sees incentives other than money as important, uses technology to improve communication, desires flexible working conditions, wishes for opportunities to work remotely, and will accept a lower compensation for working fewer hours. Perks such as sabbatical leaves and other breaks from work will be sought.
An increasing number of physicians graduating from residency programs are foregoing private practice in favor of hospital jobs with steady paychecks and regular hours. Insurers and the business of healthcare are pressuring the viability of solo practice. Large medical groups or hospital systems, by comparison, have more bargaining clout with insurers and can negotiate better payments.[8] Young physicians are increasingly wary and burdened by medical school debts with overall average indebtedness increasing from $25,000 in 1992 to $150,000 in 2009.[9]
Lifestyle also plays a role in the practice locations that millennial physicians choose. The "limitless hours work week" and being on-call around the clock are no longer accepted. Many graduates covet the structure, stability, shift flexibility, and salary-based compensation afforded by the large multispecialty group practices. In fact, more than two-thirds of all practices were physician-owned in 2005, but that share has dropped to below 50%, as more new graduates accept salaries from hospitals and health systems.[10]
Some millennial anesthesiologists may not be interested in partnership tracks, instead preferring a position with no overnight call, part-time hours, or one that allows them to work longer days, but shorter weeks.[11] These physicians are deliberately trading income for predictability in their work lives. This is part of the reason behind the national trend for practices to grow in size, such that more than 15 anesthesia groups now exceed 500 practitioners or work in 3 or more states, and some are even publicly traded companies.[12]
Desire for a controllable lifestyle. A consequence of this generational shift in attitude is reflected in the popularity of specialties that have more "controllable" or limited clinical responsibilities.[13] Controllable lifestyle explains 55% of the variability in which specialties are chosen by medical student, after controlling for income, work hours, and years of training required.[14]Medical students popularized the acronym ROAD to signify specialties generally considered "lifestyle friendly" such as:
Radiology;

Ophthalmology;

Anesthesiology; and

Dermatology
Lifestyle specialties are those that offer good pay with minimum work hours, low patient loads, above average working conditions, and typically low on-call time. More recently, the mnemonic has been revised to E-ROAD or ADORE to include emergency medicine.[15] In contrast, specialties such as general surgery, which are not perceived to provide these benefits, have more difficulty filling their open residency training positions.
All specialties in the United States have enough residency positions for all interested American students, with the exception of dermatology, neurosurgery, orthopaedics, otolaryngology, urology, and plastic surgery. These specialties are the most difficult to enter.
Demographic Changes in the Physician Workforce
Although an in-depth analysis of how many trainees are needed to meet the anticipated demand for physicians in the United states is beyond the scope of this article, several observations are noteworthy. In 2006-2007, 49% of graduating medical students in the United States were women, the largest proportion ever, and up from 27% in 1983.[16] The percentage of women entering anesthesiology in 2009 was 40%, up from 28% in 2000.[17]
This "feminization" of medicine is also occurring globally.[18,19,20] In the United Kingdom, 57% of medical students are women. By 2017, most National Health Service physicians will be women.[21] In Canada, female medical students currently outnumber their male counterparts; women who are physicians work an average of 48 hours per week, compared with 54 hours by men.[22] According to Weizblit and associates, if these gender-specific work patterns persist, an overall decline in physician work productivity in Canada will follow.[22]
The trend toward fewer overall hours worked will increase because millennial graduates, regardless of gender, intend to work fewer hours.[23] A2007 United States survey found that 24% of women physicians younger than 50 years of age workpart-time.[24] The average work hours per week for physicians in the United States has decreased from 55 in 1996-1998 to 51 in 2006-2008.[25]
Another demographic issue is that many current physicians in training are older, as the traditional life stages (going to college, leaving home, getting married, having children, retiring) are no longer directly related to chronological age.[26] For example, mothers can have their first child in any of several decades, from their 20s through their 40s. Stay-at-home dads are no longer uncommon.[27]
This switch from chronological age to life stage is also observed among current residency applicants. For example, for a resident to have children at home was previously infrequent but is now common. Also, many residency applicants have switched professions and gone back to school to start a second career in medicine. These "non-traditional" students bring maturity, ease at the bedside, and perspective from their life experiences.
Medscape Anesthesiology © 2010  WebMD, LLC

Cite this: Alex Macario. Training the Physician and the Anesthesiologist of the Future - Medscape - Aug 18, 2010.