Editor's Note:
The rate of unintentional drug overdose deaths has increased drastically in the past 2 decades and can now be considered an epidemic. Recently, Medscape moderated a discussion between Leonard J. Paulozzi, MD, MPH, a Medical Epidemiologist with the US Centers for Disease Control and Prevention (CDC), along with Psychiatrists Richard H. Weisler, MD, and Ashwin Patkar, MD, MRCPsych, on the incidence, causes, and means of addressing the problem of unintentional drug overdoses. What follows is a transcript of our discussion.
Unintentional Drug Poisoning Deaths: Background
Dr. Weisler: Len, I know that unintentional drug poisoning deaths have been increasing very, very rapidly. How does the CDC define an epidemic? Certainly there has been well over a decade of significant increases in unintentional drug overdose deaths in the United States.
Dr. Paulozzi: In general, an epidemic in public health is defined as a dramatic increase over the expected rates for any kind of health outcome. The term is traditionally applied to infectious diseases. However, we do apply it to other conditions, including injuries, and I would say, in terms of the magnitude or rate of rise, this would qualify as an epidemic by any definition.
Dr. Weisler: That would be my sense. As an academic and a clinician, looking at both national and state-level data, I would call this an epidemic. I am so glad that we are talking openly today about the nature of the unintentional drug overdose death epidemic and steps that society and we as healthcare providers can take to diminish risks for our patients, while improving health outcomes. Otherwise, if the unintentional poisoning death rate stays the same as it was in 2007, about as many Americans will die from unintentional drug poisoning deaths over the next decade as live in cities the size of Newark, New Jersey; Anchorage, Alaska; or St. Paul, Minnesota.
Medscape: Dr. Paulozzi, can you define unintentional or accidental overdose?
Dr. Paulozzi: A poisoning is defined as the effect of taking too much of any substance. Drug poisonings are what people usually call "drug overdoses." They are called "unintentional" -- a term that we prefer over "accidental" -- when the person did not intend to harm themselves. For most drug overdoses today in the United States, the person has intended to take the drug, but that doesn't mean that they intended to harm themselves. If they did intend to harm themselves, the overdose is classified as a suicide.
Medscape: And we're talking about both legal and illegal substances here when we refer to unintentional overdoses?
Dr. Paulozzi: Yes. As a general category, unintentional or accidental drug overdose is all inclusive. There are subcategories for the illicit drugs, such as heroin or cocaine, and the prescription and over-the-counter drugs. The statistics that you hear cited for drug overdose deaths do not usually include deaths due only to alcohol, however.
Medscape: Can you comment on the striking magnitude of this problem?
Dr. Paulozzi: I think one of the most striking things that we noticed in looking at the surveillance data[1] is an unprecedented rise in the mortality rate associated with drug overdose. In the 1970s and 1980s, the annual rate was less than 2 deaths per 100,000 people per year. However, starting in 1990, the rates began to increase dramatically so that now we are approaching 9 or 10 deaths per 100,000 people per year in the United States (Figure 1). In 2007, there were over 28,000 unintentional drug overdose deaths in this country. As a leading cause of injury and death, drug poisoning has passed other leading causes and is now second only to motor vehicle crash deaths (Figure 2).[1,2]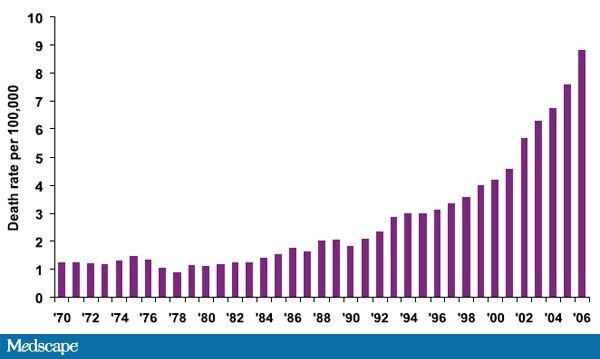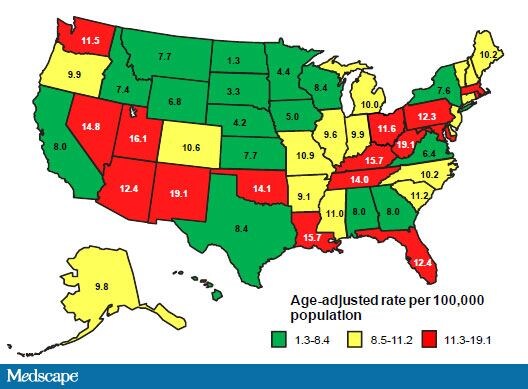 Motor vehicle crashes have been the leading cause of injury and death in the United States for 80 years, ever since motor vehicles became commonly used in the United States. Now we find that the 2 rates are getting closer together, and in 16 states in 2006, drug-induced deaths have already passed deaths related to motor vehicle crashes. So in terms of injury, this is an unprecedented event that we have called a "pharmacoepidemic."
Dr. Weisler: I would add that one of the things that I've seen looking at the data from a number of states is that death by overdose has also passed the death rate by suicide. Recent data from Ohio (Figure 3)[3] show that death by overdose has passed both death by motor vehicle crashes and suicide; therefore, it really has become a major public health issue.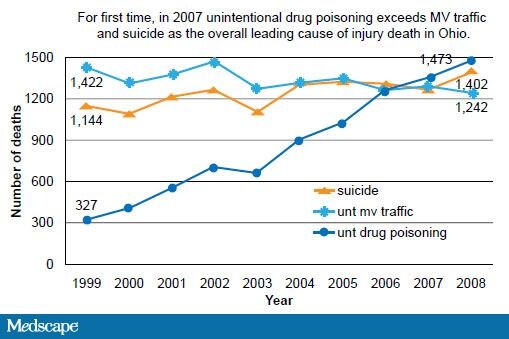 Dr. Paulozzi: We're talking about maybe 35,000 suicide deaths a year in the United States, and as I mentioned, in 2007, over 27,500 unintentional drug poisoning deaths, so unintentional overdoses are still behind suicides for the country as a whole.
Dr. Weisler: In a lot of the states, that rate of increase has continued since the 2007 CDC data that you're referring to.
Dr. Paulozzi: Unfortunately, national mortality data are a little bit behind, so the latest data we have now are for 2007. We have also looked at trends in morbidity data. If, for example, you look at emergency department (ED) data from places such as the Drug Abuse Warning Network (DAWN), there have been continued increases through 2008 in ED visits for nonmedical use of prescription drugs and, in particular, the opioids and benzodiazepines.[4]
Medscape: Dr. Patkar, do you want to comment on the magnitude of unintentional overdoses, or perhaps what you've encountered in your own state of North Carolina?
Dr. Patkar: I would echo what Len and Rick have said; in North Carolina the rate is pretty similar. It's around a 200% increase in 2008 compared with a decade before, and it's only behind motor vehicle accidents and barely behind suicide as a cause of mortality. However, the rate of increase far exceeds the cause of mortality from many other causes, as far as I know.
Medscape Psychiatry © 2010  WebMD, LLC

Cite this: Unintentional Drug Poisoning Deaths: A National Epidemic - Medscape - Jun 28, 2010.