Diagnosing and Treating a Cystocele
Simply defined, a cystocele is a protrusion of the bladder into the vagina due to defects in pelvic support (Fig. 1). The radiographic definition of a cystocele is descent of the bladder base below the inferior margin of the symphysis pubis. The pubocervical fascia, which is fused to the anterior vaginal wall, supports the bladder by its attachment to the pelvic sidewall and endopelvic fascia at the arcus tendineus. Damage to the central portion of the pubocervical fascia, called a "central defect" cystocele, is seen as a bulge on the anterior vaginal wall with a variable loss of vaginal rugae but an intact superior lateral vaginal sulcus.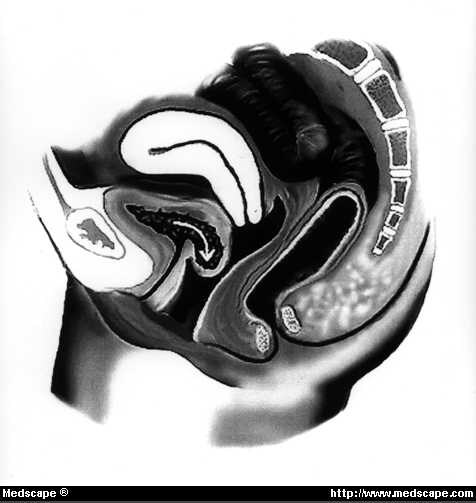 Figure 1. Central defect cystocele is demonstrated in diagram.
A cystocele due to disruption of the vaginal attachments to the arcus tendineus, called a "lateral defect cystocele," can be seen on physical exam as a loss of the superior lateral vaginal sulcus, with essentially normal vaginal rugae. The commonly used grading system in Table I can be used to grade pelvic relaxation due to a cystocele or any other type of vaginal prolapse. In many cases, central and lateral defects occur together and must be repaired at the same time.
Most urologists and gynecologists now use the terms "central" or "lateral" to describe the sites of defects and have gotten away from describing them by the reasons they occur. Therefore, naming cystoceles according to the nature or cause of the defect -- for example, traction, displacement, pulsion, distention -- is now rare. Classification according to whether the cystocele is anterior or posterior to the urethrovesical fold is of little clinical significance since the treatment depends on whether the defect is central or lateral.
Cystocele Diagnosis
In most cases, the type and degree of cystocele are easily determined by physical examination. At times, however, an extensive vaginal prolapse may prevent accurate determination of the presence and stage of a cystocele, or a physical exam can not be easily obtained. In such circumstances, an upright resting and straining cystogram can be helpful in determining the presence and degree of cystocele. During fluorourodynamic studies to evaluate incontinence, the type and degree of cystocele also can be assessed (Fig. 2).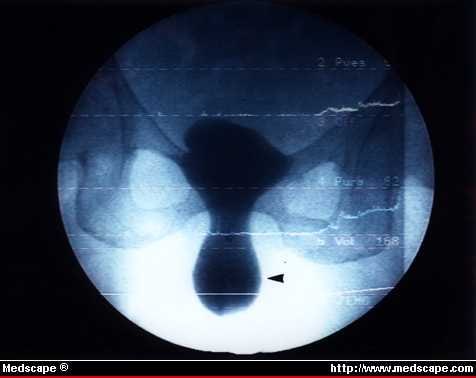 Figure 2. Fluorourodynamic view of grade 4 cystocele with characteristic "dumbbell" shape. Arrow indicates level of introitus.
The mere presence of a cystocele is not necessarily symptomatic, although the loss of anterior vaginal support usually includes a loss of support to the bladder neck, commonly manifested by stress urinary incontinence during activity. Rarely, patients with a very large cystocele may complain of difficulty emptying the bladder, usually due to urethral obstruction from severe angulation. These patients may leak urine only while supine or when moving from a supine to upright position because the pelvic prolapse is reduced. However, they will have difficulty voiding once fully upright. In more moderate degrees of cystocele, if the bladder is able to contract in a normal fashion, the postvoid residual is usually small.[7] Unfortunately, the presence of pelvic prolapse creates a feeling of incomplete bladder emptying or fullness; despite the sensation of incomplete voiding, objective measurement usually shows that the patient empties the bladder relatively well.
Asymptomatic patients with grade 1 or 2 cystoceles isolated do not usually require treatment; however, patients with grade 3 and especially grade 4 cystoceles typically require treatment due to debilitating symptoms, regardless of other associated conditions. If the patient is undergoing treatment for stress urinary incontinence, then it is prudent to repair even small cystoceles. Performing a urethropexy alone, while leaving a residual cystocele, may either compromise the repair by allowing the movement of the cystocele to damage the suspension or cause urethral obstruction because the cystocele will rotate around the relatively immobile urethra.
Conversely, a large cystocele can mask stress urinary incontinence by acting as a relief valve.[7] During the evaluation, the prolapse should be reduced using a sponge stick or vaginal pack and then repeating the stress maneuvers to assess for stress urinary incontinence. In many cases, patients who have minimal or no demonstrable incontinence will have profound incontinence once the prolapse is reduced.[8] Treatment of a cystocele without repairing the latent stress urinary incontinence leads to a very unhappy patient. In our clinical practice, almost all patients with grade 3 and 4 cystoceles have undergone routine incontinence procedures. We recommend a urodynamic evaluation for all patients with grade 3 and grade 4 cystoceles.
Lastly, a bulge in the area of the urethra should be evaluated for a possible urethral diverticulum, especially if the patient complains of the 3 "Ds" of a diverticulum: dysuria, dyspareunia, and postvoid dribbling.
Cystocele Management of Central vs Lateral Defects
Patients with a central defect are best treated by anterior colporrhaphy, which reapproximates the pubocervical fascia in the midline. Although a variety of techniques exist, we place multiple interrupted 0 absorbable sutures from the vaginal cuff to approximately the level of the bladder neck. If a concurrent bladder-neck suspension or pubovaginal sling is performed, the last suture should lie approximately 2cm away from the bladder neck (Fig. 3). The sutures should not be placed too far laterally, or undue tension will be placed on the fascia, which is relatively fixed at the arcus tendineus. Additionally, the sutures should not be placed too deeply, since inadvertent intrusion into the bladder or obstruction of the ureters can occur.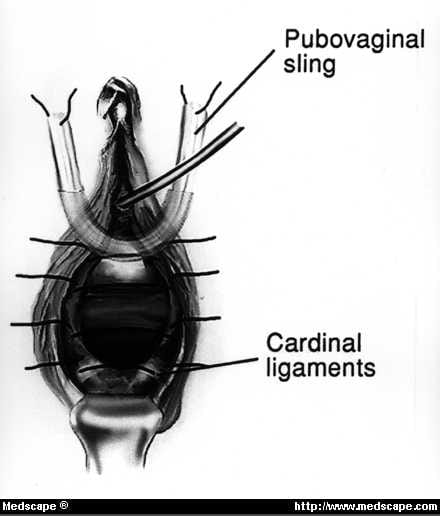 Figure 3. Anterior colporrhaphy (with sutures in pubocervical fascia) combined with pubovaginal sling procedure.
Long-term results are difficult to compare among various reported series due to significant differences in technique, definitions of failure, indications for the procedure (some are performed for urinary incontinence), and simultaneous performance of other procedures, which may affect postoperative outcome in a positive or negative fashion.[9,10] A recent prospective study found a 7% failure rate at 13 months postprocedure in 27 patients treated with anterior colporrhaphy for cystocele alone.[11] Gardy and colleagues[7] reported a 10% cystocele recurrence rate in grades 3 and 4 cystoceles treated with a combined anterior colporrhaphy and incontinence procedure, with a mean 25-month follow-up.
Lateral defects require a different approach in which the vaginal attachments to the pelvic sidewall are reconstituted. These defects are commonly corrected either with a paravaginal repair via the abdominal or vaginal approach or with a 4-corner bladder-neck suspension.
Paravaginal Repair
Originally, paravaginal repairs were performed abdominally. While an abdominal approach is still common, the vaginal approach has become more popular since it is associated with less morbidity and allows other vaginal procedures to be performed without an additional incision.[12,13] In addition to its role as a repair for lateral defects for cystocele, the paravaginal approach has also been used during treatment for stress urinary incontinence.
In a recent randomized comparison of the Burch colposuspension and the abdominal paravaginal repair, the Burch colposuspension (Fig. 4) was found to be significantly more effective in treating stress urinary incontinence (100% vs 72%).[14] Both the abdominal and vaginal repair of paravaginal defects require suturing the vaginal wall (at the site of the effaced superior lateral sulcus) to the arcus tendineus from just distal to the ischial spine to the pubis. Generally, the repair is made with 0 or 2-0 nonabsorbable sutures. The abdominal approach is performed much like the Burch procedure, in that the anterior bladder is dissected free of paravesical fat, and the sutures are placed through the arcus tendineus and the superior lateral angle of the vagina (Fig. 5).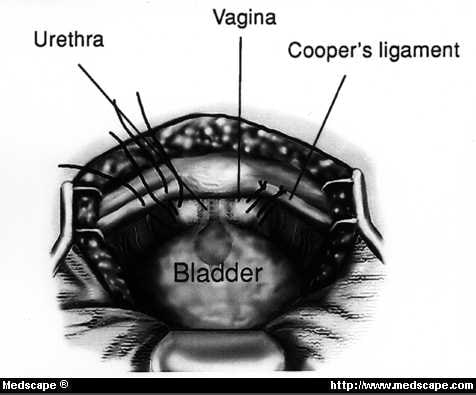 Figure 4. Burch procedure for stress incontinence due to urethral hypermobility. Absorbable or nonabsorbable sutures are placed through anterior vaginal wall and anchored to Cooper's ligament.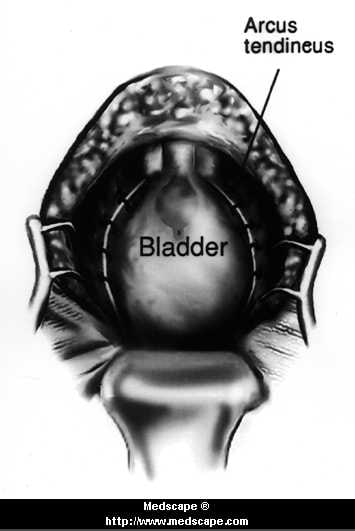 Figure 5. Abdominal paravaginal repair for lateral defect cystocele. Permanent sutures are placed through arcus tendineus and lateral superior aspect of vagina.
The vaginal repair is performed through a midline incision from the bladder neck to the apex of the vagina. We have found that marking the proposed site of mucosal suture placement (the "new" superior lateral sulcus) with absorbable sutures prior to incising the vaginal wall facilitates accurate placement after mucosal dissection has been performed. The vaginal mucosa is dissected free until a finger can be inserted retropubically and the arcus tendineus can be palpated.
Sutures are placed through the arcus tendineus and then through the lateral underside of the vaginal mucosa at 1-cm intervals starting at approximately 2cm distal to the ischial spine and continuing to the pubis. The sutures are then sequentially tied down starting at the ischial spine. If a sacrospinous ligament fixation is performed, those sutures are tied first, after partially closing the vaginal mucosa. Inasmuch as an anterior colporrhaphy does not repair lateral defects, a paravaginal repair does not repair central defects and, therefore, in many cases, a combined paravaginal and anterior colporrhaphy is required.
Youngblood[15] reported a long-term cure rate of approximately 95% for bilateral defects using the abdominal approach. Shull and colleagues[13] reported a 93% cure rate at 1.6 years when the vaginal approach was used.
Bladder-Neck Suspension
An alternative approach, which also treats the lateral defect and stress incontinence, is the 4-corner bladder-neck suspension. This procedure, used only in grades 2 and 3 cystoceles, employs 2 sets of suspending sutures bilaterally, with the proximal suspending sutures placed at the level of the cardinal ligaments.[16] At a mean 2-year follow-up, 98% of the patients were free of a cystocele and 94% were continent. Miyazaki and Miyazaki,[17] however, reported a 60% cystocele recurrence rate when the 4-corner procedure was performed on large cystoceles. More recently, a 6-corner suspension has been used; this procedure incorporates a vaginal-wall sling with an additional set of sutures at the cardinal ligaments.[18] Cystocele cure rates for this procedure have not been published.
For grade 4 cystoceles, a procedure combining the 4-corner suspension described above and a standard anterior colporrhaphy has been described.[19] At a mean of 34 months, a 90% cystocele cure rate was reported. More recently, this procedure has been supplanted by a combined modified vaginal-wall sling and anterior colporrhaphy using Dexon mesh (Davis & Geck, Manati, Puerto Rico).[18] This combined approach, employed in 52 patients, yielded a 95% continence rate and a 92% rate for cure of cystocele at 6 to 24 months follow-up.
Medscape General Medicine. 1998;1(3) © 1998

Cite this: Pelvic Prolapse: Diagnosing and Treating Cystoceles, Rectoceles, and Enteroceles - Medscape - Jul 01, 1998.