Introduction
Herpes simplex virus (HSV) esophagitis is a common opportunistic infection that is seen in immunocompromised patients and in patients on immunosuppressive therapy. Typically, the clinical course is self-limited with classic symptoms of odynophagia and dysphagia. Immunocompetent patients are infrequently affected and present at a mean age of 29 years.[1] We present an otherwise healthy 77-year-old woman who developed acute herpetic esophagitis after recent dental work. Our patient's hospital course was complicated by an episode of upper gastrointestinal bleeding.
Case Report
A 77-year-old woman with a medical history significant for a paraesophageal hernia repair in 2006, followed by 2 postoperative esophageal dilations, presented with odynophagia and dysphagia to solids that had worsened over the past 2 days. One week prior to presentation, she had a root canal and was started on amoxicillin/clavulanic acid (Augmentin®, 500 mg twice daily) and ibuprofen 400 mg (2-3 times daily). On admission, she was only able to tolerate water by mouth. She was afebrile; had no oral lesions; her lungs were clear on auscultation; and no skin rash was evident. The rest of the physical examination was unremarkable. She had a normal comprehensive metabolic panel, and her white blood cell count was 6700/µL with 5% lymphocytes.
An esophagogastroduodenoscopy (EGD) performed on hospital day 2 demonstrated multiple serpiginous ulcerations in the mid- and distal esophagus, with a normal gastroesophageal junction. Biopsy specimens were obtained and returned the next day positive for HSV. Serologies for HIV and HSV were sent. The patient was started on intravenous acyclovir, and her symptoms began to improve over the next 24-48 hours. Upon further questioning, the patient denied any history of HSV-1, HSV-2, HIV, or recurrent infections. In addition, she has been in a monogamous relationship with her husband for 46 years.
On hospitalization day 5, the patient vomited 250 cc of bright red blood. She was transferred to the medical intensive care unit, and an emergency EGD was performed. The EGD showed 2 actively bleeding midesophageal ulcers, which were successfully treated with epinephrine injection and bipolar cautery. Her HIV test was negative, and her HSV-1 immunoglobulin (Ig)M titer was positive at 1.99. The patient was slowly advanced to a soft diet, and intravenous acyclovir was continued for 2 weeks with total resolution of her symptoms. A repeat endoscopy showed complete resolution of the herpetic esophageal ulcers. Our patient's HSV-1 IgM titers 3 weeks after admission rose to 2.70, which confirmed an acute herpetic infection.
Conclusion
Herpes esophagitis is a rare clinical entity that can occur in the immunocompetent host. It may represent an initial occurrence or reactivation of a latent infection.[2] The natural progression of disease is often benign; however, complications, including upper gastrointestinal bleeding and perforation,[3] may occur. Our case demonstrated the classic serpiginous ulcerations on endoscopic examination, as well as the presenting symptoms of odynophagia and dysphagia (Figures 1-3).
In conclusion, it is critical that the diagnosis of herpetic esophagitis not be overlooked in the elderly immunocompetent patient. In our case report, we propose a possible new mode of herpetic esophagitis transmission -- contamination of medical equipment.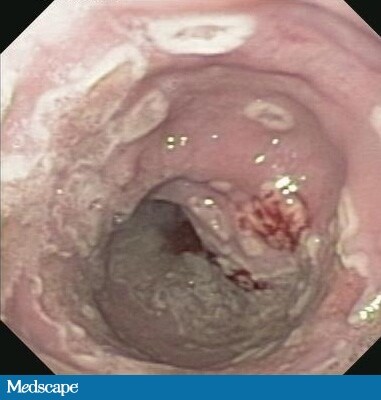 Figure 1. Mid-esophageal ulceration.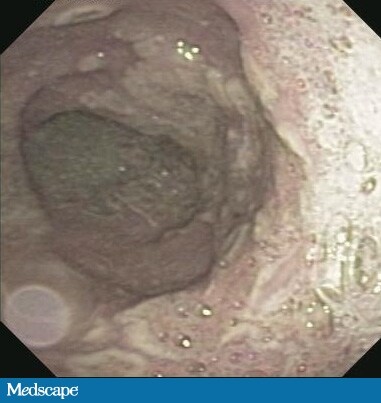 Figure 2. Mid-esophageal ulceration.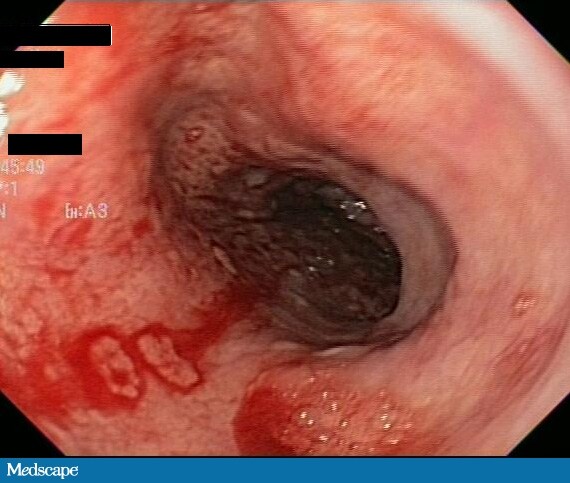 Figure 3. Actively oozing esophageal ulceration.
Medscape Gastroenterology © 2010  WebMD, LLC

Cite this: David Hudesman, Andrew Korman, Michael J. Lipp, et. al. Acute Herpetic Esophagitis in an Immunocompetent Woman - Medscape - May 14, 2010.