Clinical Case: A New Patient Evaluation
A 38-year-old man presents for a new patient evaluation. He was recently diagnosed with HIV and referred for HIV primary care. He tested negative for HIV 3 years earlier. He reports sex with men as his risk factor for HIV. He has a history of secondary syphilis that was treated 1 year ago. His CD4+ count is 482 cells/µL and his HIV-1 RNA is 2950 copies/mL. He has no history of genital or anal condyloma. He has not been screened previously for anal cancer and is not familiar with human papillomavirus (HPV) infections. He denies any anal pain, itching, or bleeding. He has had 3 sex partners in past 6 months, and has been using condoms consistently since his HIV diagnosis. He does not experience pain during receptive anal intercourse. A digital rectal examination and perianal inspection are unremarkable. Anal cytology is performed, results of which show atypical squamous cells of uncertain significance (Figure 1). The patient was referred for high-resolution anoscopy to be performed by a provider in the clinic.

Figure 1. This is a cytopathology slide. The arrow indicates a normal squamous epithelial cell and the asterisk indicates a cell infected with HPV.
Why Screen for Anal Cancer in HIV-Infected Patients?
Anal cancer is emerging as a common non-AIDS defining cancer in HIV-infected men who have sex with men. The rate of anal cancer appears to be increasing in the era of antiretroviral therapy.[1,2,3,4,5] A recent analysis from Kaiser-Permanente in California estimated the rate of anal cancer among HIV-infected population to be 174/100,000 person years compared to 2/100,000 person-years among the HIV-uninfected population.[6] The rate was higher among individuals with lower CD4+ counts. The rate of 174/100,000 is significantly higher than the rate of cervical cancer before routine Papanicolaou screening (35/100,000).
The North American AIDS Cohort Collaboration on Research and Design (NA-ACCORD) study combined data from 19 cohorts of HIV-infected people including 80% men. These investigators have estimated the cumulative incidence of anal cancer by age 60 years to be 2.8%.[7] The standard treatment for invasive anal cancer is a combination of chemotherapy and radiation therapy, which is associated with significant morbidity. Many clinicians believe that anal cancer is a reasonable target for a cancer prevention strategy.
Anal Cancer: Who to Screen
The organizations setting the standard for healthcare maintenance of HIV-infected patients have not yet adopted recommendations for routine anal cancer screening. The New York State AIDS Institute does recommend anal cancer screening for HIV-infected men with a history of sex with other men, HIV-infected women with a history of cervical or vulvar dysplasia, and anyone with a history of anogenital condyloma.
HIV-infected men with a history of sex with other men appear to be at highest risk for anal cancer. Less is known about the rate of anal cancer in HIV-infected women or in men without a history of sex with other men. Anal HPV infections are more common than cervical HPV infections among HIV-infected women.[8] The prevalence of high-grade anal intraepithelial neoplasia (HGAIN) in HIV-infected women has been estimated at 9%.[9] The rate of anal cancer is 7 times higher for HIV-infected women compared with HIV-uninfected women.[10] It is reasonable to include all HIV-infected women in an anal cancer screening program.
Some studies have suggested a significant prevalence of HGAIN among HIV-infected men who do not have a history of having sex with men.[11,12] However, it is not clear whether the rate of anal cancer is high enough to warrant screening in this subgroup.
Anal Cancer: How to Screen
The screening algorithm to prevent anal cancer is based on that for cervical cancer.[13] Many similarities exist between anal cancer and cervical cancer:
Both occur in the transformation zone from columnar to squamous epithelium;

High-risk infection with HPV is a necessary cofactor for both cancers; and

The cytology and histology specimens are graded with the same pathologic classifications.
The goal is for primary prevention of invasive anal cancer by identifying and removing pre-cancerous areas of anal epithelium (HGAIN) before they progress to invasive cancer. The initial screening test is a cytological smear of the anus (Figure 2).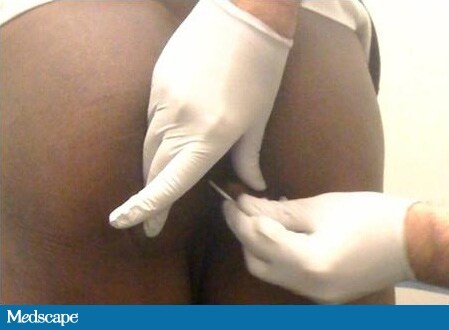 Figure 2. Performing an anal pap smear.
This is quite simple to do: (1) have the patient undress and lean over the examination table or lie on his or her side in a fetal position; (2) use 1 hand to spread the buttocks and expose the anoderm; (3) use the other hand to insert a Dacron swab or cytobrush into the anal canal as far as it will comfortably go, to a maximum of 5 cm; 4) slowly remove the swab, applying pressure to the wall of the anal canal in a circular manner (or remove the cytobrush while twisting it); and ( 5) swirl the swab or brush in a liquid cytology vial to release the cells into the liquid. The liquid should change from clear to slightly cloudy.
The smear should be followed by a digital rectal examination to feel for nodules, condyloma, or anal skin that is rough or irregularly textured. The perianal area should also be examined for HGAIN, which typically appears as grayish, hyperpigmented patches (Figures 3, 4). Any abnormalities on cytology (eg, atypical squamous cells, low-grade or high-grade squamous intraepithelial lesions), digital rectal exam, or perianal inspection should prompt further anoscopic evaluation.

Figure 3. The grey, hyperpigmented patches of high-grade perianal intraepithelial neoplasia in a white patient. Note there are small concomitant condylomas as well.

Figure 4. High-grade perianal intraepithelial neoplasia in a black patient. Areas of dysplasia can be more difficult to see in patients with darker skin.
Anoscopy
High resolution anoscopy, analogous to cervical colposcopy, is done to identify possible HGAIN and condyloma. A lubricated plastic anoscope is inserted into the anus. A cotton swab wrapped in gauze and soaked in 3% acetic acid is then inserted through the anoscope, and the anoscope is removed, leaving the gauze in place. The acetic acid reacts with the skin, making dysplastic epithelium appear white. After 2 minutes, the gauze is removed and the anoscope re-inserted. A colposcope is used to view the walls of the anus under magnification.
The squamocolumnar epithelium is located and visualized along the full circumference, which often requires significant manipulation of the anoscope to expose all folds of skin. The epithelium is observed for areas of whitening and vascular abnormalities (Figure 5). Lugol's iodine should be used to further identify areas of HGAIN, which appear yellow compared with normal epithelium, which appears mahogany brown (Figure 6). Areas suspicious for HGAIN are biopsied using cervical forceps. Treatment options for HGAIN will be discussed in a future column.

Figure 5. The squamocolumnar junction after application of 3% acetic acid. Note the dense white areas that are concerning for HGAIN.

Figure 6. The anal mucosa after application of Lugol's iodine. Normal epithelium appears mahogany brown whereas HGAIN appears yellow.
Anal Cancer: Components of a Screening Program
Many HIV primary care clinics have successfully integrated anal cancer screening into their programs in a manner similar to routine cervical cancer screening, with the primary care provider performing the initial screening evaluation and referring patients with abnormal screening tests. Other settings will refer patients to specific practitioners or specialized clinics for the entire process. A variety of models can be successful:
Primary care providers perform anal cytology screening, digital rectal examination, and perianal examinations;

Easily accessible office-based high resolution anoscopy for diagnosis of HGAIN and anal condyloma for all patients with abnormal screening tests; or

Office-based treatment for patients diagnosed with HGAIN and anal condyloma.
Major Challenges in Implementing Anal Cancer Screening
Accessing anoscopy and treatment for HGAIN. This is probably the major challenge for most clinics and medical offices providing HIV primary care. Over half of HIV-infected men who have sex with men and 20%-30% of HIV-infected women will have abnormal anal cytology and require referral for anoscopy. It is preferable to perform anoscopy at a clinic that is prepared for a large number of clinical referrals. Unfortunately, these specialized clinics are not available in many places or the available clinics cannot accommodate the clinical need. So many clinics and medical practices are developing the infrastructure to offer anoscopy within their clinics.
This procedure does not naturally fall under a single medical specialty. High-resolution anoscopy has been performed by general internists, infectious diseases physicians, nurse practitioners, and physician assistants. Gynecologists, general or colorectal surgeons, gastroenterologists, and dermatologists also perform these procedures. Training usually begins with a course in cervical colposcopy by the American Society of Colposcopy and Cervical Pathology (ASCCP). The ASCCP also offers training in high-resolution anoscopy. It is helpful to follow this by observing the procedure in clinical practice, and then performing the procedure with in-clinic supervision.
Lack of awareness regarding HPV and anal cancer. Many patients have little or no knowledge about HPV and anal cancer. It is important to help the patient understand the rationale for screening, existing gaps in knowledge, and the possible need for invasive procedures. Patients should make informed decisions before being screened for anal cancer.
High burden of disease and infrastructure required for an anal cancer screening program. The high prevalence of cytologic abnormalities, HGAIN, and anal condyloma will require significant resources to educate patients about screening, provide test results in a timely manner, and make appropriate referrals for diagnosis and management.
Lack of data on HGAIN treatments. This will be the focus of a future column.
Clinical Case, Continued
The 38-year-old patient described earlier had 2 anal biopsy specimens taken from near the squamocolumnar junction that showed anal intraepithelial neoplasia grade 3 (AIN3) and one that showed AIN2. He was also noted to have a small condyloma. The patient was then seen for infrared coagulator treatment of these pre-cancerous areas. This clinical case will be continued in a future column.
Anal Cancer Screening in Practice
Anal cancer is an emerging cancer in HIV-infected men and women. Screening strategies are available to identify and treat HGAIN, a precancerous condition of the anus. Although significant gaps in our knowledge base remain with respect to anal cancer screening, clinics and medical offices should consider whether to offer this testing. Anal cancer screening requires ready access to high-resolution anoscopy and treatment for HGAIN.
Medscape HIV/AIDS © 2010  WebMD, LLC

Cite this: Timothy J. Wilkin. Screening for Anal Cancer: Who, When, and How - Medscape - Apr 22, 2010.