Other Common Dermatoses
Irritant and allergic contact dermatitis. Contact dermatitis, including irritant and allergic contact dermatitis, is a common but preventable condition in women. Unless the physician is familiar with its symptoms, the diagnosis and cause of contact dermatitis can be easily missed. Irritant contact dermatitis. Irritant contact dermatitis is one of the most common dermatoses in women. This condition often manifests as chronic dermatitis of the hand. Most likely, there is a genetic predisposition in individuals who develop hand dermatitis. The most common cause of irritant contact dermatitis is cumulative insult, caused by repeated damage to the protective stratum corneum of the skin. This damage is usually the result of work with water and detergents used for domestic chores over a period of months or years. The phenomenon of cumulative irritant dermatitis is well described by Malten.[26]
Clinically, irritant contact dermatitis from work with water and detergents typically starts under a ring. Next, it spreads to the web spaces between the fingers, then the fingers, palms, and dorsum of the hand become affected (Fig. 8). This dermatitis often presents as erythema and vesiculopapular eruptions during the acute phase of the disease. In the chronic phase, the lesions become lichenified and scaly. Periungual dermatitis and chronic paronychia may be associated with chronic dermatitis of the hands.

Figure 8. Irritant contact dermatitis typically begins under a ring and spreads to web spaces between fingers, then to fingers, palms, and dorsum of hand.
In the early phase of irritant contact dermatitis, scabies may be a differential diagnosis. However, in scabies the itch and skin eruptions tend to be mainly papular and generalized.
Topical steroids are the mainstay in the treatment of irritant contact dermatitis. Mild-to-moderate strength topical steroids should be used. Potent steroids may cause severe skin atrophy and should be avoided. Patients should be encouraged to use emollients regularly. Barrier cream has not been found to be effective in preventing irritant contact dermatitis. Patients should be advised to avoid direct contact with the offending irritant; the use of impervious gloves at all times when doing wet work is recommended.
Allergic contact dermatitis. Allergic contact dermatitis is an immunologic reaction to a contact allergen. This condition is a type IV hypersensitivity allergic reaction. Brief exposure and contact with a low concentration of allergen can trigger it. Allergic contact dermatitis may be definitively confirmed by patch test. Avoidance of the contact allergen frequently results in complete clearance of the dermatitis. However, contact reactions to some ubiquitous allergens, such as nickel, may be associated with chronicity of the dermatitis, as it is difficult for individuals to avoid the allergen totally.
Allergic contact dermatitis presents as dermatitis on skin that comes in contact with the allergen; therefore, the location of the dermatitis may give a clue as to its cause. For example, dermatitis on the wrist may be a sign of contact allergy to nickel from watch straps; on the ear lobes, a sign of allergy to nickel from costume jewelry; and on the axillae, a sign of allergy to fragrance in deodorant. The following are common causes of allergic contact dermatitis in women.
Nickel. An allergy to nickel may be a reaction to costume jewelry, presenting with dermatitis on the earlobes (Fig. 9), neck, or wrists. It may also result from jean studs and belt buckles, presenting with dermatitis around the waist.

Fragrance. This allergen is indicated when dermatitis occurs from cosmetics applied to the face and neck, or from toiletries used on the axillae (Fig. 10), neck, or face.

Paraphenylenediamine. This allergen is present in hair dyes; dermatitis may present on the scalp, hairline, and eyelids (Fig. 11).

Preservatives. Preservatives, such as parabens, formaldehyde, and formaldehyde releasers found in cosmetics, toiletries, and medicaments, may cause dermatitis on the face, neck, trunk, and limbs.

Medicinal agents. Drugs such as neomycin and clioquinol may cause dermatitis on the eyelids (in eyedrops) and limbs (in creams containing steroid/neomycin combination for treating eczema).

Rubber /Latex. Rubber gloves may cause dermatitis on the hands and lower forearms.

Figure 9. Contact allergy dermatitis occurs after cutaneous exposure to allergen. Reaction to nickel may be triggered by costume jewelry, manifesting as dermatitis on earlobes (shown here), neck, or wrists.

Figure 10. Fragrance in cosmetics or toiletries, such as deodorant, may be identified as allergen when dermatitis is seen on face and neck, or axillae.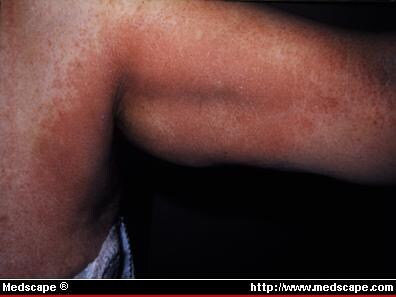 Figure 11. Paraphenylenediamine, a chemical found in hair dyes, should be suspected allergen when dermatitis presents on scalp, hairline, or eyelids.
Treatment of allergic contact dermatitis consists of total avoidance of the causative allergen. In acute cases, a wet compress with saline or potassium permanganate helps to dry the wet lesions. In the subacute and chronic dermatitis, mild-to-moderate strength topical steroids usually clear the dermatitis. Antihistamines (hydroxyzine and chlorpheniramine) are prescribed to control pruritus, although the nonsedating antihistamines are generally ineffective. Because topical combination steroid/antibiotic preparations increase the risk of sensitization, particularly to antibiotics, these agents are best avoided.
Medscape General Medicine. 1997;1(2) © 1997

Cite this: Clinician's Photo Guide To Recognizing and Treating Skin Diseases in Women: Part 1. Dermatoses Not Linked to Pregnancy - Medscape - Dec 17, 1997.