December 6, 2009 (Boston, Massachusetts) — Results from 2 randomized, double-blind, placebo-controlled trials of brivaracetam have come to 2 very different conclusions. One trial suggests that the experimental drug, structurally similar to levetiracetam, can reduce partial-onset seizures. However, another trial conducted by the same research team did not achieve statistical significance on the primary efficacy endpoint. The results were presented here at the American Epilepsy Society 63rd Annual Scientific Conference.
The findings have left investigators scratching their heads. "I was personally shocked," lead researcher Victor Biton, MD, from the Arkansas Epilepsy Program in Little Rock, told Medscape Neurology. "Initial study results were so promising, and this was the best drug I was working with," he said. "I thought it would sail through these evaluations."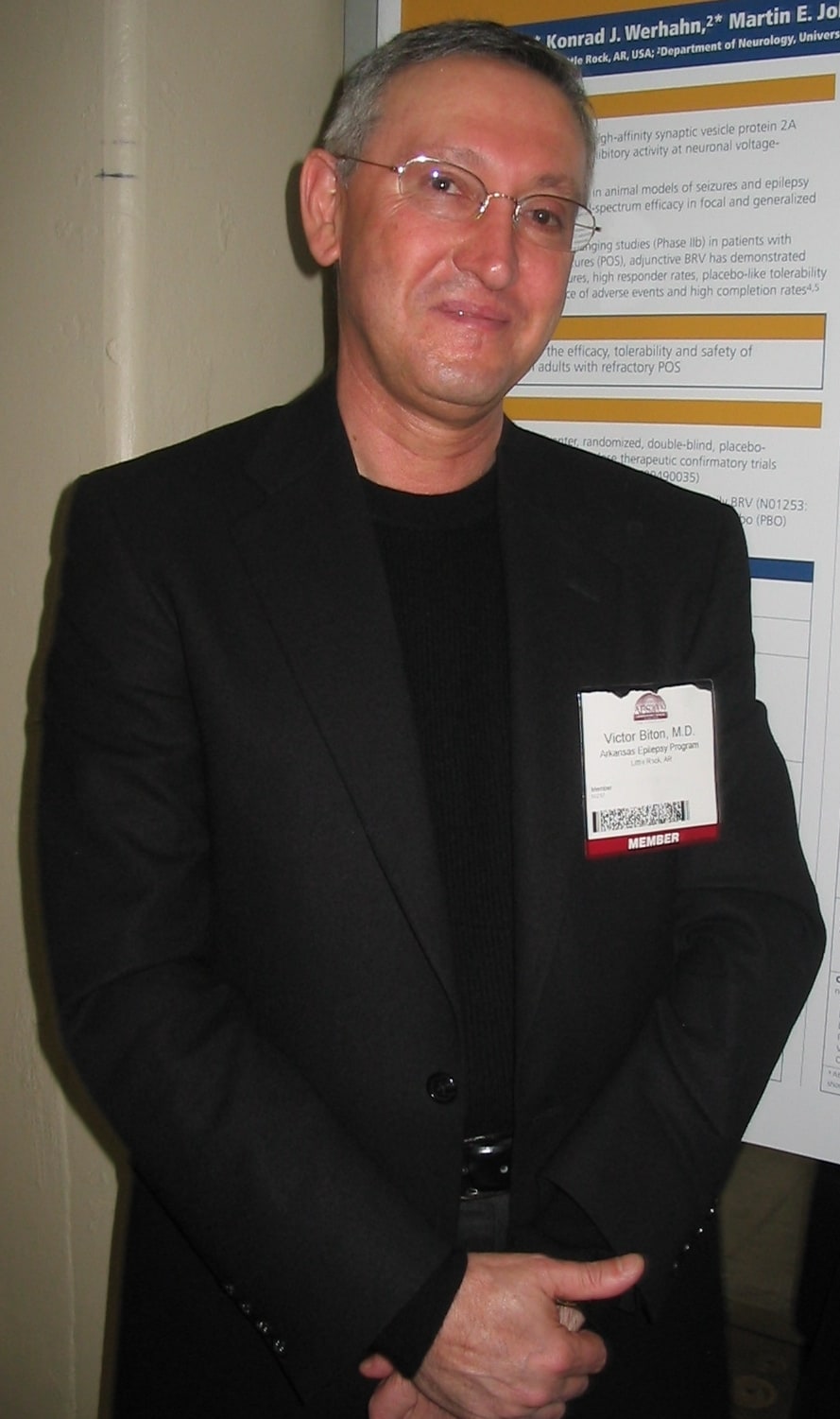 Dr. Victor Biton
Brivaracetam is a synaptic vesicle protein 2A ligand. It is a racetam derivative with anticonvulsant properties. UCB Pharma, the maker of levetiracetam (Keppra), is developing the drug.
Investigators conducted 2 prospective, multicenter trials. One study took place in North America, Australia, and Latin America, the second in Europe and Asia.
Each trial included about 400 people with refractory partial-onset seizures. Investigators randomized roughly 100 participants to each arm of the study. Patients in the Americas study received placebo or twice-daily brivaracetam, 5, 20, or 50 mg. Patients in the Europe and Asia study received placebo or brivaracetam, 20, 50, or 100 mg. Patients were treated for 12 weeks in both studies.
Participants were 16 to 70 years of age. They had 2 or more partial-onset seizures in the 3 months before screening. Participants had 8 or more seizures during the 8-week prospective baseline and were taking 1 or 2 concomitant antiepileptic drugs. Investigators limited levetiracetam use to 20% of randomized patients.
I was personally shocked.
Dr. Biton and his team report the Americas trial achieved statistical significance on the primary endpoint. They observed a reduction in partial-onset seizure frequency per week over placebo in the 50-mg dose. However, they also saw an increase in seizures in the 5-mg dose.
In the European trial, investigators report that the reduction in seizures was not statistically significant.
Table 1. Americas Trial: Reduction Over Placebo in Partial-Onset Seizures
| | | |
| --- | --- | --- |
| Brivaracetam Dose, mg | Reduction, % | P Value |
| 5 | −0.9 | .885 |
| 20 | 4.1 | .492 |
| 50 | 12.8 | .025 |
Table 2. Europe and Asia Trial: Reduction Over Placebo in Partial-Onset Seizures
Brivaracetam Dose, mg
Reduction, %
P Value
20
6.8
.239
50
6.5
.261
100
11.7
.037 (without appropriate controls for multiplicity;
other number not presented)
Reasons for the divergent findings are not clear, but Dr. Biton says it could be any number of things. "Sometimes there is no logical explanation for conflicting results in studies," he said. "Sometimes you repeat the same study and get very different results."
In this case, Dr. Biton suspects that the different doses in the study might have played a role. "We also had a very strong showing in our placebo group in the European study, and that is something we would not have predicted."
Asked by Medscape Neurology to comment on the trials, Patricio Espinosa, MD, from the International Center on Neurosciences in Mandeville, Louisiana, said the results suggest that brivaracetam will fall short of its predecessor. "Levetiracetam is a great drug. It is effective, has few interactions, and a reasonable safety profile," he said.
Investigators report that 15% of patients taking brivaracetam experienced somnolence, another 14% had dizziness, close to 9% had fatigue, and more than 6% had influenza. Four deaths occurred during the trials — 2 patients were taking brivaracetam. One died from acute respiratory failure, and the other died of brain hypoxia.
"These deaths are worrisome," Dr. Espinosa said.
During an interview, Zhihong Lu, MD, clinical program director at UCB Pharma in Raleigh, North Carolina, said the company is talking with the US Food and Drug Administration and the European Medicines Agency about the next steps. She was not able to discuss the details.
Dr. Biton says another study is likely.
Results from the secondary endpoint were more consistent between the 2 trials. There was a statistically significant 50% responder rate versus placebo for the higher doses of brivaracetam. In the Americas trial, the 50-mg dose worked best (32.7%, P = .008). In the European trial, the 100-mg dose had the strongest showing (36%, P = .023).
At the poster session at the meeting, where these results were presented, attendees had many questions for investigators. The basis for most of their questions — why the discrepancy?
Dr. Biton says he hopes to answer that in time with further study.
This study was funded by UCB Pharma. The company was involved in the design and conduct of the study, collection, management, and analysis of the data, and preparation and review of the poster.
American Epilepsy Society (AES) 63rd Annual Scientific Conference: Poster 1.216. Presented December 5, 2009.
Medscape Medical News © 2009 Medscape, LLC

Send press releases and comments to news@medscape.net.
Cite this: Conflicting Results for Brivaracetam in Partial-Onset Seizures - Medscape - Dec 06, 2009.