Exposure Scenarios for HEQ
The exposure calculations are based on the use of a concentrated fabric rinse conditioner, which typically contains a maximum of 15% ester quat. Human exposure to HEQ must also be calculated in terms of dose per unit area. There are two potential exposure scenarios for fabric softeners: (1) exposure from clothing washed with fabric softeners (EXPFABRIC) and (2) direct exposure during hand washing (EXPHANDWASH). All values and equations relating to these consumer exposure calculations were taken from the Human and Environmental Risk Assessment (HERA) technical guidance document for risk assessments relating to household cleaning products[13]and are summarized in Table 2 . The exposure calculations are as follows: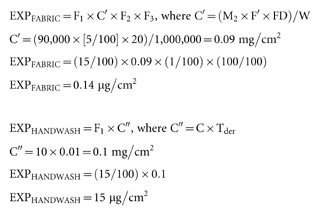 This QRA clearly demonstrates that even if the worst-case scenario (in which exposure occurs via both hand washing and wearing washed fabrics) is considered, exposure to HEQ (combined exposure = 15.14 µg/cm2) is more than an order of magnitude lower than the AEL (254 µg/cm2) that can be calculated from the human maximization test data described herein.
Dermatitis. 2007;18(1):32-39. © 2007 American Contact Dermatitis Society

Cite this: Evidence That Two Alkyl Ester Quaternary Ammonium Compounds Lack Substantial Human Skin-Sensitizing Potential - Medscape - Mar 01, 2007.