Current therapeutic options in patients admitted to the hospital with acute decompensated heart failure (HF) are very limited. Volume overload remains a major cause of the morbidity, and > 50% of these patients have little or no weight loss during the hospitalization period. Inappropriate secretion of aginine vasopressin plays a key role in mediating volume overload.
Tolvaptan is an oral nonpeptide, selective antagonist of the V2 receptor that mediates the renal actions of arginine vasopressin, which has a key role in fluid management and fluid excretion in patients with HF. Studies evaluating tolvaptan have shown that the agent is associated with improved renal function and electrolyte balance compared with loop diuretic administration.
The Efficacy of Vasopressin Antagonism in hEart failuRE Outcome Study With Tolvaptan (EVEREST)[1,2] is a program of 3 pivotal trials designed to evaluate the effects of tolvaptan on symptoms and fluid balance during the inpatient period (Trials A and B), as well as the long-term effects of the drug on morbidity and mortality in patients hospitalized with acute decompensated HF.
Patients hospitalized with chronic HF, left ventricular ejection fraction ≤ 40% (New York Heart Association class III/IV), and signs of fluid overload (jugular venous distention pitting edema > 1+ and/or dyspnea) were enrolled in the study. Patients with recent or planned revascularization, with ST-elevation myocardial infarction, systolic blood pressure < 90 mm Hg, and serum creatinine levels > 3.5 mg/dL, were excluded from enrollment.
The prospective, international, multicenter trial randomized patients in a double-blind manner to either oral tolvaptan 30 mg/day or placebo within 48 hours of admission. All patients were on standard medical therapy prescribed at their physician's discretion.
Primary endpoint: Improvement/noninferiority in all-cause mortality and improvement in cardiovascular death or HF hospitalization.
Primary endpoint of short-term analysis: Composite score of changes from baseline in patient-assessed global clinical status and body weight at day 7 or discharge (if earlier).
A total of 4133 patients were randomized to tolvaptan (n = 2072) or matching placebo (n = 2061). Baseline characteristics were well balanced between the 2 groups, including the use of standard medical therapies ( Table 1 ).
At 7 days or hospital discharge, change in body weight was significantly better in patients randomized to tolvaptan (Figure 1), but there was no difference between change in global clinical status between the 2 groups. However, a larger percentage of patients reported a beneficial change in dyspnea and in edema score.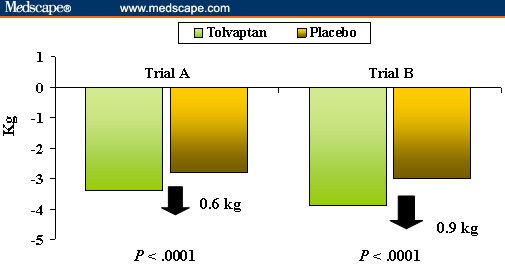 Figure 1. EVEREST: change in body weight at day 7 or hospital discharge.
At 24-month follow-up, there were no differences between the 2 groups with regard to overall mortality and cardiovascular mortality or HF hospitalization (Figure 2).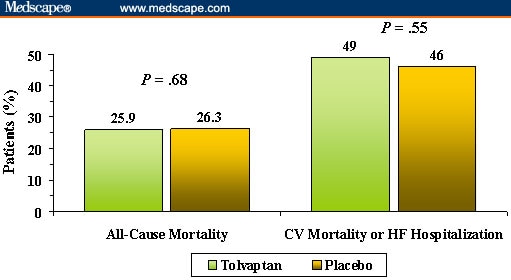 Figure 2. EVEREST: overall mortality and cardiovascular mortality or heart failure hospitalizations at 24-month follow-up.
Other adverse events were also similar in both groups, with the exception of thirst that was reported more frequently in the tolvaptan arm ( Table 2 ).
Oral tolvaptan on top of standard treatment for HF in hospitalized patients facilitates management of volume overload, with:

Early and sustained weight reduction



Improvement in dyspnea and edema



No effect on clinical status



Normalization of sodium



Maintenance of renal function





Long-term tolvaptan treatment did not have an effect on long-term mortality or HF morbidity.



Tolvaptan achieved short-term symptom benefit with a well-defined and acceptable long-term safety profile.
The addition of a new therapeutic alternative for patients with acute HF is always welcome, particularly because current therapeutic alternatives are somewhat limited. In the present study, the study authors demonstrated that the addition of a V2 receptor antagonist helped reduce volume overload and improve signs and symptoms of HF. Unfortunately these results were not accompanied by an improvement in survival, at least during the follow-up period. Whether better results can be obtained with different doses and with prolonged treatment will need to be addressed in future studies.
Medscape Cardiology © 2007 Medscape

Cite this: Efficacy of Vasopressin Antagonism in Decompensated Heart Failure -- Results of the EVEREST Trial - Medscape - Jun 12, 2007.