Presenter: Kai C. Wollert, Hannover Medical School (Hannover, Germany)
Rapid reperfusion of the infarct-related coronary artery is of critical importance to salvage ischemic myocardium in acute myocardial infarction (AMI) patients. Unfortunately, myocardial necrosis and injury starts rapidly after coronary occlusion, usually before reperfusion can be achieved, resulting in loss of viable and valuable myocardium. This process initiates adverse left ventricular (LV) remodeling, which in itself leads to chamber dilatation and contractile dysfunction in many patients.
Previous experimental studies suggest that cardiac transfer of unfractionated bone marrow cells (BMC) or bone marrow-derived stem cells and progenitor cells may enhance functional regeneration after MI has occurred. On the basis of these studies, it has been proposed that bone marrow-derived adult stem cells may be exploited for cardiac tissue repair and regeneration in patients after AMI. However, due to the nonrandomized design of these studies, the effects of intracoronary BMC transfer on post-MI cardiac remodeling have remained uncertain.
Aim
The present study was a randomized controlled trial designed to determine the impact of intracoronary autologous BMC transfer on LV remodeling and functional regeneration in patients after AMI and successful percutaneous coronary intervention (PCI).
Enrollment Criteria
Patients were eligible for the study if they had:
Acute ST-segment elevation AMI

Successful PCI with stent of the infarct-related artery

Hypokinesis or akinesis involving > 2/3 of the LV anteroseptal, lateral, and/or inferior walls as revealed by angiography performed immediately after PCI.
Patients were excluded from the study if they had:
Primary Endpoint
The study's primary endpoint was the change in LV ejection fraction as determined by cardiac magnetic resonance imaging (MRI) at 6-month follow-up vs baseline.
Study Design
After informed consent was obtained, patients were randomized in a 1:1 fashion to either control or BMC transfer (Figure 1). Under brief general anesthesia, 128 ± 33 mL of bone marrow was aspirated from the patient's iliac crest. The nucleated BMCs were enriched by 4% gelatin-polysuccinate sedimentation. During the same day that harvest was performed, the cells were infused into the infarct-related artery via the central lumen of an over-the-wire balloon catheter.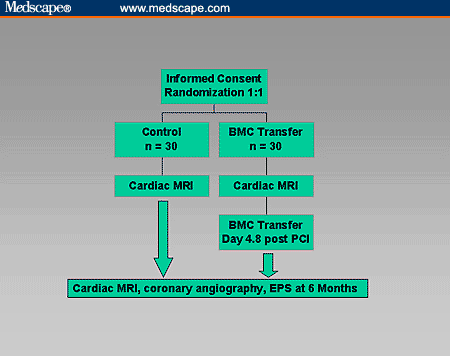 Figure 1. Study design.
Results
The study involved a total of 60 patients who were evenly randomized to either BMC transfer or control. . Baseline clinical characteristics were well balanced between the 2 groups (Table). There was no difference at discharge or at 6-month follow-up between groups with respect to optimal medical therapy. Patients were treated with ACE inhibitors, beta-blockers, and lipid-lowering therapy.
Table. Baseline Clinical Characteristics
 
Control
(n = 30)
BMC Transfer
(n = 30)
Age (yrs)
59
53
Female (%)
27
23
Diabetes (%)
10
10
Hypertension (%)
43
30
Hyperlipidemia (%)
23
30
Smoker (%)
57
60
Symptoms to PCI (hours)
8
9.8
Infarct artery left (%)
77
77
Infarct artery right (%)
23
23
Thrombolysis (%)
33
47
GP IIb/IIIa inhibitors (%)
47
47
Peak CK (u/L)
2844
2968
BMC, bone marrow cell; GP, glycoprotein; PCI, percutaneous coronary intervention
LV function at baseline and at 6 months as measured by MRI was similar in patients randomized to the control arm, whereas in BMC patients there was a 6.7% increase in LV function (P = .0026) (Figure 2). Subgroup analysis found that there was a 5.1% increase in ejection fraction in BMC transfer patients compared with control when treated in the left coronary artery (P = .031) and an 8.3% increase when the right coronary artery was treated (P = .026). Gender, time to reperfusion, and type of hematopoietic cells transferred did not play a role in the LV function improvement.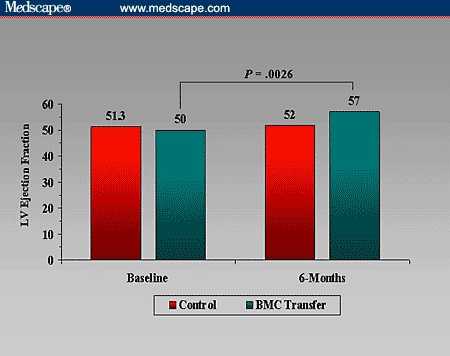 Figure 2. LV function by MRI.
During the procedure and at follow-up, there were no increases in troponin levels or in mortality rates, and there were no differences in arrhythmias between the 2 groups. A total of 28 control patients and 27 BMC transfer patients agreed to undergo an electrophysiologic study (EPS). Investigators identified 2 cases of inducible nonsustained ventricular tachycardia during EPS -- 1 in each group.
At 6-month angiographic follow-up, there was no significant difference in the incidence of restenosis (> 50%) between the control group and the BMC transfer group (4 vs 7, respectively; P = .28).
Conclusions
According to investigators, the results of the randomized controlled trial indicate:
Intracoronary transfer of autologous BMC enhances LV ejection fraction improvement in patients with AMI on top of successful PCI and optimal medical therapy.



BMC transfer appears to promote greater functional recovery in patients presenting late after symptom onset.



In the present study of 60 patients, intracoronary BMC transfer did not increase the risk of major adverse events as compared with the control group.
Discussant
In commenting on the study, Philippe Menasche, MD, Hôpital Européen Georges Pompidou (Paris, France) noted that at the American Heart Association Scientific Sessions 2003, there have been a number of presentations on the subject of cell transplantation in both acute and chronic settings. He believes this study deserves to be congratulated as it is the first randomized controlled trial of autologous bone marrow transplantation in AMI patients.
Another advantage of the study was its very simple design without the need for an intervening period of culture or purification of the cells. The primary endpoint of the study as assessed by MRI showed a global improvement in LV ejection fraction, and most importantly demonstrated that the technique appears to be safe. The study has very strong positive points, such as the randomized nature of the study, the blind interpretation of MRI, and the long-term follow-up of patients.
However, Dr. Menasche stated that the authors failed to provide a detailed account of the type of cells that were injected, as this is a subject of current controversy. He added that the rather high ejection fraction of patients limits the ability to apply these findings to low-risk patients. In addition, the improvement in systolic function may not be the ideal endpoint.
Nevertheless, he concluded that this study is very important and well designed and that it deserves to be praised.
Medscape Cardiology © 2003 

Cite this: Luis Gruberg. Intracoronary Autologous Bone Marrow Cell Transplantation Post Myocardial Infarction: A Randomized Controlled Trial - Medscape - Nov 17, 2003.