Presenter: John S. Douglas, Jr, Emory University School of Medicine (Atlanta, Georgia)
Cilostazol (Pletal; Otsuka America Pharmaceutical, Inc, Rockville, Maryland) is a new antiplatelet agent that increases the concentration of cAMP within the platelets by selectively blocking phophodiesterase type III, thereby inhibiting platelet aggregation. Animal studies have shown that cilostazol also inhibits smooth muscle cell growth by inhibiting DNA synthesis. Previous small trials have shown that cilostazol may not only prevent subacute stent thrombosis, but also may have a positive effect in the prevention of restenosis .
Aim
The Cilostazol for Restenosis (CREST) trial was conducted to evaluate whether cilostazol will prevent restenosis after stent implantation in a native coronary artery as evaluated by quantitative coronary angiography (QCA).
Endpoints
The primary endpoint of the study was the minimal lumen diameter (MLD) at 6 months of the first lesion stented per patient as assessed by QCA.
The secondary endpoints included:
MLD in all lesions

Mean percent diameter stenosis per patient and per stented lesion

Binary restenosis

Target lesion revascularization

Major angiographic and clinical endpoints
Study Design
CREST was a multicenter, randomized, double-blind clinical study that included patients with de novo lesions who underwent successful stenting (< 40 mm). Patients with prior percutaneous intervention within 6 months and thrombocytopenia, known bleeding diathesis, known intolerance to cilostazol, acute myocardial infarction, heart failure, renal insufficiency (serum creatinine > 2.5 mg/dL) and intraluminal thrombus were excluded from the study.
Results
A total of 705 patients were randomized at 19 sites to either cilostazol 100 mg twice daily plus dual antiplatelet therapy with aspirin and clopidogrel (n = 354) or placebo, aspirin, and clopidogrel (n = 351). Patients were clinically followed at 1 and 3 months and underwent angiographic follow-up at 6 months. Baseline clinical and angiographic characteristics were similar in both groups (Table).
Table. CREST: Baseline Clinical and Angiographic Characteristics
Characteristic
Cilostazol
(n = 354)
Placebo
(n = 351)
Age (yrs)
60 ± 10
60 ± 10
Female (%)
23
29
Diabetes (%)
24
28
Hypertension (%)
66
66
S/P MI (%)
21
23
S/P PCI (%)
24
25
S/P CABG (%)
12
9
Target vessel
LAD (%)
43
34
LCx (%)
23
29
RCA (%)
33
36
Reference vessel diameter (mm)
2.71 ± 0.59
2.75 ± 0.59
Minimal lumen diameter (mm)
0.82 ± 0.38
0.87 ± 0.41
Percent diameter stenosis (%)
69
68
Lesion length (mm)
13
13
> 1 stent deployed (%)
11
10
CABG, coronary artery bypass graft surgery; LAD, left anterior descending; LCx, left circumflex; MI, myocardial infarction; PCI, percutaneous coronary intervention; RCA, right coronary artery; S/P, status post
In-segment and in-stent MLD, the study's primary endpoint, was significantly larger in patients randomized to the cilostazol arm of the study compared with the placebo group (P = .0188) (Figure 1). Furthermore, late loss was significantly lower in cilostazol-treated patients (P = .0035) (Figure 2).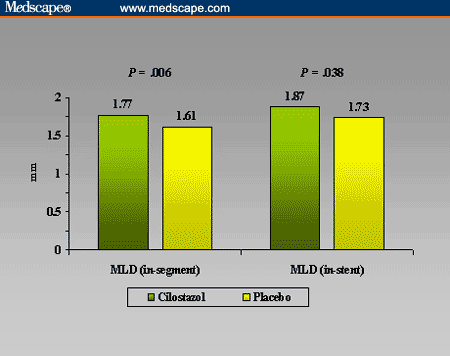 Figure 1. CREST: MLD.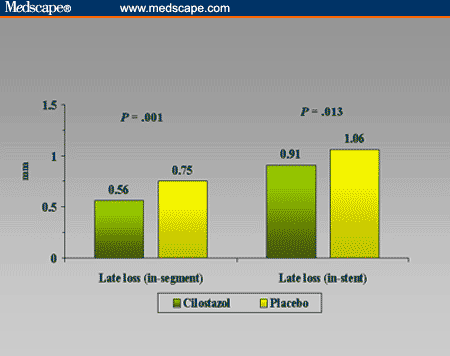 Figure 2. CREST: late loss.
Both in-segment and in-stent restenosis occurred significantly less frequently in the cilostazol group (Figure 3). Specifically, use of cilostazol was associated with a 39.5% relative risk reduction in the rate of binary restenosis.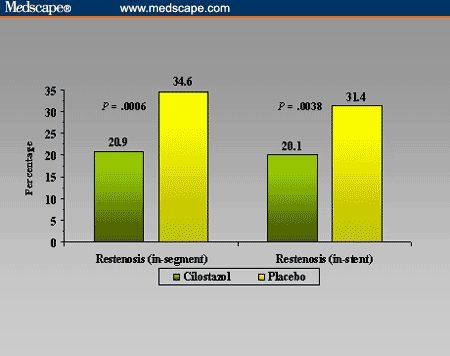 Figure 3. CREST: in-segment and in-stent restenosis rates.
By subgroup analysis, cilostazol was also associated with significantly lower rates of restenosis in patients with diabetes and in patients with vessels < 3 mm and those with vessels < 3 mm (Figures 4, 5, and 6).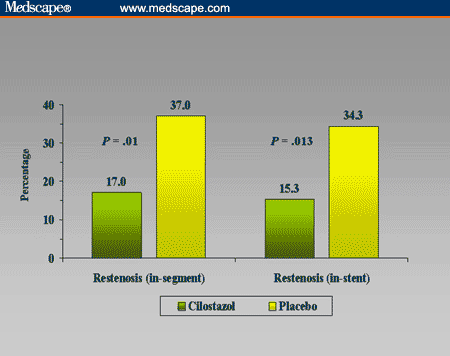 Figure 4. CREST: restenosis rate in diabetics.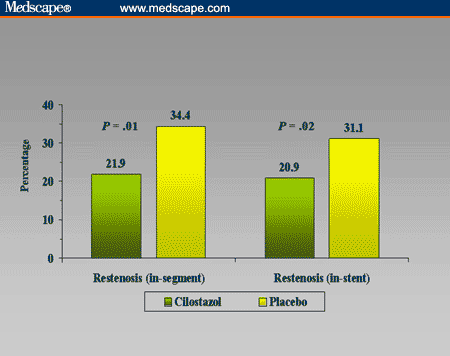 Figure 5. CREST: restenosis rate in vessels > 3 mm.

Figure 6. CREST: restenosis rate in vessels < 3 mm.
Clinical event rates were low overall and similar between the 2 groups (Figure 7).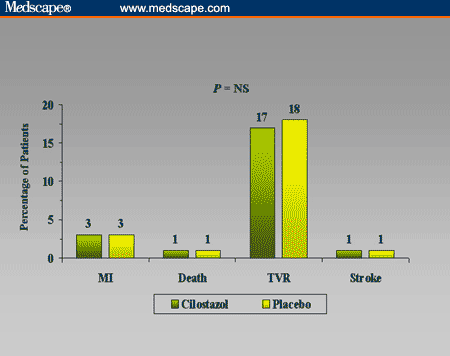 Figure 7. CREST: clinical event rates.
Conclusions
On the basis of the findings of the CREST trial, investigators concluded that cilostazol taken orally after successful stent implantation significantly reduced the rate of restenosis, a benefit that extended to the diabetic and small-vessel subgroups.
Commentary: David Moliterno, Cleveland, Ohio
According to Dr. Moliterno, after many trials with clinical compounds that have failed to show any benefit in the reduction of restenosis, the present study with cilostazol shows a positive effect in the prevention of restenosis. The mechanism by which this drug prevents restenosis has not been completely elucidated, however. But there are still outstanding questions, particularly with respect to the advent of drug-eluting stents. Will it be ethical to conduct randomized future studies comparing drug-eluting stents with cilostazol? Should the drug be given as an adjunct in patients treated with drug-eluting stents?
Editorial Commentary
Perhaps a few years ago, this study would have been met with greater enthusiasm, but the advent of drug-eluting stents and their accompanying single-digit restenosis rates challenges the overall importance of the study. Furthermore, the current study reported a 17% restenosis rate in patients with reference vessels > 3 mm, which is not very impressive and therefore cannot compete with drug-eluting stents.
Medscape Cardiology © 2003 

Cite this: Luis Gruberg. CREST: Cilostazol for Restenosis Trial - Medscape - Nov 11, 2003.