The National Organization of Rare Disorders
This collaboration between The National Organization for Rare Disorders and Medscape is designed to provide practicing clinicians with updates and analysis on a range of clinically important topics from rare disease experts affiliated with NORD. Since 1983, NORD has served as the hub of the rare disease community, providing information and other services to promote timely diagnosis and optimal treatment for patients.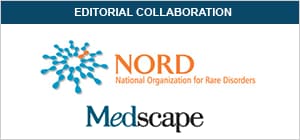 About NORD
The National Organization for Rare Disorders (NORD), a 501(c)(3) organization, is a unique federation of voluntary health organizations dedicated to helping people with rare "orphan" diseases and assisting the organizations that serve them. NORD is committed to the identification, treatment, and cure of rare disorders through programs of education, advocacy, research, and service.