Cleveland Clinic
This collaboration between the Cleveland Clinic Neurological Institute and Medscape is designed to provide practicing clinicians with updates and analysis on varied clinically important topics in neurology from a range of specialist experts.
LATEST FEATURES FROM CLEVELAND CLINIC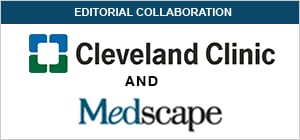 About
Our mission is to be the world's leader in patient experience, clinical outcomes, research and education. Cleveland Clinic aspires to no less than providing the best care in the world. Everyone is a caregiver at Cleveland Clinic, and we believe every life deserves World Class Care. Safety is paramount. Quality is key. We want every patient to have the best outcome and best experience, and every caregiver to have a great place to work and grow.