Medicine on Trial
Real Malpractice Cases is a series that recounts real-life clinical situations—some of which you or physicians you know may have encountered—that resulted in lawsuits. These cases are intended to offer valuable lessons on how to prevent a lawsuit and what you might expect if you get sued. Articles are from Medicine on Trial, Second Edition , a compilation of more than 80 real-life, litigated cases and the "Case of the Month" online series. Each case study includes commentary from Gordon Ownby, General Counsel of the Cooperative of American Physicians, Inc.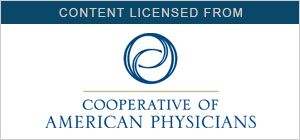 ABOUT THE COOPERATIVE OF AMERICAN PHYSICIANS, INC.
The Cooperative of American Physicians, Inc. (CAP), established in 1975, offers medical professional liability protection to nearly 12,000 of California's finest physicians through the Mutual Protection Trust. In 2013, CAP organized CAPAssurance, a Risk Purchasing Group, to bring liability insurance coverage to hospitals, healthcare facilities, and large medical groups. Based in Los Angeles, CAP also has offices in San Diego, Orange County, Sacramento, and Palo Alto. For more information, visit www.CAPphysicians.com . CAP is licensed as a California surplus lines broker (License No. 0B72723). The insurance products provided under the CAPAssurance, a Risk Purchasing Group, program are issued by a "non-admitted" or "surplus line" insurer that is not licensed by the State of California.
Follow CAP, the publisher of Medicine on Trial , on Twitter for industry trends, subscribe to its YouTube channel to hear from industry experts, connect with CAP on LinkedIn to engage with company leaders, and find information on its key milestones and achievements on Facebook .