American Thyroid Association
This collection features commentaries, interviews, and slideshows developed by Medscape in collaboration with the American Thyroid Association. It is designed to advance the understanding of thyroid disorders and thyroid cancer, and to offer guidance to physicians, nurses, pharmacists, and the entire patient care team.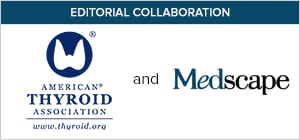 About
The American Thyroid Association® (ATA®) is the leading worldwide organization devoted to thyroid biology and to the prevention and treatment of thyroid disease through excellence in research, clinical care, education, and public health. The ATA is recognized for its highly regarded professional journals, Thyroid®, Clinical Thyroidology®, and VideoEndocrinology™; annual scientific meetings; biennial clinical and research symposia; research grant programs, and the development of clinical management guidelines for thyroid disease and thyroid cancer. The ATA website promotes awareness through Clinical Thyroidology® for the Public and authoritative explanations of thyroid disease and thyroid cancer in both English and Spanish, serving as a reliable resource for patients and the public.