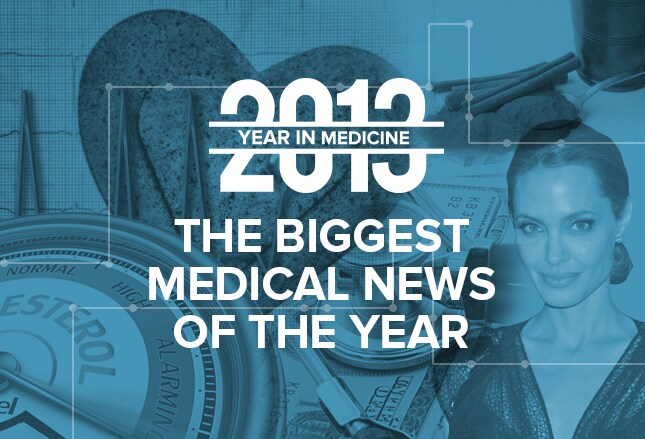 Overtesting and Overtreating
A total of 17 medical societies released a list of almost 90 common but often unnecessary tests and procedures, many of them ordered for asymptomatic patients.[1] Twelve of the guidelines issued as part of the "Choosing Wisely" campaign caution physicians that asymptomatic patients probably do not need a given treatment. Two examples are stress echocardiograms, which are not recommended for asymptomatic patients who meet "low-risk" scoring criteria for coronary disease, and computed tomography, which should not be used to evaluate children's minor head injuries.
Separately, a national summit involving a wide range of medical groups, as well as hospital organizations, and government agencies, issued a policy paper detailing strategies for dealing with 5 overused treatments that can harm patient safety and quality: antibiotics for the common cold, blood transfusions, ear tubes for children, early-scheduled births, and cardiac stents.[2]
Image from Getty Images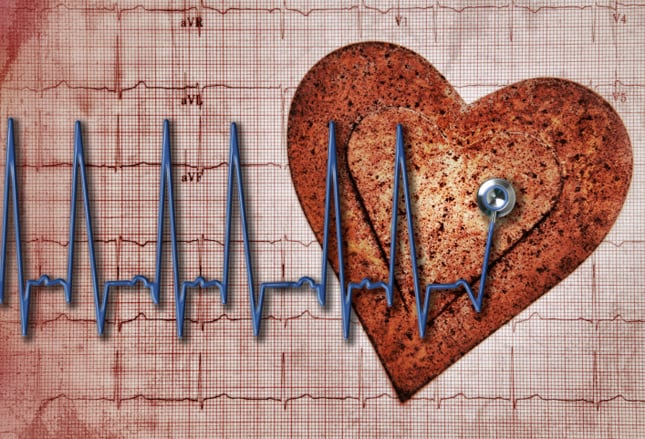 DSM-5 Released
After more than a decade of development and more than 2 years of frequently searing controversy, the fifth edition of the Diagnostic and Statistical Manual of Mental Disorders (DSM-5) was finally released.[3] Some say that a key change is that expanded diagnostic criteria are based more on consensus rather than on objective laboratory measures. Some are concerned that the "DSM-5 will result in the mislabeling of potentially millions of people who are basically normal. This would turn our current diagnostic inflation into hyperinflation and exacerbate the excessive use of medication in the 'worried well,' " said Allen Frances, MD, chair of the DSM-IV Task Force and one of the new manual's staunchest critics. He advises physicians to use the DSM-5 "cautiously, if at all."[4]
Image from Medscape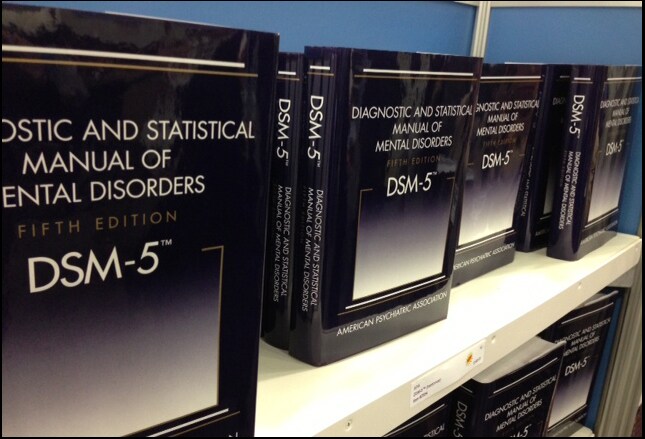 New Cholesterol Guidelines Abandon LDL Targets
New guidelines for the detection, evaluation, and treatment of elevated cholesterol were released in November this year,[5] and they caused an immediate stir with the assertion that there is simply no evidence from randomized controlled trials to support treatment to a specific cholesterol target level. As a result, the new guidelines make no recommendations for specific LDL-cholesterol or non-HDL targets for the primary and secondary prevention of atherosclerotic cardiovascular disease. Instead, the new guidelines identify 4 groups of primary- and secondary-prevention patients in whom physicians should focus their efforts to reduce cardiovascular disease events. And in these 4 patient groups, the new guidelines make recommendations regarding the appropriate "intensity" of statin therapy in order to achieve relative reductions in LDL cholesterol.
Image from Thinkstock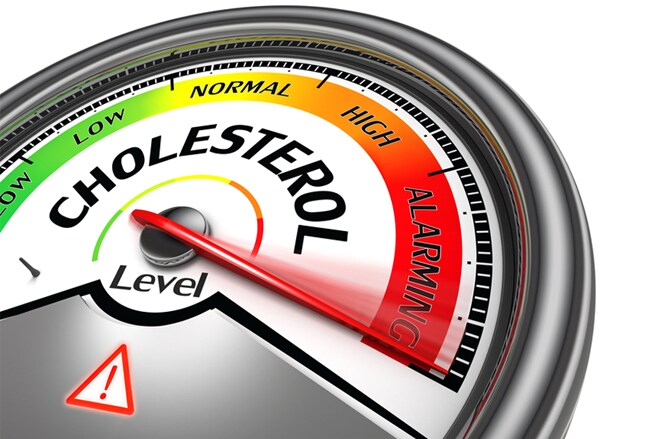 JNC 8 at Last: Updated Hypertension Guidelines
At long last, the Eighth Joint National Committee (JNC 8) in December released its new guidelines on the management of adult hypertension, which contain 2 key departures from JNC 7 that the authors say will simplify care.[6] These include relaxing blood pressure targets and backing away from the recommendation that thiazide-type diuretics should be initial therapy in most patients. The next day, the American Society of Hypertension and the International Society of Hypertension released their own clinical practice guidelines,[7] hinting at the discord among experts that has delayed new recommendations for over a decade.
Image from Thinkstock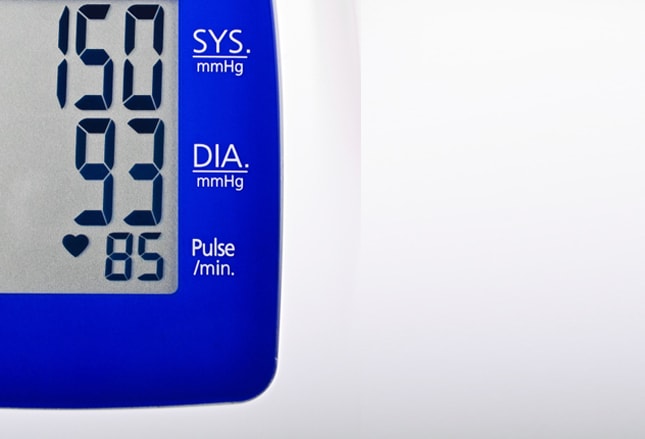 Obesity Declared a Disease
After much impassioned debate, physicians at the American Medical Association 2013 Annual Meeting in June voted overwhelmingly to label obesity a disease that requires a range of interventions to advance treatment and prevention.[8] The decision could have implications for provider reimbursement, public policy, patient stigma, and International Classification of Diseases coding. Physicians disagree on whether the ruling will change everyday practices and whether obesity fits the typical disease parameters, but all agree the decision has spotlighted the need for resources for a public health crisis that affects a third of the United States and costs the healthcare system $190 billion annually.[9]
Image from Thinkstock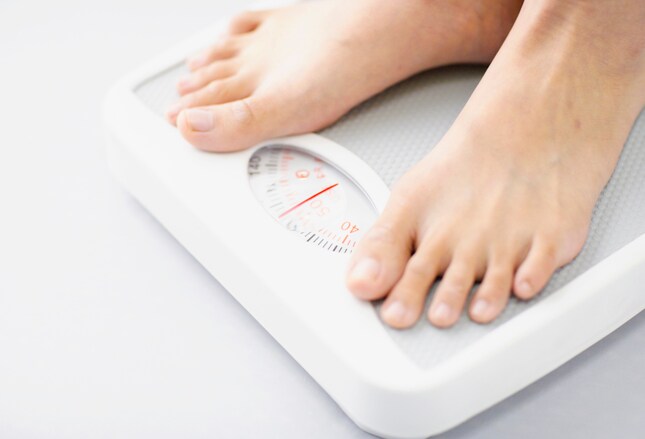 Cognitive Deficits, Depression in Former NFL Players
Cognitive deficits and depression appear to be more common in aging former National Football League (NFL) players compared with healthy controls, according to a study in the January 7 issue of JAMA Neurology.[10] In August 2013, the NFL agreed to pay $765 million to settle lawsuits from retired players who have developed depression, dementia, and other neurologic disorders they say resulted from head injuries incurred on the field.[11] The funds will be used to cover medical costs for documented severe cognitive impairment sustained by ex-players, to pay legal expenses, and to fund research.
Image courtesy of AP Photo/Gene J. Puskar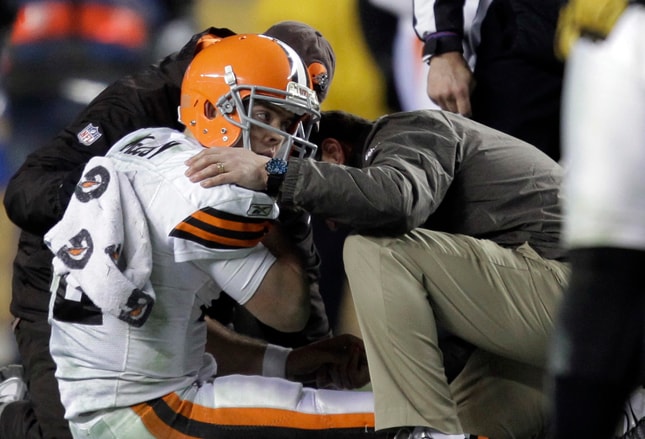 Celebrity Disease Awareness
Celebrities continued to raise disease awareness in 2013. Angelina Jolie's headline revelation in May about her positive genetic test for the BRCA1 mutation and subsequent double prophylactic mastectomy stunned the world and put the entire field of breast cancer medicine on high alert.[12] Her story is "the epitome" of individualized medicine, said Eric Topol, MD, editor-in-chief of Medscape.
And in October, Tom Hanks went public with his type 2 diabetes diagnosis.[13] "With Tom Hanks...you see someone who's not particularly overweight, who doesn't appear to lead an unhealthy lifestyle, and I think it's a very important message that anybody can develop diabetes...," Robert E. Ratner, MD, chief scientific and medical officer of the American Diabetes Association, told Medscape Medical News.
Angeline Jolie image from John Shearer/Invision/AP; Tom Hanks image from Jim Ross/Invision/AP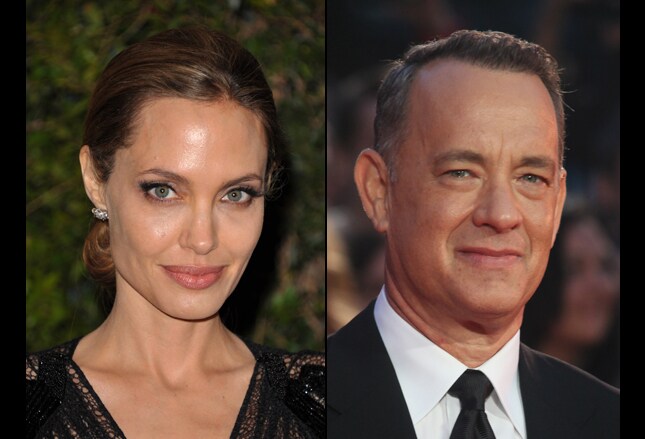 Major Drug Alerts
Several drug warnings were important for clinicians this year. The popular antibiotic azithromycin (Zithromax and Zmax, Pfizer) poses the risk for torsades de pointes, which therefore warrants careful screening of patients for this drug.[14] The fluoroquinolone class of antibiotics increases the risk for permanent peripheral neuropathy, a risk that now appears on updated labels for the drugs.[15] The antibiotic clarithromycin prescribed for patients already taking antihypertensive calcium-channel blockers is associated with increases in hospitalization for acute kidney injury, hypotension, and death.[16] And last, the use of statins appears to be associated with an increased risk for musculoskeletal injuries, including an increased risk for dislocations, strains, and sprains.[17]
Images courtesy of First Data Bank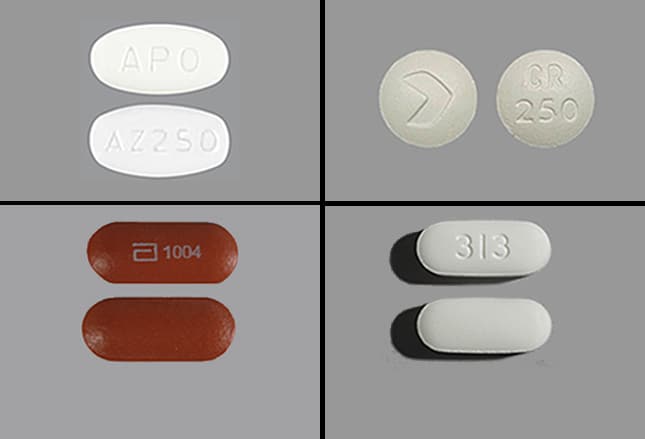 Other Major Alerts
Healthcare professionals also heard warnings about some commonly used nutrients, drinks, and more. Calcium supplement use is associated with higher all-cause and cardiovascular death rates but not with deaths from stroke, but the finding is controversial.[18] Heavy coffee consumption, defined as more than 28 cups of coffee per week, is associated with an increased risk for all-cause mortality among men.[19] Consumption of noncaloric, artificially sweetened beverages may increase the risk for excessive weight gain, metabolic syndrome, type 2 diabetes, and cardiovascular disease.[20] And last, a new hypothesis proposes that antioxidant levels within cancer cells are responsible for resistance to treatment.[21] The theory destroys any reason for taking antioxidative nutritional supplements, because they are more likely to cause than prevent cancer.
Images from Shutterstock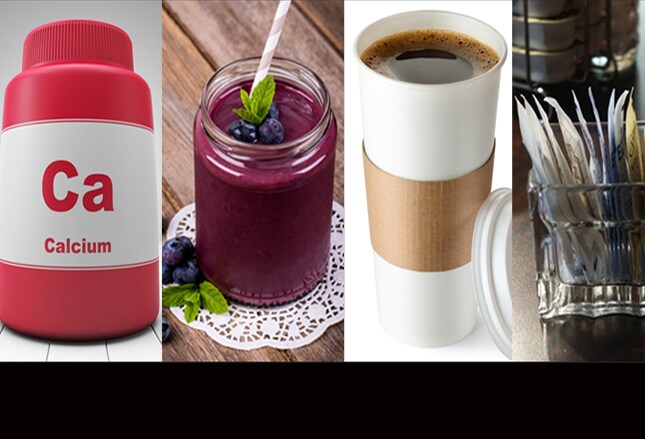 Probiotics and the Brain, Cinnamon and Diabetes Meds
Two studies released this year generated a lot of interest, despite being preliminary. First, a new study provided the first evidence in humans that probiotics in the diet can modulate brain activity: Using functional MRI, researchers found that women who regularly consumed probiotic-containing yogurt showed altered activity of brain regions that control central processing of emotion and sensation.[22] Whether the effects are clinically beneficial will require further study, researchers said. And in a separate meta-analysis, patients with type 2 diabetes who took cinnamon supplements had improved fasting blood glucose and cholesterol levels but not glycated hemoglobin (HbA1c) levels.[23] The researchers don't currently recommend cinnamon instead of diabetes medication, but cinnamon might someday play a role as an adjunct to traditional medicine.
Images from Thinkstock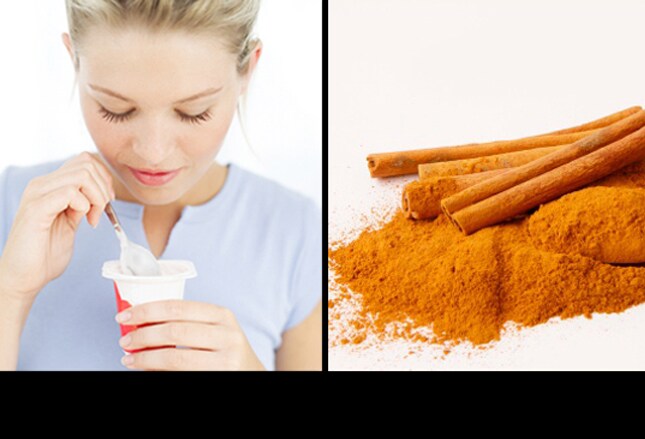 Diet to Prevent Alzheimer's, Fecal Transplant Pills, Lyme Culture Test
New dietary guidelines for the prevention of Alzheimer's disease have been developed by the Physicians Committee for Responsible Medicine.[24] Pills containing a concentrate of fecal bacteria can stop recurrent Clostridium difficile infections by rebalancing the bacteria in the gut.[25] And last, a news feature article discussed a new culture test for Borrelia burgdorferi, the bacteria that causes Lyme disease.[26] Some Lyme patient advocacy groups and physicians began encouraging patients to have the $595 test, but others are concerned about its early commercialization; at least one study has questioned the test's validity.[27]
Images from Thinkstock/CDC/Medscape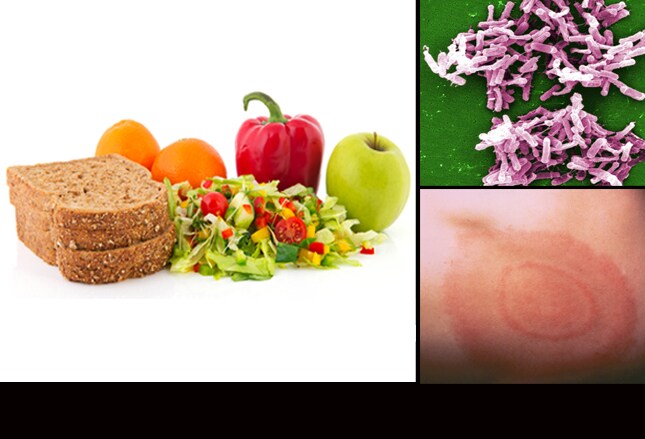 First and Game-Changer FDA Approvals
Four important first-time and or "game-changer" drugs and devices were approved in 2013. In March, the US Food and Drug Administration (FDA) approved a novel glucose-lowering agent, canagliflozin (Invokana, Janssen Pharmaceuticals) for the treatment of adults with type 2 diabetes.[28] Canagliflozin is the first in a new class of drug, an oral selective sodium-glucose transporter-2 (SGLT2) inhibitor. In June, the first nonhormonal drug for hot flashes associated with menopause was approved by the FDA, despite an agency advisory committee having rejected it as posing too much risk for minimal benefit.[29] The drug is paroxetine mesylate (Brisdelle, Noven Therapeutics). In July, the FDA approved the first brain-wave test to help diagnose attention-deficit/hyperactivity disorder (ADHD) in children and adolescents aged 6 to 17 years.[30] And in December, the first-of-its-kind nucleotide analog inhibitor sofosbuvir (Sovaldi, Gilead Sciences, Inc) was approved for the treatment of adults with chronic hepatitis C virus (HCV) infection, a widely anticipated move that is expected to dramatically improve outcomes for many patients.[31]
Images courtesy of Neba/Janssen/Noven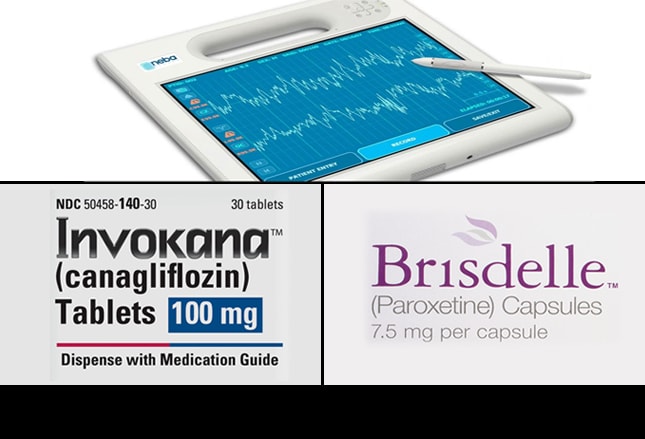 HIV Research: Closer to a Cure?
Two exciting studies this year showed promise for a cure in HIV-infected patients. In October, an infant infected with HIV-1 and treated with combination antiretroviral therapy (ART) beginning at 30 hours of age remained healthy and had no detectable signs of HIV RNA at age 30 months, despite having discontinued ART 12 months earlier.[32] And in November, researchers reported for the first time that radioimmunotherapy in conjunction with triple ART can effectively kill HIV-infected cells from patients.[33] In addition, an in vitro model showed that the radiolabeled antibody crosses the blood-brain barrier without disturbing the tight junctions of the cells, which might allow such therapy to reach HIV reservoirs in the brain.
Image from Shutterstock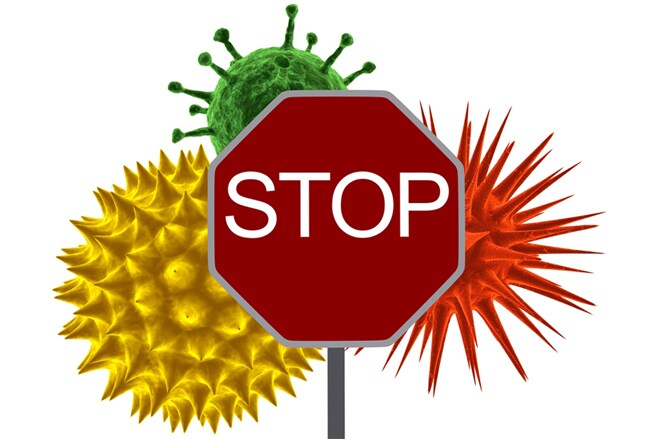 The Sunshine Act
A provision in the Affordable Care Act (ACA) that seeks to expose the financial dealings between industry and physicians and discourage conflicts of interest for the latter took effect on August 1.[34] Under the ACA provision, called the Physician Payments Sunshine Act, drug and device makers must report any "transfer of value" of $10 or more made to a physician. Transfers of value under $10 — a cup of coffee, for example — aren't reportable unless they add up to more than $100 in a year. Companies also must disclose whether physicians have any ownership stake in them. The Sunshine Act requires the Centers for Medicare & Medicaid Services to post the totals for each physician online by September 30, 2014.
Image from Thinkstock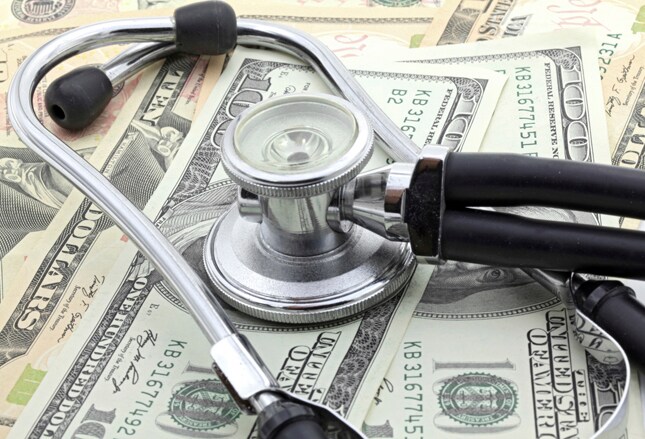 Boston Marathon Bombings
The twin bombings at the finish line of the Boston Marathon shocked the nation, but the swift and effective medical response provided reassurance of American disaster preparedness, at least in large urban areas.[35] Among those who responded were student nurses transporting injured runners to the medical tents[36] and runners themselves who were physicians and nurses.[37] In local hospitals, staff found that disaster management plans worked well, with teams of trauma and orthopedic surgeons standing by, as well as emergency medicine and internal medicine physicians ready to help.[35]
Image courtesy of AP Photo/Charles Krupa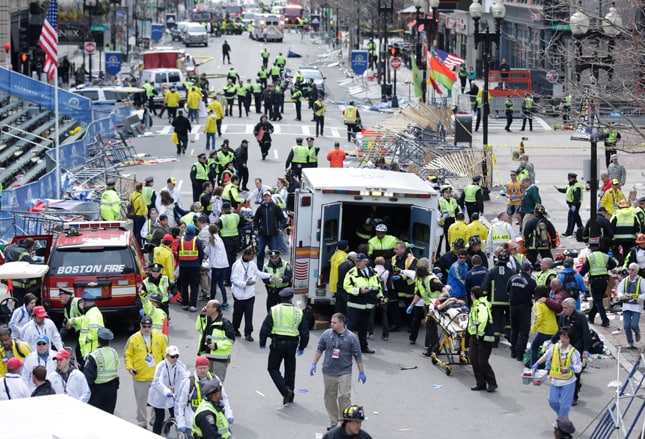 Congress Passes 3-Month SGR 'Doc Fix'
On December 18, physicians received another holiday season reprieve from financial disaster as the Senate approved a bipartisan budget deal — already passed by the House — that delays an almost 24% reduction in Medicare pay from January 1 to April 1, 2014, again kicking the can down the road.[38]
Image from Dreamtime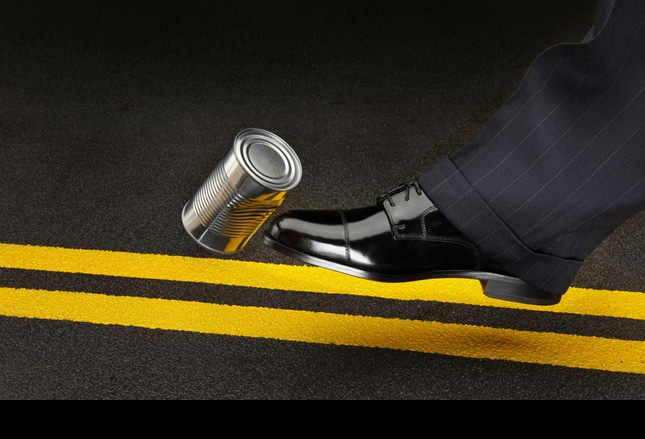 ACA Exchanges Launch, With Glitches
Since October 1, the online marketplaces through which consumers can buy health insurance have struggled to meet demand and overcome system problems.[39] The HealthCare.gov Web site, which markets the exchanges, slowly enrolled more consumers, but an early December surge after Thanksgiving once again slowed traffic.[40] Officials said they had met the deadline to make the site run smoothly for the "vast majority" of users, and it was performing better than it did during its disastrous launch, but it still fell short of the speedy insurance marketplace President Obama once touted.
Image courtesy of HealthCare.gov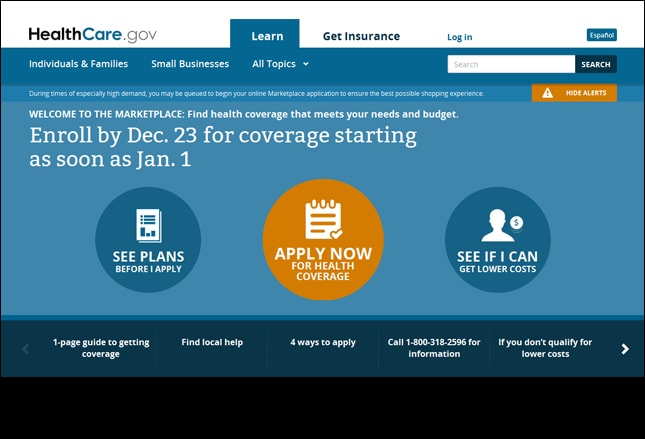 Final Rule for Mental Health Parity Legislation
Five years after the Mental Health Parity and Addiction Equity Act passed, the US federal government has issued a final rule to increase parity between mental health/substance use disorder benefits and medical/surgical benefits in group and individual health plans.[41] The rule ensures that health plan features such as copays, deductibles, and visit limits are generally not more restrictive for mental health/substance use disorders benefits than they are for medical/surgical benefits. Additional consumer protections include ensuring that parity applies to intermediate levels of care received in residential treatment or intensive outpatient settings and clarifying that parity applies to all plan standards, including geographic limits, facility-type limits, and network adequacy.
Image from Getty Images