15 Game-Changing Wireless Devices to Improve Patient Care
David Lee Scher, MD; Neil Chesanow
October 23, 2014
New Monitoring Devices May Make Aging in Place the Norm
Most patients don't want to stay in the hospital any longer than they have to. Hospital errors are the third leading cause of death in the United States,[1] and hospital-acquired infections rank in the top five.[2] Being institutionalized in a nursing home isn't popular either. Most Baby Boomers and Gen Xers prefer to age at home, but 95% fear that today's remote monitoring technology isn't sufficiently advanced to predict a potential adverse event and alert a monitoring provider before disaster strikes at home.[3]
Cardiac electrophysiologist David Lee Scher, MD, clinical associate professor of medicine at Penn State University, director of a digital health consulting firm, avid blogger on mobile health issues, and chairman of the Healthcare Information and Management Systems Society (HIMSS) Mobile Health Roadmap Task Force, begs to differ. To make his case, he points to 15 potential game changers in mobile health technology that hold the promise of revolutionizing patient care in hospitals, in nursing homes, and at home.
Image from Dreamstime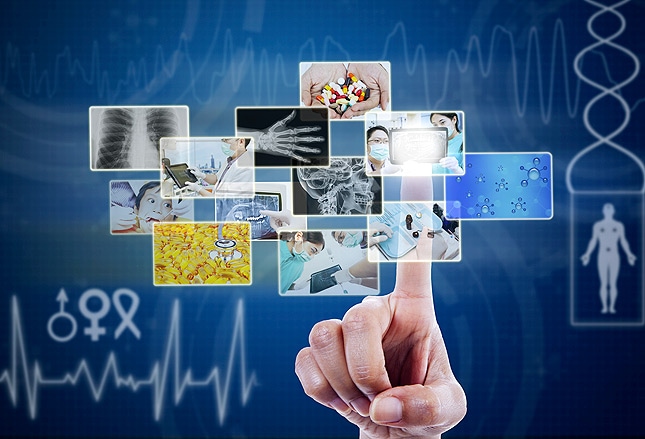 An ECG in Your Pocket
The AliveCor® Heart Monitor and companion smartphone app is a potential game changer in cardiology, Dr Scher believes. The device, a one-lead ECG, attaches to a smartphone and records accurate ECGs and heart rate in 30 seconds. It can monitor the effects of medications, track such symptoms as palpitations and shortness of breath, record the cardiac effects of alcohol or caffeine consumption, and monitor such activities as exercise or sleep. "This allows people with atrial fibrillation or cardiac arrhythmia to wirelessly transmit symptoms to a physician on the fly, without having to take a day off from work or go to the ER," Dr Scher explains. "It's the first and only single-lead ECG that has a US Food and Drug Administration (FDA)-approved algorithm for detection of atrial fibrillation. The problem with most other cardiac monitors is that the Centers for Medicare & Medicaid Services will only reimburse their use for 30 days. For patients with chronic disease, this device circumvents that reimbursement qualification." Its cost—$199—makes regular monitoring affordable.
Image courtesy of AliveCor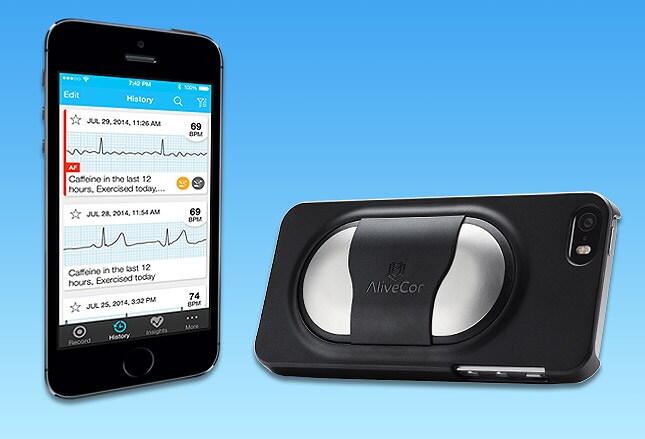 Monitoring Inpatients When You're Not in the Hospital
AirStrip® lets you monitor an inpatient's vital signs remotely. Consisting of hardware, software, and services, the platform, when connected to hospital monitoring equipment, can retrieve and display a patient's temperature, blood pressure, CT scans, ultrasounds, labs, radiographs, medications, and more—including electronic health record (EHR) notes—on a doctor's tablet or smartphone.
"AirStrip takes bedside monitoring to the physician's mobile device," says Dr Scher. "It displays disparate sources of data together, so it facilitates data analysis. It's interoperable with EHRs and lets you communicate remotely with a care team, so it's really an all-purpose tool for patient monitoring."
One day, such a system may move out of the hospital into the home, Dr Scher predicts, allowing even at-risk seniors to age comfortably in place.
Image courtesy of AirStrip Technologies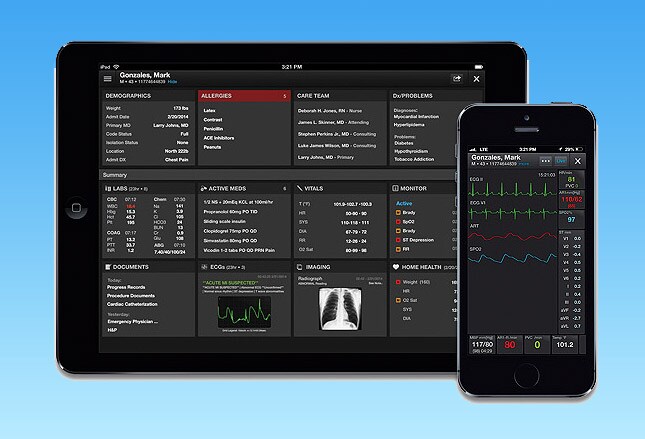 Checking All Your Diabetic Patients at Once
Wireless glucometers are available, but most diabetic patients use the nonwireless kind, which makes monitoring their health a challenge. Enter Glooko™, an app-device combination that offers a nifty solution. A Glooko MeterSync™ device connects over 30 nonwireless glucometers to patient smartphones, transforming them into wireless devices that enable syncing of blood glucose (BG) readings, integrate food and lifestyle data, and allow for real-time connection between patients and providers. An app displays data on multiple patients on a smartphone at once, including date of birth, diabetes type, last meter sync, average BG reading per day, and standard deviation. Patients who may be trending toward risk are flagged. "This has connectors for every FDA-approved glucometer," Dr Scher observes. "It's a patient management platform. It has robust analytics—probably the best around. Providers fear a useless avalanche of wireless data. What Glooko does is make data really usable, visual, and clinically relevant."
Image courtesy of Glooko, Inc.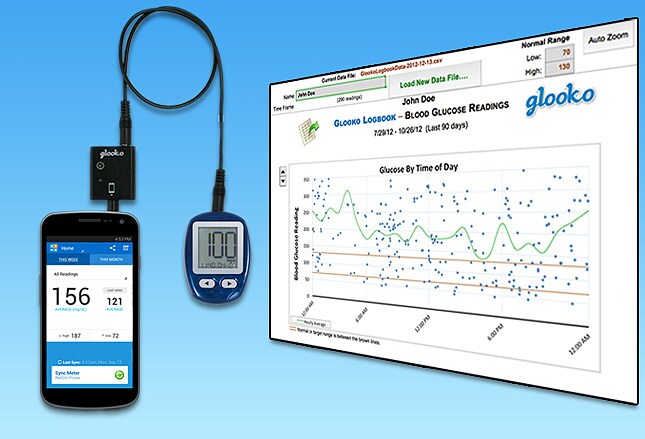 A Foolproof Medication Compliance Monitor
A tiny ingestible sensor by Proteus Digital Health "is a game changer for medication compliance," Dr Scher believes. "The sensor, which costs less than a penny, is placed on a pill. It gets activated by stomach juices when it's ingested. A digital signal is then sent to a Band-Aid®–like monitor worn on the patient's arm." This records the medication taken, ingestion time, heart rate, body temperature, body position, and rest and activity patterns. "You view these data in the context of how effective a given pill is," Dr Scher says. "For example, if someone is taking a heart medicine that you want to decrease their heart rate, you can tell whether the rate is slow with activity because the medication is working or because the patient is inactive." The data are wirelessly transmitted to a smartphone app, which in turn relays it to a monitoring provider, caregiver, or family member. Sensors are coded to specific medications during the pharmaceutical manufacturing process. "Patients receive text message reminders if they don't take their pills," Dr Scher adds. "It's the ultimate 'I-took-the-pill' tool."
Image courtesy of Proteus Digital Health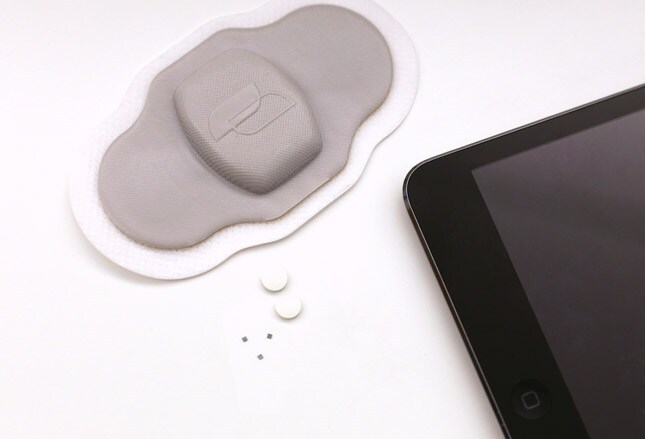 A Symptom Tracker for Patients With Asthma or COPD
Patients with asthma or chronic obstructive pulmonary disease (COPD) should note their symptoms, triggers, and medication use in a diary. But it's a hassle, and few do. Propeller Health has a solution: a device that fits onto an inhaler and wirelessly syncs with a smartphone app to record trending data. Patients are then offered feedback and education on how to improve asthma control or COPD status. The data can be wirelessly shared with the patient's provider. "This device takes a disease such as asthma, with various components, one of which is environmental, and tracks when and how much a patient is using their medication," Dr Scher says. "It can tell you whether a certain locale is more of a problem than another locale, or whether a patient is using their inhaler more at night or during the day. If the patient uses the inhaler more at night, for example, it may indicate that their other medications need to be adjusted, or there may be an allergen or dust in the room, which could be a problem."
Image courtesy of Propeller Health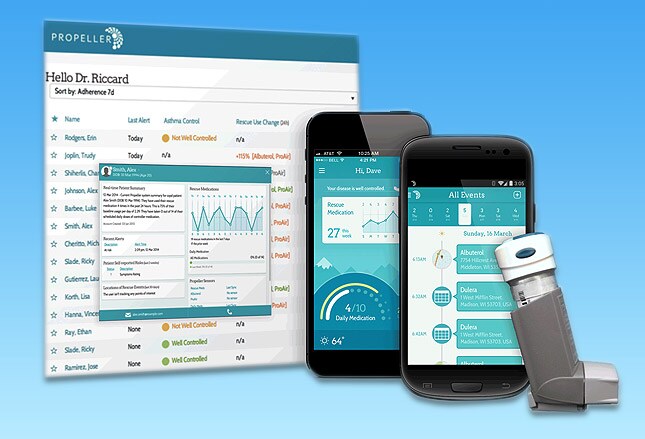 An Advance in Insulin Administration and Glucose Monitoring
Echo Therapeutics has developed a noninvasive, wireless monitoring system for people with diabetes. A pen-like skin preparation device administers insulin via pain-free transdermal skin permeation rather than a needle. A biosensor is then placed on the administration site, much like a Band-Aid®; it wirelessly transmits the patient's blood glucose level every minute to a remote monitor, which tracks glucose levels and rate of glucose change. Visual and audible alarms are triggered if levels move beyond the target range.
"This system isn't available yet, but it's very cool," Dr Scher says. "You dermabrade the skin to remove the hair and then place a little container of insulin on the spot that is either time- or feedback-released, based on glucose levels. It's a monitor and drug delivery system at the same time. The implications of this are huge, not just for the administration and monitoring of insulin but for other kinds of drugs as well."
Image courtesy of Echo Therapeutics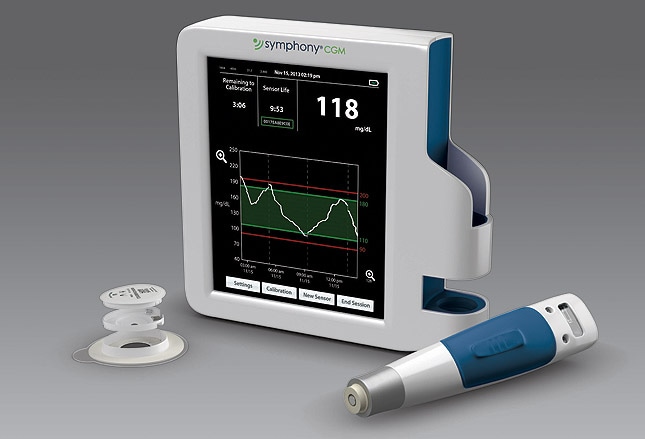 Precise Monitoring of Cardiac Patients With Frequent Symptoms
Medtronic's Seeq™ Mobile Cardiac Telemetry System, including a wearable peel-and-stick sensor and a wireless transmitter, is designed for patients with frequent symptoms that require short-term cardiac monitoring for up to 30 days. At a Medicare-certified diagnostic testing facility, cardiographic technicians review incoming data from the transmitter 24/7 and notify monitoring providers of clinically relevant events.
"Right now, a doctor who wants to monitor a cardiac patient for a few weeks has two options: using outpatient telemetry or an event recorder that's driven by symptoms," Dr Scher explains. However, many insurers won't reimburse for outpatient telemetry, he says, and seeking prior authorization can be onerous. Event recorders provide readouts based on preset thresholds but don't record every heartbeat. Ideally, a physician should use both. "Seeq can do both," Dr Scher says. "It can be either an outpatient telemetry device or an event recorder. Plus, it's reimbursable. That's the beauty of it."
Image courtesy of Medtronic, Inc.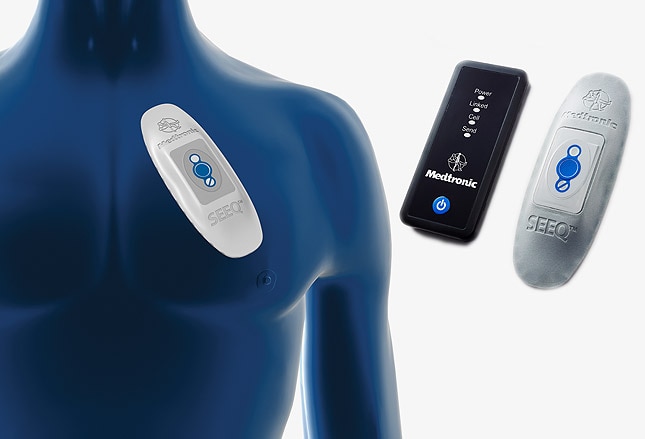 A Scale That Measures Much More Than Your Weight
The Withings Smart Body Analyzer is a Bluetooth device that monitors fat mass, lean mass, and body mass index with FDA-cleared bioelectrical impedance analysis. It also monitors your pulse (with an accompanying blood pressure cuff), records your standing heart rate history, and measures temperature and carbon dioxide to assess air quality.
A companion smartphone app tracks running, weight loss, activity and calorie levels, and cardiovascular fitness. The device also mates with over 100 popular partner apps, including RunKeeper, MyFitnessPal, and Lose It!, and Wi-Fi connectivity enables users to share data.
The scale has value for patients with diabetes, asthma, and other respiratory ailments. "It's also useful for patients with congestive heart failure, where weight gain is the primary parameter you follow," notes Dr Scher. "A patient with congestive heart failure can gain 3 lb in a day owing to fluid retention."
Image courtesy of Withings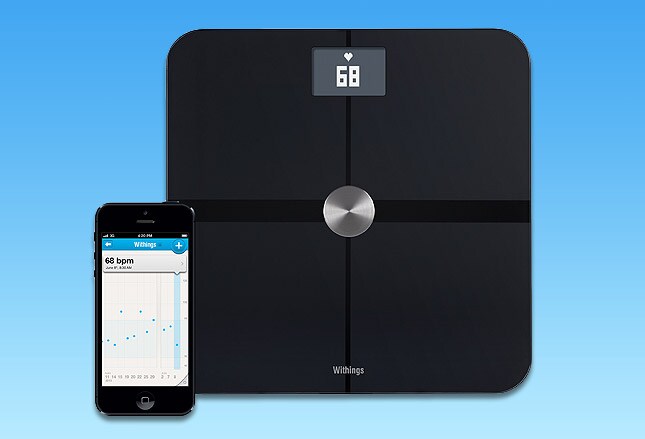 A Smart Way to Monitor Cardiac Patients
From Zephyr Technology comes a wireless BioPatch™ designed to continuously monitor a patient's heart rate, R-R interval, respiration rate, ECG, activity level, position, and posture while in the hospital, in transition, or at home. A wireless module snaps into a holder held in place on a patient's chest by two disposable standard ECG electrodes, making it easy for patients to stay remotely connected to a care team without cumbersome wires or hard-to-use devices. Vital signs, updated every minute, can be monitored in a special Web portal.
"Zephyr was among the first to do multi-vital sign monitoring with a patch that you simply place on your chest," Dr Scher says. "This is great for someone who's recovering from a hospitalization at home or who has a chronic disease for which they need to be monitored. It's a prime example of a technology that enables patients to age at home. We're going to see a huge shift, not only of people not being institutionalized in nursing homes but also of being treated at home rather than in the hospital. Products such as this should foster the trend."
Image courtesy of Zephyr Technologies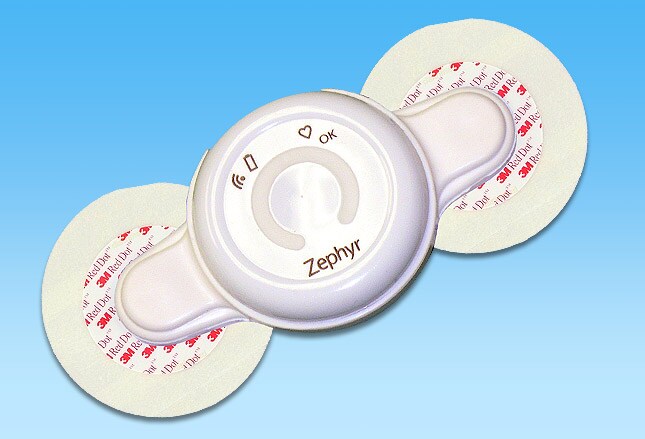 A Wireless System to Improve Seniors' Health and Wellness
GrandCare Systems offers a tablet-like device to improve quality of life for nursing home residents or enable elderly patients to remain at home. The simple software interface includes medication schedules and reminders, as well as lifestyle assessments and care coordination notes that wirelessly let family members and professional caregivers exchange information. The tablet mates with a variety of wireless devices available from the firm—a scale, pulse oximeter, glucometer, blood pressure cuff, thermometer, motion sensors, contact sensors (for doors and windows), and pressure sensors (for bed and chair)—with readings viewable in an online portal. The portal also enables seniors to video chat, share photos, send emails, play games, listen to music, watch videos, surf the Net, and engage in other social activities. "This is the quintessential total life management system for older people at home," Dr Scher says. "Not only does it incorporate sensors to monitor vital signs, but it takes into account the social as well as the medical aspects of the patient, which can potentially decrease depression."
Image courtesy of GrandCare Systems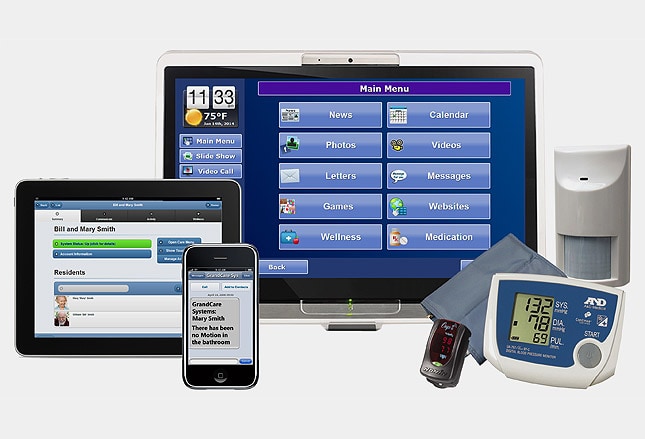 An Early Warning System for Monitoring Inpatients
General-care inpatients are typically wired to several monitors and checked by nurses every 4-6 hours. The EarlySense® All-in-One System eliminates the need for cumbersome devices, replacing them with a tablet-like sensor inserted under the mattress of the patient's bed. This device wirelessly monitors heart rate, respiration, and body movement. Computer monitors placed in prominent locations and handheld devices alert nurses of a change in patient status, enabling early detection of patient deterioration.
"This is really an inpatient tool, but I think its biggest potential is in non-high-tech facilities, such as rehab centers and nursing homes," Dr Scher says. "With a device such as this in a nursing home, you can, for example, prevent falls and pressure ulcers. It's an early warning detection system that can mitigate both risk and rehospitalizations." A version for home use is in development.
Image courtesy of EarlySense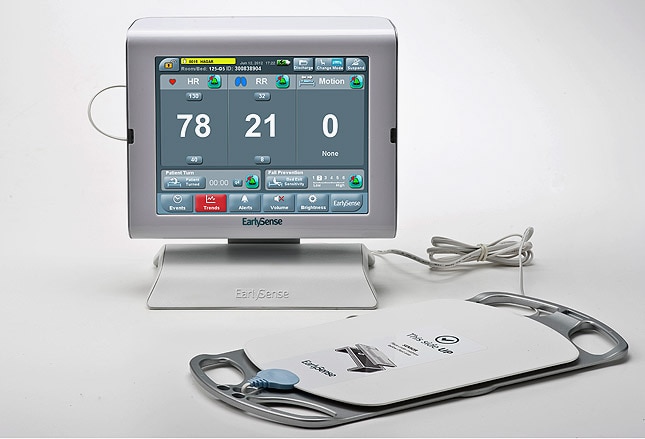 A Real-Life Tricorder
Physicians and nurses of a certain age will remember a hit TV series from the 1960s, Star Trek, in which the Starship Enterprise's resident physician, Dr Leonard McCoy, relied on something called a "tricorder"—a fictional scanning device—to measure the body temperature, heart rate, and just about every other physiologic function in his mostly human patients.
Now a Chinese company, Viatom Technology, has created virtually the real thing: the Checkme™ Health Monitor. About the size of a deck of playing cards, the device can monitor heart rhythm, blood oxygenation, sleep patterns, temperature, blood pressure, footsteps, and more—without wires—and display the data on an accompanying smartphone app. It also lets you add daily reminders, record voice memos, and share health information with family and friends via email, Facebook, Twitter, and other social media sites. "This is really an all-in-one, mini-mobile, point-of-care device for the everyday person," Dr Scher says. "Its simplicity makes it scalable to large populations, such as China's. If you can scale it to China, you can scale it anywhere."
Image courtesy of Viatom Technology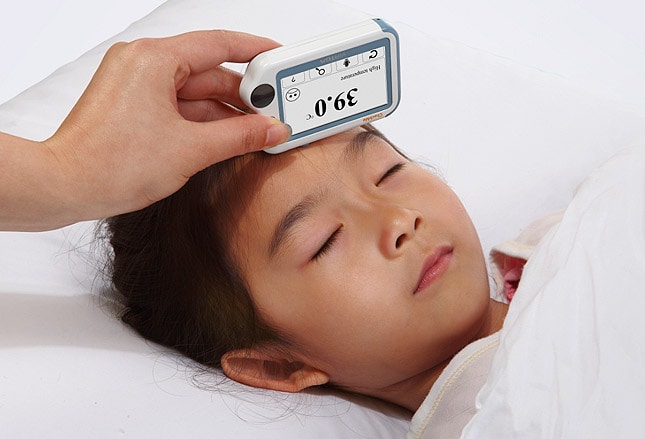 Patient-Generated Eyeglass Prescriptions
In the developing world, over 600 million people suffer from vision impairment because an optometrist isn't available to test their vision and issue a prescription for eyeglasses with corrective lenses.[4] Technologists at MIT's Media Lab have devised a remarkable solution: a plastic eyepiece that clips onto a smartphone screen. A patient views the screen through the eyepiece, sees several parallel lines, and presses the phone's arrow keys until the lines overlap. This is repeated with the lines at different angles, at which point software loaded onto the phone generates the prescription data. The process takes 2 minutes. Materials cost: $2. "This allows you to get an eyeglass prescription on your own," says Dr Scher. "You can then order your eyeglasses online. It's very simple and very cool." The device, the EyeNetraG Mobile Visual Acuity Tester, measures myopia, hyperopia, astigmatism, presbyopia, and pupillary distance with the accuracy of autorefractors costing $45,000, the inventors claim. Their new firm has garnered $4 million in venture capital since July.[5] FDA approval is pending.
Image courtesy of EyeNetra, Inc.
The Sole of a New Machine
A German firm, Moticon, has developed the world's first wireless sensor insole: OpenGo. As thin as a normal insole, it wirelessly transmits data on a patient's plantar distribution of pressure to a smartphone app. This is useful for clinical research and sports science, particularly for training analysis and optimizing rehabilitation after a foot injury.
"This inner sole has a sensor that can record gait and the way a person is actually walking," Dr Scher explains. It measures weight-bearing, balance, temperature, and acceleration, a process that normally requires a patient to be on a treadmill hooked up to multiple monitors in a lab, not ambling down the street untethered.
Dr Scher is impressed by OpenGo's clinical potential. "This can predict when a patient with Parkinson disease or who is recovering from hip surgery is becoming a fall risk," he says. "For neurologists or podiatrists, it can be a game changer."
Image courtesy of Moticon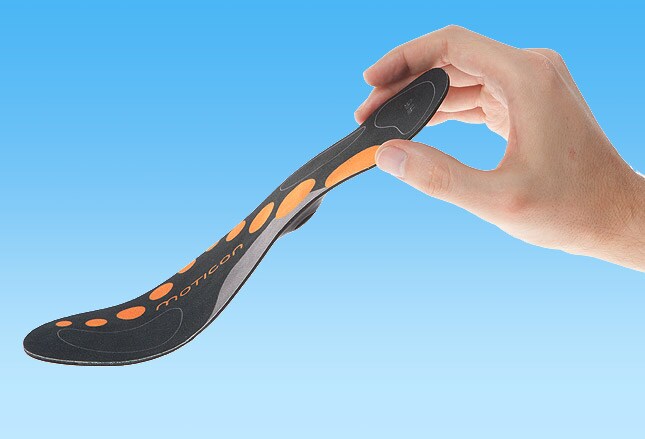 Reducing Pressure Ulcer Risk in Bedridden Patients
An app-device combo, WoundRounds® automates wound assessment; simplifies wound treatment; wirelessly enables care team communication; and identifies bedridden, at-risk patients before pressure ulcers can develop. "The app lets the provider at the point of care record the clinical state of a wound," says Dr Scher. "It uses clinically validated tools to standardize wound assessment. It also allows different providers to track the wound. If you're following the wound, for example, and then go on vacation, your replacement may say, 'That wound's pretty ugly,' whereas you might have left a note that says, 'Compared with a week ago, it looks great.' Different caregivers can actually track wound progress and improve the quality of care." Although designed for monitoring new wounds and pressure ulcers in patients at skilled nursing facilities, acute care and rehabilitation hospitals, and long-term care facilities, WoundCare's great potential, Dr Scher predicts, "is for patients living at home who have difficulty getting out of the house—they may be morbidly obese or have crippling back pain—in the care of a primary care physician."
Image courtesy of WoundRounds