TCT 2014: Transcatheter Cardiovascular Therapeutics 26th Annual Scientific Symposium, the world's largest educational meeting specializing in interventional cardiovascular medicine, was held September 13 to 17, in Washington, DC.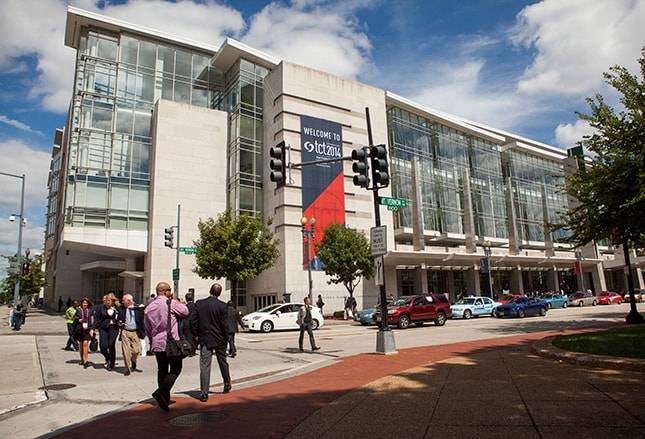 Key trials and presentations at the sessions included:
PARTNER TAVR Deaths at Five Years: Sobering and Remarkable
TRANSLATE-ACS: No MACE Benefit With Prasugrel in ACS
Light From BRIGHT: More Fuel for Bivalirudin-Heparin Debate
ABSORB II Sneak Peek: Bioabsorbable Stent Is Safe, Effective
PRIMA: PFO Closure Fails Anew in Migraine
SYMPLICITY-FLEX: RDN Misses in Mildly Hypertensive Patients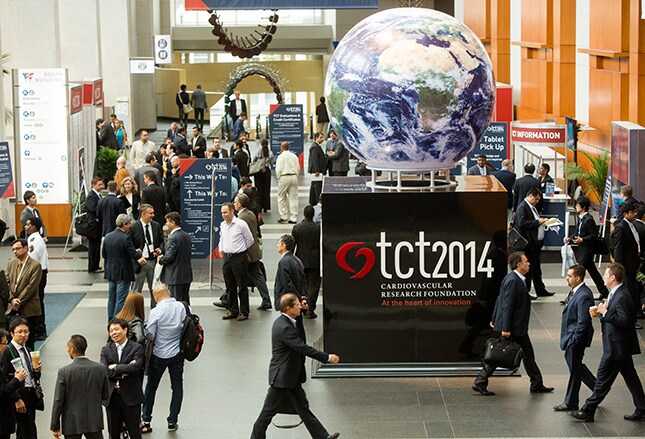 PARTNER TAVR Deaths at Five Years: Sobering and Remarkable
The vast majority of inoperable aortic-valve-disease patients treated in the PARTNER trial are no longer alive five years after their treatment with either the Sapien transcatheter valve or usual care, according to late-breaking results presented here at TCT 2014. Yet, even at five years, there was a significant survival difference between transcatheter aortic-valve replacement (TAVR) vs usual care and significant differences in repeat hospitalizations, suggesting that patients are living both longer and better following transcatheter-valve implantation, Dr Samir Kapadia (Cleveland Clinic, OH) reported. "If you look at median survival, if you have standard therapy you live less than a year, and if you do TAVR, you live two and a half years. This is a big difference," Kapadia said.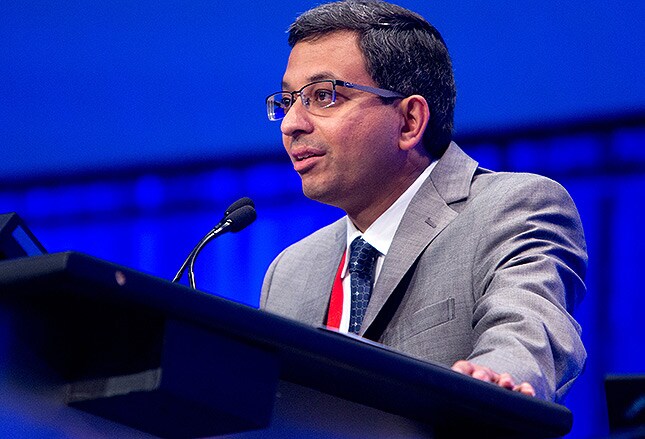 TRANSLATE-ACS: No MACE Benefit With Prasugrel in ACS
A real-world comparison of clopidogrel vs prasugrel in nearly 12 000 ACS patients undergoing PCI found no significant differences in the rate of major adverse cardiovascular events (MACE) between the two antiplatelet agents. Prasugrel was associated with a significantly lower adjusted risk of stent thrombosis, however, and a higher risk of bleeding relative to clopidogrel. Results of the observational TRANSLATE-ACS study also show that physicians are using prasugrel in patients who are younger, men, and STEMI patients. "These are patients we think stand the most to gain from a more potent antiplatelet therapy and perhaps bleed less," said lead investigator Dr Tracy Wang (Duke Clinical Research Institute, Durham, NC).
Light From BRIGHT: More Fuel for Bivalirudin-Heparin Debate
US cardiologists attending TCT 2014 got a first-hand look at the Chinese BRIGHT trial comparing bivalirudin, unfractionated heparin (UFH) alone, and heparin plus a GP IIb/IIIa inhibitor (tirofiban). The primary results, first released at the China Interventional Therapeutics meeting in Shanghai last March, showed that net adverse clinical events (NACE, a combination of bleeding plus major adverse cardiac events) were significantly reduced in the bivalirudin vs UFH/tirofiban arms and skirted statistical significance in the bivalirudin vs UFH-monotherapy arms. A similar pattern was seen for all bleeding events. Dr Yaling Han (General Hospital of Shenyang Military Region) also reported new data on stent thrombosis, showing no significant differences between the three groups.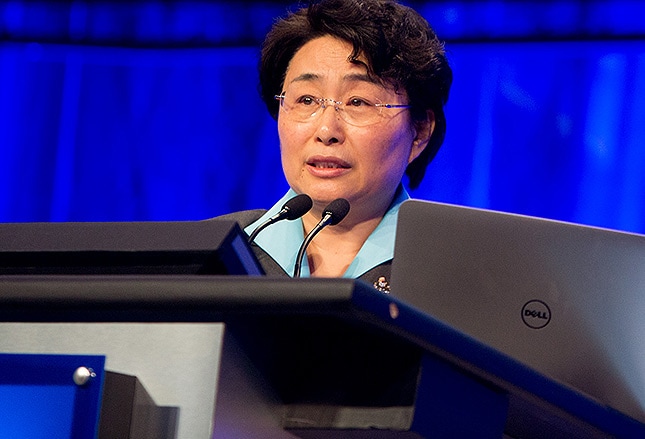 ABSORB II Sneak Peek: Bioabsorbable Stent Is Safe, Effective
An interim analysis of the ABSORB II trial showed that the acute lumen gain was significantly smaller among coronary artery disease patients who received an everolimus-eluting stent with a bioabsorbable scaffold (Absorb BVS, Abbott Vascular) compared with those who received an everolimus-eluting metallic stent (Xience, Abbott Vascular). Yet, despite the significant but modest difference in the acute performance of the two stents, clinical outcomes and angina status were equivalent between Absorb and Xience stents. Dr Patrick Serruys (Imperial College London, UK) presented the data during a press conference and in a late-breaking clinical-trials session, with simultaneous publication in the Lancet.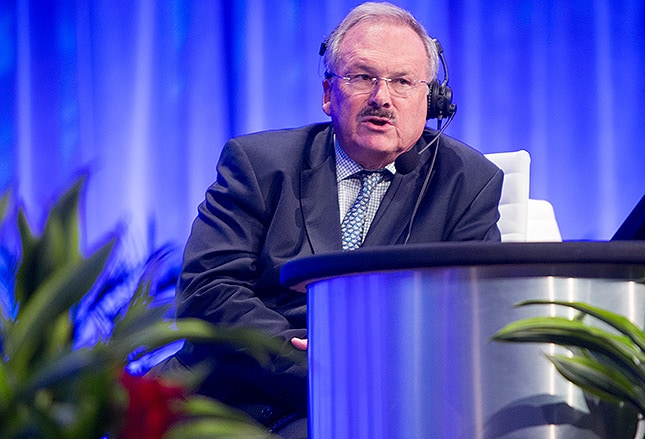 PFO Closure Fails Anew in Migraine: PRIMA
Hopes are fading that patent foramen ovale (PFO) closure can help reduce migraine, with final results from the PRIMA trial using the Amplatzer device (St Jude Medical) showing no significant differences in reduction in migraine days at one year (the primary end point). Long-time optimists for this approach, however, point to positive secondary end points and say certain subgroups are worth studying—namely, patients with migraine with aura. PRIMA "didn't meet its primary end point," principal investigator Dr David Hildick-Smith conceded in a press conference, but he said the secondary end points are worth a closer look.
Image from Thinkstock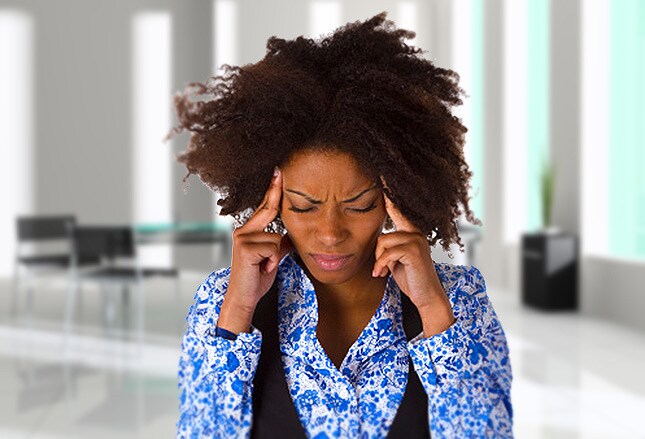 Drugs, Research, and Keeping Current: The TCT Debates
The TCT meeting is renowned for putting some of the most famous faces in interventional cardiology on the podium to debate the controversies facing the field. This year's program delivered debates on everything from the value of the new maintenance-of-certification requirements, to the ethics of posttreatment randomization in STEMI trials. One of the hottest sessions of this year's program saw the two most recognizable names in the controversy over bivalirudin vs heparin in primary PCI, Dr Rod Stables and Dr Gregg Stone, go toe-to-toe over what the latest data show.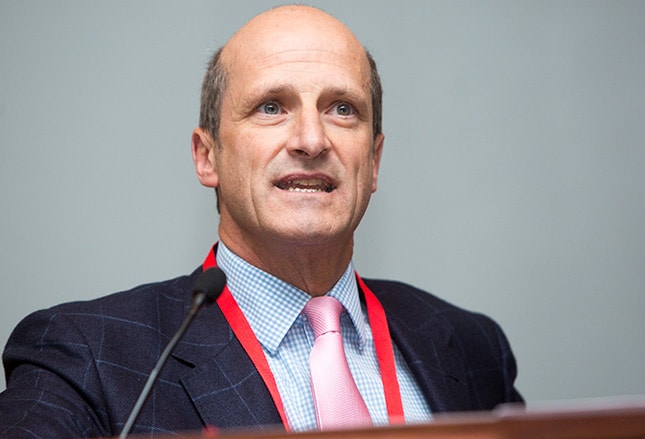 SYMPLICITY-FLEX: RDN Misses in Mildly Hypertensive Patients
Renal denervation failed to lower systolic blood pressure relative to a sham control procedure in a very small study in patients with mildly elevated blood pressure. Presenting the data from SYMPLICITY-FLEX, Dr Steffen Desch (University of Leipzig Heart Center, Germany) reported that patients randomized to renal denervation had a 7.0-mm-Hg reduction in 24-hour ambulatory blood pressure at six months, whereas the sham control arm patients had a 3.5-mm-Hg reduction. This difference was not statistically significant. Desch said he no longer performs renal-denervation procedures. But Dr Horst Sievert (Cardiovascular Center, Frankfurt, Germany), who was not affiliated with the study, said he still performs renal denervation in resistant-hypertension patients at his center.
Image from Istock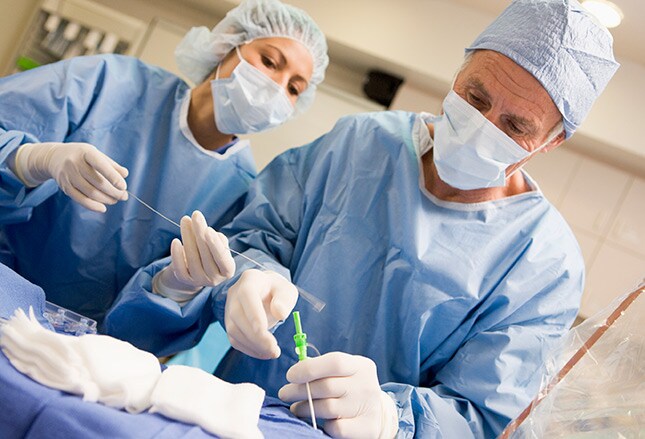 TAVR vs Surgery in Intermediate-Risk Patients: OBSERVANT
European registry data on transcatheter aortic-valve replacement (TAVR) in patients at lower surgical risk than those studied in the pivotal trials offer the tantalizing suggestion that outcomes may be very similar among patients treated by the newer, less invasive approach and those treated by surgical aortic-valve replacement (SAVR). Dr Marco Barbanti (Ferrarotto Hospital, University of Catania, Italy) presented a propensity-matched analysis from more than 7600 patients in the Italian OBSERVANT registry. "My personal feeling is that in the future, even intermediate-risk patients will be treated with TAVR, and I'm sure it won't be superior to SAVR for certain outcomes, but for mortality, I think they will probably be the same," Barbanti said.
Image from Istock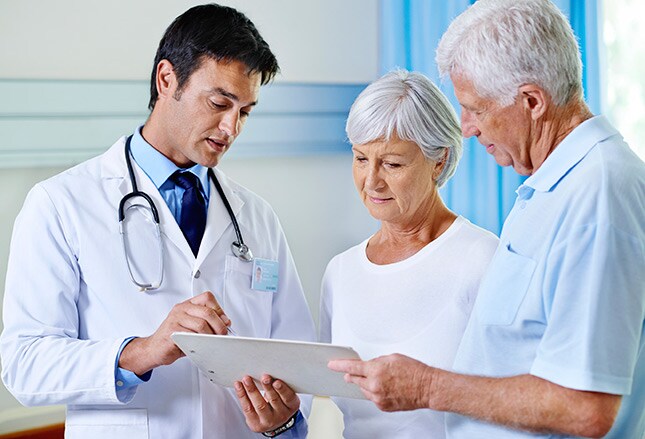 Female Interventionalists "Very Rare," Isolated
Just 4.5% of the interventional cardiologists in the US are women, and 41% of these women operate at institutions where there are no other female interventionalists, according to data from the CathPCI Registry, including 2.5 million PCI procedures performed at hospitals in the US between 2009 and 2013. In the US, just one-third of the 1431 hospitals surveyed had a female interventionalist on staff. Dr Cindy Grines (Detroit Medical Center, MI), who presented the data, said that women are low-volume operators, performing 48 PCIs per year. Despite the low volume, Grines said that women are taking on difficult cases. "This might represent the practice pattern. I don't think we intentionally try to be more aggressive, but we're not as good at getting the private-practice type of patients," she said.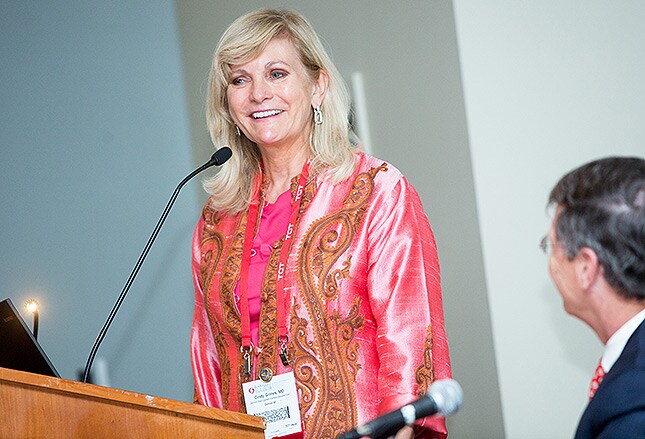 Drug-Eluting Balloon Falls Short of Stenting in DES ISR
The latest study comparing a drug-eluting balloon (DEB) and a drug-eluting stent (DES) in patients with DES in-stent restenosis (ISR)—this time using a second-generation DES as the comparator—has come up empty-handed. Dr Fernando Alfonso (Hospital Universitario de La Princesa, Madrid, Spain) presented the results of the 309-patient RIBS IV trial in a late-breaking clinical-trial session. For both the primary end point of in-segment minimum lumen diameter at eight months and major adverse cardiac events (MACE) at 12 months, the Xience Prime stent (Abbott Vascular) was superior to a paclitaxel-coated balloon. In-segment late loss was also significantly higher in the DEB group. MACE was more than double, driven by a threefold-higher increase in repeat target lesion revascularization (TLR) in the DEB-treated patients than in the DES group. At one year, freedom from TLR was 96% in the DES group and 87% in the DEB group.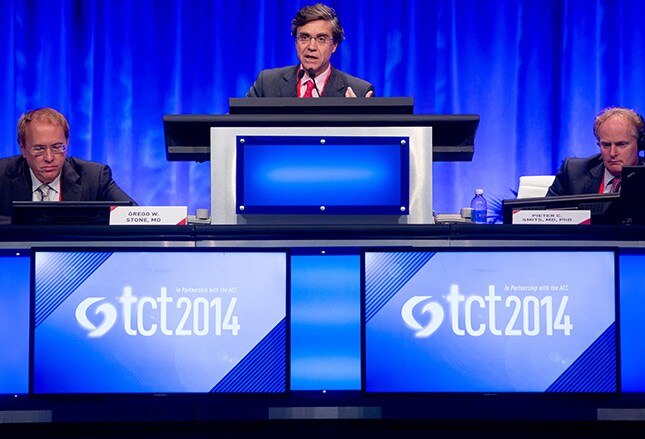 Reassuring Data on Use of DAPT and Anticoagulation
For patients requiring aspirin, clopidogrel, and a vitamin-K antagonist, stopping clopidogrel after six weeks neither reduces the incidence of major bleeding nor increases the incidence of ischemic events. In a randomized trial comparing a six-week triple-therapy regimen against one that maintained all three drugs for six months, researchers conclude that the six-week regimen is not superior to a six-month triple therapy program in regard to the combined end point of death, MI, stent thrombosis, stroke, or TIMI major bleeding. "The main outcome was neutral; however, our study suggests that physicians may be able to shorten the duration of triple therapy in patients who are at increased risk for bleeding," said lead investigator Dr Nikolaus Sarafoff (University of Munich, Germany).