<< More coverage from TCT 2013
Top News From TCT 2013: Slideshow
Megan Brooks; Renee Allen; Shelley Wood; Tricia Ward; Allison Shelley; Darbe Rotach; Steve Stiles; Michael O'Riordan
November 14, 2013
San Francisco hosted TCT 2013: Transcatheter Cardiovascular Therapeutics 25th Annual Scientific Symposium. For the first time, all TCT registrants received tablets and a dedicated app to enhance the meeting experience. It's "our first salvo at redefining the conference experience for attendees," said Dr Gregg Stone, program chair for the meeting.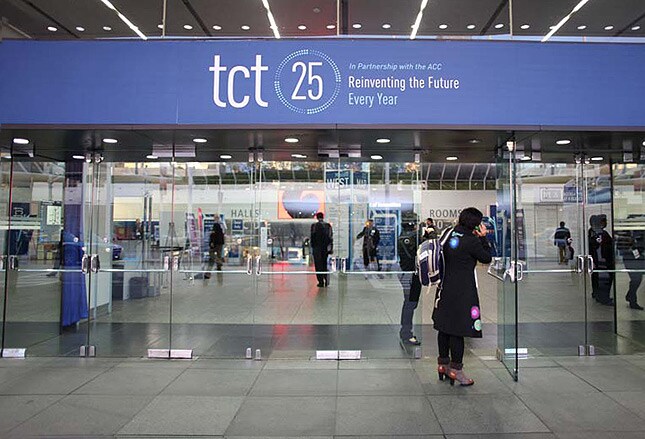 Key trials and presentations at the sessions included:
TRANSLATE-POPS: Free platelet-function tests boost use but don't change outcome
LEVANT 2 and RIBS V: Results met with cautious optimism and some caveats
DUTCH PEERS: Two third-generation DES equally safe, effective
REPRISE II: Solid results for repositionable TAVR device
FREEDOM: Insulin-treated diabetics benefit from CABG
OPTIMIZE: Three months' DAPT okay after zotarolimus stent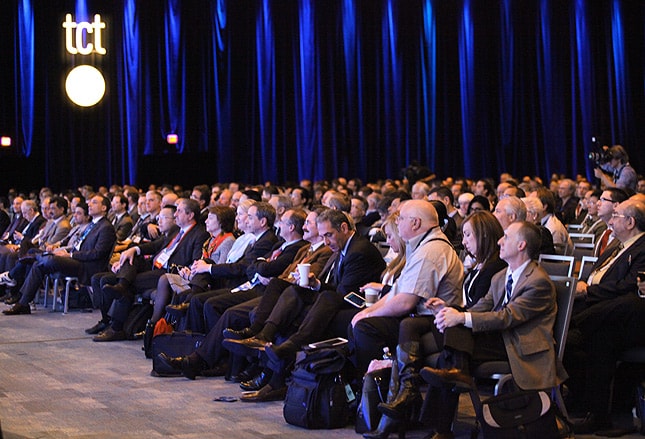 Free Platelet-Function Tests Boost Utilization, Not Outcomes
Physicians are far more apt to order the VerifyNow platelet function test for their acute-MI patients when it's offered free of charge, but it only modestly influences their choice of antiplatelet agent, according to the TRANSLATE-POPS study. Presenter Dr Tracy Wang (Duke Clinical Research Institute, Durham, NC) said US physicians appear to be "intellectually interested" in these tests. But "we generally select an agent based on what we think a patient needs and what we think a patient can afford or can take. So in that setting, if the clinician's mind is already made up, introducing a test isn't likely to change that decision very much, although it does move the needle some, a small amount."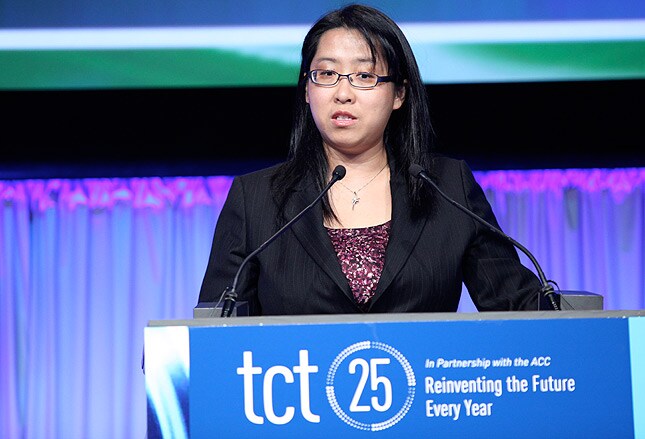 Two Drug-Eluting Balloon Studies Raise Hopes, Questions
Two studies of drug-eluting balloons (DEB) were met with cautious optimism—and some caveats. Promising six-month results from the LEVANT 2 study of patients with stenotic femoropopliteal arteries treated with the Lutonix (Bard) DEB or standard balloon angioplasty were reported by Dr Kenneth Rosenfield (Massachusetts General Hospital, Boston, MA), but some attendees were hoping for a glimpse at 12-month results. The RIBS V trial presented by Dr Bernard Gersh (Mayo Clinic, Rochester, MN) randomized patients with bare-metal stent restenosis to paclitaxel-eluting balloon or everolimus-eluting stent treatment. The primary end point of mean luminal diameter (MLD) at nine months was 2.36 mm in the stent group and 2.01 mm in the DEB group (p<0.0001), with similar findings for in-lesion MLD. Both presentations generated much discussion by conference attendees.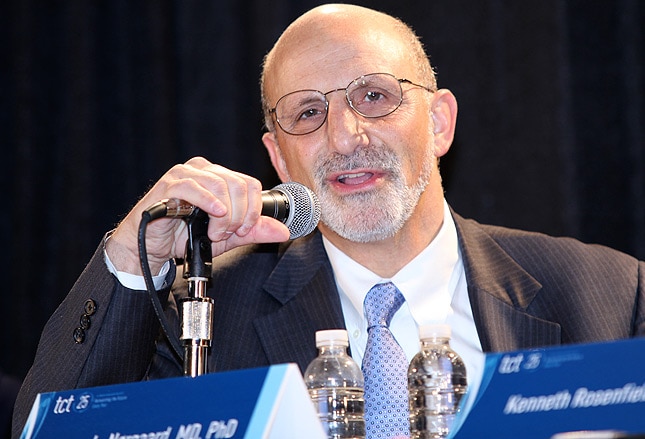 "It Matters": Two Third-Gen DES Equivalent in DUTCH PEERS
Two market-leading third-generation drug-eluting stents (DES), Promus Element (Boston Scientific) and Resolute Integrity (Medtronic), proved equally safe and effective in a rare, large-scale, randomized, investigator-initiated trial. In an "all-comers" population, no significant difference was seen between the zotarolimus- and everolimus-eluting stents for target vessel failure at 12 months. Commenting on the study, Dr Cindy Grines (Detroit Medical Center) said she finds all of the new-generation stents "very flexible and deliverable" and that these two, on the basis of this study, "seem reasonably equivalent."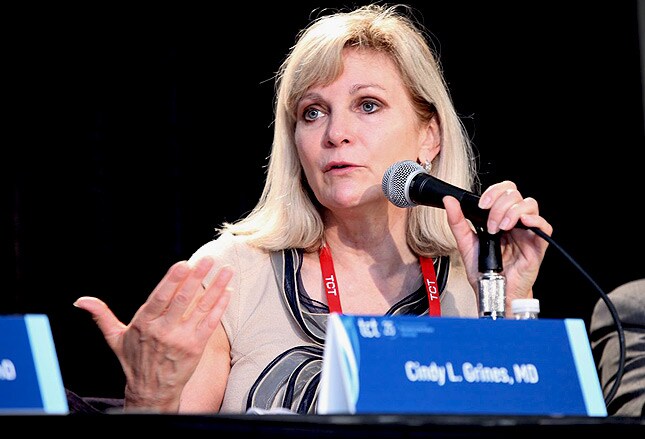 Solid Results for Repositionable TAVR Device
A novel second-generation transcatheter aortic-valve replacement (TAVR) device (Lotus, Boston Scientific) significantly improves the mean aortic-valve pressure gradient in patients with symptomatic and severe aortic stenosis, according to the REPRISE II study results. Five of the 120 patients died from cardiovascular causes by 30 days, and two patients had a disabling stroke. The Lotus device differentiates itself from current competitors in that physicians can reposition the valve before deployment as well as resheath and remove it if necessary. It also has an adaptive seal designed to minimize the risk of paravalvular leak. The Lotus valve has received CE Mark approval for use in Europe but is still investigational in the US.
Image courtesy of National Institutes of Health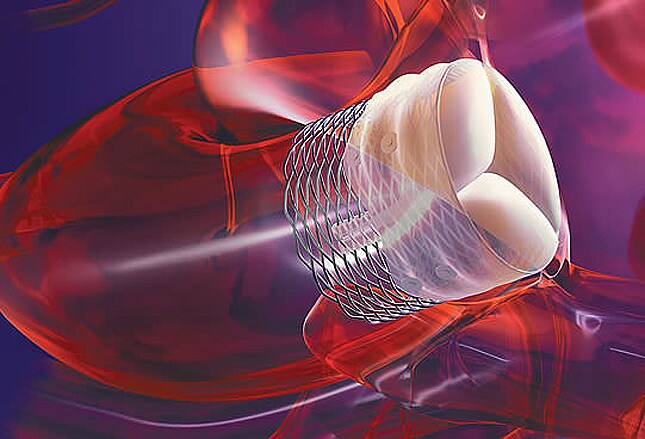 Insulin-Treated Diabetics Benefit From CABG: FREEDOM
A subanalysis of the FREEDOM trial, a study that showed a benefit of coronary artery bypass graft (CABG) surgery over PCI in diabetic patients with multivessel disease, confirmed that this benefit was maintained in insulin-treated patients. For the insulin-dependent diabetic patients, the rate of major adverse cardiac events was significantly higher than in patients not treated with insulin, but the advantage in terms of clinical outcomes with CABG over PCI was evident in both the insulin-dependent and non–insulin-dependent diabetic patients, reported Dr Michael Farkouh (Mount Sinai School of Medicine, New York).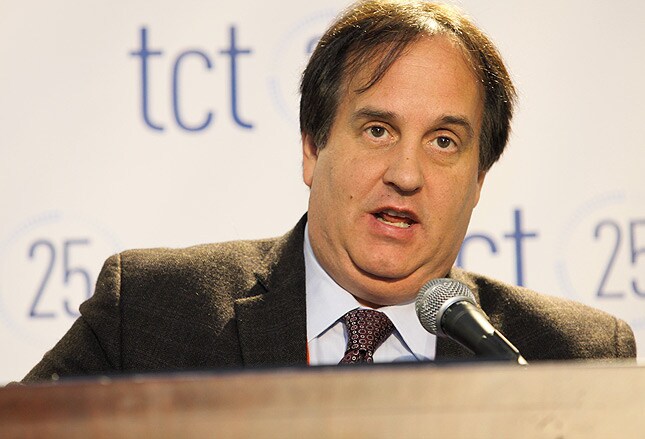 Three Months' DAPT Noninferior to 12 With Zotarolimus Stent
Three months of aspirin plus clopidogrel following PCI with a zotarolimus-eluting stent (Endeavor, Medtronic) proved noninferior to the recommended 12 months of dual antiplatelet therapy (DAPT) in the OPTIMIZE study. Results from the 3000-patient trial were published in the Journal of the American Medical Association to coincide with their presentation by Dr Fausto Feres (Instituto Dante Pazzanese de Cardiologia, São Paulo, Brazil) here at TCT 2013.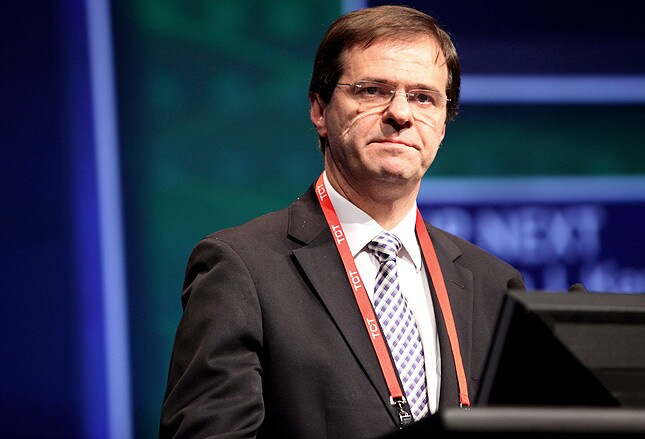 No Upside to Aggressive PCI in Intermediate Lesions?
A study tackling a longstanding question of when to intervene in "intermediate" coronary lesions raised eyebrows here by concluding that there is no benefit to a more aggressive strategy using a cutoff of >50% vs a more conservative cutoff of >70%. "The revascularization of angiographically intermediate lesion can be deferred safely," concluded Dr Hyeon-Cheol Gwon (Samsung Medical Center, Seoul, South Korea) based on a randomized study of 900 patients. The results were met with some skepticism during a press conference and formal presentation.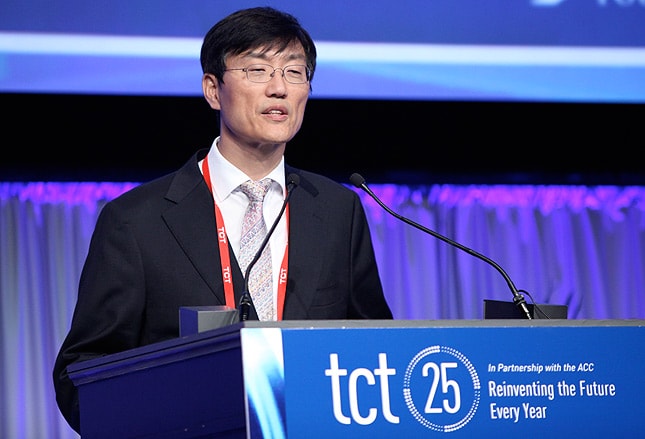 FFR-CT and iFR Accurately Identify
Two studies show the benefit of assessing the functional severity of the coronary lesion using new twists on measuring fractional flow reserve (FFR) in patients with suspected CAD. In one, researchers measured the instantaneous wave-free ratio (iFR), which is a pressure-derived, adenosine-free measurement of coronary stenosis, and reported that it successfully characterized the hemodynamic severity of more than 90% of stenoses. In the other trial, FFR-CT accurately detected 81% of coronary stenoses in patients with stable CAD compared with 64% of stenoses detected with coronary angiography and 53% with CT alone.
Photo courtesy of Wikimedia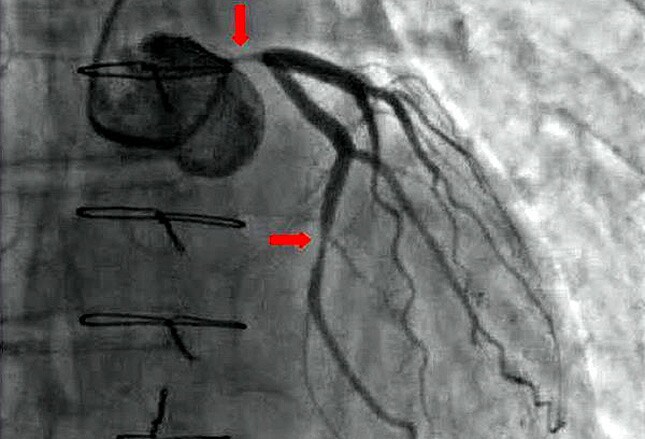 Bleed Risk Falls With Bivalirudin en Route to PCI for STEMI
The 30-day risk of death or major bleeding fell significantly in ST-elevation MI (STEMI) patients treated with bivalirudin (Angiomax, the Medicines Company) compared with heparin, both started prior to hospital arrival for primary PCI, in the EUROMAX study presented here by Dr Philippe Gabriel Steg (Hôpital Bichat, Paris, France) and simultaneously published in the New England Journal of Medicine. However, there was an excess risk of stent thromboses with bivalirudin driven by events in the acute phase, within 24 hours of PCI.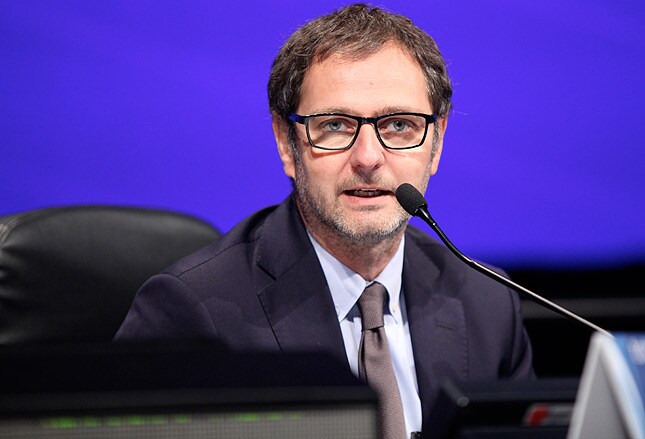 No Slam Dunk for Radial in Women: SAFE-PCI
A study testing radial-access PCI in women failed to show that the radial approach reduced the risk of bleeding or vascular complications. However, there was a reduction in the risk of bleeding or vascular complications with radial access in the entire randomized cohort of women, which included women undergoing PCI and those who underwent a diagnostic cardiac catheterization. Lead investigator Dr Sunil Rao (Duke University Medical Center, Durham, NC) said the results suggest radial-access PCI is a reasonable option in women, although there should be an expectation that some women will require conversion to femoral access.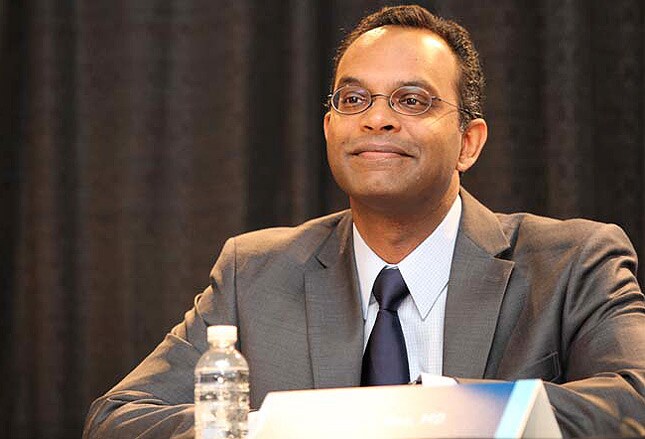 Low Strokes, PVL With CoreValve TAVR in Extreme Risk Trial
Use of the self-expanding Medtronic CoreValve transcatheter aortic valve in the CoreValve Extreme Risk trial led to some of the lowest stroke and paravalvular leak rates seen in any transcatheter aortic-valve replacement (TAVR) study to date, investigators reported here. The study also met its primary end point of reduction in all-cause death or major stroke; as expected, however, use of the device was associated with pacemaker implantation in more than one in five patients, reported Dr Jeffrey Popma (Beth Israel Deaconess Medical Center, Boston, MA).