Transcatheter Cardiovascular Therapeutics (TCT) 2012 took place in Miami, Florida, on October 22-26. Key trials and presentations at the sessions included:
PFO Closure in RESPECT and PC Trial: Both trials missed their primary end points
FAME II: FFR-guided PCI is cost-effective
ADVANCE: TAVI mortality with CoreValve still falling
TAVR: TAVR experiences identifying risks for stroke, LBBB, and perivalvular leak
TRILOGY-ACS: Prasugrel bests clopidogrel in TRILOGY-ACS angiography cohort
Live cases: High-definition transmission of live cases from around the world
DESSOLVE I and II: Positive results with bioabsorbable polymer-based SES
PARTNER B: Comorbidities influence 3-year survival with Sapien TAVI
ISAR DESIRE 3: Drug-eluting balloon is best option for restenosis of limus-eluting stents
MASTER: Mesh-covered stent results in more complete ST-segment resolution in STEMI
Career Achievement Award: The TCT 2012 award recipient was Dr Renu Virmani
ADAPT-DES: Low response to clopidogrel does not increase mortality risk
STEMI-RADIAL: Radial- tops femoral-access PCI in treatment of STEMI patients
POST: Ischemic conditioning after PCI shows no benefit in STEMI patients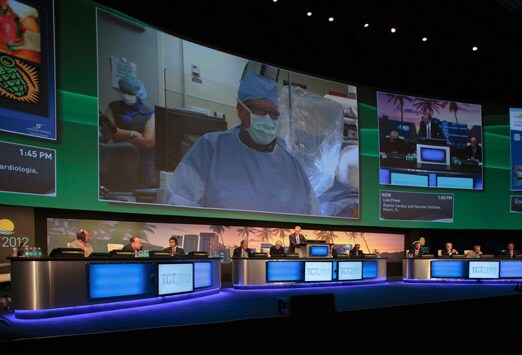 PFO-Closure Studies RESPECT and PC Trial Miss Primary End Point
Results: RESPECT and the PC Trial missed their primary end points. Both trials assessed whether a patent foramen ovale (PFO) closure device could reduce the risk for recurrent stroke in patients who had experienced cryptogenic stroke.
In the RESPECT trial, the 46.6% reduction in the risk for stroke was not statistically significant when assessed in the intention-to-treat analysis. However, when the investigators analyzed the data among patients treated per protocol, the 63.4% reduction in stroke was statistically significant, as was the 72.7% reduction in stroke when analyzed by patients who received the device.
In the PC Trial, presented by Dr Stephen Windecker (University of Bern, Bern, Switzerland), 414 patients were randomly assigned to treatment with the transcatheter Amplatzer PFO occluder (St Jude Medical) or medical therapy. Results indicated that closing the PFO failed to reduce the primary end point of death from any cause, nonfatal stroke, transient ischemic attack, and peripheral embolism. There was an 80% reduction in the risk for stroke, but this reduction did not reach statistical significance.
"We conclude from these data and other data that in carefully selected patients with a history of cryptogenic stroke and PFO, this provides evidence of a benefit in stroke risk reduction from closure with this particular device over medical management alone," said Dr John Carroll (University of Colorado, Denver), the lead investigator. "The primary analysis, which was the intention to treat, was borderline and formally not statistically significant, but trended toward superiority, while the secondary analysis suggested that this is a superior treatment."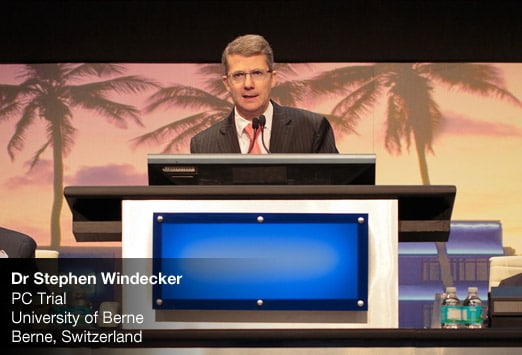 FAME II: FFR-Guided PCI is Cost-Effective
Results: A cost-effectiveness analysis of the St Jude-sponsored FAME II trial shows that fractional-flow-reserve (FFR)-guided percutaneous coronary intervention (PCI) is a cost-effective alternative to optimal medical management in stable patients with flow-limiting coronary lesions.
The FAME II trial was stopped last year after the interim analysis showed that patients randomly assigned to PCI were much less likely to need an urgent revascularization than patients randomly assigned to optimal medical therapy.
"Based on COURAGE, people have argued that up-front optimal medical therapy should be achieved before proceeding to PCI, but what we showed in FAME II was that if you can identify ischemia-producing lesions and isolate those, patients [with those lesions] benefit from PCI up front as compared with optimal medical therapy, by decreasing urgent revascularization and improving quality of life," said Dr William Fearon (Stanford University, Stanford, California)."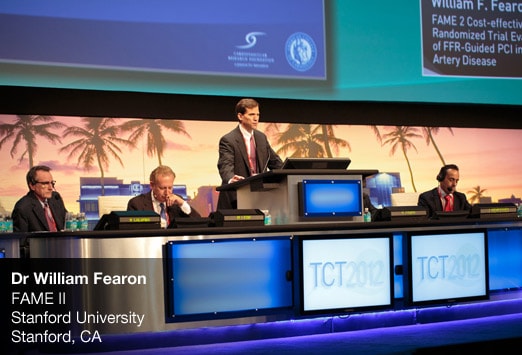 ADVANCE: TAVI Mortality With CoreValve Still Falling
Results: One-year results from the ADVANCE study of Medtronic's CoreValve confirm that mortality rates with transcatheter aortic-valve implantation (TAVI) have dropped steadily since the device's earliest clinical trials. ADVANCE includes 1015 TAVI patients treated between March 2010 and July 2011 at 44 centers in 12 European countries. The mortality rates seen in ADVANCE compare very favorably with the 24.2% 1-year all-cause mortality in the TAVI patients in the PARTNER A pivotal trial of the Edwards Sapien TAVI system. They also are in line with the results for Sapien from the SOURCE registry, where 1-year survival was 76.1% in the overall cohort.
"We have learned a lot with regard to the procedure. We're preventing complications, and this affects long-term survival in a positive way," said Dr Axel Linke (University of Leipzig Heart Center, Leipzig, Germany). "There is more room to grow with adjustment of devices. The next generations will address paravalvular leaks, and we've seen that paravalvular leaks affect mortality. I hope that when we're as good as conventional surgery at 30 days [and reduce paravalvular leaks], we'll be as good as conventional surgery at 1 year."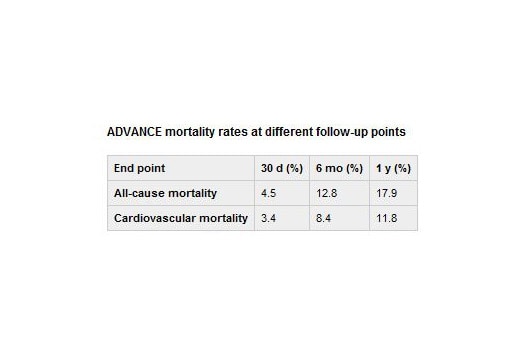 TAVR Experiences Identifying Risks for Stroke, LBBB, and Perivalvular Leak
Results: With experiences in transcatheter aortic-valve replacement (TAVR) growing worldwide, new data are emerging to identify various predictors of adverse clinical outcomes, including the risk for cerebrovascular events, left bundle branch block (LBBB), and perivalvular aortic regurgitation. Published data suggest that the 30-day stroke risk with TAVR is approximately 3.5%. The incidence of acute and subacute cerebrovascular events is 2.7% and 2.4%, respectively. Also, 30% of patients with no prior conduction disturbances develop LBBB following TAVI with a balloon-expandable valve.
Data on perivalvular regurgitation and its impact on clinical outcomes from the FRANCE 2 registry of 2769 patients show that 15% of patients had moderate to severe aortic regurgitation (grade ≥ 2) following successful TAVR. The presence of aortic regurgitation was associated with a twofold increase in the risk for death at 1 year. At 1 year, the rate of death among patients with aortic regurgitation grade ≥ 2 was 25% compared with 10% among patients with mild or no aortic regurgitation.
"Postprocedure aortic regurgitation after TAVR is a major issue," said Dr Eric van Belle (Hôpital Cardiologique, Lille, France), "and it could be avoided, especially when there is no significant aortic regurgitation at baseline or when a nonfemoral-artery approach is used. For balloon- and self-expandable devices, the benefit of the nonfemoral artery approach on the rate of aortic regurgitation suggests that a good axial control of the device at the time of the delivery is key to reduce the rates of aortic regurgitation."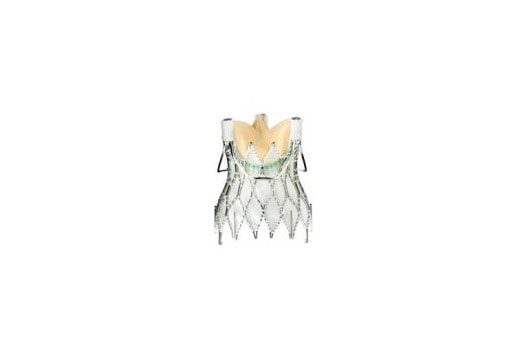 Prasugrel Bests Clopidogrel in TRILOGY-ACS Angiography Cohort
Results: Results from the TRILOGY-ACS angiographic cohort indicate that acute coronary syndrome (ACS) patients randomly assigned to prasugrel following coronary angiography had significantly lower rates of major cardiovascular events compared with patients treated with clopidogrel. The results run counter to those observed in the overall study. TRILOGY-ACS is one of the few studies to focus on high-risk patients with ACS who are medically managed without revascularization. It reported that the newer antiplatelet agent prasugrel failed to show a reduction in the primary end point of major cardiovascular events compared with clopidogrel.
"I think angiography identifies a population of patients with ACS in whom we're sure they have active coronary disease driving their event," said Dr Stephen Wiviott (Brigham and Women's Hospital, Boston, Massachusetts). "In order to get into the trial, if you had angiography, you had to demonstrate that you had significant coronary lesions. There are many people who come into the hospital who have ST-segment changes or positive troponin, and when we take them to the cath lab they don't have significant coronary lesions. I think angiography creates a purer coronary-based population."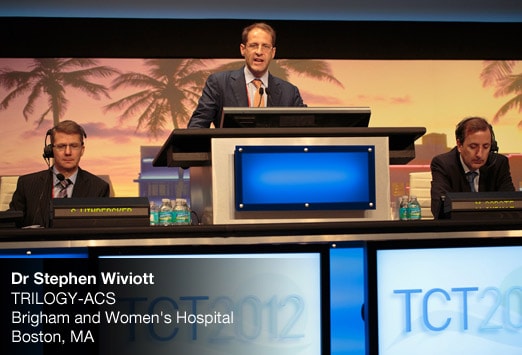 Live Cases in High Definition
High-definition live cases were transmitted from 20 locations around the globe, offering unique learning opportunities to attendees. Topics included: left main and bifurcation, chronic total occlusion, transcatheter valve therapies, iliac and superficial femoral artery, renal/aortic/mesenteric, multivessel and diffuse disease, complex and unusual coronary disease, carotid and neurointervention, and adult congenital disease interventions.
Taped cases were also available on such topics as unusual interventions, imaging and physiology, TAVR, endovascular interventions, nonvalvular structural heart interventions, coronary interventions, and vascular drug-delivery breakthroughs.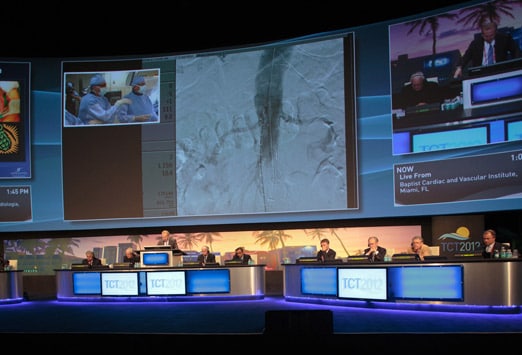 DESSOLVE I and II: Positive Results With Bioabsorbable Polymer-Based SES
Results: DESSOLVE II, a small, head-to-head comparison study, showed the biodegradable polymer-based sirolimus-eluting stent MiStent to be superior to the zotarolimus-eluting stent Endeavor in preventing late lumen loss. At 9 months, quantitative angiographic data showed that the in-stent mean lumen diameter and in-stent diameter stenosis were also significantly better in patients treated with the novel SES.
The 18-month quantitative angiographic, intravascular ultrasound (IVUS), and optical coherence tomography (OCT) data in 25 patients from DESSOLVE I were also presented. Compared with 8-month data previously presented, long-term follow-up showed that late lumen loss and neointimal obstruction as measured by IVUS was unchanged, suggesting stability in luminal dimensions. OCT data showed excellent stent coverage.
"The drug-eluting stent returns to the phenotype of a bare-metal stent, with all the benefit that these stents provide," said Dr David Kandzari (Piedmont Heart Institute, Atlanta, Georgia). He added that these types of stents, with a biodegradable polymer and reversion to a bare-metal stent, represent future workhorse stents in interventional cardiology.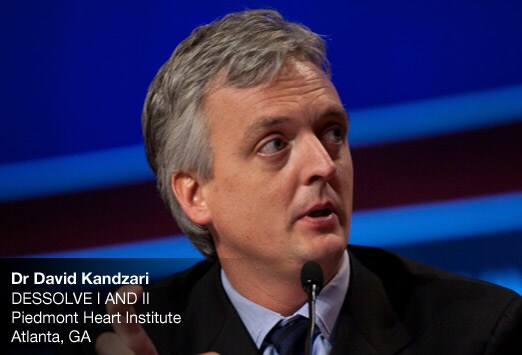 PARTNER B: Comorbidities Influence 3-Year Survival With Sapien TAVI
Results: Latest results from the PARTNER B trial of the Edwards Lifesciences Sapien transcatheter aortic valve in inoperable patients show that the mortality benefit of the device persists for at least 3 years and that the survival prognosis in patients undergoing TAVI correlates to the severity of their comorbidities at the time of implant.
The 3-year PARTNER B data show that TAVI makes the biggest difference in patients with fewer or less severe comorbidities, as measured by baseline Society of Thoracic Surgeons (STS) score. In patients with an initial STS score from 0 to 4.9, mortality at 3 years was 100% in the control group and 33.2% in the TAVI group. For scores from 5 to 14.9, mortality was 77.5% and 55.2% for the control and TAVI groups, respectively, and for STS scores over 15, the 3-year mortality rates were 86.6% and 65.8%.
"These data underscore the importance of patient selection before TAVI and the need for aggressive management of illnesses after TAVI, because when we stratified mortality according to STS score, we were quite surprised that the higher STS scores in the standard treatment groups were somewhat irrelevant," said Dr E Murat Tuzcu (Cleveland Clinic, Cleveland, Ohio). "We should not perceive what is accomplished with the PARTNER program only as a success with the procedure, but rather how the program can be established with multiple disciplines."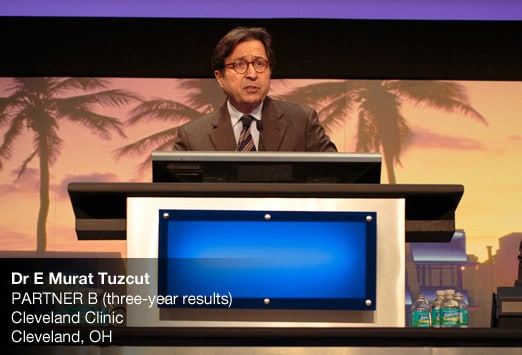 ISAR DESIRE 3: Drug-Eluting Balloon Is Best Option for Restenosis of Limus-Eluting Stents
Results: According to results of ISAR DESIRE 3, a 3-way randomized trial, angioplasty with a paclitaxel-eluting balloon is a better alternative for in-stent restenosis of limus-eluting stents than either angioplasty with a regular balloon or implanting another drug-eluting stent (DES).
Angiographic follow-up 6 to 8 months after the procedure showed that for the primary end point, percentage restenosis, the remaining diameter of stenosis was 38% in the restenosed stents treated with the paclitaxel-eluting balloon and 37.4% in the stents treated with a paclitaxel-eluting stent (P for noninferiority= .007). The paclitaxel balloon and paclitaxel stent were noninferior to each other but both were superior to regular balloon angioplasty for both secondary end points of binary restenosis and target lesion revascularization.
"Despite over a decade of experience with drug-eluting stents in real-world practice, we still don't know the optimal treatment for restenosis in these devices," explained Dr Robert Byrne (Deutsches Herzzentrum, Technische Universität, Munich, Germany). "We know from some smaller studies of drug-eluting-balloon therapy that this seems to be a very promising therapy, particularly in patients with bare-metal-stent restenosis. It has the advantage of avoiding additional stent layers, and if we can achieve good results with drug-eluting therapy comparable to that of DES without requiring additional stent layers, that would be a very exciting prospect."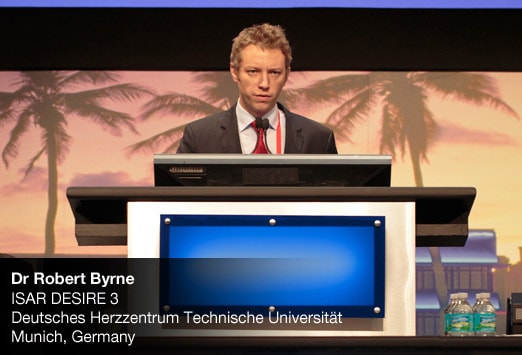 MASTER: Mesh-Covered Stent Results in More Complete ST-Segment Resolution in STEMI
Results: In the MASTER study, the MGuard device resulted in more complete ST-segment resolution when compared with patients treated with a conventional bare-metal stent or DES. The study included patients with STEMI treated at 50 clinical centers in 9 countries. In regard to clinical follow-up at 30 days, no patients treated with the MGuard stent died, compared with 4 patients in the control arm (P = .06). There was no difference in other clinical events, including reinfarction, target lesion revascularization, stent thrombosis, stroke, or TIMI major or minor bleeding.
"The STEMI patients have a lot of thrombus in the artery, and the problem is that sometimes the artery is occluded or very narrow, but it's not a stable lesion," said Dr Sigmund Silber (Deutsches Herzzentrum, Munich, Germany). "It's highly thrombotic, so if you push a balloon through this thrombus you have a risk of dislocating the thrombus to the peripheral vessels. There's nothing you can do about it. Once you dislodge a thrombus and the thrombus goes downstream, there's no intervention to heal this. So you have to prevent it."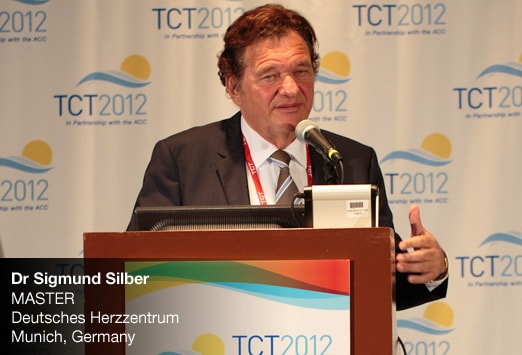 TCT 2012 Career Achievement Award
The TCT 2012 Career Achievement Award was presented by Dr Martin Leon to Dr Renu Virmani of the CVPath Institute.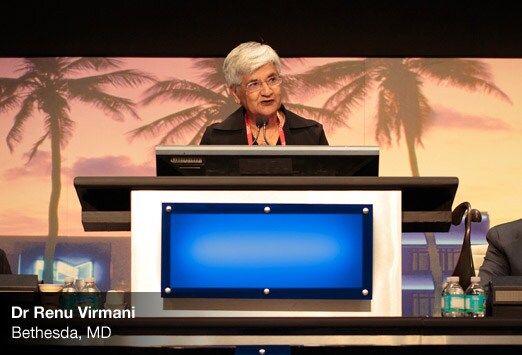 ADAPT-DES: Low Response to Clopidogrel Does Not Increase Mortality Risk
Results: New data from ADAPT-DES show that clopidogrel hyporesponsiveness does not predict 1-year mortality in drug-eluting-stent recipients because the increased risk for thrombosis is offset by a lower risk for bleeding.
In light of this result, "overcoming clopidogrel hyporesponsiveness with more potent antiplatelet agents is therefore unlikely to improve survival unless the beneficial effects of reducing stent thrombosis and myocardial infarction can be uncoupled from the likely increase in bleeding with greater platelet inhibition," said investigator Dr Thomas Stuckey (Moses Cone Heart and Vascular Center, Greensboro, North Carolina). He and Dr Gregg Stone (Columbia University, New York, New York) presented an analysis of the relationship between clopidogrel hyporesponsiveness and subsequent adverse events in the ADAPT-DES patients.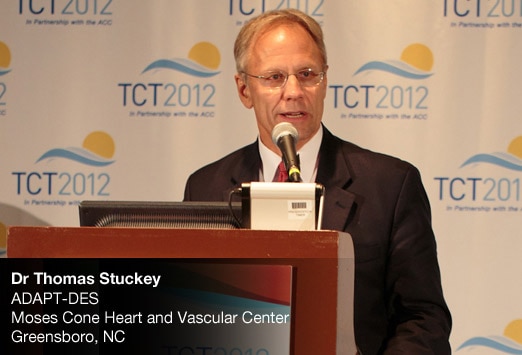 Radial- Tops Femoral-Access PCI in Treatment of STEMI Patients
Results: The STEMI-RADIAL study confirms the benefit of radial-access PCI for the treatment of STEMI patients. Among individuals presenting to the hospital within 12 hours of STEMI, radial-access PCI was associated with a lower rate of major bleeding and access-site complications, as well as a significant increase in net clinical benefit. With these positive results, the investigators conclude that the radial artery should be the preferred access route over the femoral artery in primary PCI. The lone caveat, however, is that these results were obtained by experienced radial-access operators. In this study, the interventional cardiologists performed more than 80% of their procedures via the radial artery.
"What was also interesting was that the contrast volume and ICU stay were significantly lower in the radial group," said lead investigator Dr Ivo Bernat (University Hospital, Pilsen, Czech Republic) during a press conference announcing the results.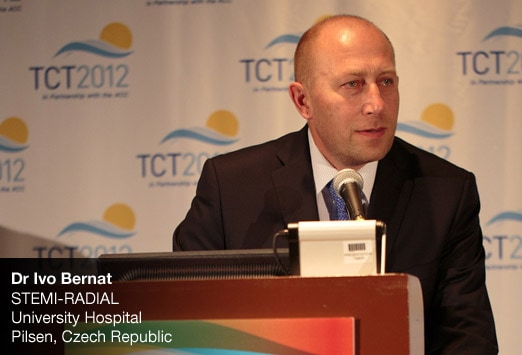 Ischemic Conditioning After PCI Shows No Benefit in STEMI Patients
Results: At 30-day follow-up in the 700-patient randomized POST trial, ischemic postconditioning following PCI of STEMI patients did not improve outcomes compared with PCI without this extra procedure. Also, no cardioprotective effects of ischemic postconditioning appeared in any of the prespecified subgroups. However, subsequent postconditioning studies using contrast-enhanced MRI to examine infarct size have shown inconsistent results.
"Previous studies showing the cardioprotective effects of preconditioning have several limitations; they did not reflect current standard practice patterns of primary PCI," said Dr Joo-Yong Hahn (Samsung Medical Center, Seoul, South Korea). "They performed only direct stenting and thrombus aspiration, and glycoprotein IIb/IIIa inhibitors were either not used or used seldom."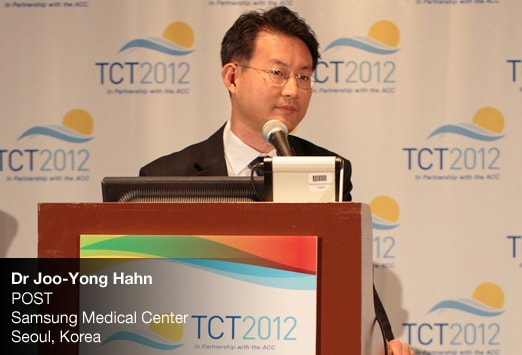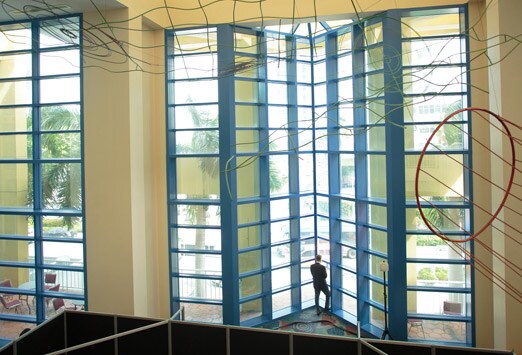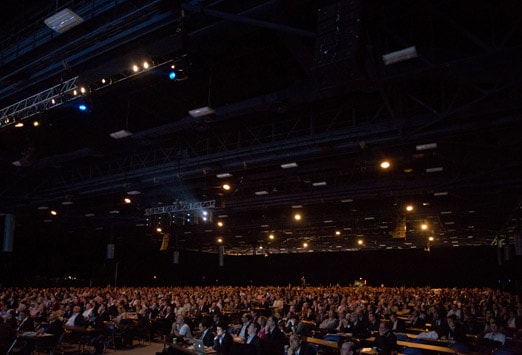 Credits and Disclosures
Journalists:
Reed Miller, heartwire
State College, Pennsylvania

Disclosure: Reed Miller has disclosed no relevant financial relationships.
Michael O'Riordan, heartwire
Hamilton, Ontario, Canada

Disclosure: Michael O'Riordan has disclosed no relevant financial relationships.
Managing Editor:
Shelley Wood
Managing Editor, heartwire
Kelowna, British Columbia, Canada

Disclosure: Shelley Wood has disclosed no relevant financial relationships.
Contributors:
Steven Rourke
Editorial Director, theheart.org
Montreal, Quebec, Canada

Disclosure: Steven Rourke has disclosed no relevant financial relationships.
Katherin Vasilopoulos
Montreal, Quebec, Canada

Disclosure: Katherin Vasilopoulos has disclosed no relevant financial relationships.