Clinical & Office Staff Salary Report
Carol Peckham
November 21, 2013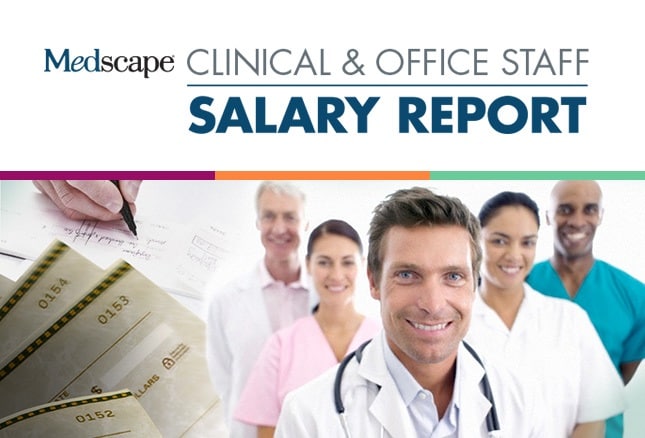 It's not surprising that most physician practices have front-desk staff (84%) as well as medical assistant and medical biller positions (65% and 61%, respectively). Around a third claim nurses (31% nurse practitioners and 37% registered nurses) as part of their practice, while about a quarter (24%) of physician respondents include physician assistants in their practice.
These percentages were fairly consistent among primary care physicians (family and internal medicine) and specialists, although family physicians and internists tend to rely more on medical assistants (80% and 75%, respectively) compared with specialists (66%), and they are less likely to have a nursing staff. Such differences may be due to primary care practices being less able to afford nursing salaries and more likely to use medical assistants for lower-level clinical tasks.
Note: Specialists do not include surgeons or emergency medicine physicians; these are included in "All Physicians."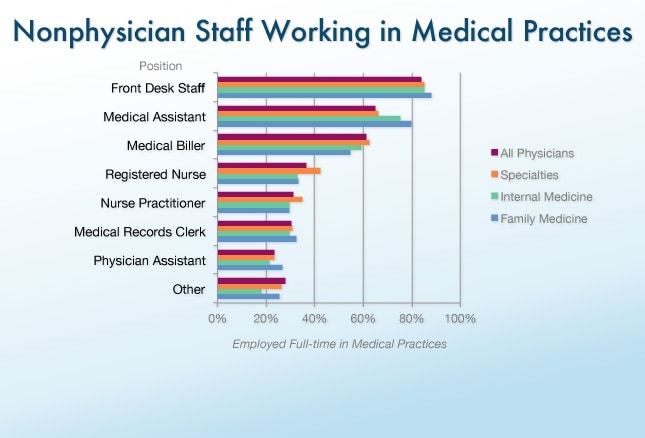 The lowest salary levels in this category are found among medical assistants, who also provide the lowest-level clinical services. Registered nurses are the next lowest paid and are generally hired in hospital settings. The highest-paid nonphysician staff members are physician assistants (PAs) and nurse practitioners (NPs), whose services were first covered by Medicare and Medicaid outside a physician practice in 1977, but only in rural health clinics. In 1989, state Medicaid programs covered pediatric and family NPs and, depending on state laws, allowed direct billing and payment. In 1997, geographic and setting restrictions were removed, allowing NPs and PAs to bill Medicare directly for 85% of the amount a physician would be paid for the same services. (If the physician signs off on these services, NPs and PAs could be paid the full amount.)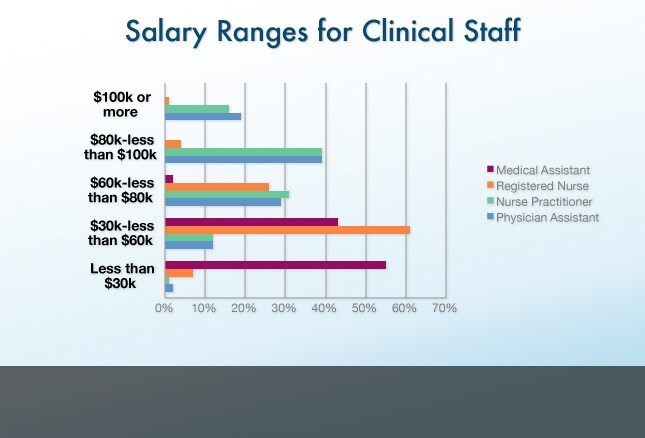 The number of patients receiving primary care from NPs has dramatically increased over recent years. NP compensation rose between 2005 and 2010 by about 22% compared with about 14% for primary care physicians, with a median compensation of $86,000.[1,2] Still, a wide income disparity exists. Family physicians who responded to last year's Medscape compensation survey reported an average salary of $158,000, while in this survey, only 16% of NPs earn more than $100,000, with 44% earning less than $60,000. In most cases, NPs receive only 85% of a physician's Medicare fee for the same service.[3] Both Medicaid and private insurance rates are inconsistent, with some states and insurers setting up barriers against NP reimbursement.[4,5]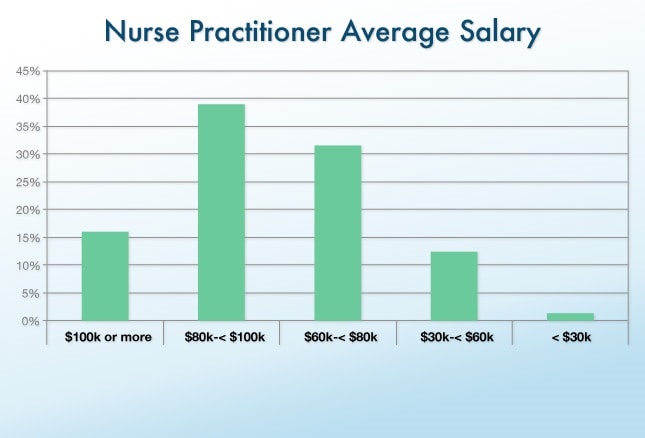 The salary ranges for PAs are very similar to those of NPs, with 19% making more than $100,000 and 42% earning less than $60,000. According to the US Bureau of Labor Statistics, in 2010 the median pay for PAs was $86,000. Between 2005 and 2012, compensation rose by 18% for PAs in primary care and 20% for those in surgical specialties. Like NPs, PAs are being seen as filling in the gaps left by the shrinking primary care physician population.
"PAs can perform up to 85% of the duties of some physicians, which allows us to pivot easily in diverse practice settings," says Lawrence Herman, MPA, President of the American Academy of Physician Assistants (AAPA). Results of AAPA's annual survey show that 82% of PAs are now writing prescriptions, 82% manage acute care patients, 64% manage chronic diseases, and 52% perform minor surgeries.[6]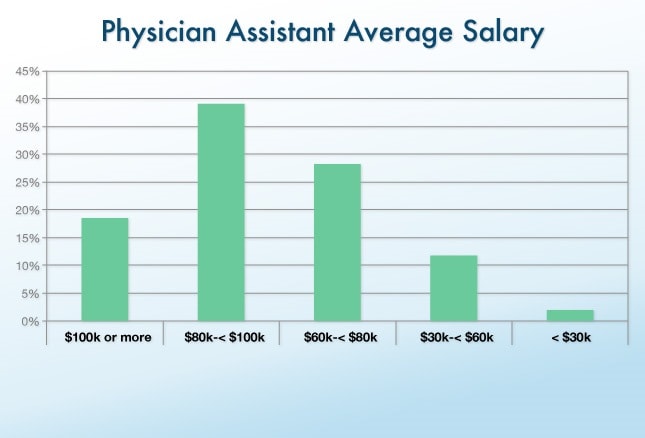 Only 5% of registered nurses who responded to this survey earn over $80,000. About a quarter earn between $60,000 and $80,000, while the majority (61%) earn between $30,000 and $60,000. According to US Department of Health and Human Services statistics, the average annual earnings for staff RNs total about $62,000. Education does not appear to make a huge difference in staff RN salaries: Those with a master's degree have an average salary of $70,000 compared with $63,000 for those with a bachelor's degree only. The work setting makes a greater difference: Staff RNs in hospitals earn nearly $64,000 while those in nursing homes earn only about $54,000.[7]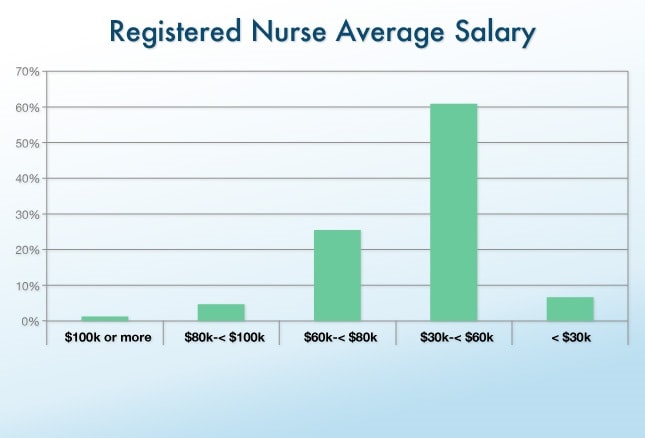 Medical assisting is a rapidly expanding segment of the workforce. According to the Bureau of Labor Statistics, it is projected to be one of the fastest-growing professions, with the numbers of medical assistants having increased by 31% between 2000 and 2010. Over half (55%) of physicians who responded to the Medscape survey said that their medical assistant staff earn less than $30,000 each, making them the lowest-paid clinical staff members. The Bureau reported a median annual wage in 2012 of $30,500, with the highest salaries paid in California and the Northeast.[8] According to the American Association of Medical Assistants, in addition to performing administrative tasks, medical assistants can provide limited clinical services, including initial response screening, taking a patient history, obtaining vital signs, and administering oral and — depending on state laws — injected drugs.[9]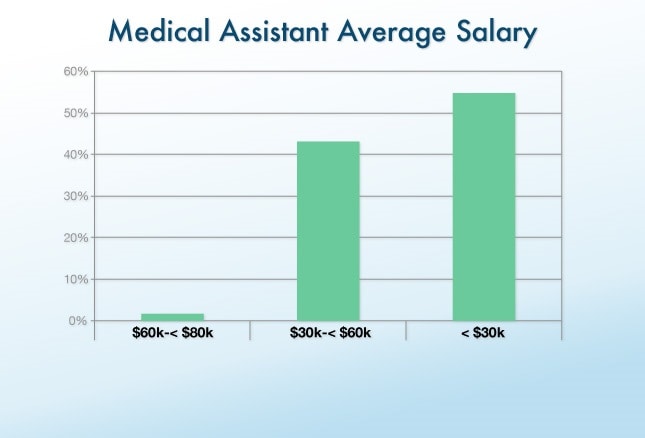 Of the nonclinical staff personnel reviewed in this survey, medical billers earn the most, but still only 5% earn over $60,000. In this category, medical billers/coders are in highest demand and, according to industry experts, have the only job whose salary level has trended up over the past 2 years. This is not very surprising given the current challenges of implementing electronic health records and the upcoming switch to ICD-10 codes. Medical records clerks earn the least — even less than front-desk staff — with more than 70% making less than $30,000.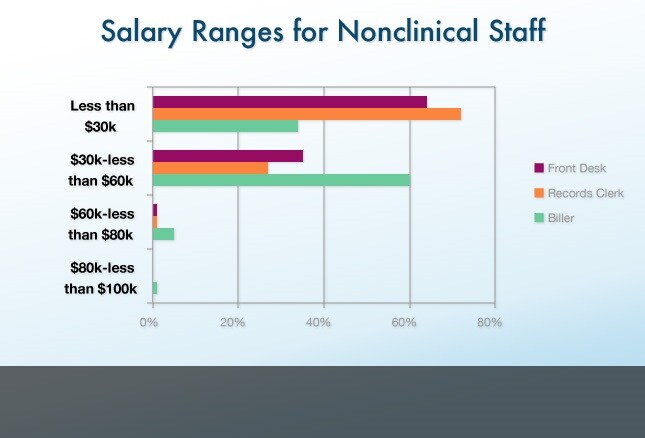 Physician respondents noted that 60% of medical billers earn between $30,000 and $60,000, and 34% earn less than $30,000. Medical billers have increasing challenges, particularly given 2014's ICD-10 code changes. In a 2013 survey from the American Medical Billing Association (AMBA), unemployment percentages for billers/coders were nearly half of what they were last year, with an unemployment rate for certified coders of only 1.7%. In the AMBA survey, the average salary was $47,000. Those in small-to-medium group practices earn about $42,000, while those in large groups earn over $46,000. Some medical billers/coders in health systems and hospitals can earn over $48,000.[10,11] It should be noted that these salary levels are for certified coders.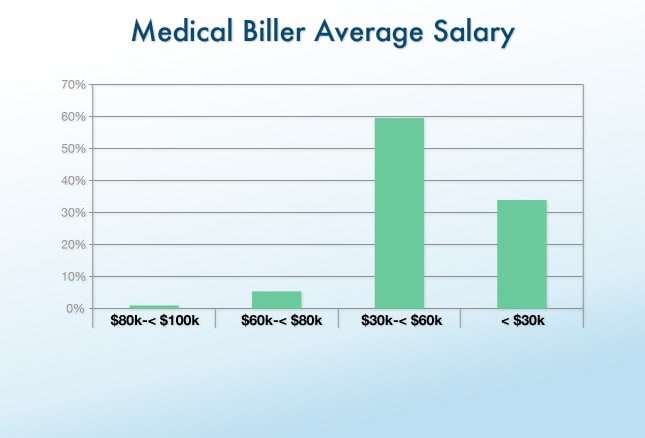 The front-desk receptionist/clerk is the first and last person a patient sees in an office and often sets the tone for a physician practice. Front-desk clerks also verify insurance, collect fees, and in many offices do the billing and coding.[12] In Medscape's survey, 64% earn less than $30,000 and 35% earn between $30,000 and $60,000.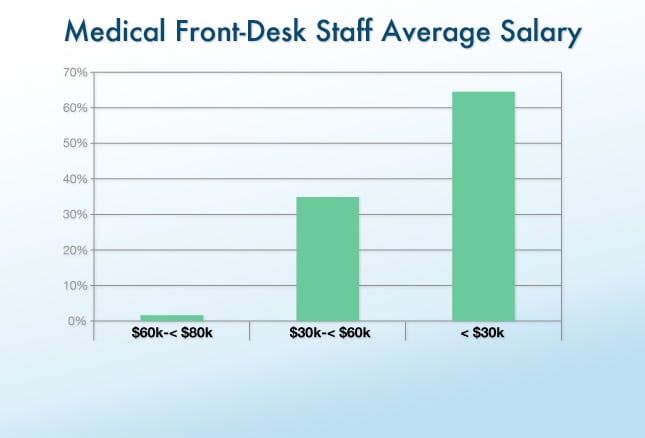 The duties of the medical records clerk primarily involve initiating medical charts and making sure that all relevant documents are inserted into them in accordance with practice requirements.[13,14] Clerks are the lowest-paid staff members in the Medscape survey; 72% have a salary of less than $30,000.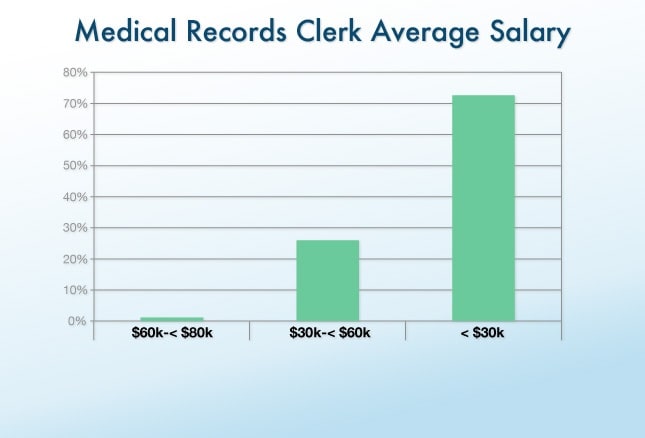 In Medscape's survey, over 80% of physicians reported that they provide vacation and sick benefits. Fewer physicians (68%) offer health benefits, which, according to a Kaiser Foundation report, is still higher than the current percentage (57%) of all US firms that offer benefits to at least some of their employees.[15] Tommy Bohannon, Divisional Vice President of Merritt Hawkins, a physician search firm, pointed out that this is a market-driven system. Physicians are competing for staff with hospitals, which offer benefits, so they have to do so as well. The report stated that in 2013, the average annual premium for employer-sponsored health insurance is almost $6000 for single coverage and about $16,000 for family coverage. Over the past 10 years, the average premium for family coverage has increased 80%.[15] The Affordable Care Act, of course, is likely to affect these costs, and under this law many small practices are likely to be eligible for tax credits.[16]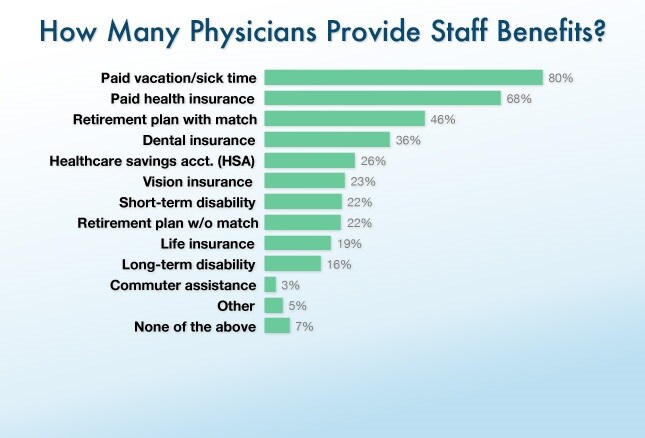 Seventy percent of physicians offer annual raises to their medical office staff. Jeffrey Denning, a practice management expert with Practice Performing Group Consulting in La Jolla, California, said that physicians continue to give raises even though their own incomes are falling. "Many physicians continue to give raises because of an unwillingness to upset what has become an expected benefit of working in a small, close-knit business," says Denning. To determine a fair wage level, he advises: "List all the employees in descending order of hourly rate of pay. Then ask yourself if this is also the descending order of value to the practice. If you find a key player on the lower third of the list, something may be wrong."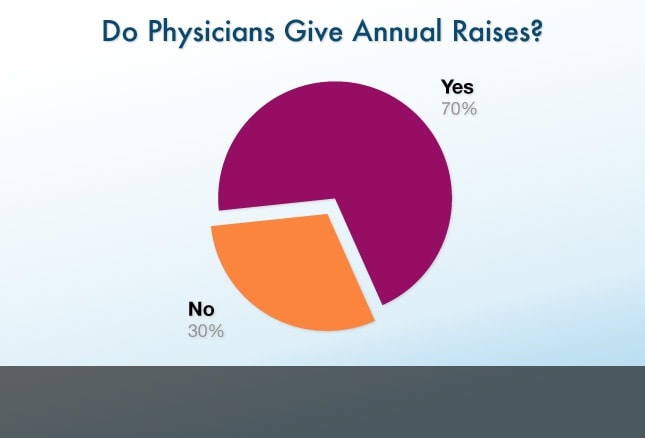 In Medscape's survey, nearly half of physician respondents who give raises reported average increases of 1%-2% (48%) and nearly half gave 3%-5% (48%). The minimum annual staff increase given by nearly 80% of these physicians was between 1% and 2%, with 61% reporting a maximum raise of 3%-5%. According to the Bureau of Labor Statistics, in 2012 the increase in wages of healthcare and social workers was between 1.8% and 1.9%.[17]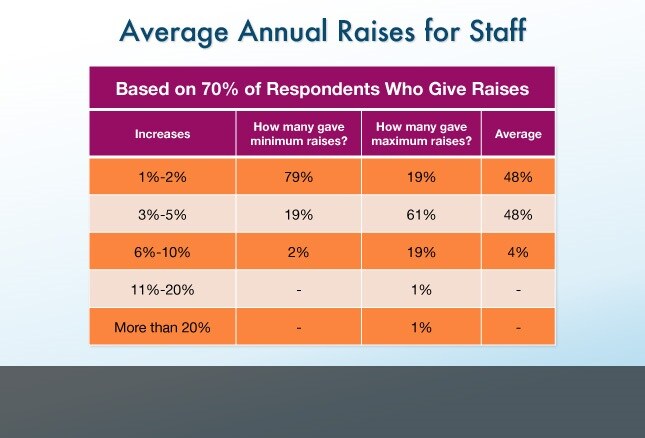 Almost three quarters of physician respondents give bonuses to their employees. More than half (55%) do so even when also giving a raise. Bonuses are likely to be in the 1%-2% range, though about 1 in 3 physicians (35%) who give bonuses report an average bonus level of 3%-5%. One practice management expert suggested setting goals and giving $25-$50 to each employee for meeting each monthly goal or $75-$150 for reaching each quarterly goal.[18]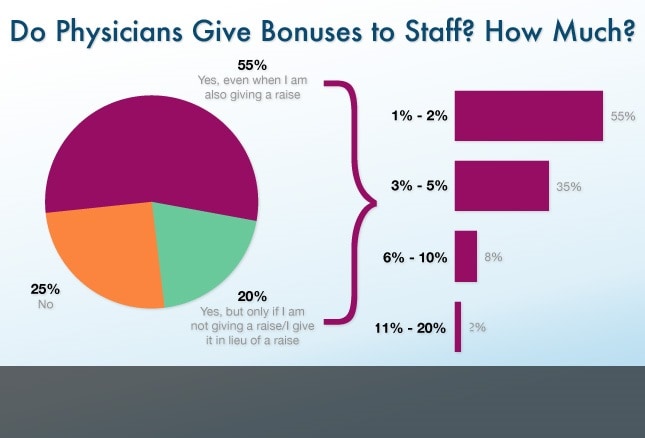 The majority of physicians (67%) who responded to Medscape's survey are making no changes to their staff in 2014. Seven percent are both adding and cutting staff, and of those who are only adding or cutting, more physicians are hiring (17%) than are laying off (9%) staff. According to the Bureau of Labor Statistics, the current unemployment rate for those in education and health services (5.2%) is lower than the national unemployment rate (7%).[19] In addition, the Bureau predicts growth in all medical staff categories, both clinical and nonclinical. Between 2010 and 2020, employment of nurses is estimated to increase by 22%, PAs by 29.5%, medical assistants by 31%, medical records and information technicians by 21%, and medical secretaries by 41%.[20]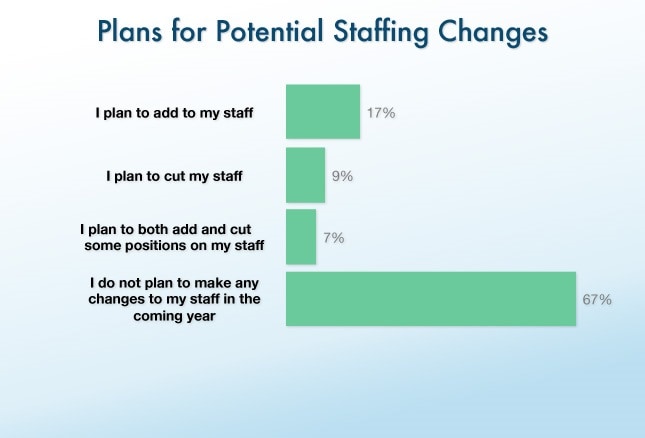 Of physicians who plan to hire and/or cut staff, medical assistants were picked nearly equally (40%) for being either cut or hired. This percentage was the highest for all staff to be hired and third highest for those to be fired. As for other clinical positions, NPs and PAs were slightly more likely to be hired (29% and 27%, respectively) than fired (21% and 22%, respectively).
Registered nurses may be in trouble, with 38% of physicians indicating that they would cut this group while only 14% would add them. Nonclinical staff will be facing the most challenges, with record clerks expected to fare the worst; 41% of physicians report that they are cutting these employees and only 5% say that they will add clerks to the staff. Tommy Bohannon suggested 2 reasons for cuts in nonclinical staff: increasing practice consolidation and implementation of electronic record systems.
Almost half (47%) of all physician survey respondents plan to hire staff to prepare for the expected increased enrollment in the healthcare system due to implementation of the Affordable Care Act. Primary care physicians are expected to shoulder most of this burden. More than half (52%) of the family physicians who are hiring will be taking on medical assistants. Internists who plan to hire are also looking for medical assistants (36%) as well as NPs (35%). Of interest, 21% said they were hiring because of declining reimbursements. Tommy Bohannon suggested that in such cases, adding clinical staff would allow a physician to see more patients and increase revenues. Of the physicians who are planning to add staff, 20% will hire part-time or remote employees. Only 4% said that they will outsource services.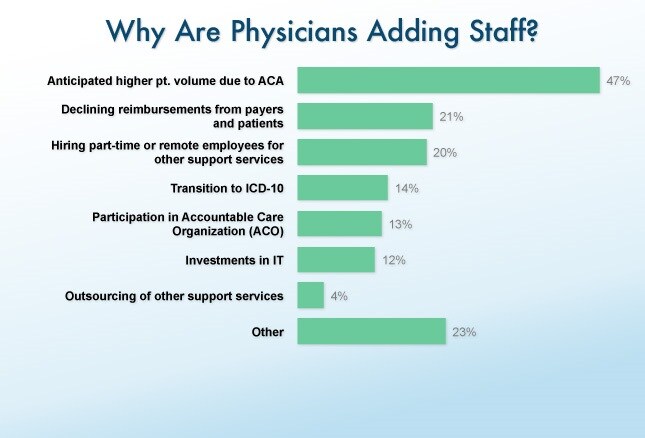 According to a report from outplacement consulting organization Challenger, Gray, & Christmas, so far in 2013 the healthcare sector has laid off 41,085 employees, the third highest number of industry layoffs in this report, following the financial and industrial-goods sectors.[21] Layoffs were highest in hospitals. Among Medscape survey respondents, declining reimbursement is by far the most significant reason for cutting staff, with 73% noting this factor. The second most mentioned reason for cutting staff was replacement with part-time or remote employees, an action taken by 30% of physicians.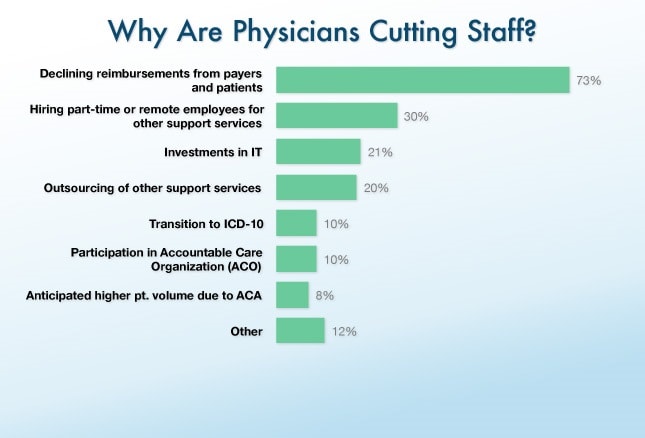 Of physicians responding to the Medscape survey, 85% are office-based. Virtually all are owners or partners. The majority of respondents were between 40 and 64 years of age.