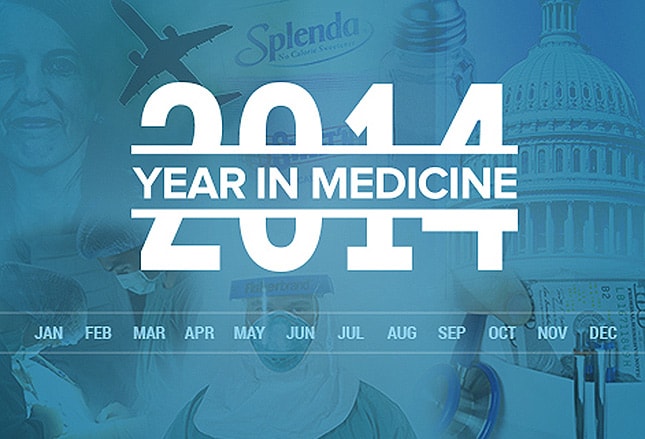 Ebola and Emerging Infectious Diseases
The 2014 Ebola outbreak in West Africa has resulted in almost 18,000 people infected and more than 6000 deaths, as of December 8.[1] Although the outbreak is far from over, the panic surrounding the cases and two deaths in the United States has lessened from its height in October. Other emerging infectious diseases also were in the news this year, from MERS,[2-4] which originated in the Middle East but is now more widespread, to enterovirus D68[5] and Chikungunya[6-8] in the United States.
Image from Dreamstime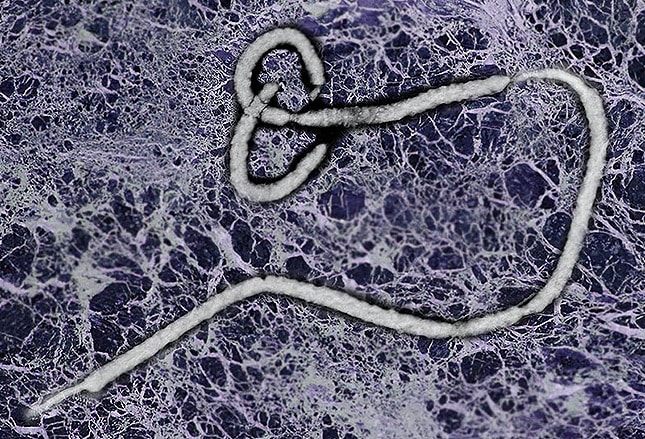 MOC Debate
Debate around the American Board of Internal Medicine's (ABIM's) changes to the maintenance of certification (MOC) process started in the spring with a cardiologist-led petition.[9] Most physicians registered[10] despite complaints about the process, and more than 3 months later the ABIM promised to ease up on several financial and course work requirements for its revamped MOC program.[11] However, a recent study found that physicians think the MOC process is unnecessarily complex and is "of little benefit to physicians, patients, or society."[12]
Image from Thinkstock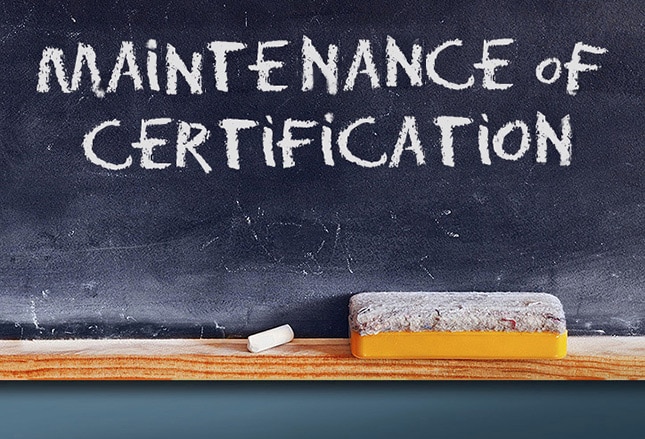 World's First Baby Born After Uterine Transplant
A 36-year-old woman who received a uterus transplant from a live donor in 2013 gave birth to a healthy baby boy in September 2014, according to an article published online October 6 in The Lancet.[13] "Our success is based on more than 10 years of intensive animal research and surgical training by our team and opens up the possibility of treating many young females worldwide that suffer from uterine infertility," said lead author Mats Brännström, MD, professor of obstetrics and gynecology at the University of Gothenburg, Sweden. The report raises several important medical and ethical questions.[14]
Image from Dreamstime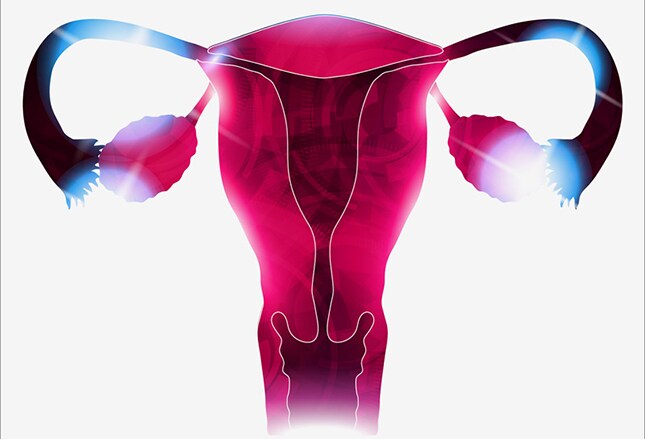 Top HIV/AIDS Researchers Killed on Malaysian Jet
Several of the world's leading HIV/AIDS researchers and activists were among the 298 people killed on a Malaysian passenger jet that was shot down over Ukraine on July 17.[15] Among the dead were former president of the International AIDS Society Joep Lange, MD (above), a well-known HIV researcher from the Netherlands, his wife and collaborator Jacqueline van Tongeren, and Glenn Thomas, spokesman for the World Health Organization's Western Pacific region.
Image courtesy of University of Amsterdam/Netherlands
Medicare Billing Data Released
The Centers for Medicare & Medicaid Services (CMS) in April released, for the first time, data detailing about $77 billion in payments to more than 880,000 healthcare professionals under its Medicare Part B Fee-For-Service program.[16] Almost 4000 physicians were paid more than $1 million each in 2012 by Medicare, and the average payment per physician was $77,000 for that year, according to multiple media reports. "We want the public, press, and researchers to mine the data to help us find outliers, and identify spending that doesn't make sense or appears to be wasteful or fraudulent," Jonathan Blum, CMS principal deputy administrator, said in an interview.
Image from Thinkstock
Open Payments Data Release Has Big Gaps
On September 30, the federal government published information on 4.4 million payments worth almost $3.5 billion from drug and device makers to almost 1360 teaching hospitals and 546,000 physicians, dentists, podiatrists, and other clinicians on its new and controversial Open Payments website.[17] The idea behind the website, created by the Affordable Care Act, is to spotlight and deter potential conflicts of interest that might cause a clinician to lose sight of a patient's best interest, such as prescribing an expensive brand-name drug when a generic would do. The American Medical Association and others had expressed concern about the data's accuracy, urging CMS to delay the data release until March 31, 2015, saying that physicians needed more time to review the payments. Site outages and difficulty registering plagued the data release.[18]
Image from Thinkstock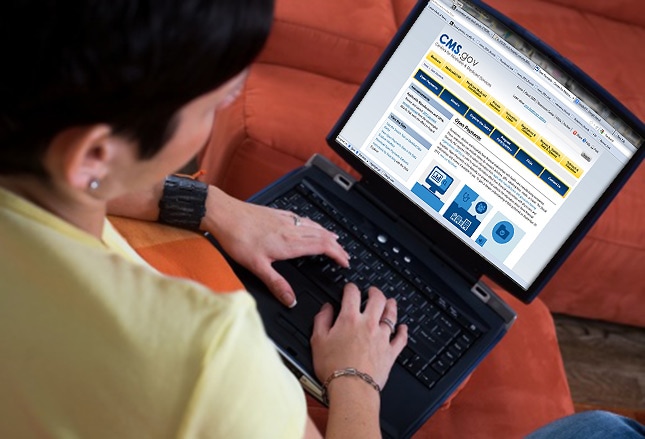 State and Federal Health Insurance Exchanges Launch
After a difficult enrollment period because of problems with the Healthcare.gov website last fall, the health insurance exchanges authorized by the Affordable Care Act launched on January 1.[19] Open enrollment closed on March 31. In May, the Department of Health and Human Services announced that more than eight million people had enrolled.[20]
In May, a new survey by the Medical Group Management Association found that most group practices are participating in new insurance exchanges, but they are grumbling about it, mostly because of administrative hassles and narrow provider networks.[21]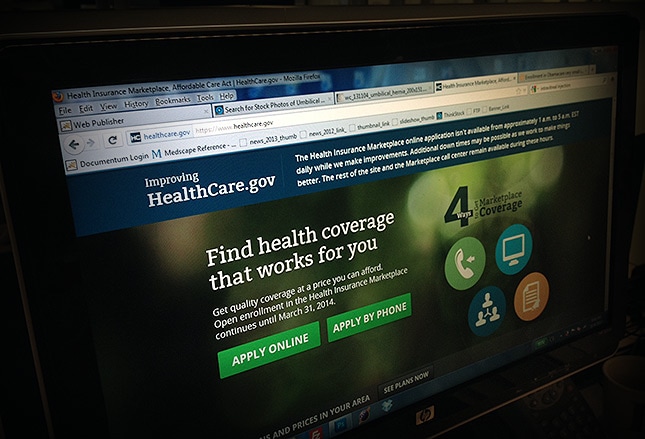 Debates on Recent ACC/AHA Guidelines
Recent ACC/AHA guidelines generated much debate in 2014. The guidelines addressed cardiovascular risk assessment, modification of lifestyle to affect that risk, the management of overweight individuals and obesity, and addressing and treating patients with elevated cholesterol levels[22]; in a controversial move, the latter guidance threw out lipid targets for the first time, potentially increasing the number of people who could be treated with statins.[23] Experts have questioned the new risk calculator introduced in the recommendations and whether it has been validated.[24] Also, some experts are concerned that statins haven't shown a survival benefit when used for primary cardiovascular disease prevention.[25]
Image from Thinkstock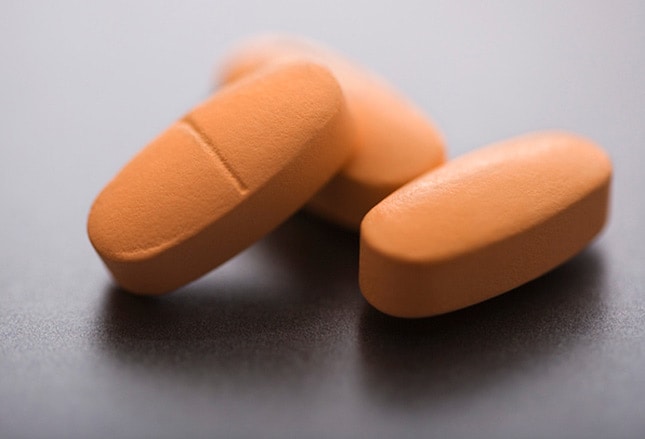 Hypertension Guidelines: Which Ones to Follow?
The release of the long-awaited JNC 8 guidelines[26] in December 2013 seemed to raise more questions than it answered, especially as other groups[27] also released guidelines, or will be releasing guidelines soon.[28] The most hotly contested change appears to be the decision to "ease up" on systolic blood pressure targets in people older than 60. (JNC 8 also backs away from the recommendation that thiazide-type diuretics should be initial therapy in most patients, suggesting an ACE inhibitor, angiotensin-receptor blocker, calcium-channel blocker, or thiazide-type diuretic is a reasonable choice.) Other groups and experts have contested the guidelines throughout this year, both in print[29] and during at least one conference.[30]
Image from Dreamstime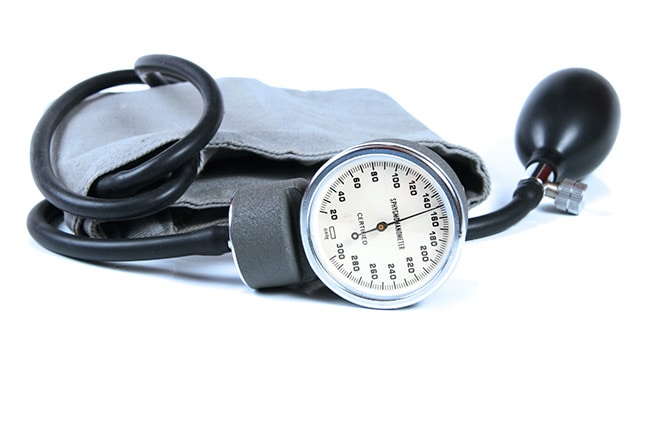 Artificial Sweeteners and Salt
Artificial sweeteners made headlines in September, when researchers reported in Nature that aspartame, sucralose, and saccharin cause blood glucose abnormalities in mice and some humans.[31] The changes in glucose tolerance seem to be driven by the gut microbiome and can be reproduced in germ-free mice by giving them gut microbes from a person who has consumed the sweeteners. And the debate on appropriate salt intake rages on: The results of the PURE study were presented at the Word Congress of Cardiology in May[32] and published in an article in the New England Journal of Medicine in August.[33] The PURE article suggests that moderate (as opposed to low) sodium intake may be best for CVD prevention. A separate study on salt reached very different conclusions.[33]
Image from iStock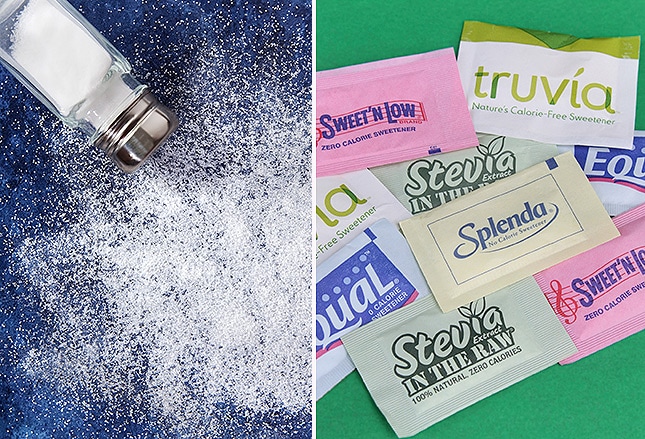 ACA Subsidies Under Fire
In November the US Supreme Court agreed to settle whether people who bought health insurance through the federally funded exchanges can receive tax credit subsidies.[34] Because of what has been described as an error in wording in the Affordable Care Act, only subsidies for insurance purchased on state-funded exchanges are spelled out. In various lower-court cases, subsidy defenders have argued that the legislation intended to include federal exchanges,[35,36] while ACA critics contend that providing the subsidies in these exchanges was "an invalid implementation" of the law. Analysts estimate that 5 million people could be affected if the Supreme Court says the subsidies cannot be provided in the states that did not set up their own health insurance exchanges.[37,38] If the Supreme Court strikes down the subsidies, some legal scholars say it would deal a potentially lethal blow to the law.[39]
Image from Dreamstime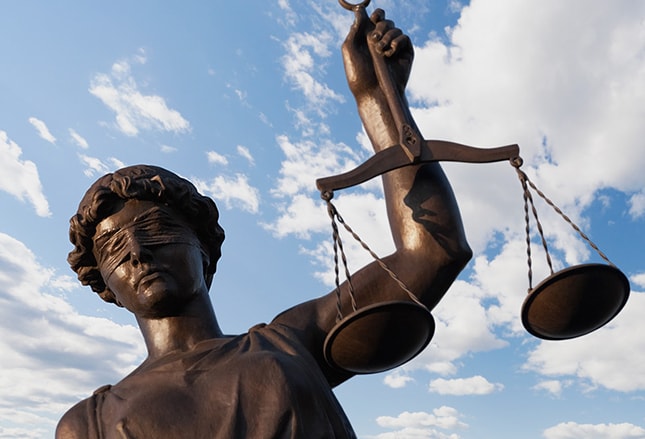 Doc Fix and ICD-10 Delays
At the end of March, Congress once again delayed a scheduled substantial pay cut for physicians who see Medicare patients.[40] At the same time, legislators also delayed implementation of the new diagnostic code system known as ICD-10. Leading physician groups favored the delay, estimating that the new codes could cost small practices significantly more than in previous estimates. Hospital associations and health information technology professionals, however, believe that postponing the implementation of ICD-10 will also be very costly and counterproductive for organizations that have long been preparing for this transition.[41] Regarding Medicare reimbursement, it's still possible that this year's lame duck Congress may repeal and replace the sustainable growth rate formula (SGR) that controls physician pay with a new "doc fix."[42]
Image from Dreamstime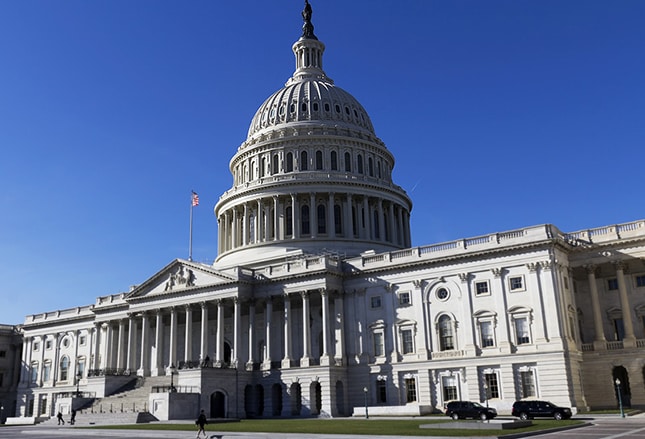 Morcellation
Laparoscopic power morcellators should no longer be used for hysterectomy or myomectomy in most women with uterine fibroids because of the risk of spreading unsuspected cancerous tissue, the US Food and Drug Administration (FDA) warned on April 17.[43] At the end of July, Johnson & Johnson announced a global withdrawal of its laparoscopic power morcellators.[44] In November, the FDA issued a tougher warning against using laparoscopic power morcellators in hysterectomy and myomectomy to remove uterine fibroid tumors, saying surgeons should avoid them in the vast majority of women.[45] Two days later, HCA Holdings Inc, the largest for-profit hospital operator in the United States, said power morcellation for removing uterine fibroids will no longer be performed at its facilities.[46] The issue has received attention because of publicity around the upstaging of leiomyosarcoma in Amy Reed, MD (above left), an anesthesiologist who had undergone power morcellation at Brigham & Women's Hospital in Boston. Her husband, Hooman Noorchashm, MD, PhD (above right), a cardiothoracic surgeon, helped publicize the issue beginning last fall, and the two physicians are now "on a mission to ban the practice of morcellation in any form."[47]
Image courtesy of Facebook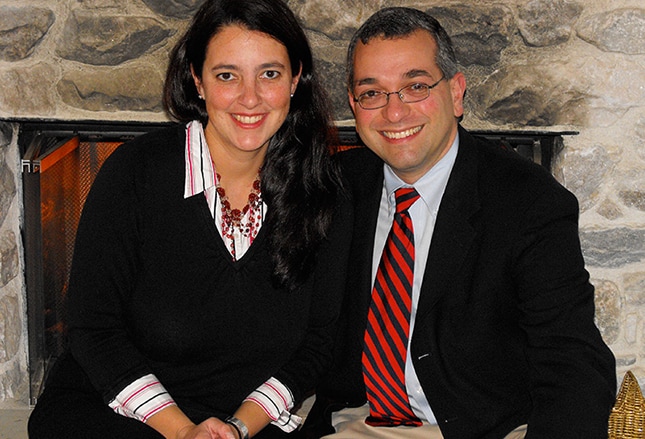 Robin Williams and Suicide Risk Awareness
The death of actor/comedian Robin Williams at age 63 is a tragic reminder that the risk for suicide is pervasive, particularly among white, middle-aged men, experts say. They recommend being on the alert for patients who may be suicidal and asking questions such as, "Have you ever felt so down or so despondent that you felt that life wasn't worth living anymore?" If the answer is yes, the clinician should ask follow-up questions, including: "Have you ever actually thought about killing yourself?" "Have you made a plan?"[48] One expert pointed out that in the wake of all of the comments about Williams' death, that suicide may be rare but it is not random, and Williams had several risk factors — he did not "struggle with demons," as some said.[49] One of those risk factors was only made public after his death, that he had recently been diagnosed with Parkinson's disease.[50]
Image courtesy of Brian J. Ritchie/Hotsauce/Rex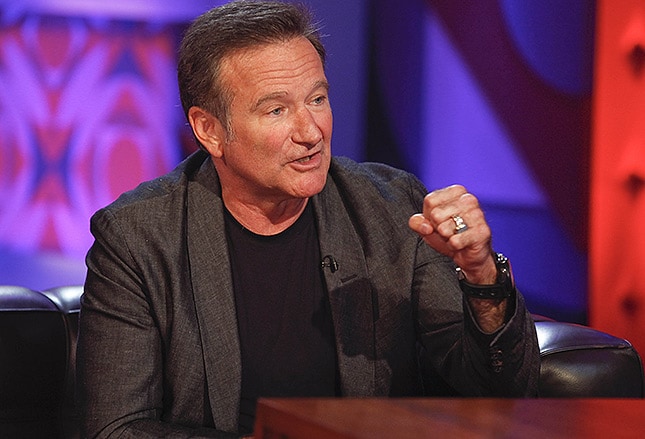 HHS Secretary Sebelius Resigns, Burwell Confirmed
On April 10, US Department of Health and Human Services Secretary Kathleen Sebelius resigned, ending a 5-year term that was marred by the problem-plagued rollout of the Affordable Care Act (ACA).[51] The next day, Sylvia Mathews Burwell, director of the White House Office of Management and Budget, was nominated by President Obama to replace Sebelius,[52] and on June 5, the Senate confirmed her nomination.[53]
Images from Associated Press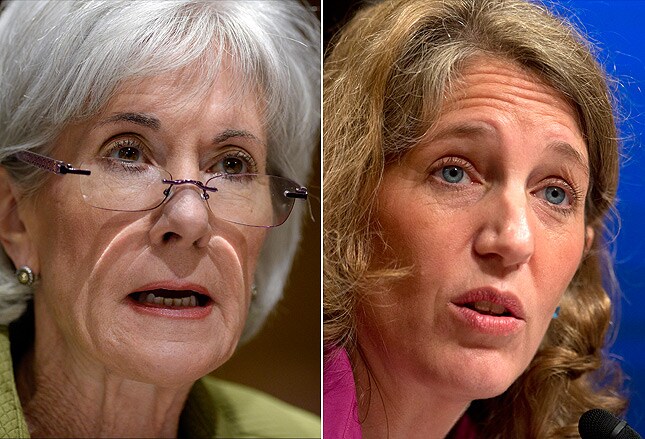 Brittany Maynard, Assisted Suicide Advocate, Ends Her Life
Brittany Maynard, 29, who was diagnosed with a stage 4 glioblastoma, a terminal and aggressive brain tumor, ended her life November 1 in Portland, Oregon, with a fatal dose of barbiturates a physician prescribed. Since announcing her plan to take her own life in October, Maynard's decision prompted a national discussion on the right to die. Maynard was married in September 2012 and diagnosed in January 2014. After she was told in April that she would have 6 months to live, she and her family moved from California's San Francisco Bay area to Oregon, one of five states, in addition to Washington, Montana, Vermont, and New Mexico, that allow physician-assisted suicide.[54]
Image courtesy of Brittany Maynard Fund/Facebook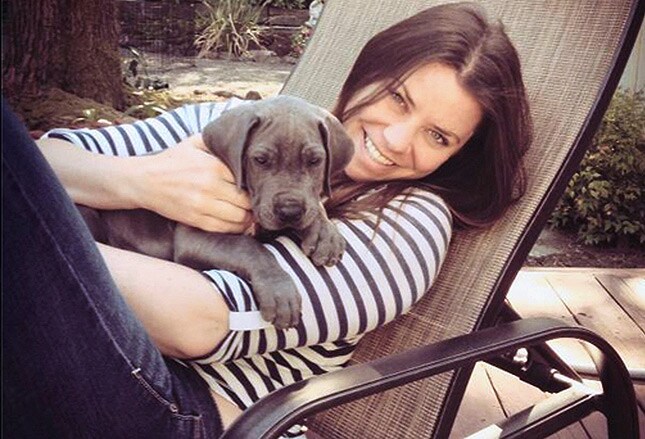 Flood of New Drugs for Hepatitis C (and High Prices)
Approximately 1% of US residents are infected with chronic hepatitis C virus (HCV), according to findings of a survey published in the March 3 issue of the Annals of Internal Medicine.[55] Several new hepatitis drugs have flooded the global market in 2014, providing promise for making HCV infection a rarity in about 20 years.[56] Simeprevir (Olysio, Janssen Pharmaceuticals) was the third protease inhibitor for hepatitis C to hit the market in November 2013,[57] and it was also approved in Europe in May,[58] but it still needed to be combined with ribavirin and interferon, which could cause serious adverse effects. Sofosbuvir (Sovaldi, Gilead), the first nucleotide analogue inhibitor, was approved in December 2013 and was a component of the first interferon-free regimen.[59] However, its price tag, $84,000 per year, has been controversial.[60-64] The price of a second Gilead drug, ledipasvir/sofosbuvir (Harvoni), which was approved in the United States in October,[65] is even higher, at $94,000 annually, which is causing pharmacy benefits managers and other stakeholders to hope that new drugs from AbbVie and others will be less expensive.[66]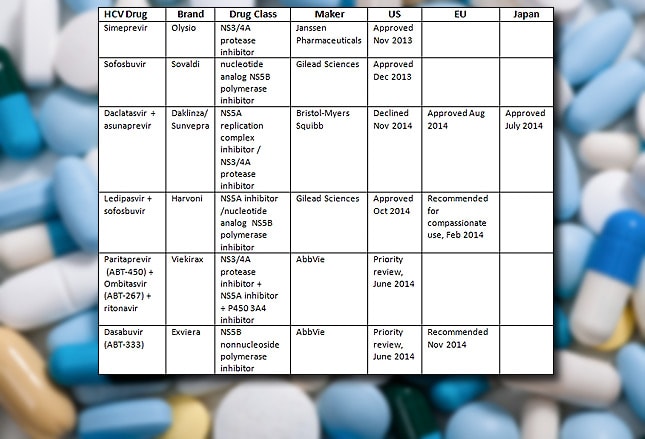 Dr Oz Senate Hearings
A US Senate panel probing bogus diet product ads in April took celebrity physician Mehmet Oz to task for touting weight-loss products on his syndicated television show. Missouri Democratic Senator Claire McCaskill, the chairwoman of the Commerce subcommittee on consumer protection, said Oz had a role in perpetuating weight-loss fraud through his show. Dr Oz told the panel that he believes in the products that he promotes, although he said he recognizes that the scientific evidence isn't always there.[67]
Image from Associated Press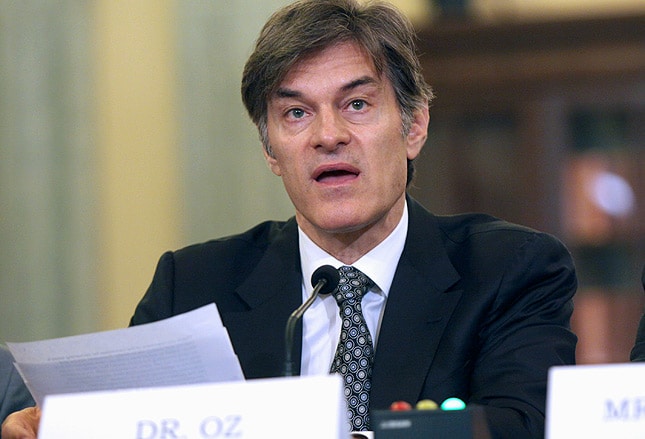 Digital Medicine Makes Its Mark
Physicians are beginning to embrace technology to improve patient care as policies and legislation to regulate such care, including telemedicine, move a bit more slowly. In the WebMD/Medscape Digital Technology Survey from August and September, 69% of physicians said they embrace technology to enhance and aid the diagnostic process, and 63% of physicians agreed that the smartphone can be a useful diagnostic tool with regard to blood tests.[68] The CMS proposed in July to increase incrementally the telehealth services that Medicare will cover, including wellness visits and some behavioral health services. However, CMS continues to restrict telehealth coverage to rural areas and offers a very circumscribed definition of the telehealth technology that can serve as the basis for coverage.[69]
Image from Dreamstime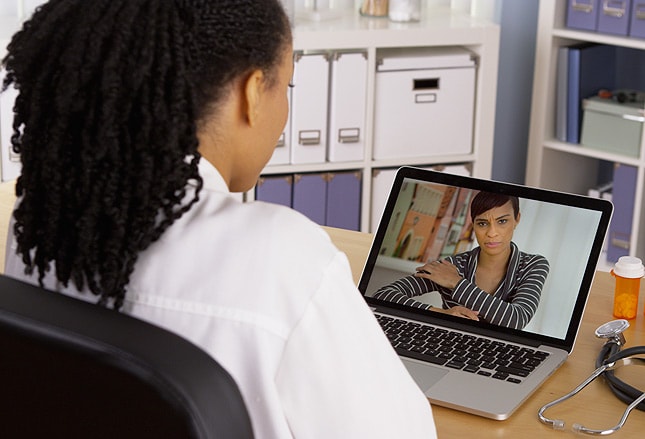 Cynicism Linked to Dementia
A high level of cynical distrust — for example, believing that no one cares much what happens to you and that it's safer not to trust anybody — is associated with a higher risk for dementia, and the association is not entirely explained by depressive symptoms, a new study shows. "The findings of this study propose that psychosocial and behavioral risk factors may be modifiable targets for prevention of dementia," researchers at the University of Eastern Finland, Kuopio, conclude. "It may thus be possible to improve life quality by attempting to change people's attitudes to a more positive direction." The study was published online May 28 in Neurology.[70]
Image from Dreamstime
Exercise and CVD Risk: Too Much of a Good Thing?
When it comes to exercise, there apparently can be too much of a good thing. In one study published online May 14 in Heart, investigators report that men who exercised for more than 5 hours per week when they were 30 years old had a significantly higher risk of developing atrial fibrillation later in life compared with men who exercised less. In a second study, a separate group of researchers found that those who participated in daily "strenuous" physical activity had an increased risk of dying from cardiovascular causes. An editorial in the same issue notes that both studies are limited by the self-reported measurements of physical activity but still raise important clinical questions.[71]
Image from Dreamstime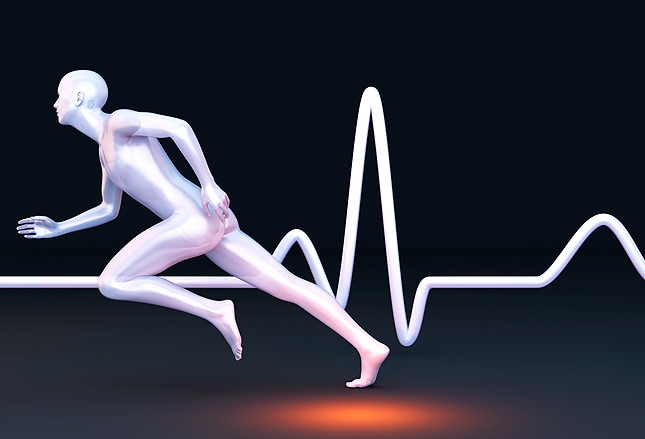 CVS Stops Selling Tobacco Products
In February, CVS announced that it would stop selling tobacco products, becoming the first US drugstore chain to do so.[72] The company said it believes the decision will strengthen its position as a healthcare provider. Clinicians and medical societies alike commended CVS' decision.[73] The Centers for Disease Control and Prevention (CDC) was also pleased; CDC Director Tom Frieden, MD, MPH, said in an interview that CVS has "recognized that trying to be both a healthcare facility and selling tobacco is just a paradox that's unhealthy and untenable."[74]
Image from Dreamstime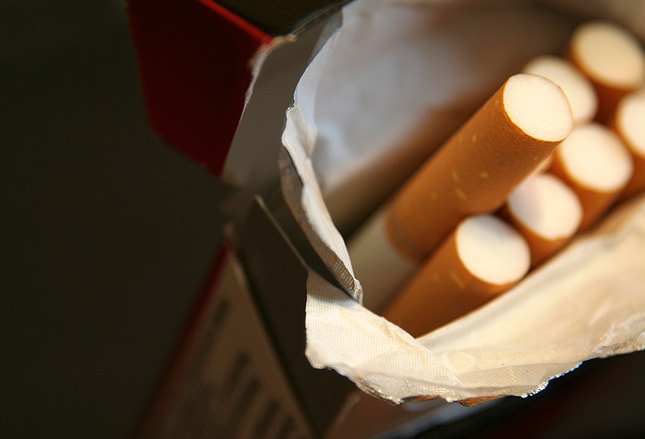 Naproxen and Cardiovascular Safety
Regular intake of naproxen entails more CV risk than ibuprofen, according to an analysis of NSAID use among participants in the Women's Health Initiative. Regular intake of ibuprofen, in fact, did not seem to involve any elevation in CV risk. The analysis, published July 8 in Circulation: Cardiovascular Quality and Outcomes, also saw a complicated relationship between aspirin and most other NSAIDs. It suggested that concomitant aspirin may alleviate the increased CV risk long associated with selective inhibitors of COX-2 such as celecoxib, but not the risk from others, such as naproxen.[75] The study's publication followed an FDA advisory committee meeting in February in which most of the panel said the data were insufficient to say naproxen has a lower risk for CV thrombotic events than other available NSAIDs.[76]
Image from Dreamstime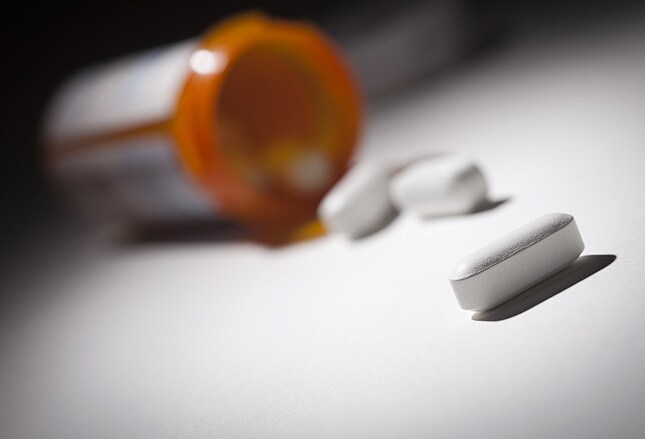 HPV DNA Test Approved by FDA
On March 12, an FDA advisory committee unanimously recommended premarketing approval for the cobas human papillomavirus (HPV) test (Roche) for primary cervical cancer screening of women aged 25 years or older.[77] It was approved for sale on April 24.[78] The first DNA test approved in the United States that can be used alone to detect high-risk HPV, it is recommended for first-line screening. The cobas HPV test first received FDA approval in 2011, to be used in conjunction with or as a follow-up to cell cytology, for women aged 30 years and older. Experts say critical questions remain unanswered about the HPV test as a primary screening tool, including whether women should be screened more or less frequently than current guidelines recommend for the Pap test.[79]
Image from Science Source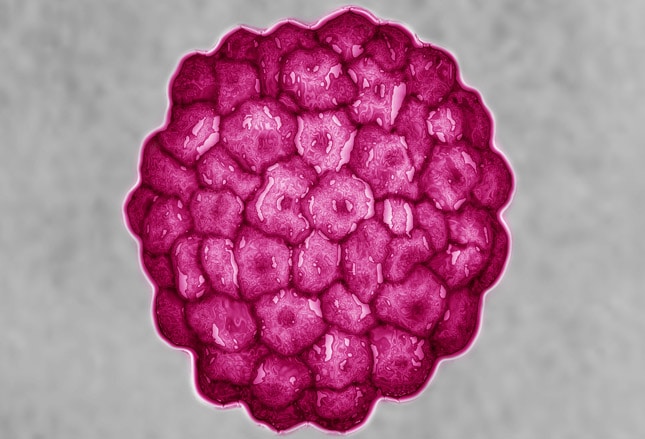 Companies Paying for Egg Preservation
Apple and Facebook offered this year to start paying for the cost of oocyte cryopreservation as an elective benefit for their female employees. Some gynecologists and fertility experts applaud the move as a way to provide women with the ability to choose when they want to have children. Others, however, are more cautious, saying there is insufficient evidence to support the procedure's widespread use.[80]
Image from Science Source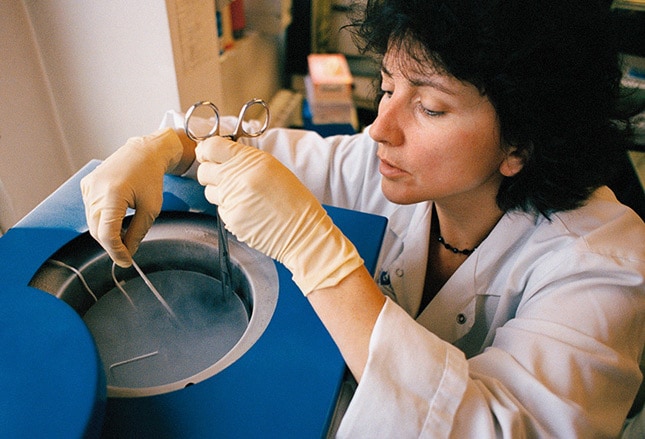 FDA Drug Warnings, Recalls
Several drug alerts made the news this year: The FDA said clinicians should stop prescribing combination prescription pain relievers that contain more than 325 mg of acetaminophen, citing the risk for liver damage.[81] The agency also lowered the recommended starting dose of the sleep aid eszopiclone (Lunesta, Sunovion Pharmaceuticals). "Data show that eszopiclone levels in some patients may be high enough the morning after use to impair activities that require alertness, including driving, even if they feel fully awake," the FDA said in a statement.[82] Finally, certain over-the-counter topical acne products can cause "rare but serious and potentially life-threatening" allergic reactions or severe irritation, the FDA warned.[83]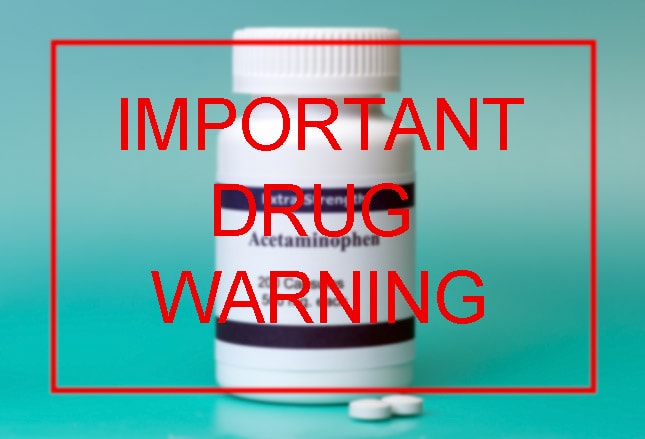 Major Drug and Device Approvals
Two drug and two device approvals made headlines this year: The FDA approved the inhaled human insulin product Afrezza (MannKind, above) to improve glycemic control in adults with type 1 and type 2 diabetes,[84] making needles no longer necessary. The FDA also approved a first-in-class insomnia drug called suvorexant (Belsomra, Merck).[85] The agency also granted clearance of the first device to help improve quality of sleep in patients with restless legs syndrome (Relaxis, Sensory Medical Inc).[86] The FDA approved Cologuard (Exact Sciences Corporation), a stool-based colorectal cancer (CRC) in vitro diagnostic device intended for the detection of colorectal neoplasia–associated DNA markers and for the presence of occult hemoglobin in human stool.[87]
Image courtesy of Mannkind Corporation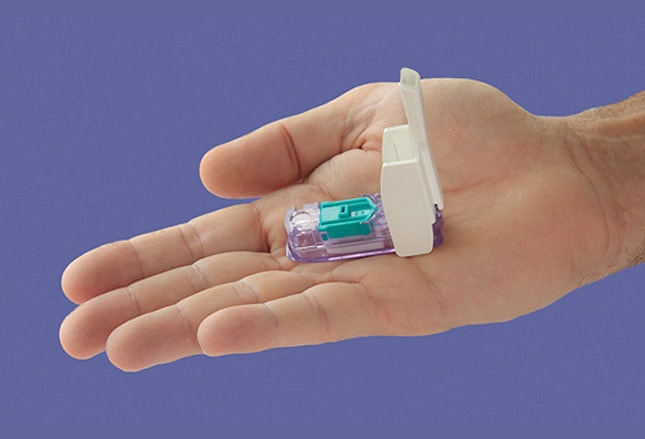 3D Printing
Three-dimensional (3D) printing is beginning to reshape medical practice, but its implications for healthcare may be complex, according to an opinion article published online December 2 in JAMA. Although questions remain about how best to use the technology, experts agree that 3D printing is already changing patient care.[88] These printers are being used to print bladders, and kidneys and other organs are in the works as well; these have great potential in that rejection risk is reduced because the tissue can be made from the patient's own cells.[89] From prosthetics to teeth to heart valves, 3D printing is bringing made-to-order, custom solutions into operating rooms and physicians' offices.[90]
Image from iStock Photo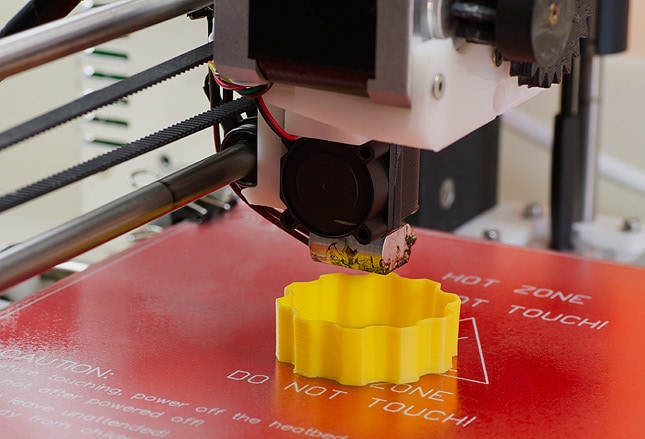 New Diagnostic Tests, Biomarkers for Disease
A new "electronic nose" is capable of detecting prostate cancer from a urine sample with nearly 80% accuracy, according to a proof-of-concept pilot study.[91] Noninvasive prenatal DNA testing in low-risk women may be as useful in a general obstetric population as it is in high-risk pregnancies,[92] but there is still some debate about whether guidelines should change regarding its use.[93]
A new blood test may identify major depressive disorder in adults, and could potentially help clinicians predict which patients with the disorder will respond to cognitive-behavioral therapy.[94] Alterations in a gene linked to stress reactions may eventually help clinicians identify patients at increased risk for suicidal behavior, including attempts, potentially by way of a simple blood test, recent research shows.[95]
Images from Dreamstime/Thinkstock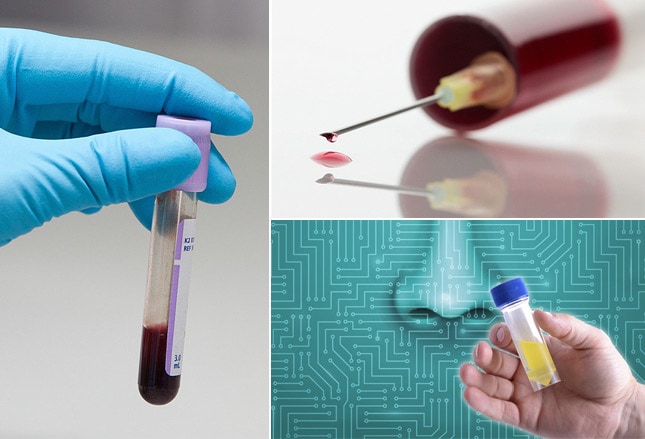 Readers Respond: The Biggest Medical News of the Year
In a Medscape survey of our members in November, the Ebola outbreak was the biggest medical news of the year. Sixty-eight percent of respondents picked Ebola compared with 8% for the maintenance of certification debate, 7% for the first birth by a woman with a uterine transplant, and 5% for new guidelines expanding the use of statins. Nearly 5% of respondents wrote in other suggestions, including new drugs to cure hepatitis C without interferon; the effects of the Affordable Care Act/Obamacare; improved outcomes in early non-small-cell lung cancer detected with CT scans; and the morcellation debate.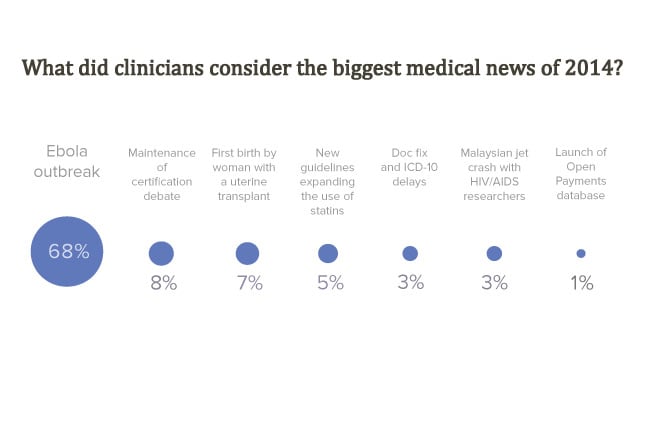 Readers Respond: Most Proud
The Medscape survey also asked what medical news this year made our members most proud to be a clinician. Forty-eight percent of respondents said the launch of curative treatments for hepatitis C virus infection. The second choice, at 24%, said that the cases of Ebola contracted in the US were cured made them most proud. Third choice was that a nephrologist, Rita McGill, donated her kidney to a stranger, and fourth was the first birth by a woman with a uterine transplant. Under "other," several members said that physicians going to West Africa to fight Ebola made them most proud, others named the implementation of the ACA and the fight against MOC. And finally 19% of those who selected "other" (but 1.4% of the total respondents) said none, nothing, or not applicable.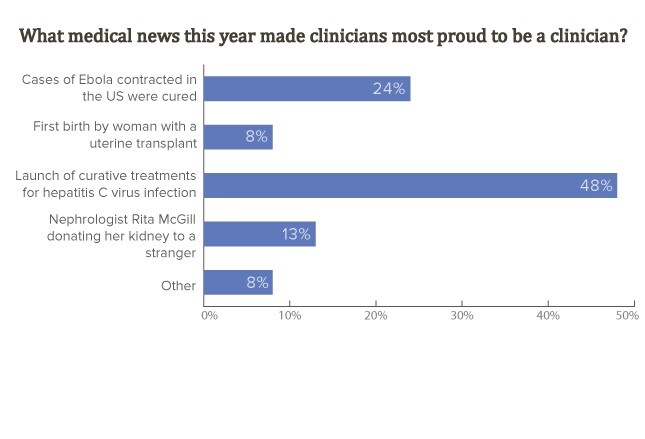 Readers Respond: Most Frustrating
The event or news that most frustrated members this year was trying to meet meaningful use requirements for electronic health records (EHRs), at 26% of respondents. About 18% of respondents said that Dr. Oz defending his tactics for touting weight-loss products before a US Senate panel was most frustrating. Cyber-attacks on EHRs and California wanting to drug test doctors tied, at 10%. And about 9% of respondents said Affordable Care Act health grace period rule was most frustrating. Among the write-in votes, most respondents mentioned MOC or the ACA (promotion of or opposition to) as most frustrating. Others mentioned the states that refused to expand Medicaid and Ebola fear or "hysteria."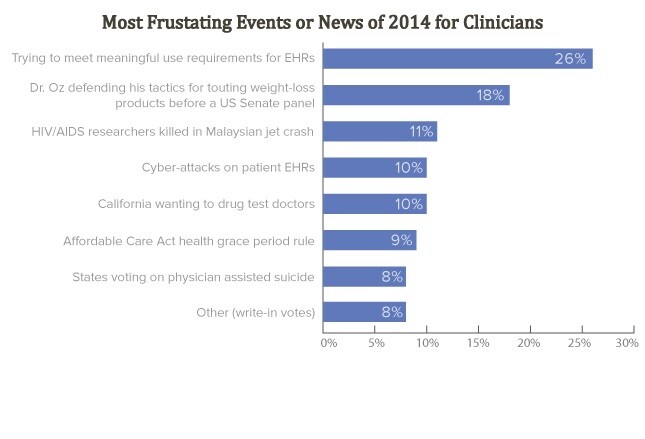 Readers Respond: Most Outlandish or Zany
The most outlandish or zany medical news this year was the ALS ice bucket challenge (39%), according to Medscape's member survey. Second choice was stolen EHRs being sold on the black market (25%), third was California wanting to drug test doctors (21%), and fourth was states voting on physician assisted suicide (9%). Under the "other" categories, members listed e-cigarettes, percutaneous gastric tube to treat obesity, and legalizing medical marijuana. Many others also said that MOC, ACA (both for and against), Ebola fears, and Dr Oz were the most outlandish or zany.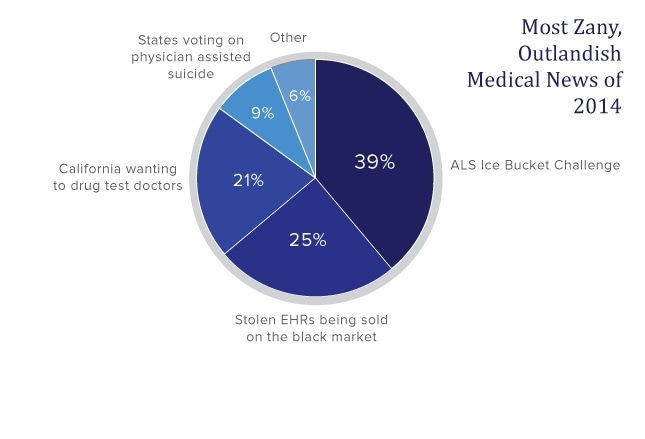 Readers Respond: Most Important/Needed and Most Creative/Innovative
And finally, Medscape's Year in Medicine survey asked members what were the most important/needed and most creative/innovative medical advances of 2014. The first blood tests to identify depression and predict suicide were said to be the most important/needed by 47% of members. Second place for most important was a smart watch to encourage in-hospital hand hygiene, and third place was an electronic nose to "sniff out" prostate cancer. For most creative, the electronic nose to "sniff out" prostate cancer came in at 43%, the smart watch to encourage in-hospital hand hygiene and blood tests to identify depression and predict suicide were nearly tied at 20% and 19% respectively, and the first device to improve quality of sleep in patients with restless legs syndrome came in with 10%.