Residents Salary & Debt Report 2014
Leslie Kane, MA; Carol Peckham
August 5, 2014
Medical school debt is a hot topic, so Medscape set out to focus more closely on medical residents' salary, debt, and their overall experiences in residency. More than 1200 residents across 25 specialties took part in an online survey; the recruitment period ran from June 20, 2014 through July 7, 2014. All participants were enrolled in a US medical resident program.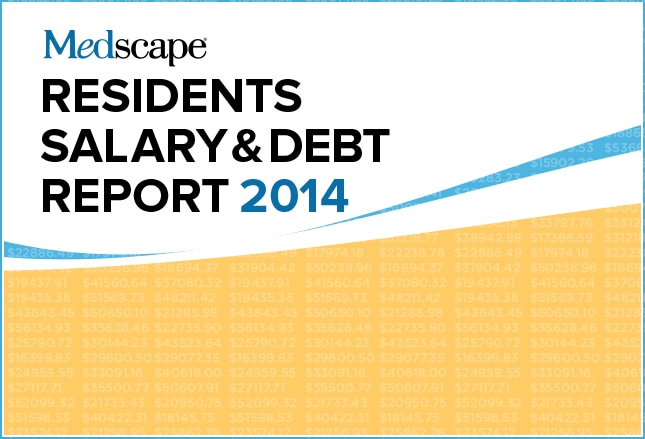 The average resident salary is $55,300. This accounts for the higher earnings among various specialties and the lower salaries in rheumatology and primary care.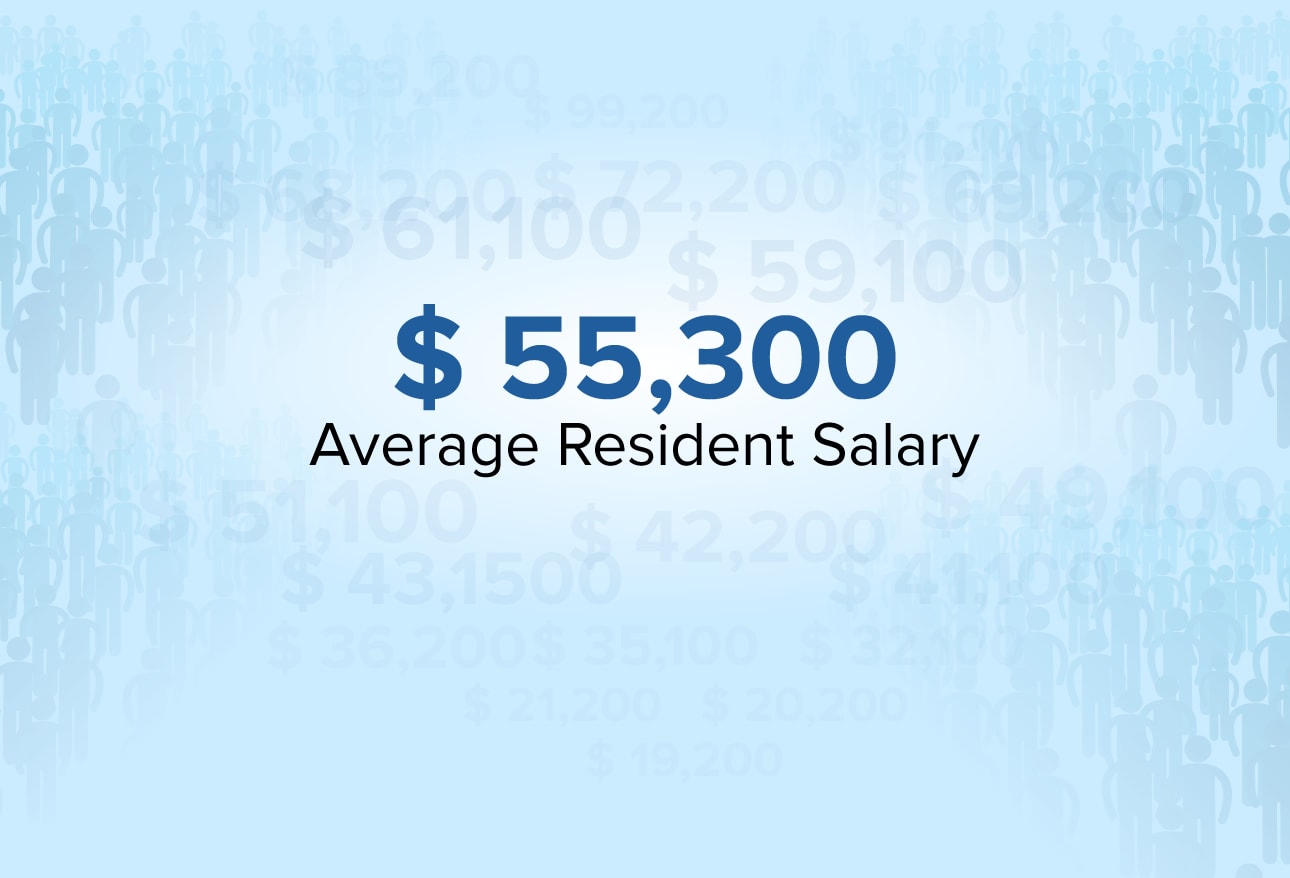 Residents in specialties earned the highest salaries; family and internal medicine resident salaries are at the bottom of the list, which is similar to their ranking in the Medscape 2014 Compensation Report, in which income levels for family medicine and internal medicine were second and fifth from the bottom, respectively. Of interest, although 28% of residents who responded to the survey were in either internal medicine or family medicine programs, only half of them planned to go into primary care; the others were planning to subspecialize. Respondents said that lower salaries and less respect within the residency programs are important reasons for such choices. About three quarters of medical schools are now implementing initiatives to encourage careers in primary care.[1]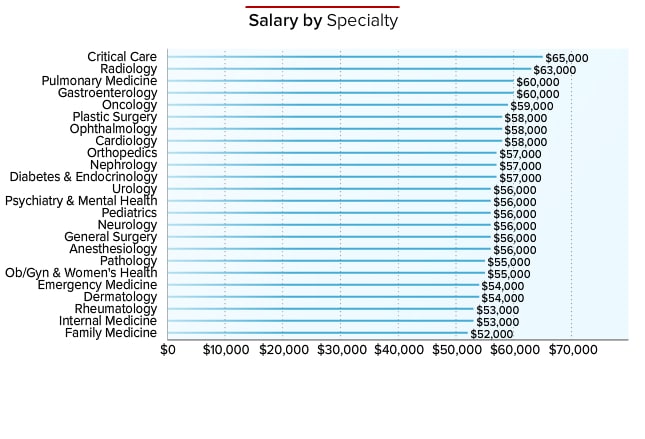 Average residency salaries increased from $51,000 in the first year after medical school to over $60,000 after the fifth year. According to a recent commentary in the New England Journal of Medicine, when adjusted for inflation, resident compensation has not changed in 40 years.[2] In fact, given housing costs and debt, salaries are slightly lower. Training hospitals share data and use it to set wages, which keeps salaries consistent among them and low, which has triggered some efforts to organize residents.[3] There is also some controversy about how government funds are used for graduate medical education — and specifically for residency training — and whether keeping skilled residents at these low wages really is profitable for academic medical centers.[4-6]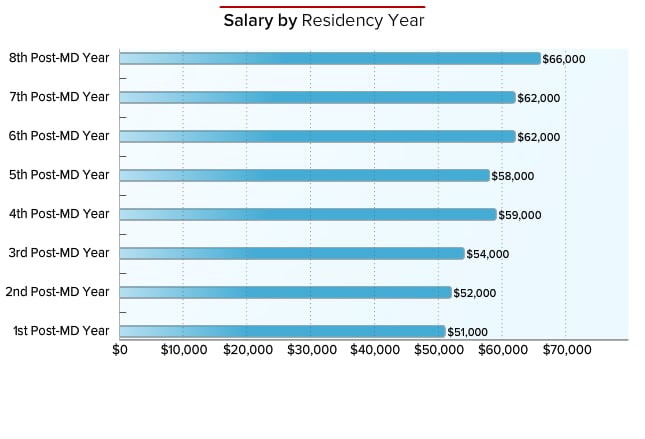 Salaries for women in residency are lower than those for men ($54,000 and $56,000, respectively). The gender disparity in residents, however, is only 4% compared with a disparity of 24% among all physicians, according to the latest Medscape Physician Compensation report. The much smaller difference among residents is most likely due to their work in the hospital setting, where salaries are consistent. But disparity seems to be a continuing problem. A 2012 article in Health Affairs[7] on New York starting salaries after residency found that men earned $16,819 more than women, a greater compensation gap than in 1999. Still, "as increasing numbers of doctors start working regular set hours for large health systems, there's little variance in income based on sex," notes Judy Aburmishan, partner in FGMK, LLC, a Chicago firm that represents physicians and other providers.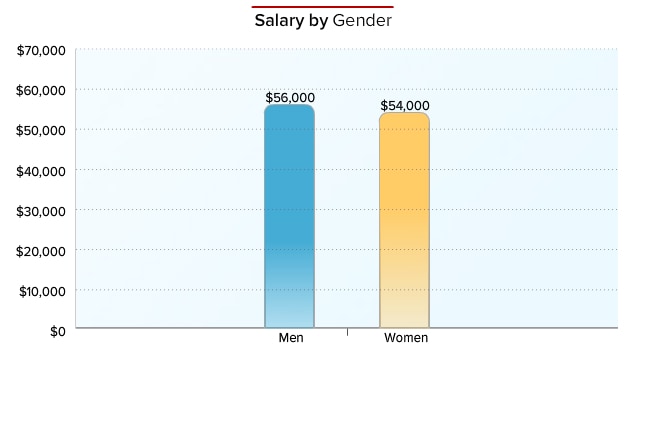 At $71,000, the highest resident salaries are in the Northwest, with the Northeast and West following at $61,000 and $57,000, respectively. The lowest salaries are found in the Southeast ($50,000) and North Central ($52,000), with the remaining regions, at $54,000, below the general average salary of $55,000. One reason for these regional differences may be Medicare subsidies for graduate medical education, with the states in the Northeast, West, and Northwest being among the largest beneficiaries for resident payments, and those in the Southeast, Southwest, and South Central (where salaries are below average) receiving lower subsidies for paying residents.[8]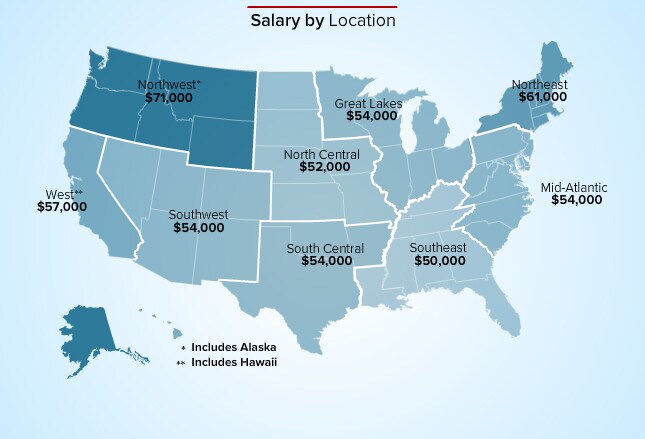 Despite the salary disparities, far more female residents (57%) are satisfied with their compensation compared with their male counterparts (48%). Ileana Piña, MD, a Medscape advisor and Associate Chief of Cardiology at Montefiore Einstein Vascular and Cardiac Center in the Bronx, New York, commented, "Women are not happy about salary disparities when they find out. For instance, salaries in universities are often secret, so you may never know. If you don't know, you can't complain."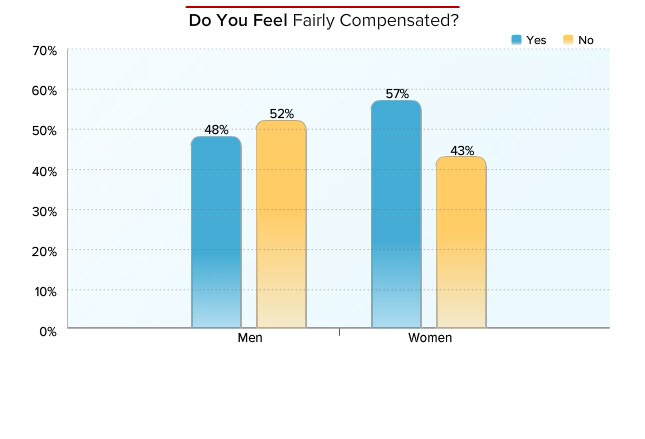 Nearly all residents get paid vacation and sick time (90%) and most have health insurance (85%) and liability coverage (74%). The majority also receive allowances for books (64%) and meals (61%). Some of the "other" benefits mentioned include cell phone, bus pass, CME, stipend for national conferences, laptop, and gym membership.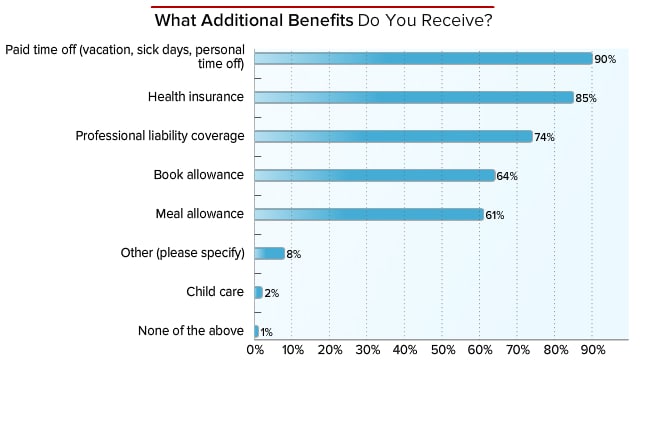 Although 25% of residents have no debt, over a third (36%) still owe more than $200,000 after five years in residency. The Association of American Medical Colleges (AAMC) reports that the median four-year cost to attend medical school for the class of 2013 is $278,455 at private schools and $207,868 at public ones.[9] Given these high tuitions, resident indebtedness has risen much more rapidly than inflation or resident compensation. According to the AAMC, medical school debt has increased by 6.3% since 1992 compared with the Consumer Price Index increase of 2.5%.[10]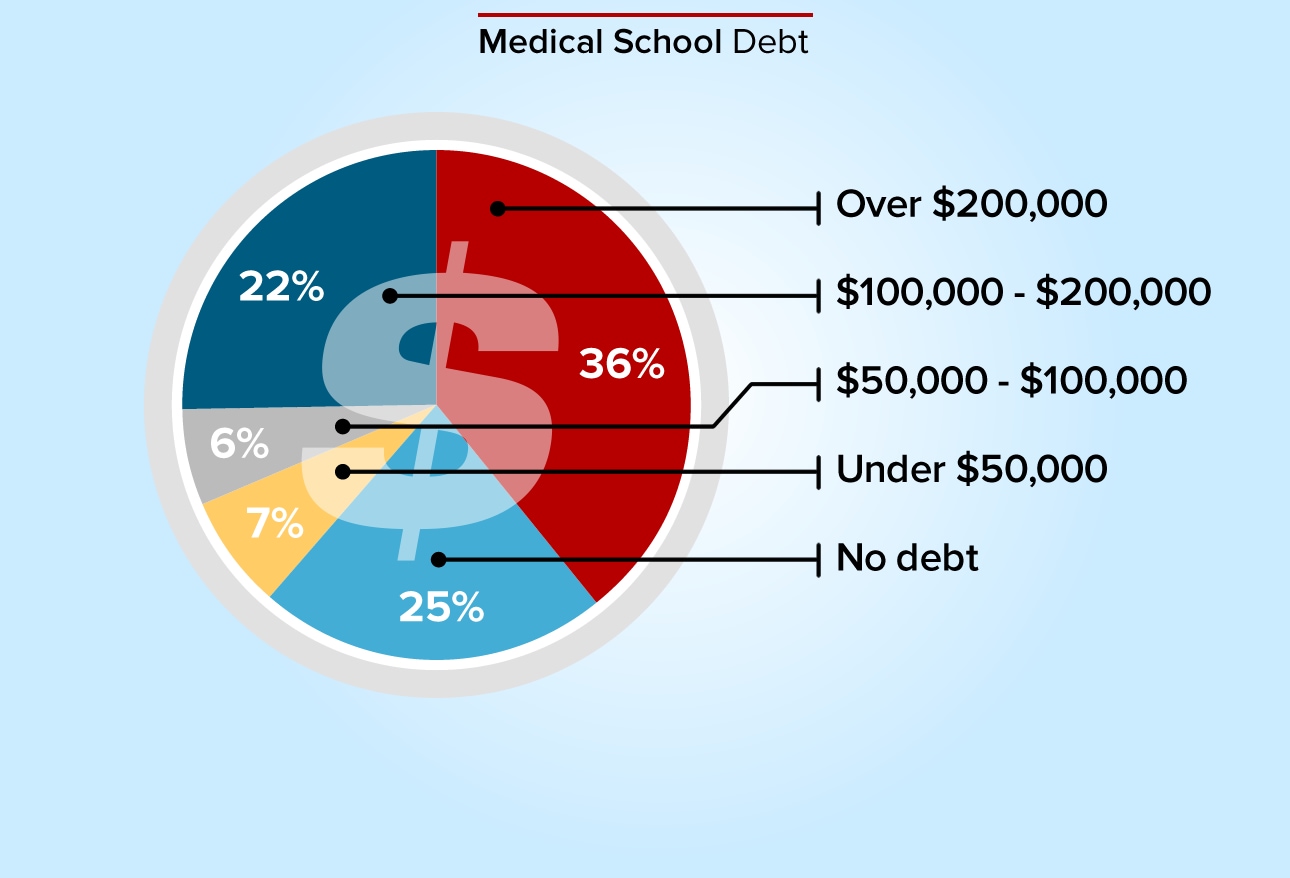 The amount of medical school debt incurred does not change significantly over the course of a residency period. Although more than half of residents have debt exceeding $100,000, about a quarter have none. Some residents are able to reduce their debt by serving in the military or in underserved areas, including via the Peace Corps. Suggestions for reducing debt institutionally include freezing costs or prorating debt according to potential earnings in the chosen specialty.[11] The AAMC provides a fact card that gives sample repayment schedules and amounts depending on various factors.[9]
Just as there is little salary variance, there is also very little difference reported in the amount of debt incurred by women versus men. These findings were supported by a report from the AAMC, which also found no gender differences in whether and how much medical school graduates borrowed.[10]
Residents in the Southwest and North Central face the largest debts, and those in the South Central, Northeast, Mid-Atlantic, and West have the lowest debts. Some of these differences may be due to state variations in Medicare GME payments per student, in which the Southwest and North Central regions are among those with the lowest payments and states, while the Northeast, Mid-Atlantic, and West are recipients of the highest payments.[8] One puzzle is the low debt in the South Central region, which includes Texas, where GME payments for students are also low. A clue might be found in US News and World Report's lists of medical school tuitions and medical graduate debt levels; multiple Texas medical schools had the lowest tuitions,[12] and graduates of major Texas medical schools were among the lowest debtors on the list.[13]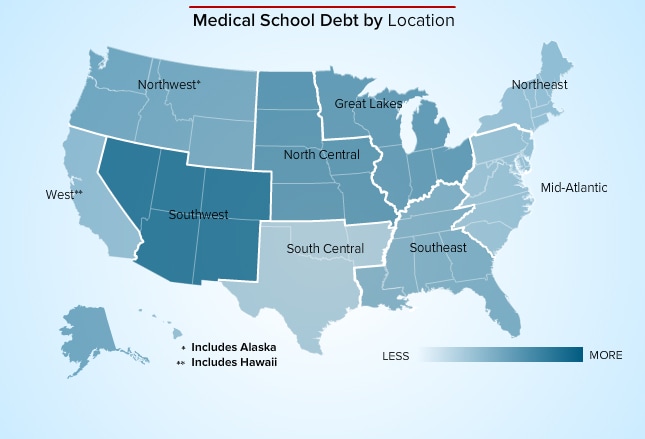 Sixty-one percent of women and 57% of men felt that there was a reasonable balance of scut work. A quarter of men thought there was too much, compared with 20% of women. Robert Centor, MD, a Medscape advisor, commented in his blog, "Most of the tasks that you label scut work are [those] you will perform your entire career."[14] Another physician observed that the traditional scut work tasks (drawing blood gases, placing IVs), which at least brought residents into contact with patients, are now being replaced by "electronic" scut work — managing new health record systems — which only send residents to their cubicles and away from patients.[15]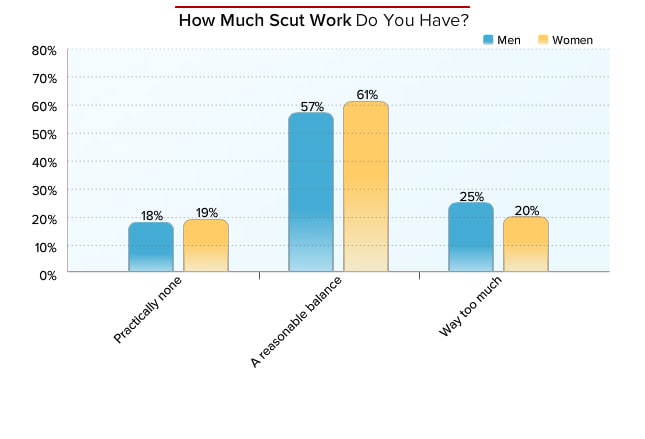 When asked about relationships with nurses and physician assistants, there was very little difference in the opinions of male and female residents, with 62% of women and 66% of men saying that their relationships were very good to excellent. The most common complaint among write-in comments from residents with poorer relationships was the lack of respect paid to them by nurses. A small study of pairs of residents and nurses found a lack of shared perception and expectations.[16] Nurses in particular considered themselves to be more autonomous than residents did. The study authors concluded that leadership was necessary, but only if the leader or both members of a pair had sufficient autonomy. They also observed that the present generation of residents and nurses may be open to models of interdisciplinary interactions that are more positive and collaborative than in previous decades.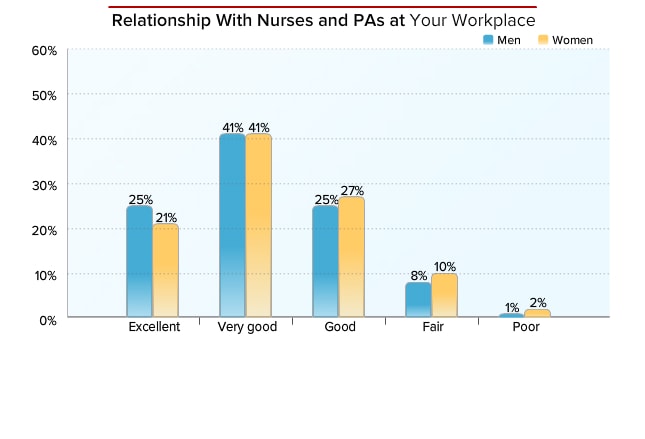 Nearly all male and female residents reported a good to excellent relationship with their attendings (94% of men and 96% of women, respectively). Thirty-four percent of women reported an excellent relationship compared with 29% of men. There were few consistent complaints in the write-in responses from those who chose "fair" and "poor," with most centering on individual personalities.
On average, about half of all residents who responded spend 60 hours or more per week in the hospital, but the percentages trend significantly down over time, from 66% in the first year out of medical school to only 34% in the fifth year.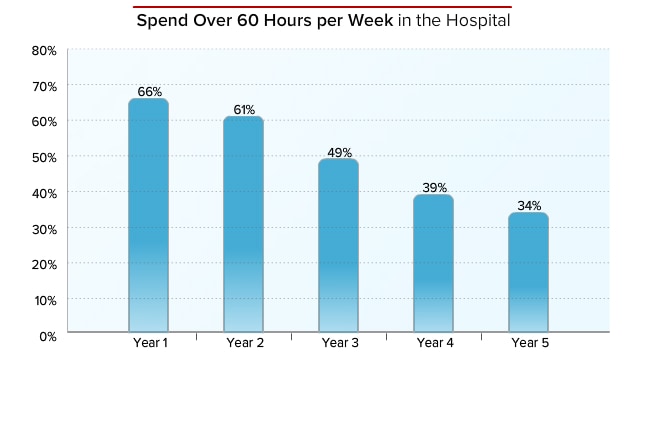 Over three quarters (76%) of male residents work at least 51 hours per week in the hospital compared with 68% of women. Such a discrepancy might be one reason for the slight income disparity between male and female residents.[17]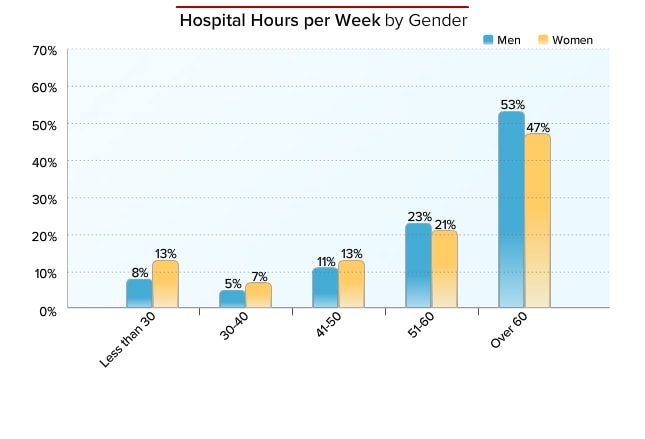 Over three-quarters of residents (77%) believe that the hours they work are sufficient for training, while 19% find them excessive and feel that they reduce the ability to focus. In 2011, regulations limited first-year residents to 16-hour shifts, rather than the previously allowed 30 hours. Whether these reduced hours have improved patient safety is questionable, however, and some studies suggest that they don't.[18-20] A seasoned physician writing in the New Yorker commented, "...residents spend less time directly caring for patients than they once did, and the feedback inherent in the hours once spent with more seasoned physicians has also diminished."[21] The 2011 rules also pose a risk for increased cost.[22]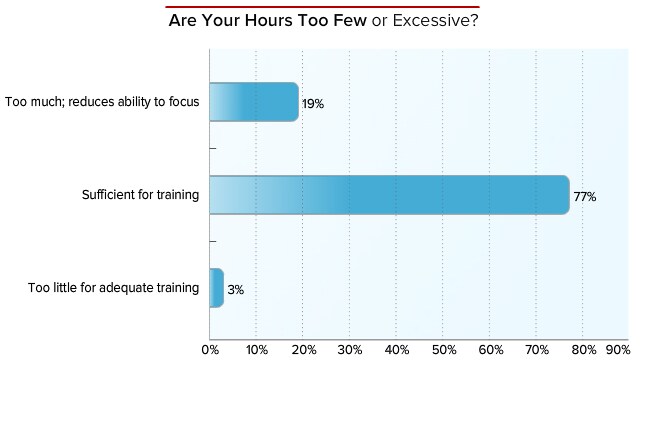 Thirty-seven percent of residents were very satisfied with the quality of their learning experience, but 45% were only somewhat satisfied and 18% were either neutral or very dissatisfied. In a study of surgical residents, more than a quarter found that the time available for learning and education was insufficient.[23] In a recent study of internal medicine trainees, nearly two-thirds (64.3%) believed that their time for learning activities was insufficient or minimal.[24] Another study on internal medicine house staff suggested that the reduced hours from the 2011 regulations resulted in decreased availability for teaching conferences.[25] Among the write-in responses to this survey, one resident backed up this latter study: "I feel like the new work hours mean we are expected to learn the same amount of information and see the same amount of patients, now just in less time."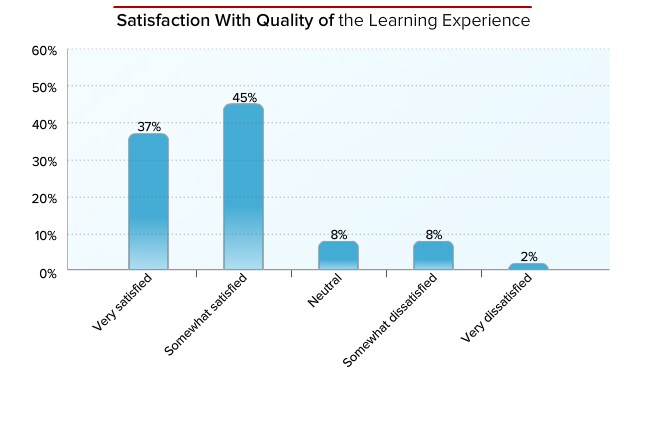 More women than men are on call 1 to 4 nights per week (44% versus 37%), but fewer are on call 5 to 10 nights (37% versus 45%, respectively). In this survey, female residents also tend to work fewer hospital hours per week. Both factors may contribute to their slightly lower salaries. Some evidence suggests that female residents greeted reduced duty hours more positively than male residents and that women may respond to fatigue more negatively.[26] In a study on post-call (being at work the day after having spent the entire previous day and night working), female residents felt less competent, less productive, and less energetic; male post-call residents felt more challenged and busier, although also more demoralized.[27]
The great majority of both male and female residents who responded believe that there is an appropriate balance between independence and supervision (86% and 88%, respectively). A 2013 study supported these responses and found that over 90% of residents judged their supervision as adequate or above average.[23] Of interest, in the Medscape survey, there was an increase in the percentages of residents reporting too much supervision, from 7% in year 3 to 14% in year 4. This suggests that by the fourth year, residents are feeling much more confident about their capabilities.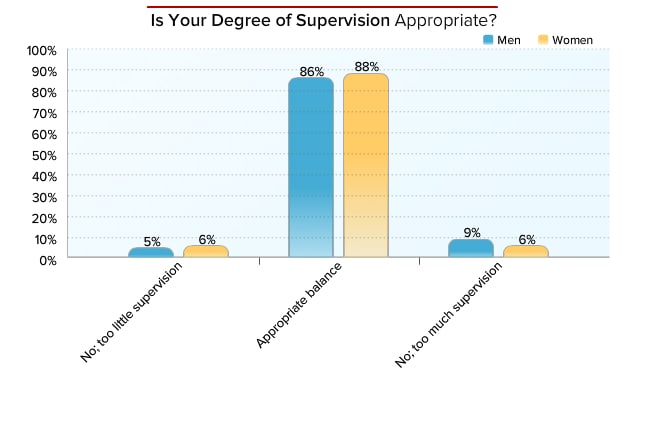 A number of studies have found a decline in idealism among medical students beginning as early as the second year of school.[28] The Medscape survey suggests that idealism declines further during residency. In comparing responses by residents in post-med school years 1-4 with years 5-8, a shift occurred, with fewer residents finding patient gratitude rewarding in the later years (61%) compared with in their early years (67%), and more residents in later years looking to make "good money" (43% versus 36%). Authors of a 2014 study commented that as "students make choices in their medical careers, such as specialty choice or consideration of primary care, the influences of job security, student debt and social status increasingly outweigh idealistic motivations."[28]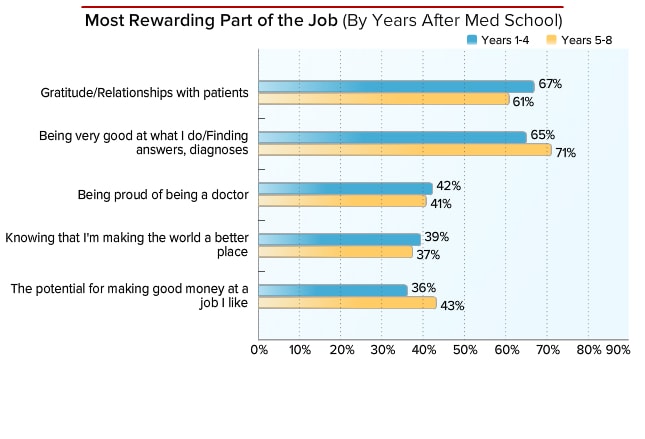 Female residents tend to cite more idealistic rewards of their job than male residents do, with 72% of women selecting patient relationships compared with 62% of men. And only 28% viewed money as rewarding compared with 43% of men. Such biases are supported by a study of surgical residents, which found that single female residents or those without children identified lifestyle rather than income as their motivator for going into a specialty.[29]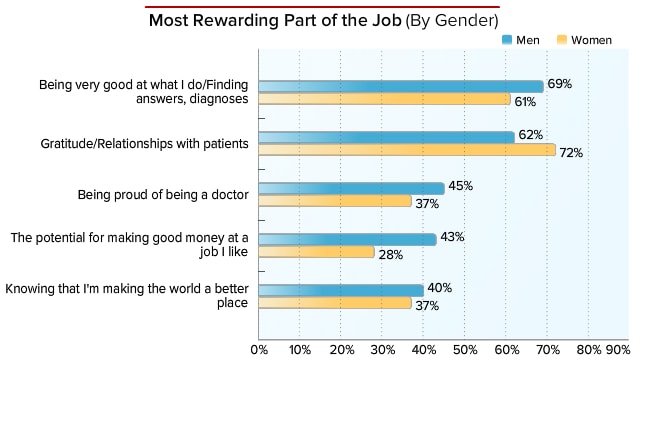 Although many physicians who have been in practice for years have become discontent with the industry, residents are still positive and optimistic about their careers. Eighty-three percent of residents look forward to practicing as a physician. (This percentage did not vary significantly by years after medical school or by gender.) Only 5% were not looking forward to practicing, and 13% were undecided.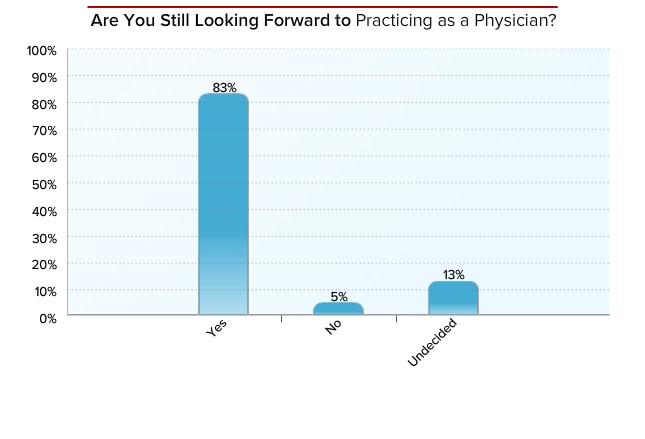 When residents were asked to give their opinions on the quality of their training, 43% thought their own was superior and 29% felt that it was equal to others'. This was an informal opinion, based on perceptions only.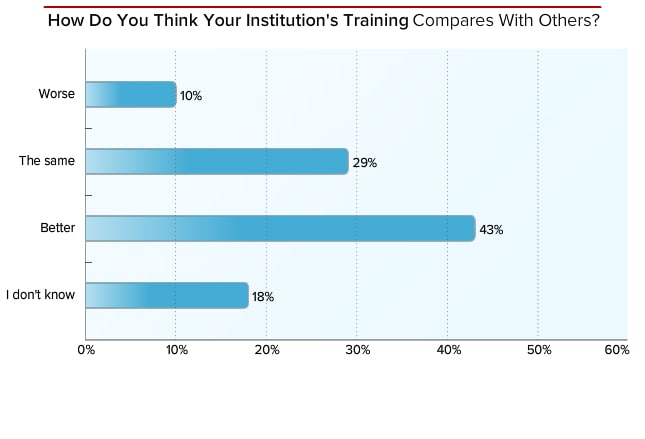 Eighty-eight percent of respondents are first-time residents, while 12% have returned to residency (7% are foreign physicians and 5% are changing specialties). An interesting observation: after the sixth year of residency, 17% of respondents answered that they are back in residency because of a change in specialty.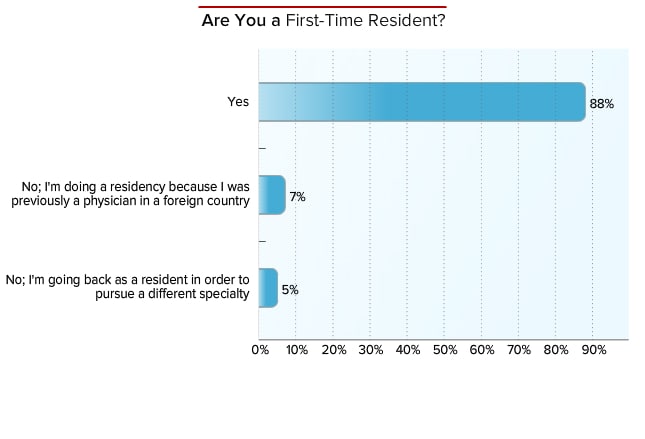 Although nearly three-quarters (73%) of residents work in hospitals, other programs are also available for training residents. Recently, for example, GME funding was made available for community-based teaching sites, intended to produce more primary care physicians, although at this time there are very few residents in this program.[30]