Docs Willing to Share Medical Practice With Patients? Sort Of
Kenneth J. Terry, MA; Marrecca Fiore
September 22, 2014
The use of technology in medicine, and patients' desire to be more involved in their own healthcare, is changing the way that medicine is practiced.
The WebMD/Medscape Digital Technology Survey was conducted in August and early September to gauge the thoughts of clinicians and patients on the new technology and gadgets used in medical practice, and how involved patients should be in the diagnosis, management, and treatment of disease. For example, should patients be allowed to read physicians' notes following a visit? The two groups also weighed in on medical testing, the use of radiation in medical imaging, and whether the cost of healthcare should be more transparent. In total, 1406 clinicians and 1102 patients responded to the survey, which provided an intriguing look into where clinicians and patients agree and where they're divided on healthcare and the practice of medicine.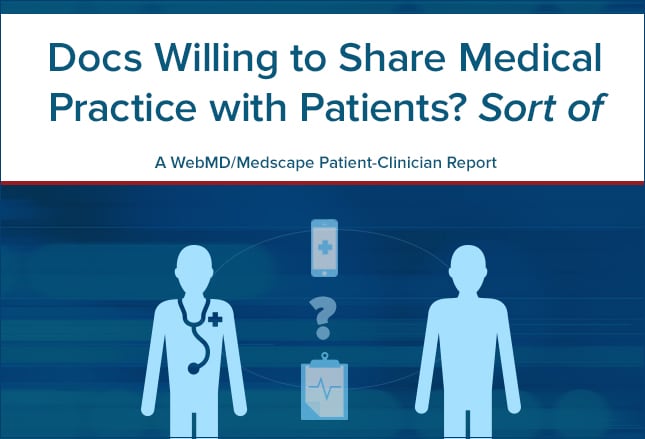 Patients were more likely than physicians to say that new technologies, such as smartphone apps with add-on devices, should be used in the diagnostic process. But when asked whether patients should be allowed to self-diagnose using technology without provider input, just 17% of physicians said yes. In other words, physicians were fine with patients using these technologies as long as the provider was the one to make the final diagnosis.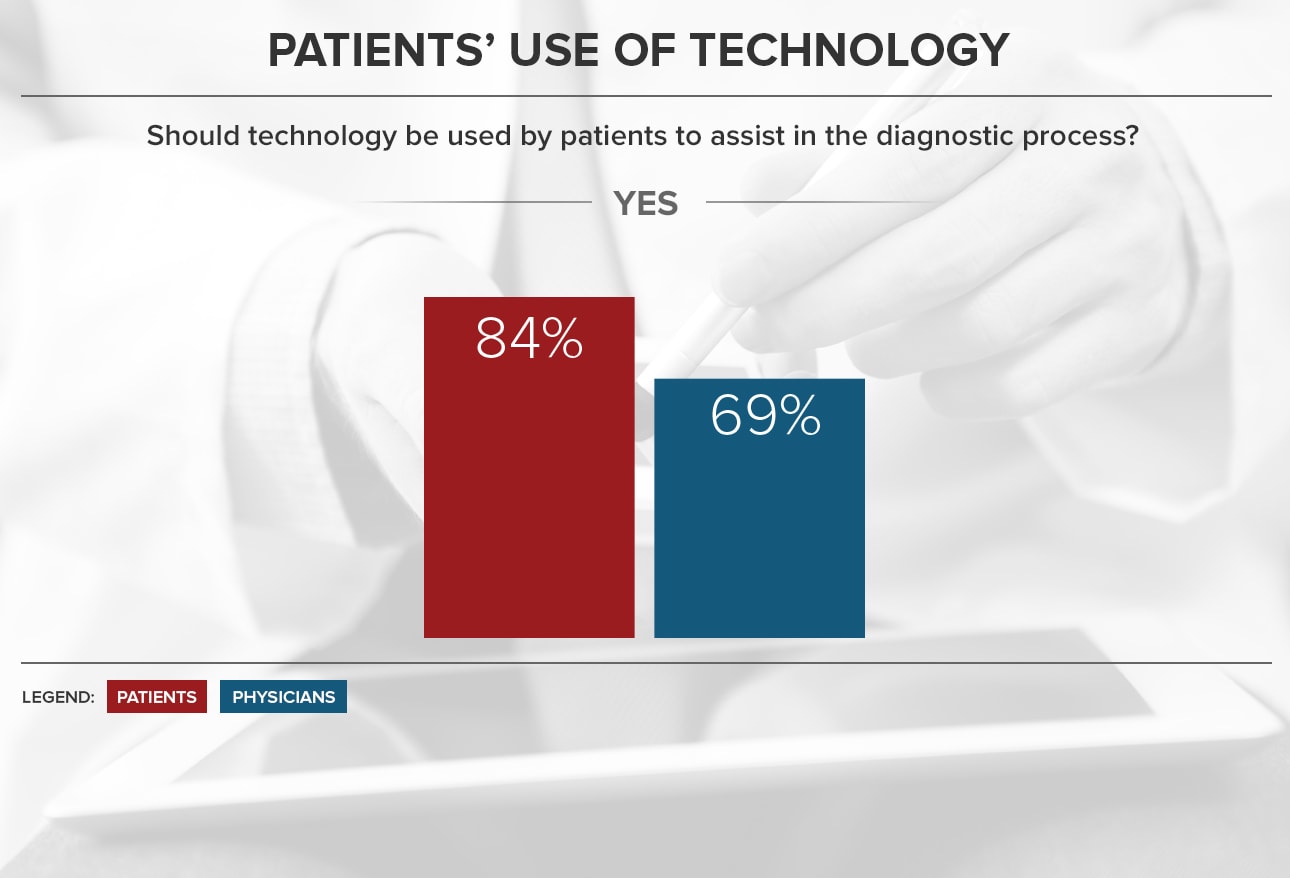 Nearly two thirds of physicians and patients believe that when it becomes feasible to use a lab on a chip, this technology should be combined with smartphone apps to do routine blood tests and send the results to physicians. One possible reason for their agreement: The results of patient-performed blood tests could be available more quickly than the lab test results of today.
Significantly more patients than physicians approve of using smartphones to send data to doctors about certain physical symptoms in place of an office visit. The majority of doctors liked the idea of receiving smartphone data on heart rate and rhythm, perhaps because it could be more helpful than isolated measurements during office visits. But physicians were skeptical about the validity of patient-collected information on the state of their skin, eyes, or ears.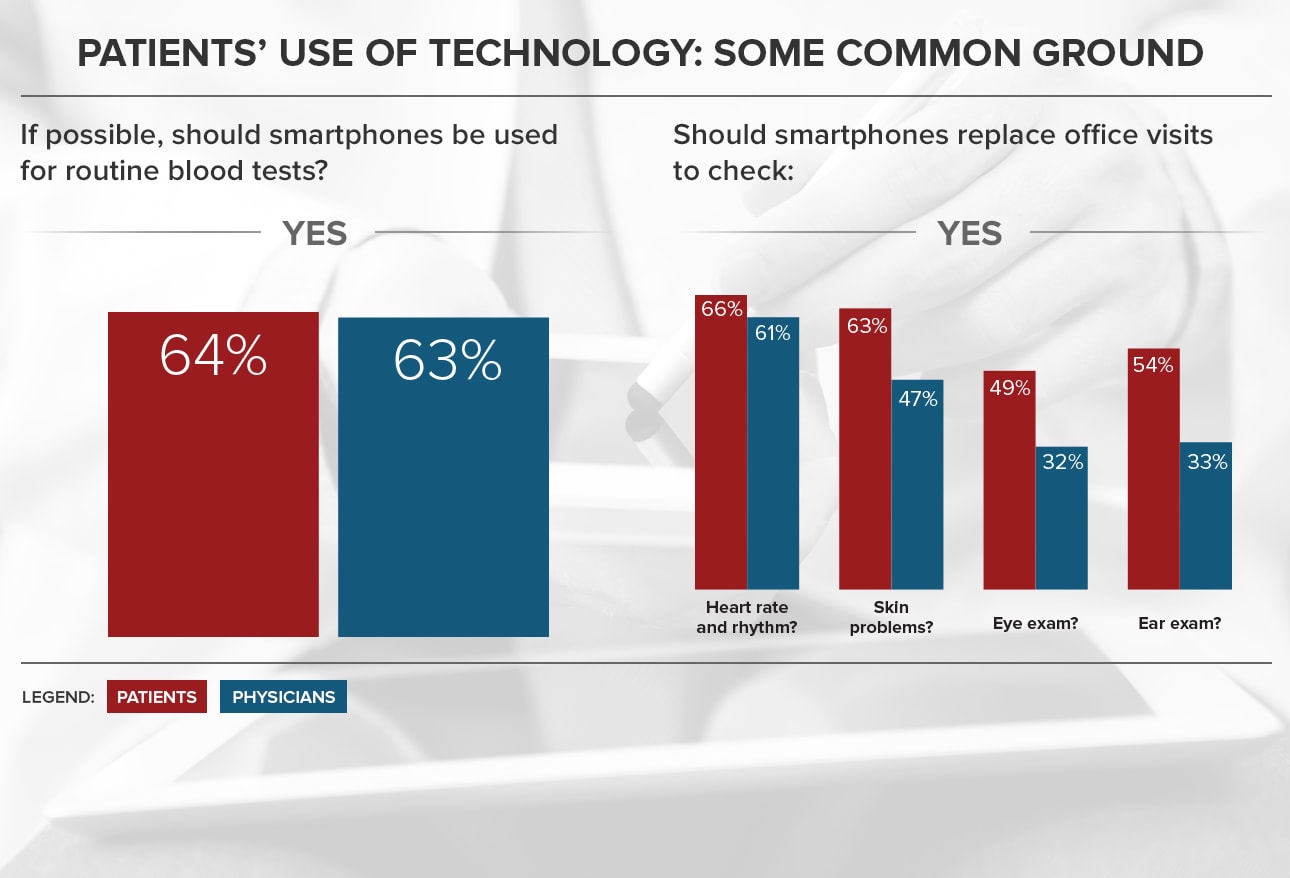 Most physicians and patients agreed that patients should be able to see their own health records, and the law supports that. The HIPAA privacy rule gives patients the legal right to inspect, review, and receive copies of their medical records, whether those are held by healthcare providers or health plans. Copying paper records, however, is time-consuming and often expensive for the patient. The advent of EHRs makes it much easier to share records with patients.
The stage 2 criteria of the Meaningful Use EHR incentive program require that eligible professionals (EPs), including physicians, give 50% of their patients the ability to view online, download, and transmit their health information within four business days of the information being available to the EP. Clinical summaries must be provided to patients within one business day for more than 50% of office visits.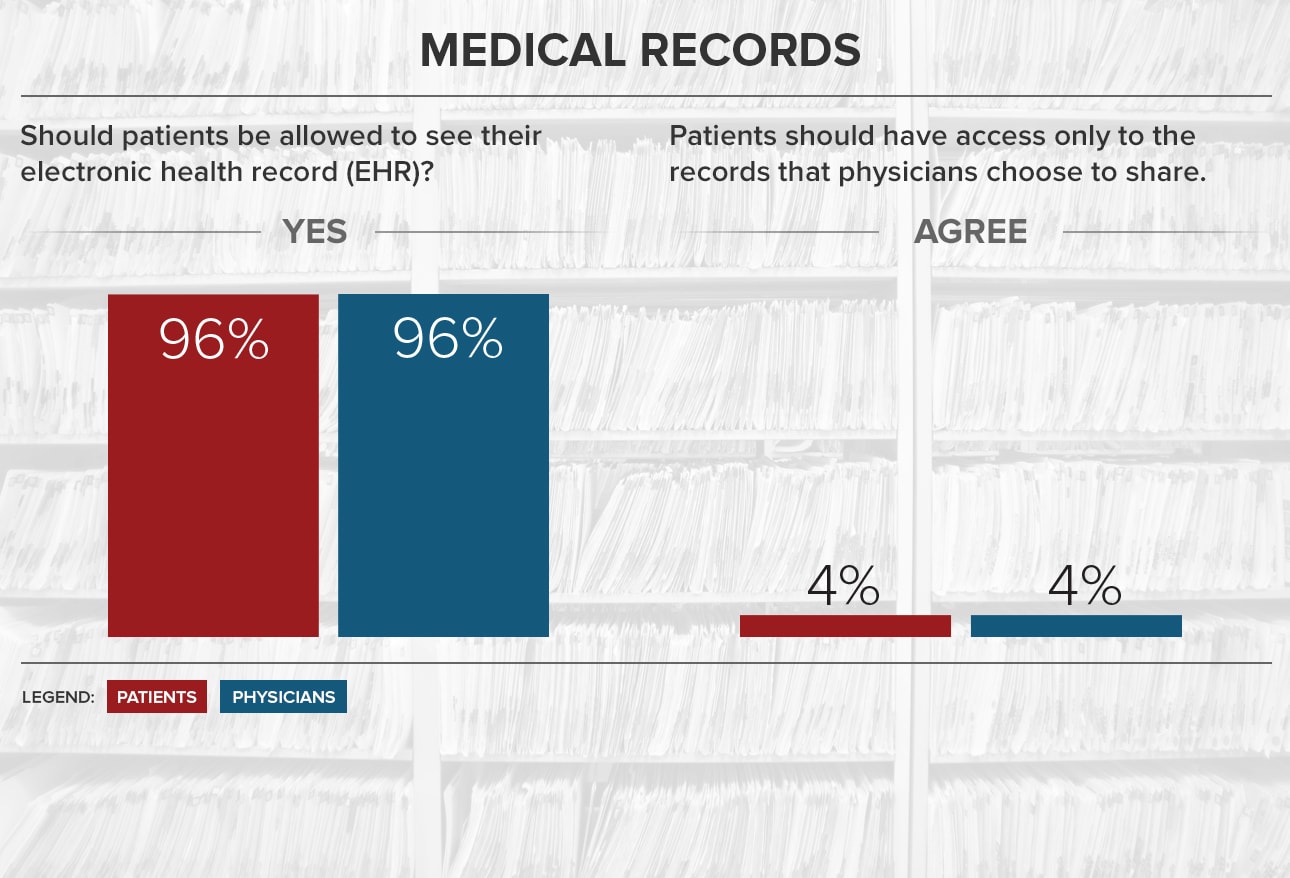 More patients than doctors thought that doctors should share their notes, and three times as many doctors as patients believed that they should share only those notes they deemed appropriate.
These findings track closely with the results of a Harvard Medical School study of note sharing between primary care physicians and patients. Nearly all patients embraced the concept, but far fewer doctors did. Many physicians expected that note sharing would confuse patients and increase their own work by prompting patients to ask questions about the notes. In a follow-up to the baseline study, however, the researchers found that note sharing didn't increase the physicians' workload, and 70% of the doctors said it strengthened patient relationships.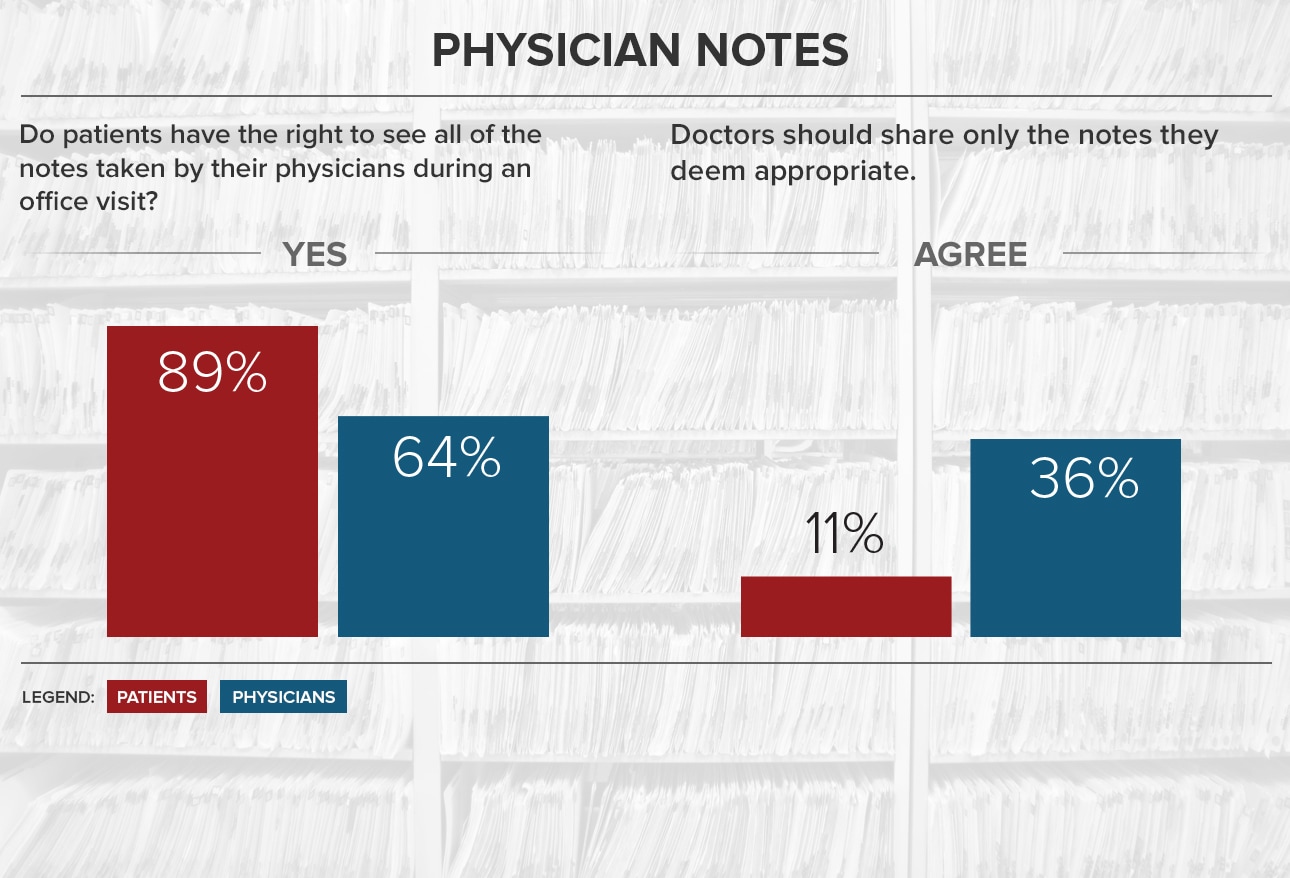 Possibly because of the strict HIPAA regulations on patient privacy, both physicians and patients are confused about who owns medical records. The websites of the California and Texas Medical Associations, however, cite state laws to support their contention that medical records belong to providers, not patients.
The Texas Medical Association states, "Although the medical record contains patient information, the physical documents belong to the physician. Indeed, the medical record is a tool created by the physician to support patient care and is an asset of the practice."
Bottom line: The laws vary from state to state on this issue, with some states having no rules at all. So for now, doctors and patients will continue to both agree and disagree on the issue of record ownership.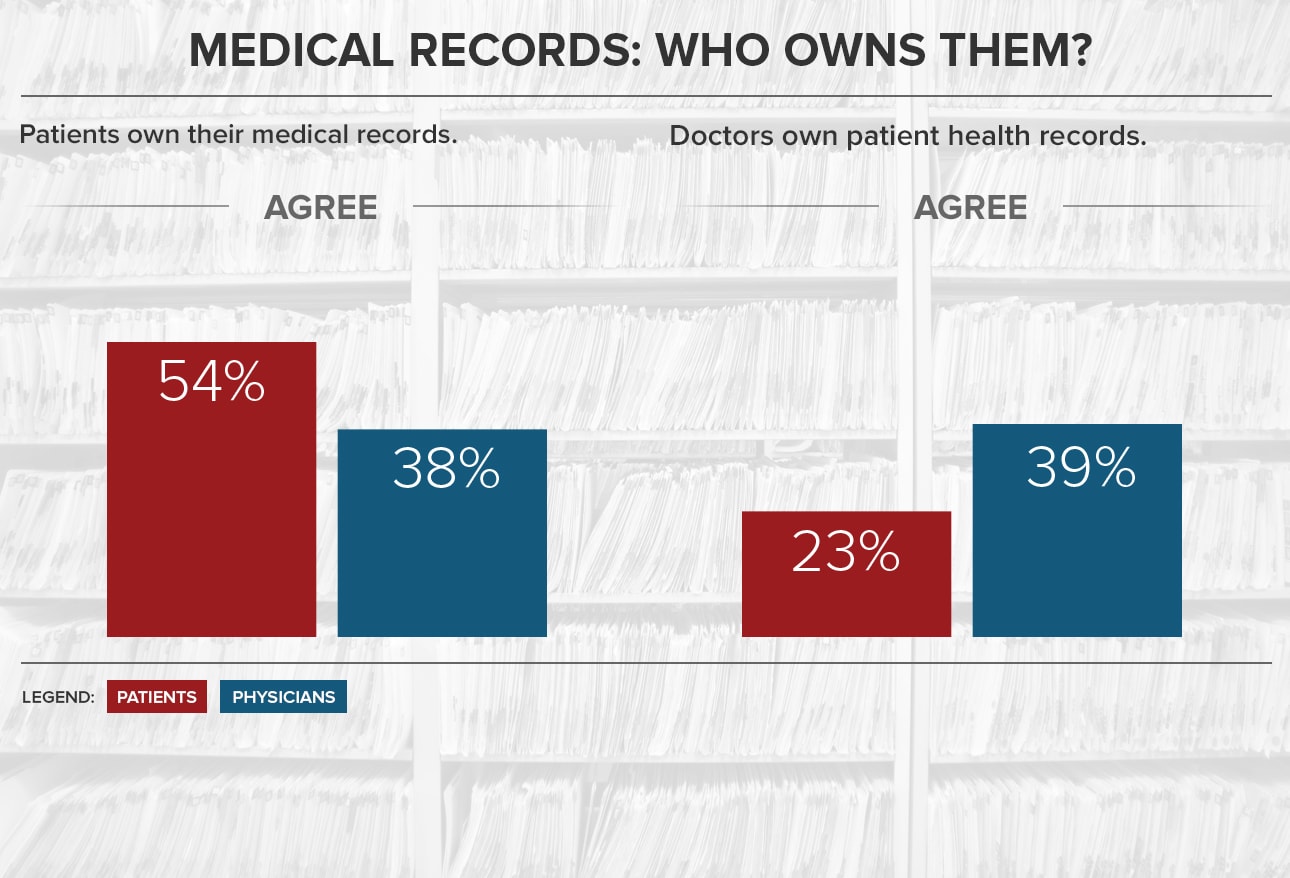 The majority of doctors and patients said physicians should review lab results before patients are given access to them, but more patients than doctors thought they should be able to get the results immediately, as soon as they are ready. On the other hand, the American Medical Association and the American Academy of Family Physicians have voiced concern that patients may misunderstand the results if a doctor doesn't explain them.
The Department of Health and Human Services in February 2014 gave patients the right to receive test results directly from laboratories. In most cases, the information must be furnished to a patient or patient representative within 30 days of the request. The new federal rule supersedes regulations in 13 states that prohibit individuals from obtaining lab results directly.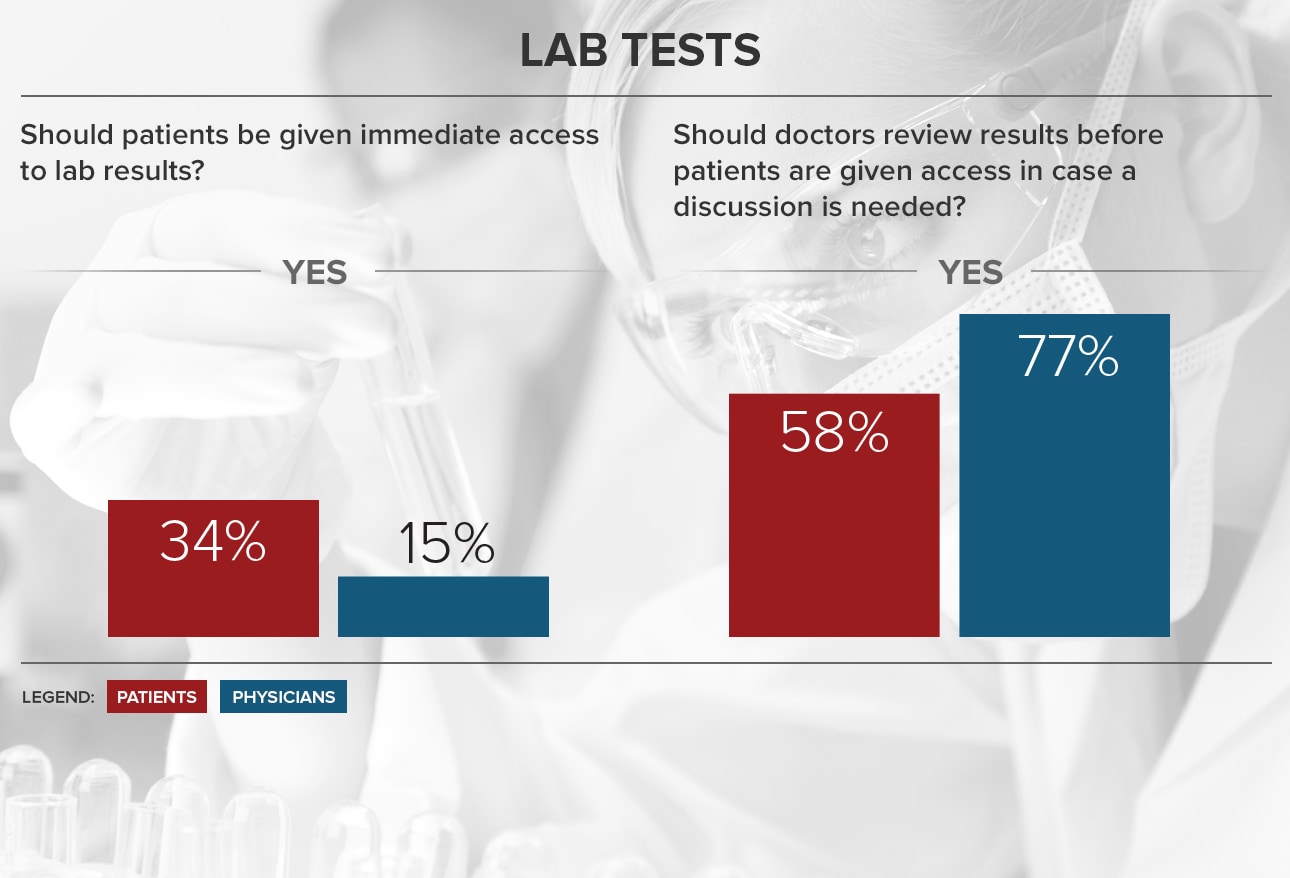 Physicians and patients are divided on the privacy and security of EHRs and online messaging in about the same proportions. Six of ten doctors and patients aren't too worried about privacy and security, but roughly 40% of both groups are concerned.
That said, should patients have the right to opt in or opt out of this data exchange, and what kinds of information should be made available to other providers?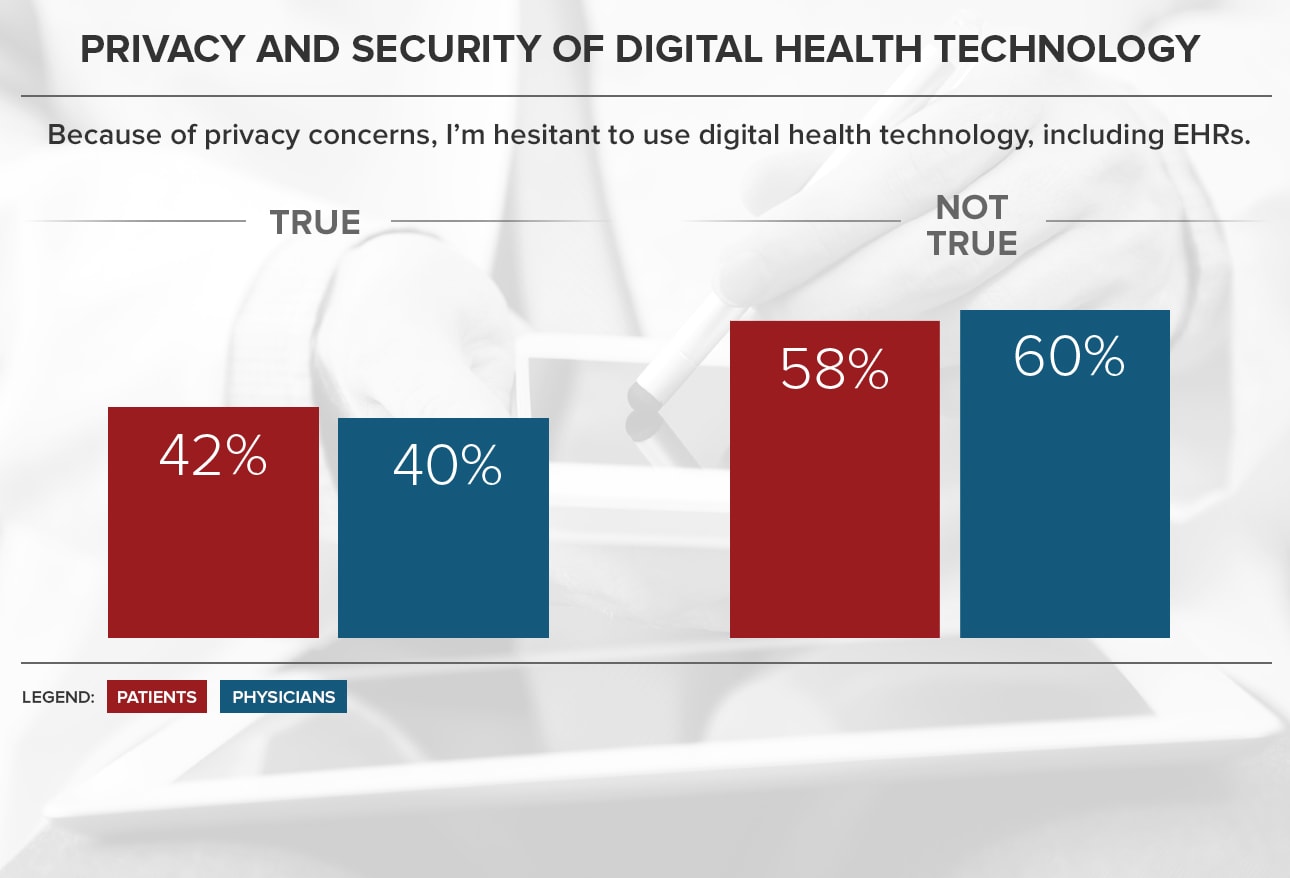 Many doctors and patients still believe strongly in the value of the annual physical exam, despite the evidence indicating that it may be unnecessary for asymptomatic adults. Since the 1980s, influential professional groups have said that the annual physical should be replaced by periodic screening, counseling, and physical exams tailored to a patient's sex, age, risk factors, and symptoms.
Nearly a third of doctors and patients in our survey questioned the need for an annual physical. Beyond recommended screenings, such as measurements of blood pressure and body mass index for all adults and Pap smears for sexually active women under 65, patients could also use smartphone apps and associated devices to measure their vital signs and transmit the data to their physicians. While this is not yet common practice, advocates of the technology say that it's feasible.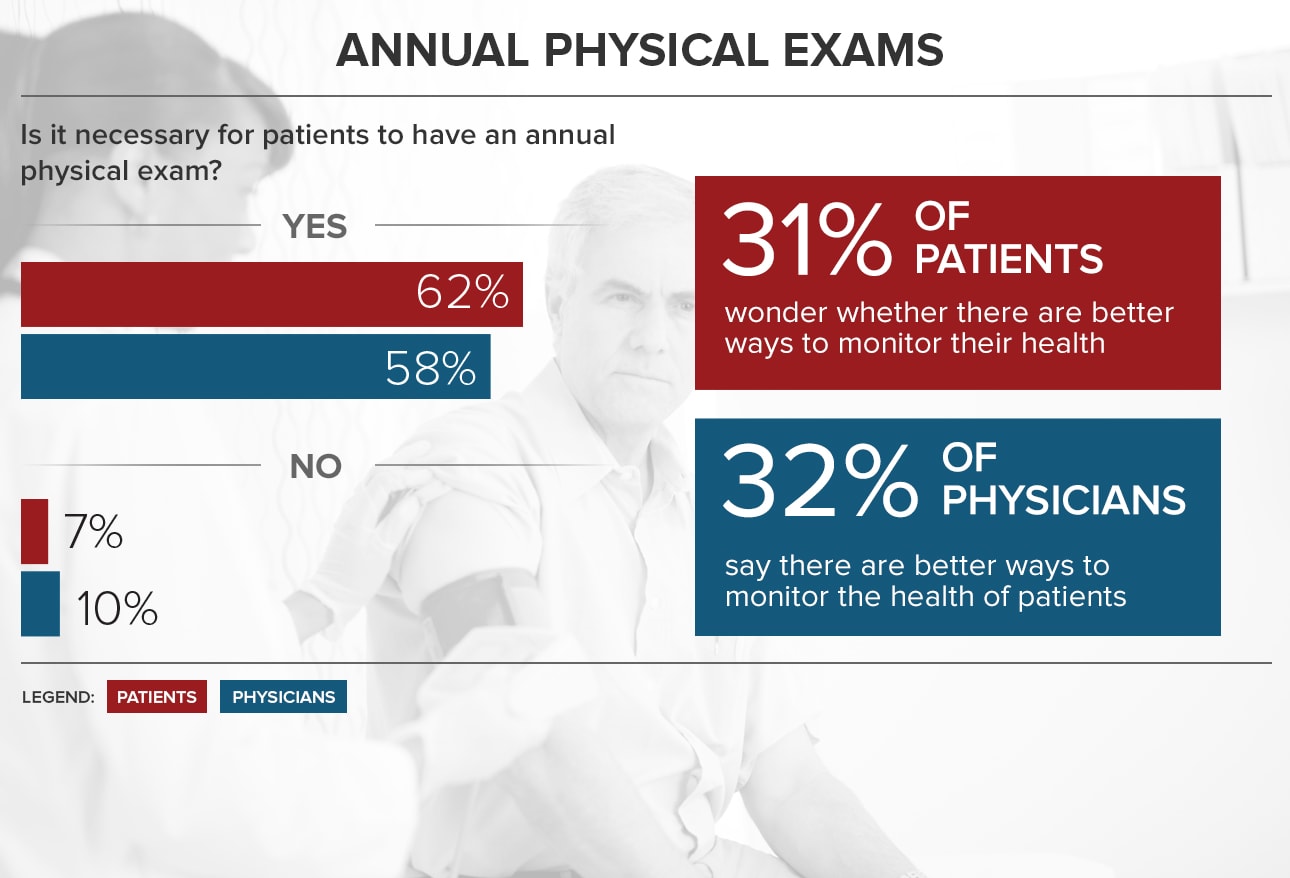 Here's a conundrum: Most physicians and patients believe that patients should have access to the prices charged by different providers and that they should have this information before deciding on treatment. But a slim majority of physicians said they won't compete on the basis of price. In other words, they won't reduce their fees even if they're higher than those of colleagues for the same services.
Part of this, undoubtedly, arises from the fact that in many cases, health plan reimbursements are too low, as are reimbursements from Medicare and Medicaid.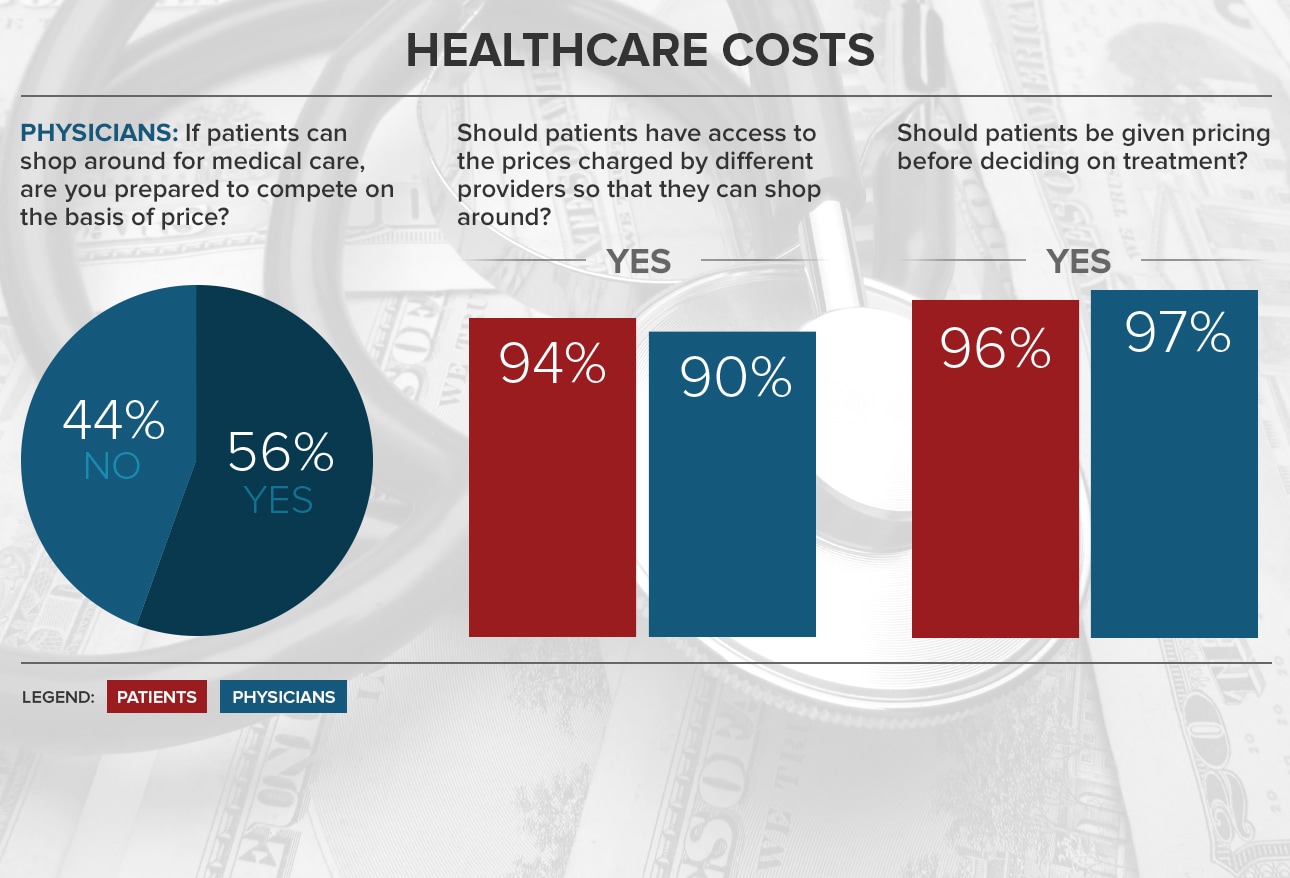 More physicians than patients were very concerned about the dangers of radiation, and fewer were not concerned. Of course, that leaves out nearly half of the doctors and slightly more than half of the patients, who were somewhere between these poles. But it still shows a divide between patients and doctors on this question.
This survey also looked at how clinicians and medical students feel about these issues. Medical students' responses were of special interest because this group represents the future of medicine. Their responses differed more often with physician than other clinician responses, such as those from NPs, PAs, and nurses.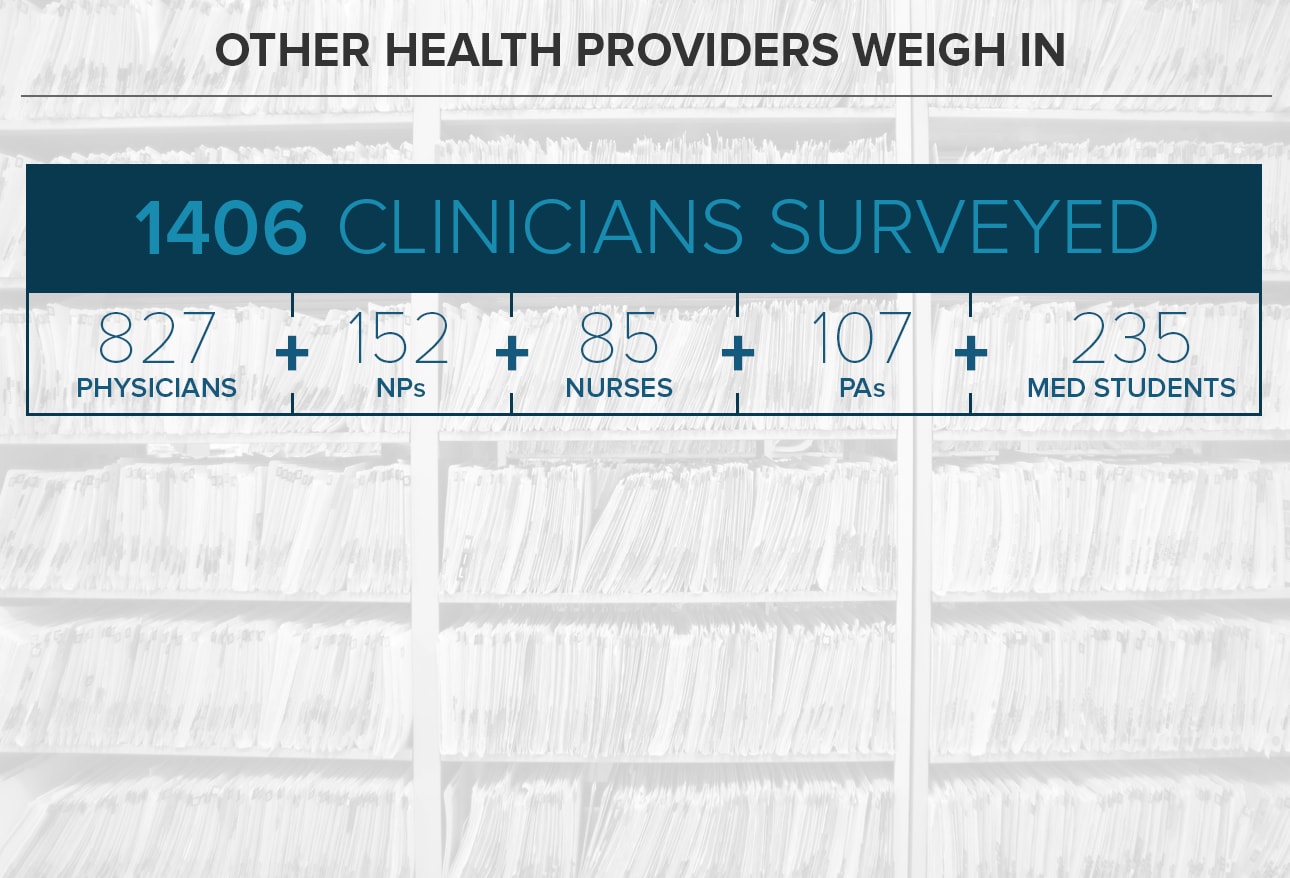 About the same number of doctors said they own the medical records or that patients own them, but the responses from medical students were quite different. The majority of medical students believe that patients own their records, and far fewer medical students than physicians think that doctors own them. More students than physicians said they didn't know who owns the records, which may indicate that this is not a burning issue for them.
The difference between these two groups may be related to the fact that medical students, unlike practicing doctors, have not invested time and effort in creating medical records, nor have they relied upon them to make medical decisions. Secondarily, as noted in slide 6, physicians regard medical records as their work product and as part of the value of their practice.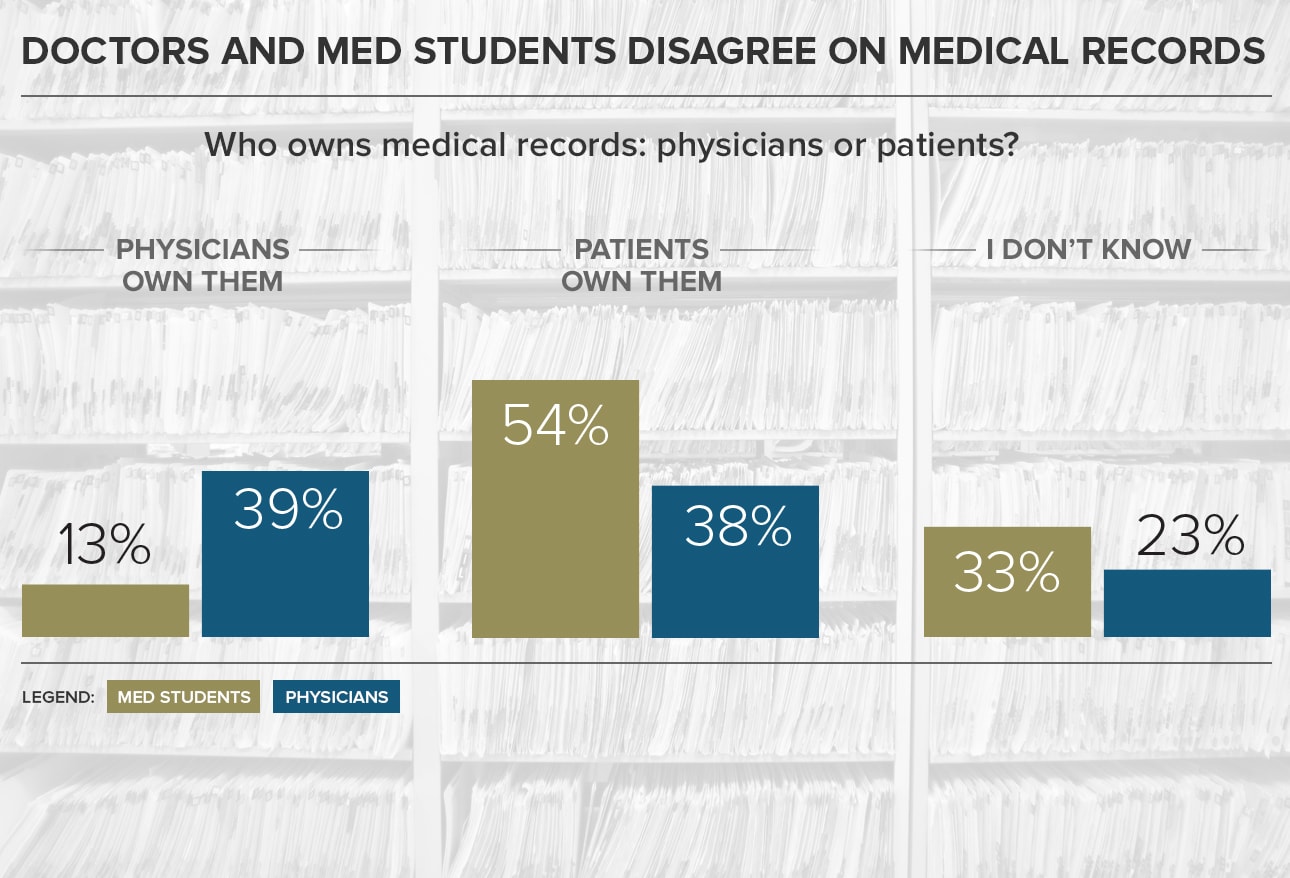 Fewer medical students than physicians are worried about the security and privacy of digital technology. Once again, this seems to be partly because of the students' lack of experience in the real world, coupled with their accepting attitude toward all things digital.
Medical students' attitude, compared with that of doctors, suggests that the next generation of physicians will be less likely to cite security issues as an excuse to not embrace the online world fully.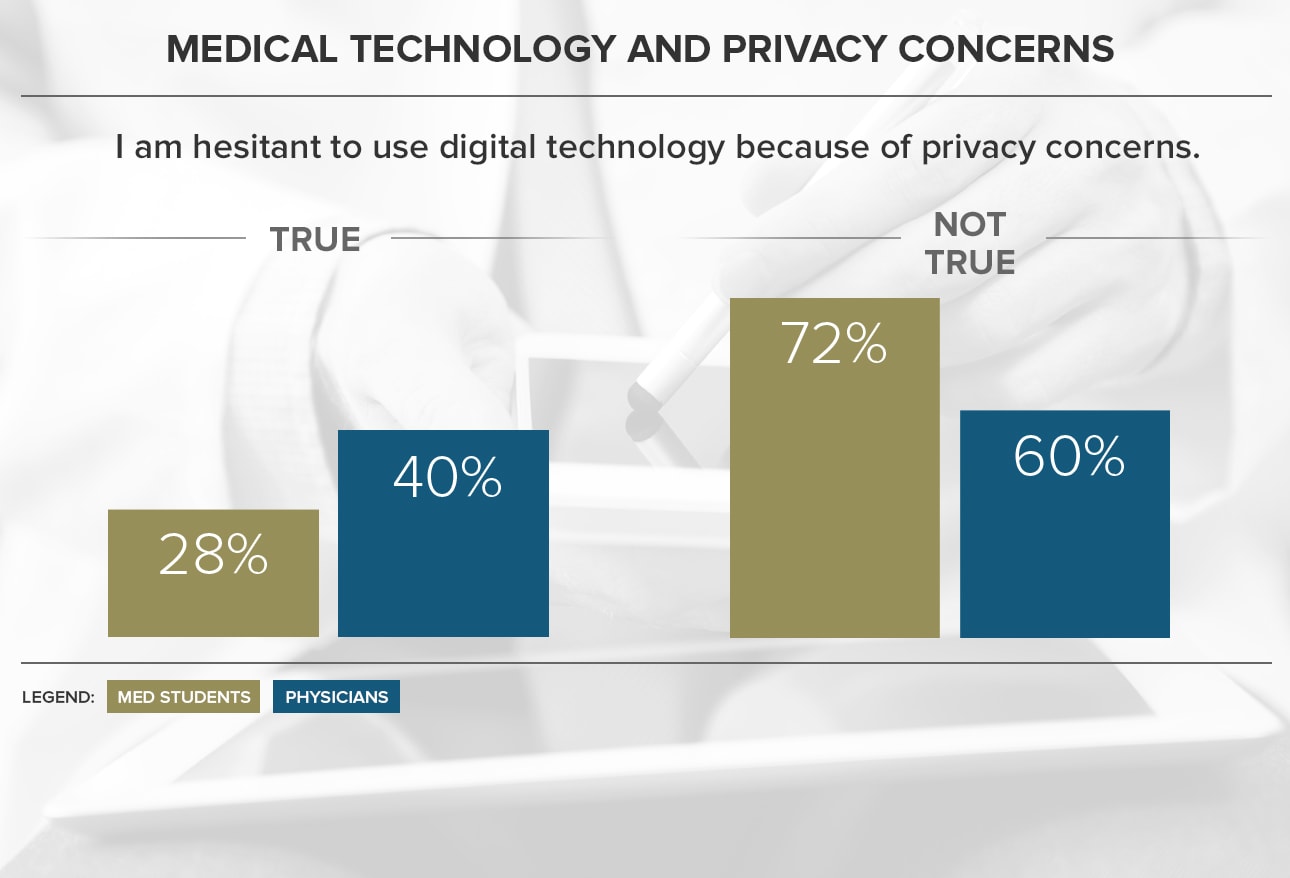 Medical students are somewhat less concerned than physicians about the dangers of radiation from imaging tests. Like consumers, the students have less understanding of these dangers than the doctors do. They also don't know how many tests they might order for diagnostic or screening purposes when they become physicians. After they go through residency and start practicing, they are likely to adopt attitudes toward imaging tests that aren't much different from those of today's doctors.
On the other hand, the Choosing Wisely program of the ABIM Foundation is encouraging doctors to exercise more discretion in ordering tests that may be duplicative or unwarranted. Also, the interoperability initiative of the Office of the National Coordinator of Health IT aims to reduce redundant testing.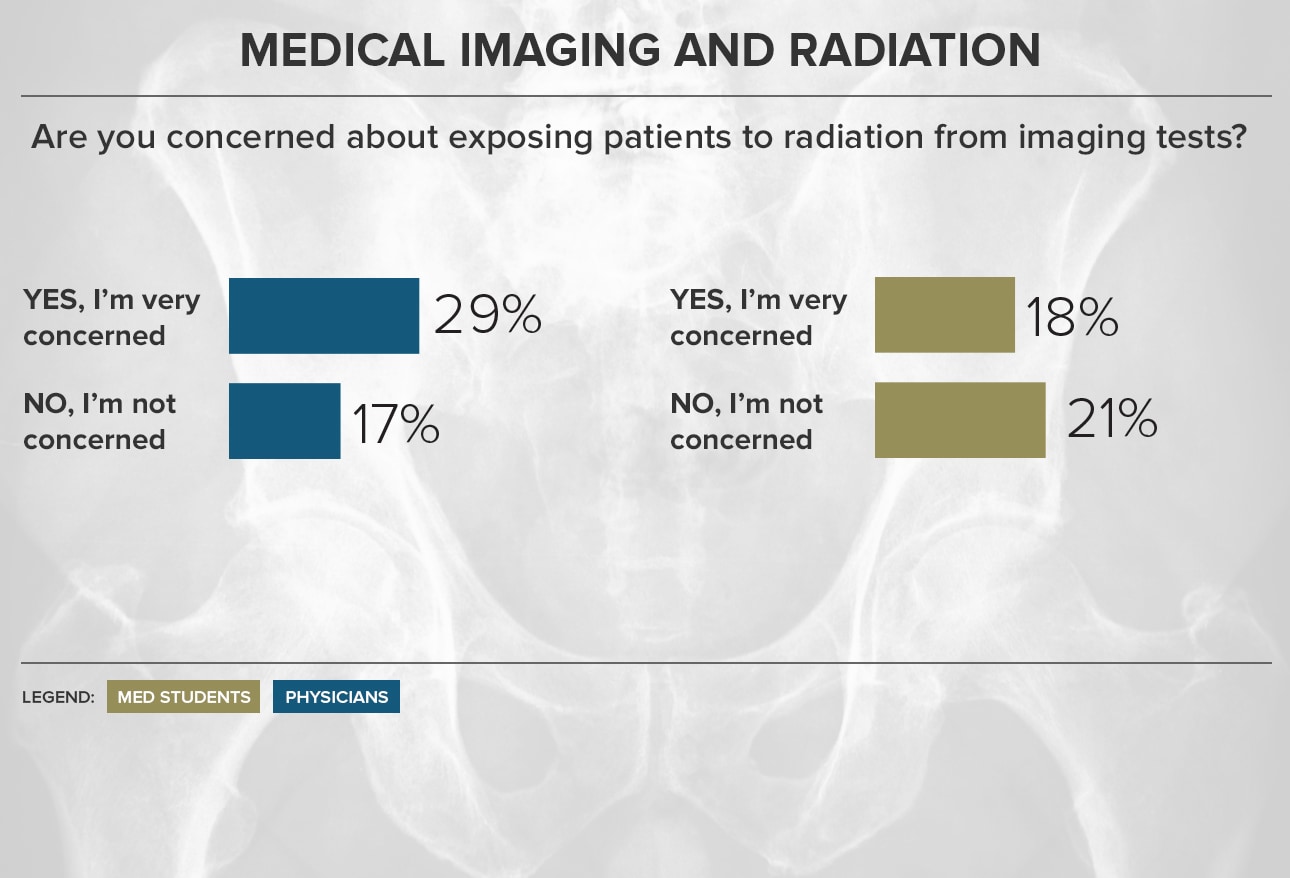 Nurses, NPs, and PAs agreed, for the most part, with doctors that patients should be allowed to use digital technology, including mobile apps and devices for testing and diagnosing, as long as a health provider made the final diagnosis. Nearly 70% of physicians, nurses, and NPs, as well as 65% of PAs, favored the use of digital diagnosing, highlighting the fact that the use of technology is becoming more acceptable in the practice of medicine.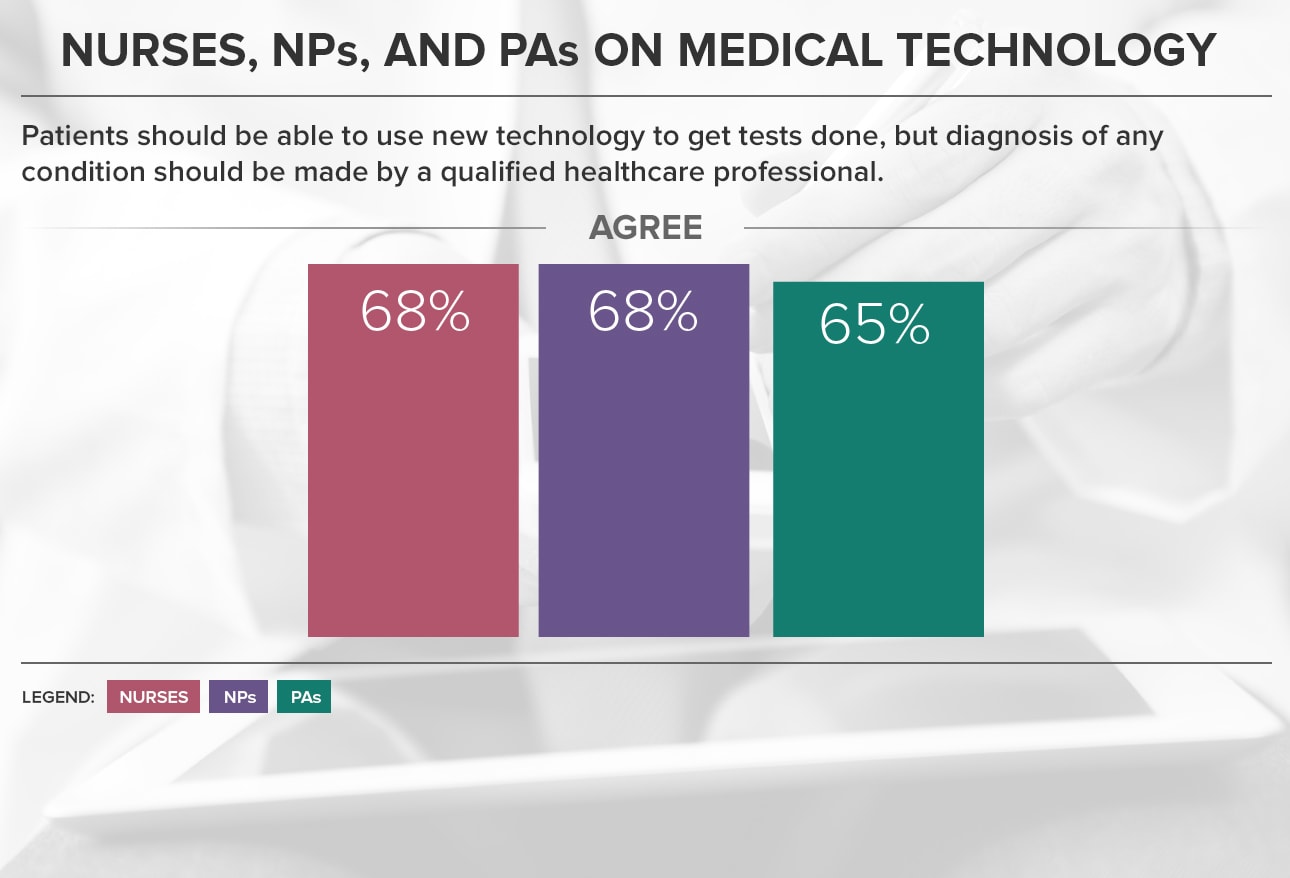 Of the healthcare professionals in our survey, nurses and NPs were the least worried about privacy and security issues. They were even less concerned about this than medical students were. Fewer PAs than nurses and NPs said it didn't concern them, but more PAs than doctors expressed concern.
The place of clinicians in the medical hierarchy might help explain these differences. Physicians who own practices have to take financial responsibility for the consequences of privacy and security breaches. Nurses and other clinicians employed by practices are legally bound to protect patient privacy but don't have the same financial exposure. Even in hospital-owned groups, doctors have more at stake in data breaches than lower-level clinicians do because of the doctor-patient relationship.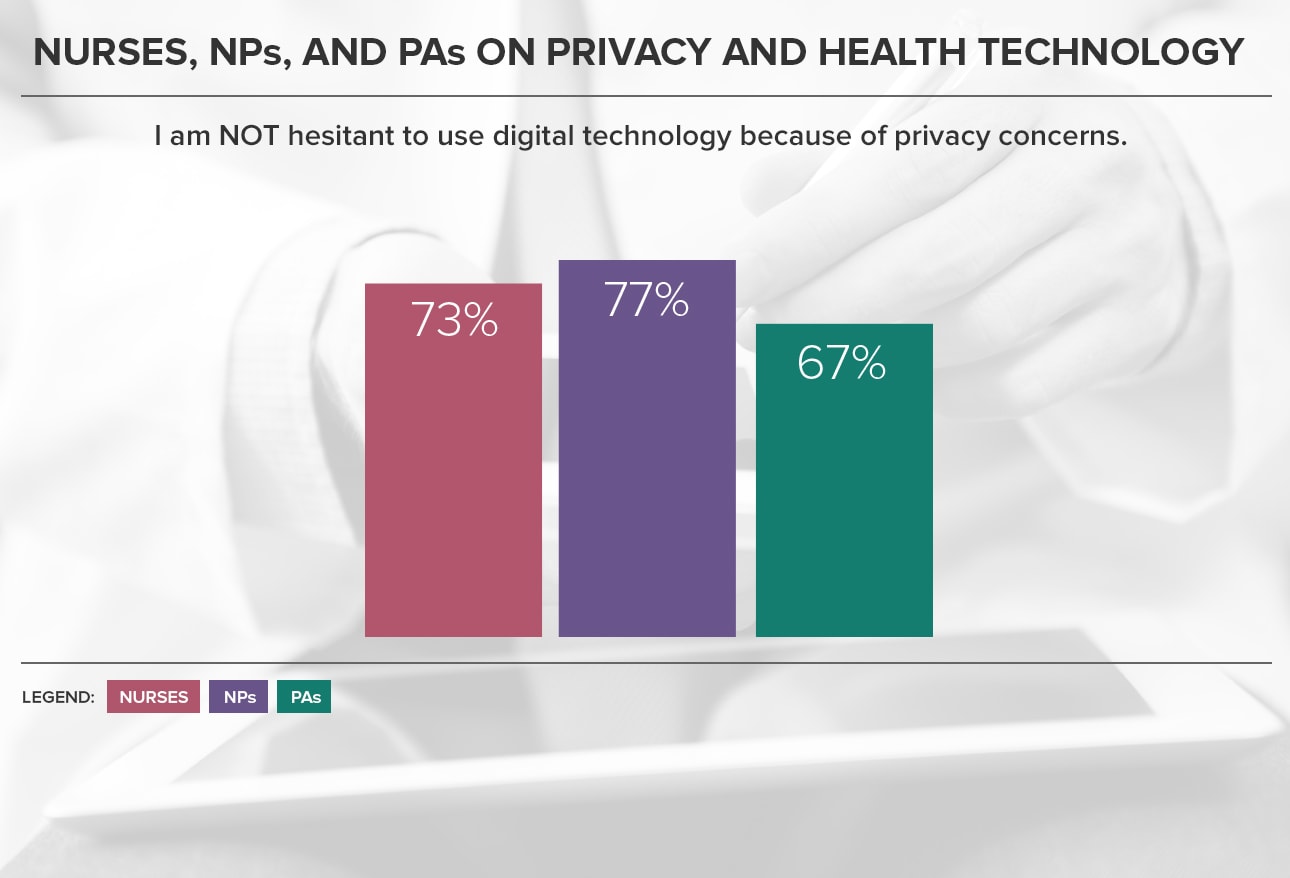 Nurses and NPs were much more likely than doctors to say that patients own their medical records. PAs, on the other hand, were only slightly more likely to say so compared with physicians.
A smaller percentage of most clinicians, compared with physicians, agreed that giving patients access to EHR data might make them more likely to ask for unnecessary medical evaluations. Eighty-seven percent of physicians and PAs were concerned, but only 68% of NPs and 67% of nurses shared those concerns. Physicians and PAs, who in many states (especially states grappling with physician shortages) have taken on the role of primary care providers, may have been worried that sharing records with patients would increase their workload, just as they were in the study about note sharing (see slide 5).