Prevention of Healthcare-Associated Infections: Updated Guidance
Laura A. Stokowski, RN, MS
Reviewed by: Deborah S. Yokoe, MD, MPH
December 10, 2014
In 2008, the Society for Healthcare Epidemiology of America (SHEA) published a comprehensive compendium of evidence-based strategies to prevent healthcare-associated infections (HAIs) with its partners, the Infectious Diseases Society of America, the American Hospital Association, the Association for Professionals in Infection Control and Epidemiology, and the Joint Commission.[1] In 2014, this compendium was updated to reflect new evidence in the field of HAI prevention.[2]
This slideshow provides the highlights of recommended basic and advanced strategies to prevent HAIs, and are aimed at frontline healthcare personnel (HCP). The complete compendium, divided into separate chapters on each HAI with an additional chapter on hand hygiene, is available here.
Full-text chapters provide further details on prevention strategies, performance measures, surveillance, reporting, implementation strategies, and examples of interventions and approaches that are not recommended.
Images from CDC/Alamy/Science Source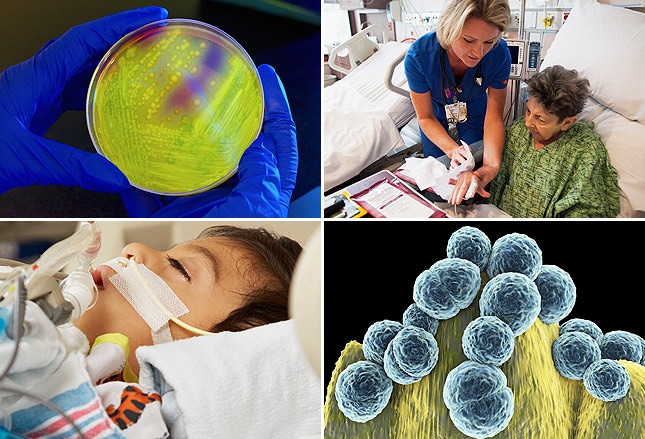 Catheter-Associated Urinary Tract Infection (CAUTI)
The chief risk factor for CAUTI is the duration that a urinary catheter (UC) remains in situ. To reduce overuse of UCs:
Develop facility indications for use of UCs;
Educate HCP about alternatives to UCs; and
Insert UCs only when necessary, and leave in only as long as indications remain.
Read SHEA's 2014 CAUTI prevention update.
Image from Dreamstime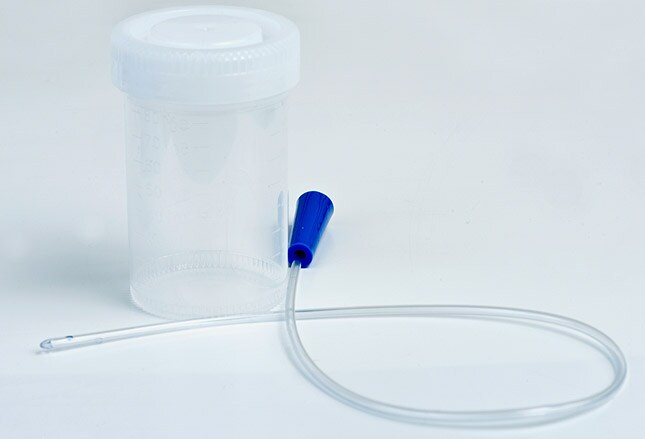 CAUTI Prevention
The basics:
Use strict aseptic insertion technique with sterile supplies (gloves, drapes, sponges, disinfectant, lubricant);
Maintain a sterile closed drainage system;
Secure UC and tubing to prevent traction;
Maintain unobstructed urine flow;
Use routine hand hygiene;
Replace the UC and collection system if contaminated, disconnected, or leaking; and
Take samples aseptically from a needleless port or drainage bag.
Consider a protocol for managing postoperative urinary retention, such as nurse-directed intermittent catheterization and use of bladder scanners. Spotlight effective strategies and areas for improvement. Share data with frontline HCP to track CAUTI prevention progress.
Image from Dreamstime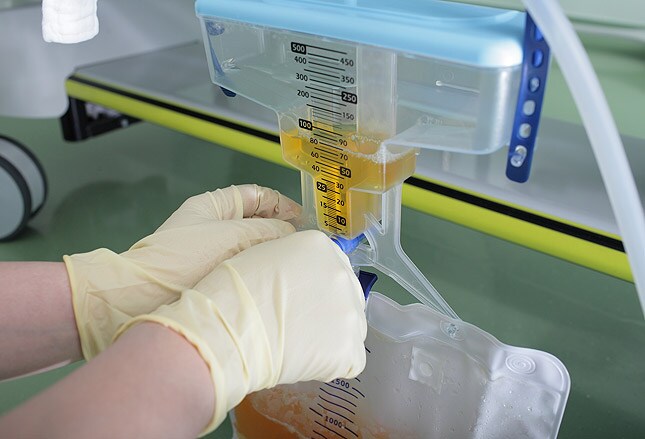 Surgical-Site Infection (SSI)
SSIs are now the most common and most costly HAI. The basics:
Give antimicrobial prophylaxis according to guidelines;
Avoid removing hair from the operative site; don't use razors;
Control postoperative blood glucose levels;
Maintain perioperative normothermia;
Give supplemental oxygen to improve tissue oxygenation to patients on mechanical ventilation;
Use an alcohol-containing skin prep agent unless there are contraindications;
Use impervious plastic wound protectors for gastrointestinal/biliary tract surgery;
Use a checklist to improve compliance with best practices, and perform surveillance; and
Educate operating room staff, patients, and families about SSI prevention.
Read SHEA's 2014 SSI prevention update.
Image from Science Photo Library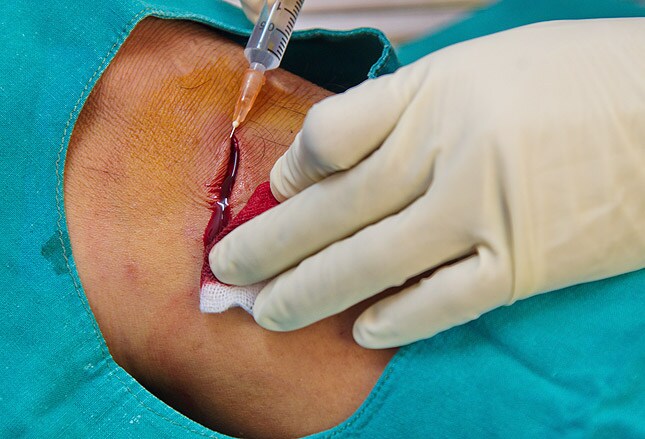 Clostridium difficile Infection (CDI)
The risk factors for CDI include exposure to antibiotics or to healthcare settings. CDI increases length of stay by 3-6 days. The risk factors for CDI now include fluoroquinolones, other antibiotics, and gastric acid suppression. Contaminated equipment and environmental services are reservoirs of transmission of CDI.
The basics: (1) Apply antimicrobial stewardship/appropriate use of antibiotics; (2) Use contact precautions (single patient room [preferred] or cohort patients; wear glove/gown); (3) Perform hand hygiene; (4) Use dedicated equipment and clean shared equipment (no electronic thermometers); (5) Perform adequate environmental cleaning/disinfection; (6) Use an alert system to promptly notify clinical staff of CDI; communicate CDI diagnosis at facility transfer; and (7) Educate environmental services, patients, visitors on CDI prevention.
Image from Centers for Disease Control and Prevention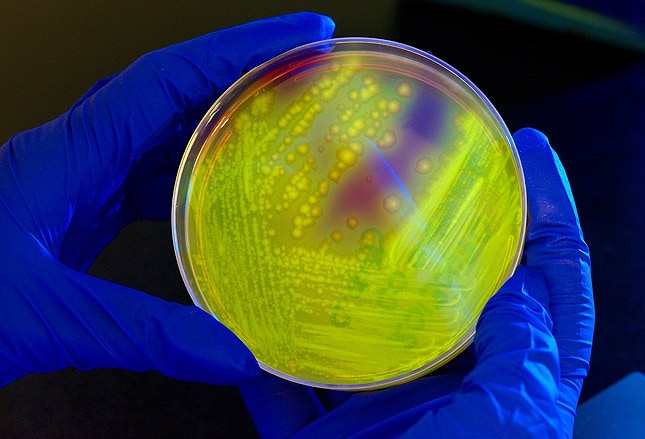 CDI: Special Approaches
For outbreaks or when basic approaches are inadequate:
Put patients with diarrhea in contact precautions until CDI testing results are available;
Perform hand hygiene with soap and water vs alcohol-based hand rubs;
Extend contact precautions for CDI patients until discharge;
Intensify compliance monitoring; and
Use a bleach-based or other EPA-approved sporicidal disinfectant for environmental cleaning.
Read SHEA's 2014 CDI prevention update
Image from Alamy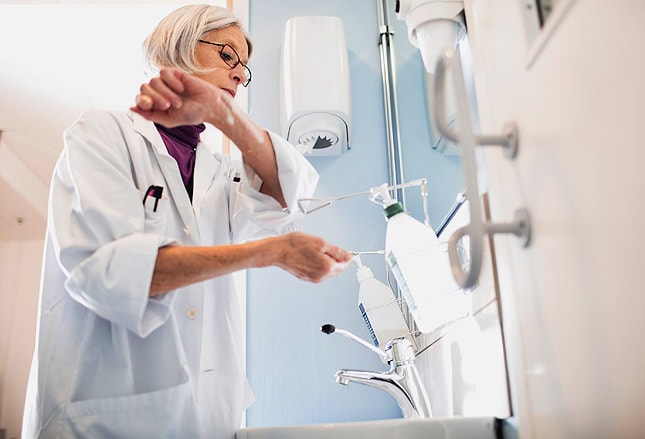 Methicillin-Resistant Staphylococcus aureus
Recent efforts to prevent the transmission of MRSA have had some success, but certain patient groups remain at high risk.
The basics:
Implement a MRSA monitoring program: identify patients with current or history of MRSA, and track hospital-onset MRSA;
Use contact precautions for MRSA-colonized and MRSA-infected patients;
Clean/disinfect equipment and the patient environment;
Use an alert system to promptly notify clinical staff of a readmission or transfer with MRSA, or new colonization or cases of MRSA infection;
Share MRSA data and outcome measures with staff; and
Educate patients and families about MRSA prevention.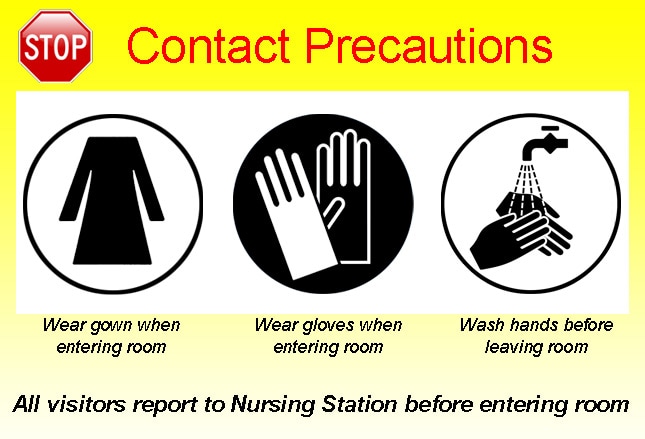 MRSA Special Approaches
For facilities with high MRSA rates:
Use active surveillance testing: patient and HCP screening; and
Use MRSA decolonization therapy—targeted or universal in the intensive care unit (ICU) (daily chlorhexidine bathing +/- intranasal mupirocin); and
Use gown/glove for contact with all adult ICU patients.
Read SHEA's 2014 MRSA prevention update.
Image from Science Source
Central Line-Associated Bloodstream Infection (CLABSI)
The basics: (1) Use evidence-based indications for central venous catheter (CVC); avoid unnecessary CVC placement; (2) Educate the HCP team involved; (3) Insertion: use maximum barrier precautions, all-inclusive kits, ultrasonographic guidance for internal jugular CVC, and alcohol/chlorhexidine skin prep; (4) Use a checklist for adherence to infection prevention practices; (5) Change dressing every 5-7 days, or immediately if soiled, loose, or damp; (6) Perform daily chlorhexidine bathing of ICU patients (> 2 months of age); (7) Perform hand hygiene before catheter insertion or manipulation; (8) In obese adult patients, avoid the femoral vein for planned CVC insertion; (9) Ensure appropriate nurse-to-patient ratios; (10) Disinfect catheter hubs, needleless connectors, and injection ports before accessing CVCs; (11) Remove nonessential CVCs; and (12) Perform surveillance for CLABSI, and share data with clinical staff.
Image from Alamy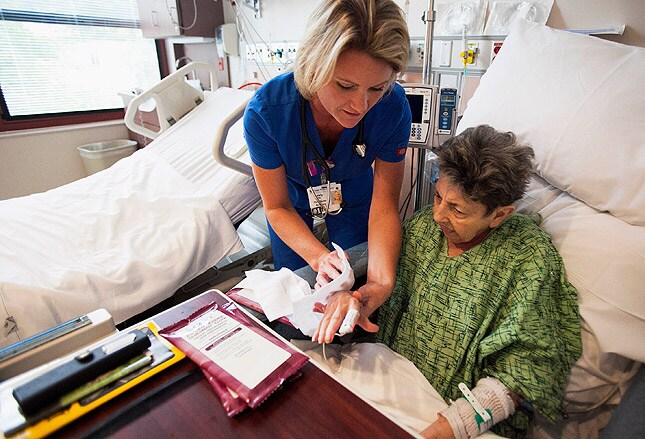 CLABSI Special Approaches
For populations with CLABSI rates that are unacceptably high despite basic practices:
Use antiseptic or antimicrobial-impregnated CVCs in adults;
Use chlorhexidine-containing dressings for CVCs in patients > 2 months of age;
Use an antiseptic-containing cap/port protector;
Use antimicrobial locks for CVCs; and
Use recombinant tissue plasminogen activating factor weekly through the CVC after hemodialysis.
Read SHEA's 2014 MRSA prevention update.
Image from Science Source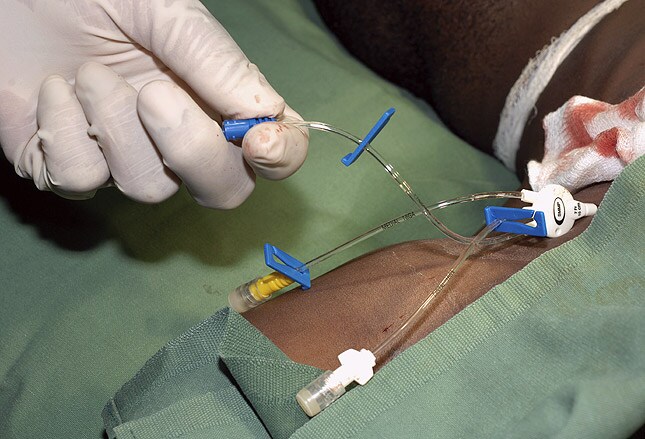 Ventilator-Associated Pneumonia (VAP) in Adults
The basics:
Avoid intubation if possible;
Minimize sedation, and interrupt sedation daily (spontaneous awakening trial);
Assess readiness to extubate daily (spontaneous breathing trial);
Pair spontaneous awakening trials with spontaneous breathing trials;
Encourage exercise/mobilization;
Minimize pooling of secretions above the endotracheal tube cuff; use endotracheal tubes with a subglottic secretion drainage port for high-risk patients (> 48-72 hours of ventilation);
Elevate head of bed 30°-45°; and
Change the ventilator circuit if visibly soiled or malfunctioning.
Read SHEA's 2014 VAP prevention update.
Image from Science Photo Library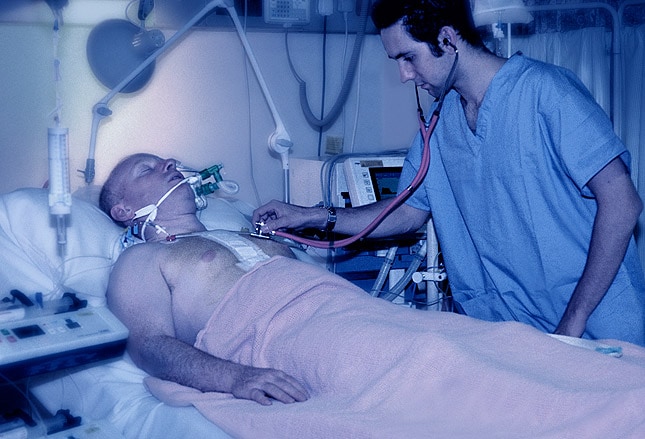 VAP in Neonates
The basics:
Avoid intubation (use noninvasive approaches if possible);
Minimize the duration of mechanical ventilation;
Avoid sedation;
Assess readiness for extubation daily;
Provide regular oral care (sterile water only); and
Minimize breaks in the ventilator circuit; change only if soiled or malfunctioning.
Image from Alamy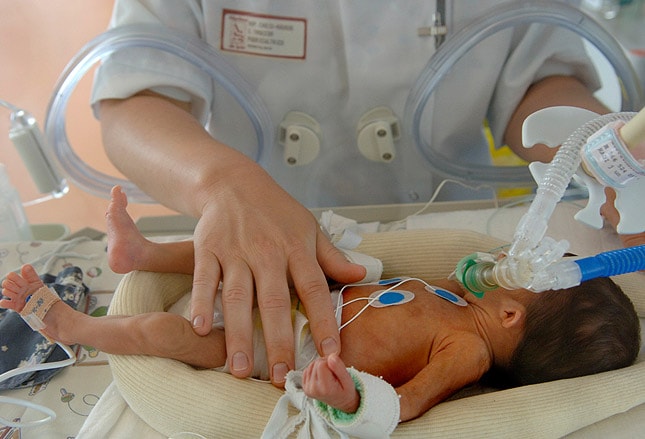 VAP in the Pediatric Population
The basics:
Avoid intubation (use noninvasive positive-pressure ventilation) if possible;
Minimize the duration of mechanical ventilation;
Assess readiness to extubate daily;
Avoid unplanned extubation/reintubation;
Provide regular oral care;
Elevate the head of bed unless contraindicated;
Maintain the ventilator circuits (change only when soiled or malfunctioning, remove condensation);
Suction oral secretions before position change; and
Use cuffed endotracheal tubes; maintain cuff pressure at the minimal level needed to prevent air leak.
Image from Alamy
Hand Hygiene
The evidence base for how to improve hand hygiene compliance has expanded in recent years. Hand hygiene is so important that a separate chapter of the compendium is now devoted to this preventive strategy. Average rates of hand hygiene compliance hover around 40%, even in well-resourced facilities.[3]
The basics: (1) Select appropriate hand hygiene products; (2) Provide convenient access to hand hygiene supplies, and use strategic placement; (3) Use alcohol-based hand rub, or soap and water if hands are visibly soiled; (4) Address unit-specific barriers to hand hygiene; (5) Measure hand hygiene compliance (direct observation, product volume measurement, or automated monitoring); (6) Provide feedback to HCPs on hand hygiene performance; and (7) During norovirus and C difficile outbreaks, preferentially use soap and water for hand hygiene in the care of these patients.
Image from Science Source