< More coverage from NCCN 2015
Top News From NCCN 2015: Slideshow
Nick Mulcahy; Fredy Perojo; Allison Shelley; Neil Osterweil; Megan Brooks; Daryl Noble
March 26, 2015
Hollywood, Florida played host to the National Comprehensive Cancer Network (NCCN) 20th Annual Conference from March 12 to 14.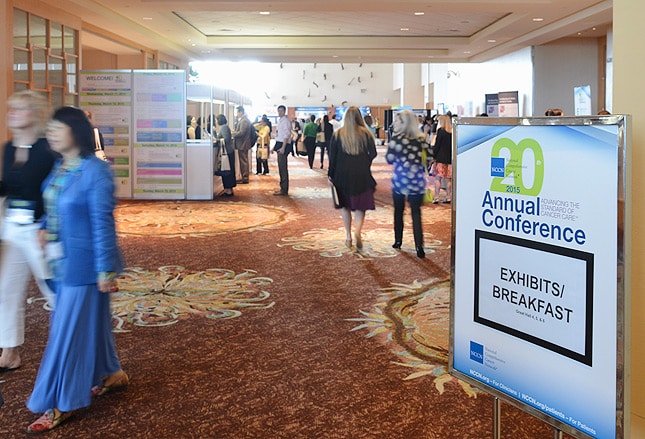 Some highlights from this year's conference:
Chronic myelogenous leukemia: Consider a different TKI when faced with suboptimal response at 3 months
Breast cancer: Use only one tool for genomic testing — for now
Melanoma: Skip lymph node biopsy for certain melanomas
Chronic lymphocytic leukemia: Stay the course, but change is coming
A lively roundtable on the virtues and vices of the NCCN guidelines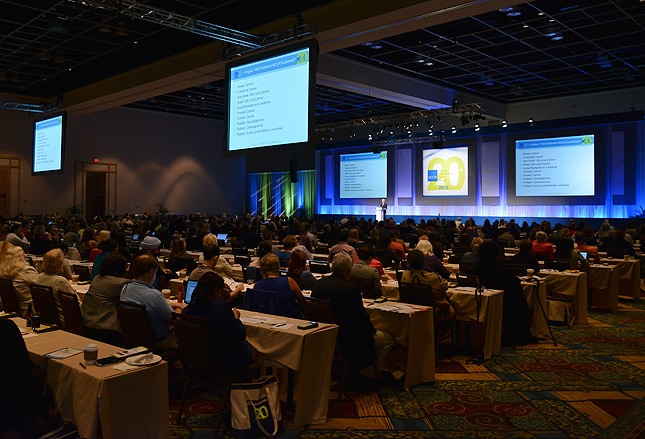 CML Guidance: Consider Early TKI Switch in Poor Responders
Give it 3 months, but if a patient with chronic myelogenous leukemia (CML) has a suboptimal response to therapy with a first-line tyrosine kinase inhibitor (TKI), it's not too soon to consider trying a different drug, according to NCCN clinical guidelines. "It's hard for me to imagine how someone who has a lousy response at 3 months is suddenly going to molecularly turn the corner and be a great responder in another 3 months," said guidelines codeveloper Jerald Radich, MD, from the Fred Hutchinson Cancer Research Center in Seattle. However, what looks like the failure of a targeted therapy might actually be the failure of a patient to take the drug, Dr Radich noted.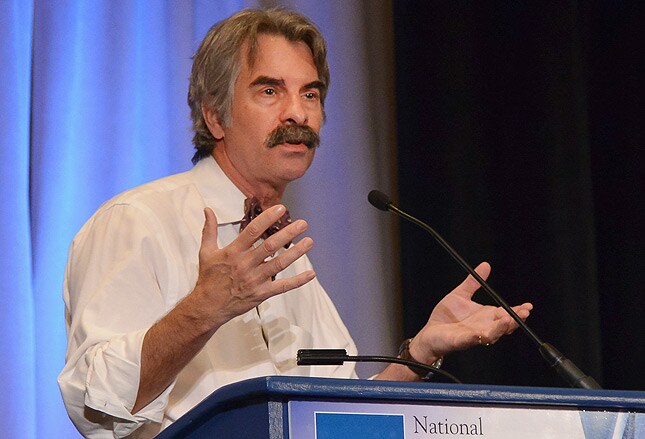 Use Only One Genomic Test for Breast Cancer
The NCCN only endorses one genomic test for use in patients with early-stage breast cancer, and that honor goes to Oncotype DX, a 21-gene assay from Genomic Health. The test serves two functions, said presenter Amy Cyr, MD, from the Siteman Cancer Center at Washington University in St. Louis, Missouri. In addition to providing a prognosis, the test has "some prediction capabilities in terms of therapy; it actually predicts a response to chemotherapy, compared with no chemotherapy," she explained. In short, Oncotype DX is both prognostic and predictive. The ability to predict response to treatment "is what, so far, makes this test stand out," Dr Cyr said. The other molecular tests for breast cancer, including MammaPrint, Prosigna, EndoPredict, and Breast Cancer Index, have not yet shown evidence of both capabilities, she added.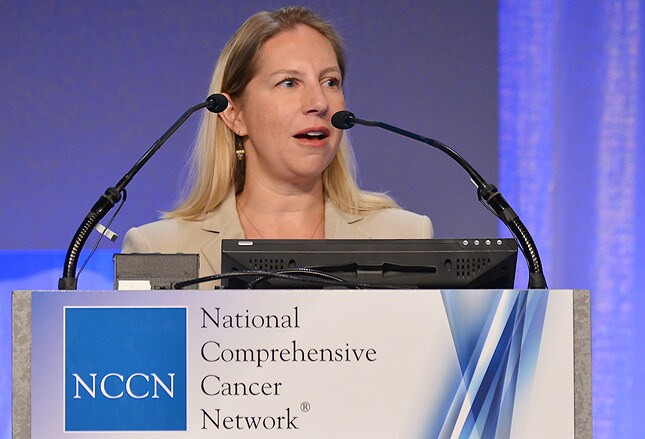 Forgo Lymph Node Biopsy in Thin Melanomas
Sentinel lymph node biopsy is not recommended for patients with melanomas that are 0.75 mm thick, or thinner, according to new NCCN guidelines. This is a rare and "very strong" piece of advice from the NCCN guidelines, said Daniel Coit, MD, from the Memorial Sloan Kettering Cancer Center in New York City. "There aren't many places in any of the guidelines where we say, 'not recommended', " he told meeting attendees. Dr Coit, who is chair of the organization's melanoma panel, explained that for these thin melanomas, only the variable of thickness is considered a reliable indicator of risk. Other indicators, such as ulceration, high mitotic rate, and lymphovascular invasion, are all uncommon in such thin melanomas. "Thickness ought to be our primary determinant for performing sentinel lymph node biopsy," he said. Sentinel lymph node biopsy is neither inexpensive nor inconsequential, Dr Coit emphasized.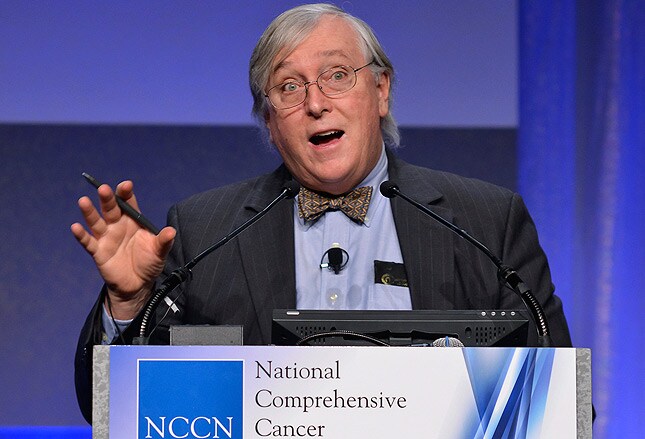 Guidance on CLL to Shift Toward Targeted Therapies
New and highly effective targeted therapies promise to change the landscape in the management of chronic lymphocytic leukemia (CLL), and those changes will soon be reflected in NCCN guidelines, conference attendees heard. Although watch and wait is still the standard of care for patients with asymptomatic early-stage CLL, even for patients with high-risk disease, strategies for first-line therapies are evolving, noted William Wierda, MD, PhD, from the University of Texas M.D. Anderson Cancer Center in Houston. "Right now, the standard of care is chemotherapy in the frontline setting, and then the small molecule inhibitors as salvage therapies, but I think that's going to change relatively soon," Dr Wierda said. Results from an ongoing clinical trial comparing ibrutinib (Imbruvica, Pharmacyclics and Janssen Pharmaceuticals) targeted therapy plus rituximab (Rituxan, Genentech) with conventional fludarabine, cyclophosphamide, and rituximab chemotherapy in the frontline setting will likely tip the balance in favor of the targeted agents up front, he said.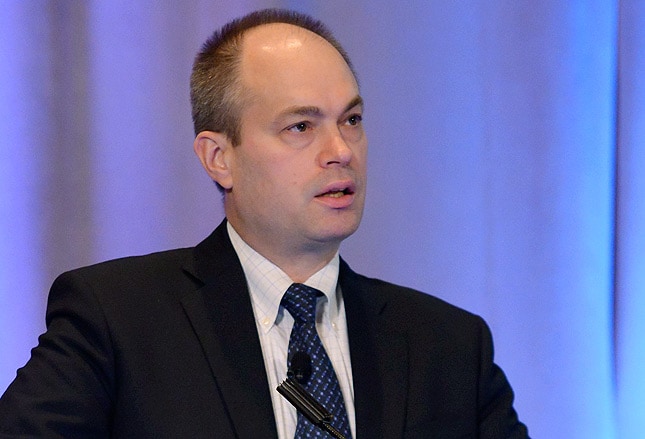 Guidance on New Therapies for Castration-Resistant Prostate Cancer
The most significant changes reflected in the NCCN prostate cancer guidelines are in recommendations for systemic therapies in men with metastatic castration-resistant prostate cancer, noted Andrew Armstrong, MD, ScM, from the Duke Cancer Institute in Durham, North Carolina. According to the guidelines, as the disease progresses, men might benefit from a sequence of therapies that includes:
The established anti-androgenic agents bicalutamide, flutamide, and nilutamide, and the newer agent enzalutamide (Xtandi, Astellas Pharma)
Androgen synthesis inhibitors such as ketoconazole and abiraterone acetate (Zytiga, Janssen Biotech)
Immunotherapy with sipuleucel-T (Provenge, Dendreon)
Chemotherapy with docetaxel (Taxotere and generics), cabazitaxel (Jevtana, sanofi-aventis), or mitoxantrone
Radiopharmaceutical therapy with radium-223
Investigational options or supportive care with bone support, exercise, sunlight, vitamin D and calcium supplementation, palliative radiation, or radiopharmaceuticals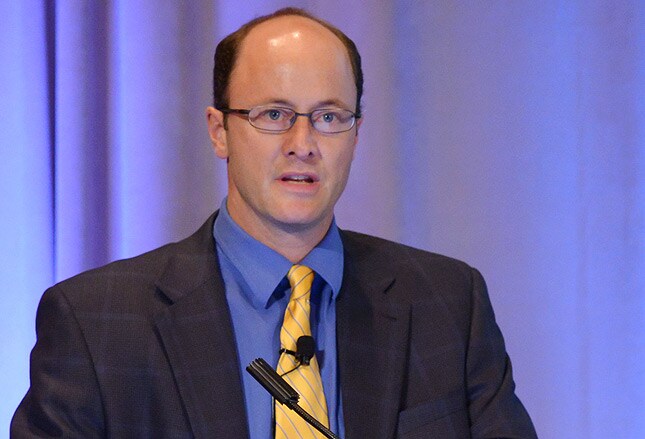 Soon: Survival Results for Metastatic Breast Cancer Drug
Clinicians will soon know whether palbociclib (Ibrance, Pfizer), the newly approved treatment for metastatic breast cancer, can deliver a significant improvement in overall survival in this setting, which would be a rare achievement, said Ingrid Mayer, MD, of Vanderbilt-Ingram Cancer Center in Nashville, Tennessee. Results from a phase 3 trial of palbociclib will "definitely" be presented in December at the San Antonio Breast Cancer Symposium, but might be ready for presentation as early as June at the American Society of Clinical Oncology annual meeting, she said. The anticipated results from the phase 3 PALOMA-2 trial "will either confirm what we've seen with the phase 2 studies or disprove that [efficacy]," said Dr Mayer.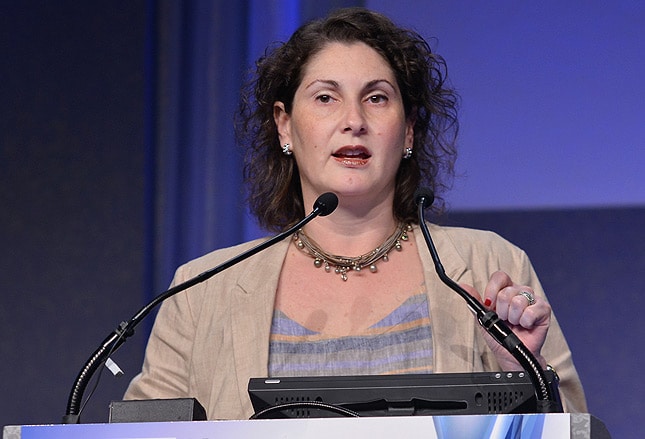 The Virtues and Vices of the NCCN Guidelines
The NCCN guidelines, now in their 20th year, have evolved from early efforts and continue to add new wrinkles, according to participants in a roundtable discussion. But because the guidelines are not solely evidence-based, they are subject to the biases of the authors, which can result in a variety of negative consequences, including questionable advice and excessive care, according to critics. Various clinicians attending the meeting described how they use the guidelines in the clinic for issues both commonplace and rare. But one clinician said that the NCCN guidelines are probably a case of being a "mirror on the wall"; that the recommendations reflect the practice of oncology at the group's 26 member institutions as opposed to being strictly a product of evidence that informs community practice. He also pointed out that the NCCN guidance can be out of step with others; for example, lung cancer screening is recommended for people 50 years and older who have a 20 pack-year history of smoking, whereas other organizations recommend starting screening at age 55 in people with a 30 pack-year history of smoking.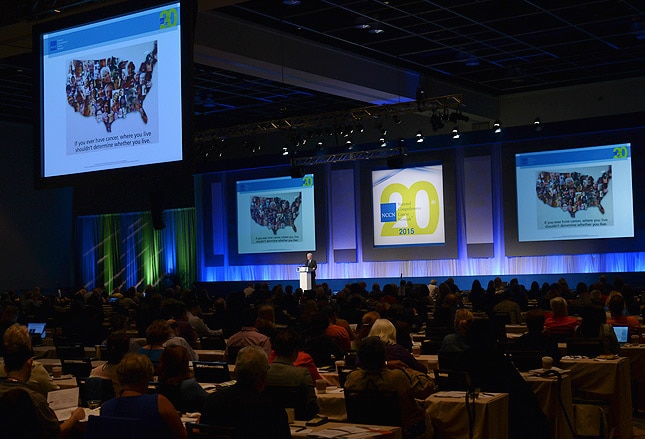 Guidance Stresses BCG for Bladder Maintenance After Induction
Although there have been no major changes in the current version of the NCCN guidelines for bladder cancer, several key existing recommendations have been strengthened, according to the chair of the guidelines committee. "The three [changes] that come most to mind are new adjuvant chemotherapy in the setting of muscle-invasive bladder cancer just prior to cystectomy; strengthening the recommendation for maintenance BCG [Bacillus Calmette–Guérin] for patients who receive induction BCG for nonmuscle invasive bladder cancer; and strengthening, at least in our minds, the recommendation to combine chemotherapy with radiation for those undergoing bladder-preservation therapy for muscle-invasive bladder cancer," explained Peter Clark, MD, from the Vanderbilt-Ingram Cancer Center in Nashville, Tennessee. However, a couple of meeting attendees had some concerns with the guidance, citing drug supply issues with BCG and a lack of proven benefit supporting the use of surgical staging to decide on perioperative chemotherapy, which is also a recommendation.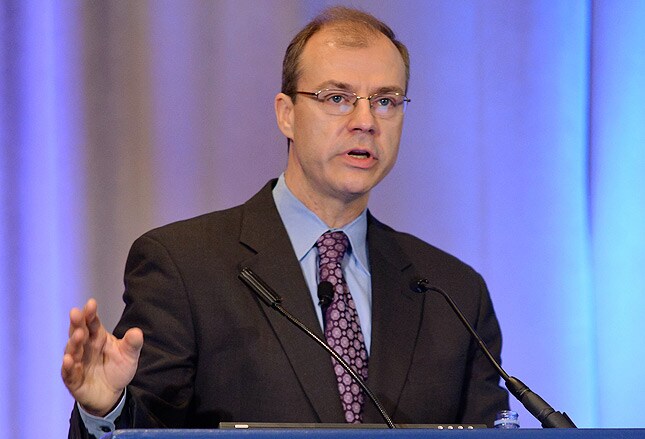 Mutations Now Drive Therapy for Metastatic NSCLC
Mutations are driving the management of metastatic non-small cell lung cancer (NSCLC), the NCCN guidelines suggest. As with other forms of cancer, the treatment of NSCLC has changed dramatically over the past 2 decades. A better understanding of cancer biology has led to a shift from histologic-based subtyping to molecular subtyping and to the recognition of multiple mutations as therapeutic targets, said guidelines codeveloper Leora Horn, MD, MSc, from the Vanderbilt-Ingram Cancer Center in Nashville, Tennessee. "We really have made progress in our evaluation of non-small cell lung cancer patients, moving from just 'adeno' and 'squamous' into specific molecular cohorts for adenocarcinoma, where we've really had the greatest improvement in the last decade in patient outcomes. And we're slowly getting there with patients with squamous cell carcinoma," she said.
Image from Wikimedia Commons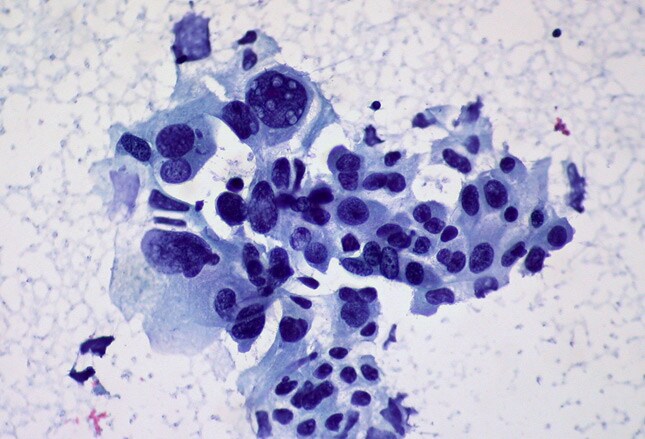 New NCCN Guidance for Smoking Cessation
The "need to do better" is the inspiration for new smoking-cessation NCCN guidelines for cancer patients, according to Peter Shields, MD, from the Ohio State University Cancer Center in Columbus. An estimated 20% to 30% of cancer patients smoke. "In my practice, among my lung cancer patients, probably 50% are active smokers," said Dr Shields. There are a host of evidence-based benefits to quitting, including improved prognosis. And not quitting increases the risk for death and primary secondary cancers. Less authoritative evidence indicates that smoking increases the risk for second cancers, and is associated with a poorer response to treatment and increased treatment-related toxicity.
Image from Dreamstime