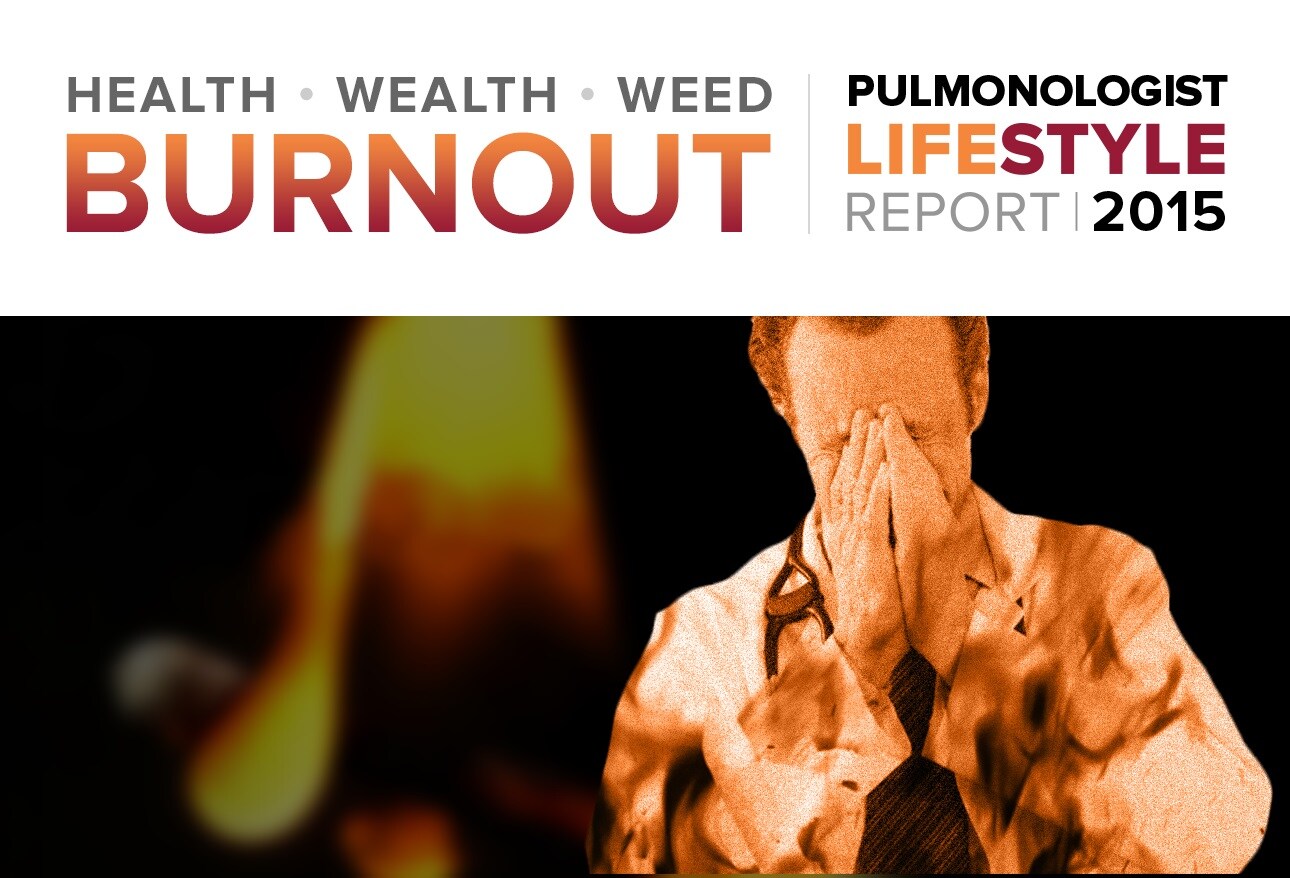 Compared with other American workers, US physicians suffer more burnout, according to a national survey.[1] Burnout is defined as loss of enthusiasm for work, feelings of cynicism, and a low sense of personal accomplishment. In Medscape's Physician Lifestyle Report 2013, just under 40% responded that they were burned out. This year that number went up: 46% reported burnout. Pulmonologists, at 47%, ranked slightly above the middle among the other specialists. An editorial published in the Journal of General Internal Medicine reported burnout rates ranging from 30% to 65% across specialties, with the highest rates of burnout incurred by physicians at the front line of care, such as emergency medicine and primary care physicians.[2] The 2015 Medscape survey results reflect this same pattern, with the highest burnout rates found in critical care (53%) and emergency medicine (52%), and with half of all family physicians, internists, and general surgeons reporting burnout.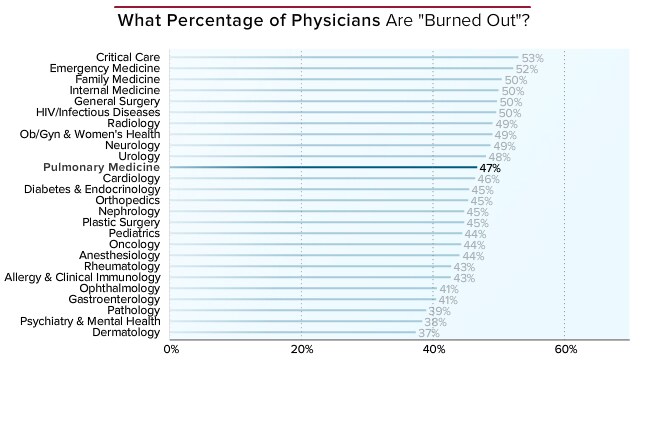 Burnout has been shown to negatively affect patient care,[3] and many of the factors that lead to burnout are also associated with a higher likelihood of physicians leaving their practice.[2] Rates of suicide are higher in physicians than in the general population,[4] with studies indicating that job stress is a factor.[5] Medscape asked burned-out pulmonologists to rate the severity of their burnout from 1 ("does not interfere with my life") to 7 ("so severe that I'm thinking of leaving medicine"). Pulmonologists reported the seventh lowest score for severity (4.01). Of interest, the three specialties reporting the highest severity ratings—nephrology (4.30), cardiology (4.29), and plastic surgery (4.28)—were not those with the largest percentage of burned-out physicians.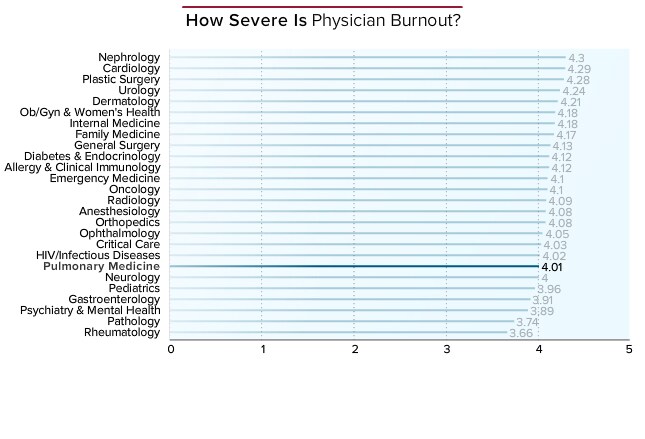 Bureaucracy and loss of autonomy are known causes of stress.[6,7] This report provides more evidence of the importance of these factors among pulmonologists, with bureaucratic tasks and spending too many hours at work rated as the most frequent causes of burnout, with scores of 5.05 and 4.35, respectively, based on a scale of 1 ("not at all important") to 7 ("extremely important"). In fact, being able to control work hours is increasingly found to play an important role in reducing stress and, therefore, burnout among all physicians.[7-9] The impact of the Affordable Care Act (3.79) was fifth in importance as a cause of pulmonologist burnout. Of interest, among physicians in general, the ACA has fallen in importance as a cause of burnout, from third in 2013 to fifth this year. Computerization (4.08) and insufficient income (4.05) were also found to be important causes of pulmonologist burnout. One study of PCPs found that those with the highest number of electronic medical record functions also experienced the highest amount of stress.[10]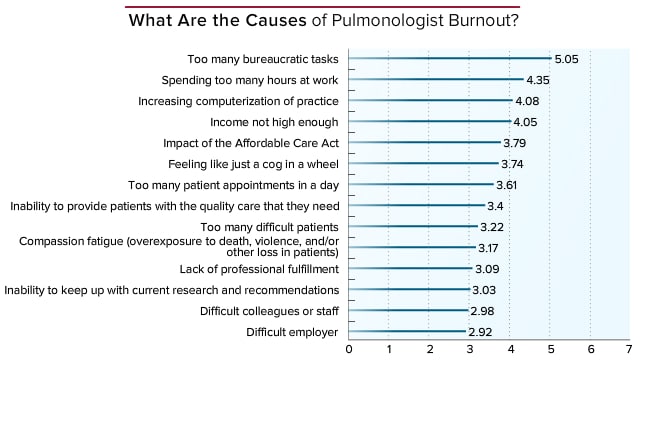 National surveys have reported a burnout rate of 60% in female physicians, which is higher than that of their male peers.[2] The Medscape report supports these findings. Slightly more female pulmonologists (50%) reported burnout than males (46%), which was lower for women and higher for men than what was reported in 2013 (63% and 38%, respectively). Some studies suggest that burnout in men may differ from that in women; in men it tends to be characterized by depersonalization, whereas women describe emotional exhaustion.[11]
The burnout rate is lowest in the youngest and oldest pulmonologists (29% and 30%, respectively). Burnout peaks in mid-life, with 64% of pulmonologists between ages 46 and 55 reporting burnout. The rate declines to 44% between ages 56 and 65.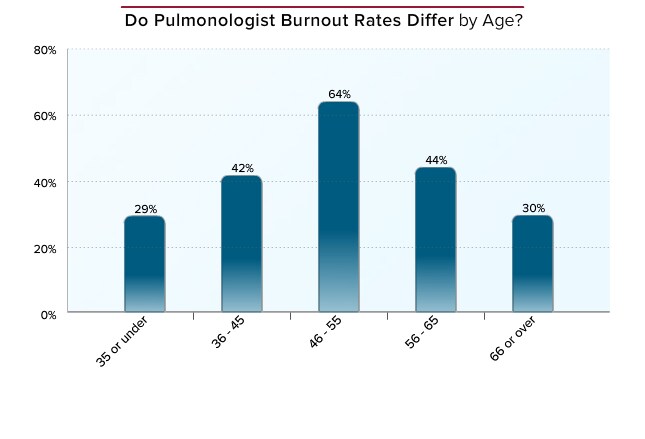 When asked about favorite pastimes, burned-out pulmonologists and their less stressed peers tended to like the same ones to the same degree. About three quarters of all pulmonologists wanted to spend time with family, and two thirds like exercise and travel. Both groups far preferred the more sedentary pastimes (reading, cultural events, and food and wine) to the outdoor sports (golf and hunting/fishing).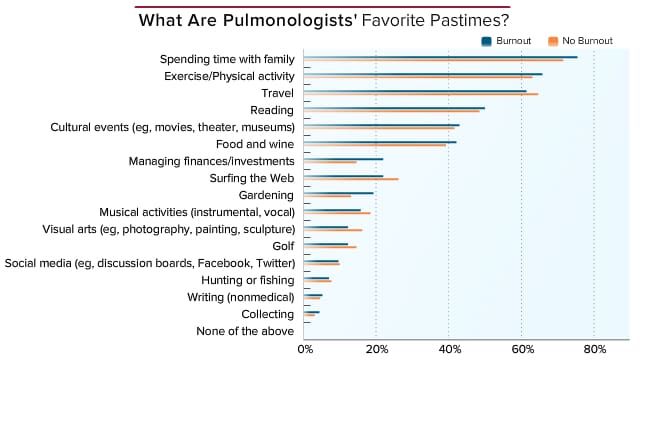 Although studies suggest that taking time off reduces stress, the United States is one of only 13 countries in the world that do not mandate vacation time. Approximately one fourth of US workers do not have paid time off; about half are in the bottom fourth of earners vs a much smaller 10% of those in the top quarter.[12] Pulmonologists fare better than other Americans in terms of vacation time, and unlike most other physicians, burnout does not seem to affect the amount of time they take. Sixty-nine percent of burned-out and 70% of non–burned-out pulmonologists take more than 2 weeks per year.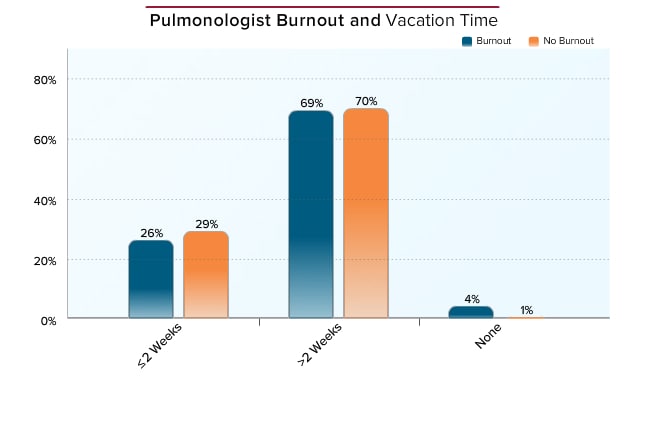 Volunteer activity associated with religious organizations and pro-bono clinical work pulled in the largest number of responses, with some differences between burned-out and non–burned-out pulmonologists. Unlike the pattern seen in other physician specialties, no difference was seen between the groups in whether they volunteered at all: 36% of both groups never volunteer. (There was little change in non-volunteering among all pulmonologists from 2013, when 34% of the burned-out group and 31% of the non–burned-out group responded that they didn't volunteer.)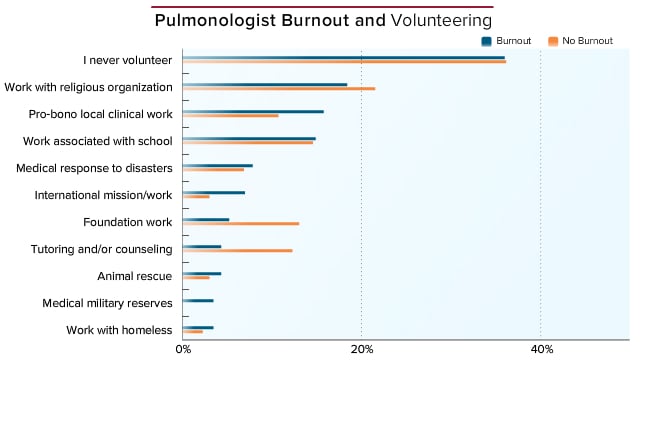 Physicians who have a healthy lifestyle are more likely to preach what they practice compared with the general public.[13] In our report, pulmonologists were asked to rate their physical health on a scale from "poor" to "excellent." The great majority rated their own health as "good" to "very good/excellent." However, to be expected, those who were burned out were less confident about their health, with 53% of burned-out pulmonologists reporting very good to excellent health compared with 63% of their non–burned-out colleagues.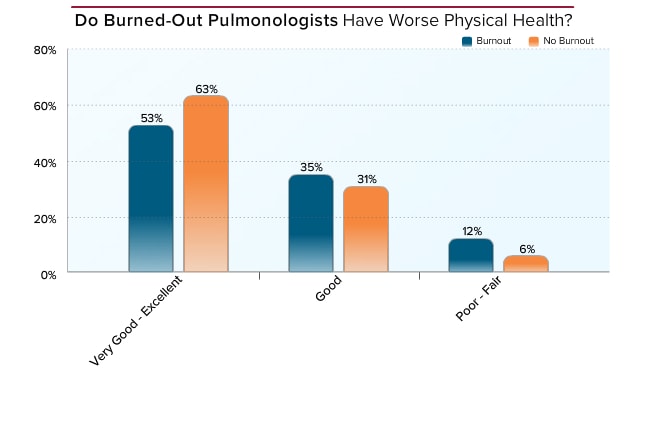 The most recent CDC statistics report that less than half (48%) of all adults meet the age-appropriate 2008 Physical Activity Guidelines.[14,15] A 2013 study in JAMA Internal Medicine found that healthcare workers are better at some behaviors than their patients, notably in exercising within the previous 30 days.[16] Our report supported this conclusion, although burnout seems to be related to exercise, with 66% of non–burned-out pulmonologists and 54% of burned-out pulmonologists reporting exercising at least twice a week. Twelve percent of pulmonologists who were not burned out and 19% of those who were avoided exercise altogether, which was a higher rate for both groups than that reported in 2013 (6% of non–burned-out and 4% of burned-out pulmonologists, respectively).
According to the most recent CDC report, the prevalence of obesity in 2011-2012 was about 35%, a rate that has remained relatively unchanged since 2003.[17] The 2013 JAMA Internal Medicine study of lifestyle behaviors in healthcare workers[16] showed little differences in rates of overweight or obesity between the healthcare professionals studied and their patients. Pulmonologists who reported their body mass index (BMI) in the Medscape survey do better than the general public, but a significant number are overweight or obese. Among the burned-out group, 47% confessed to being overweight to obese (39% and 8%, respectively) compared with an equivalent 49% of those who were not burned out (41% overweight, 8% obese). These numbers have not budged much since the 2013 report.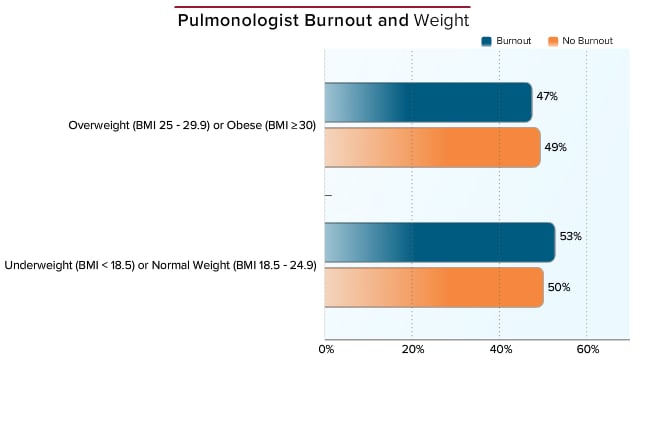 The latest statistics from the CDC on US alcohol consumption reported a prevalence of previous-year drinking of 70.5% and a prevalence of past-month excessive drinking of 29.7%.[18] Medscape pulmonologist responders have very light to moderate drinking habits, with some difference seen between those who are burned out and those who are not. Twenty-nine percent of burned-out pulmonologists and 35% of their non–burned-out peers said they didn't drink at all, and 53% of burned-out pulmonologists and 45% of those not burned out claimed to have less than one drink per day.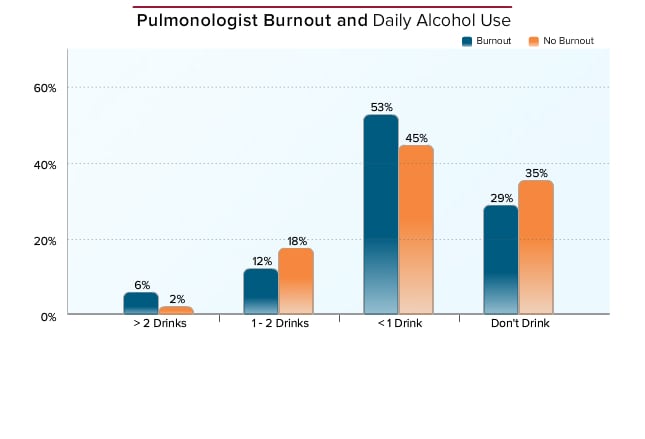 A 2014 Gallup poll[19] reported that 38% of Americans have tried marijuana, an increase of only 5% since 1985. Only 7% say that they are currently using it. Pulmonologists report a slightly lower rate of marijuana history, with under a quarter reporting ever having tried it: 24% of burned-out and 21% of non–burned-out pulmonologists. Two percent of both burned-out and non–burned-out pulmonologists say they've used marijuana in the past year, which is a lower percentage than that found in the general population in the Gallup poll. Burnout does not seem to be associated with marijuana usage.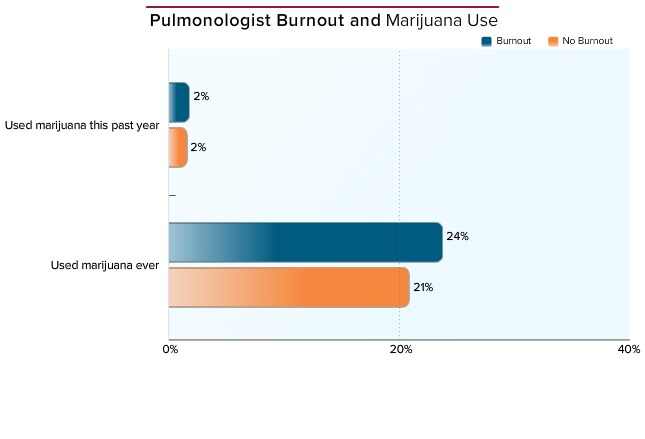 Pulmonologist responses to questions about use of alcohol and marijuana suggest that higher levels of alcohol consumption are associated with a greater tendency to use marijuana. Of those who have more than two alcoholic beverages per day, half claim to have ever used marijuana. And the less pulmonologists drink, the less likely they are to have used marijuana; only 6% of those who don't drink at all claim to have ever used marijuana.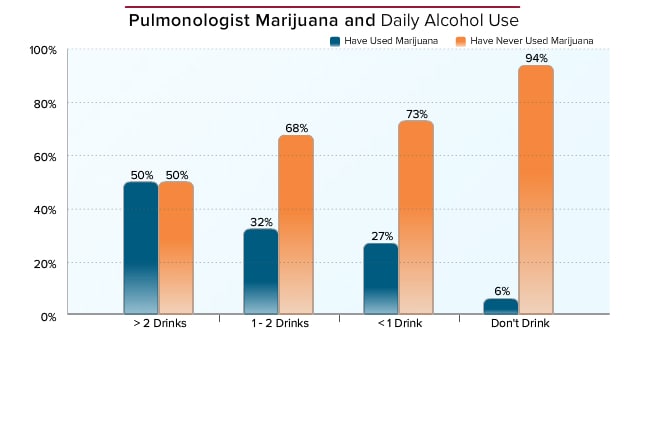 According to the 2014 Gallup poll, the youngest and oldest age groups had the lowest percentages of reported marijuana use (36% and 17%, respectively).[19] Just about half (49%) of Americans 30-49 years of age and slightly less than half (44%) of those aged 50-64 have used it. Among pulmonologists in our survey, the highest usage rate (34%) is among the baby boomers, ages 56-65. It drops considerably in the next two younger age groups, with 22% of those 46-55 and 12% of those 36-45 reporting use. No pulmonologist under 36 reported having used marijuana, which might simply reflect very low numbers of respondents in this age group. Among most physicians in this age group, usage increases compared with those 36-45.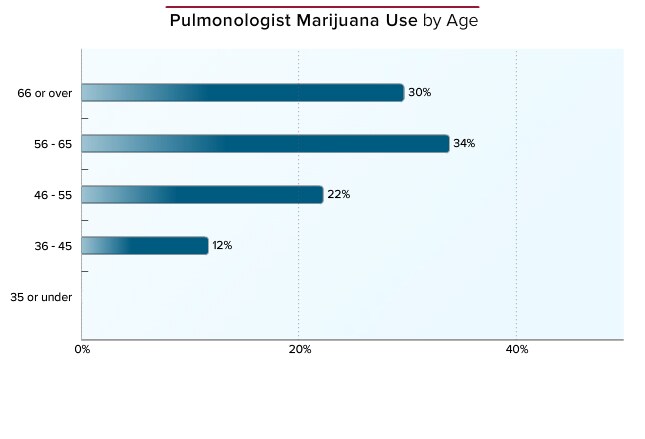 Twenty-two percent of all pulmonologists report having used marijuana at some point in their history, a rate slightly below the middle among other specialists. In this survey, emergency medicine physicians report the highest history of marijuana use (31%), followed by plastic surgeons, orthopedists, and psychiatrists (all at 29%). The specialists least likely to have ever used marijuana are nephrologists (15%), endocrinologists (16%), and rheumatologists (17%). Marijuana use among specialties does not appear to be related to reported burnout.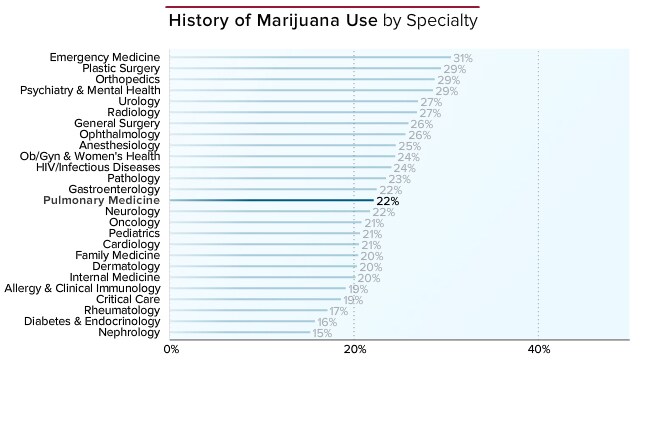 A 2014 Gallup poll reported that over half (51%) of Americans support legalization, with the largest number of supporters in the East and the West.[20] In a Medscape survey conducted last year on marijuana, about 70% of physicians believed that it had real medical benefits, although only 1% had ever personally used marijuana for medicinal purposes.[21] Among pulmonologists who have ever used marijuana, 69% support total legalization and 11% support it only for medicinal purposes. Among pulmonologists who have never used marijuana, 51% support some form of legalization (19% total and 32% medicinal).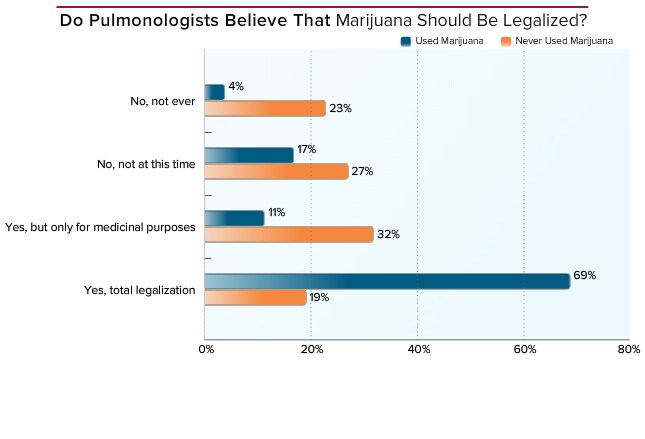 Burnout appears to have some association with pulmonologists' view of their assets—or lack of them. In the current report, 35% of burned-out pulmonologists consider themselves to have minimal savings to unmanageable debt, compared with a slightly lower 31% of their less stressed peers. Sixty-one percent of burned-out pulmonologists believe that they have adequate savings or more, compared with 64% of their less stressed peers, which is a lower rate in the latter group than the 72% reported in 2013.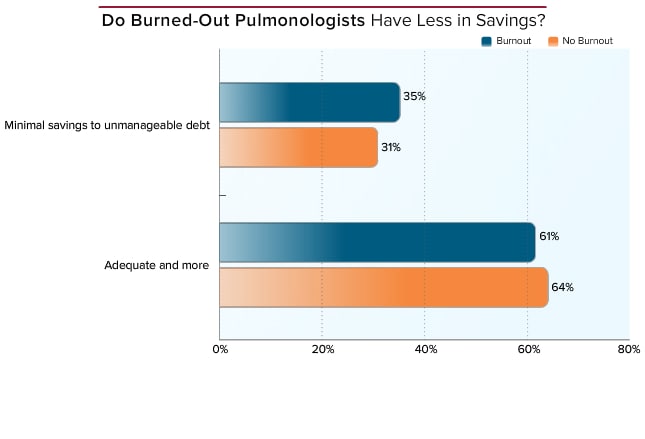 According to a 2014 Gallup Poll, 30% of Americans say that religion is largely out of date, a trend that has increased steadily since the 1950s, when only 7% held this view.[22] In our Medscape poll, instead of asking for specific religious affiliations, we wanted to know whether pulmonologists have a spiritual belief, regardless of active participation. When asked whether they have any religious or spiritual belief, 76% of non–burned-out pulmonologists and 73% of those burned out reported that they do. Twenty-four percent of non–burned-out and 27% of burned-out pulmonologists reported no belief system, which tied in with the Gallup poll results. Some studies have reported that spirituality may be protective against burnout,[23-25] but the Medscape survey found no association.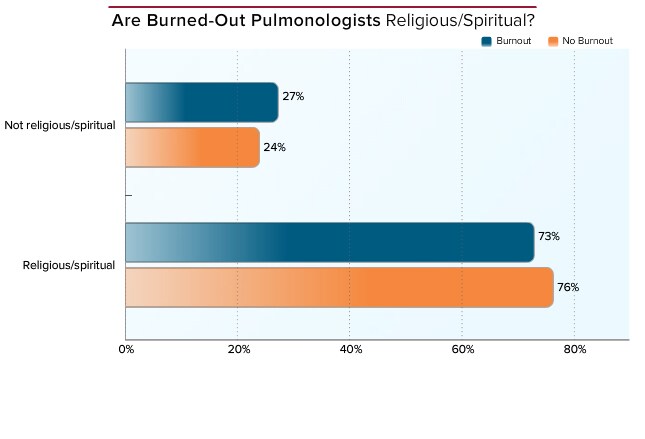 When pulmonologists who claimed to have a religious or spiritual belief were asked whether they actively attend services, a slight difference emerged between the non–burned-out and burned-out groups, with 58% of the non–burned-out believers attending services compared with 55% of their burned-out peers.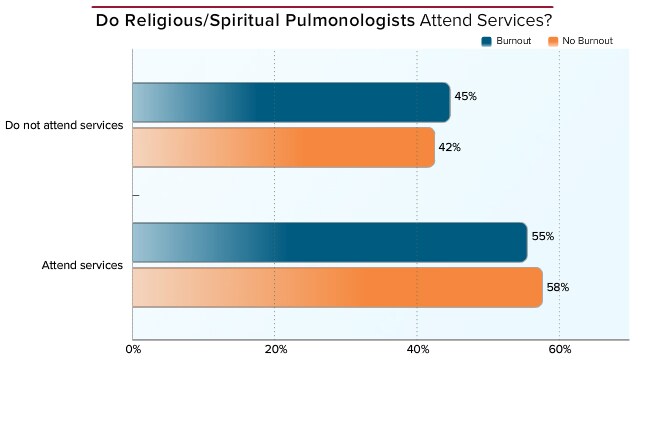 Instead of asking Medscape pulmonologists whether they are Democrat, Republican, or Independent, the survey focused on whether members considered themselves liberal or conservative in fiscal and social areas. Without clear definitions of these terms, the responses are very subjective; the aim was to get a sense of political biases rather than voting habits. About 60% of all pulmonologists, burned out or not, claim to be socially liberal, and 65% of burned-out pulmonologists and 58% of those who are not claim to be fiscally conservative. Of interest, a 2007 study of medical students found them much more likely to be liberal than conservative and also more liberal than other young American adults.[26]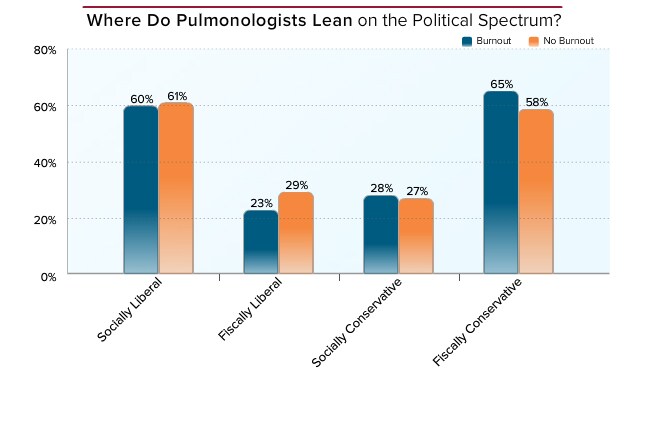 Among pulmonologists living with a partner, 46% report being burned out compared with 54% who say they are not. Of those who are without partners, 55% report burnout and 45% do not. Although not reflected in this graph, 87% of pulmonologists were currently either married or living with a partner.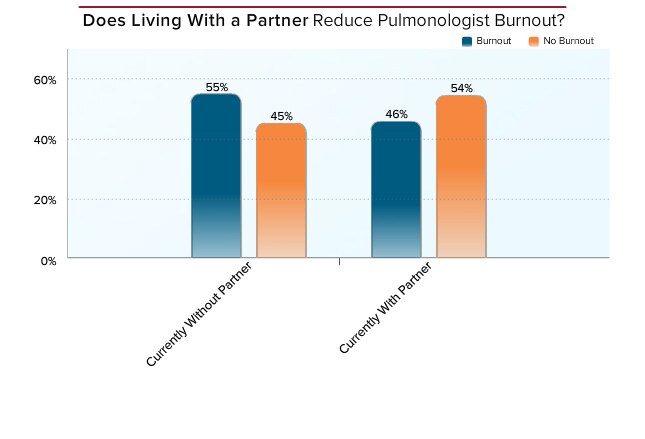 Regarding burnout and citizenship status, burnout rates are lowest in pulmonologists who came to the United States as adults, with 42% saying they are burned out vs 50% of those who were born in the US and 36% of those who have been here since childhood. This survey does not explain the variance, although one physician offers a sobering thought. Commenting in a recent Medscape article on physician suicide, the writer said, "I am a doctor in Mosul, Iraq, actively practicing since 1977. What stress [is there] in the USA?"[27]