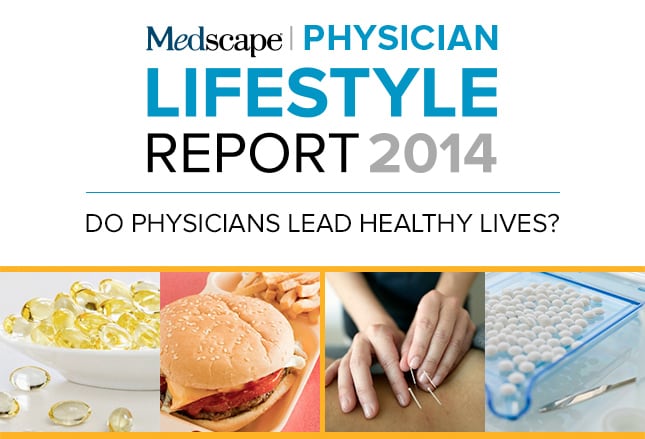 Which Physicians Are the Most Overweight?
In the latest US Centers for Disease Control and Prevention (CDC) report on obesity, about 35% of the US population is obese, which is a body mass index (BMI) of ≥ 30.[1] Although far fewer physicians of the total number who responded to the Medscape survey are obese (8%), being overweight is still a problem for 34% of them. General surgeons report being the most overweight physicians, with 49% confessing to being overweight to obese (BMI > 25). Family physicians follow closely at 48%. Dermatologists are the least heavy, with less than a quarter of them (23%) reporting a BMI > 25, followed by 29% of ophthalmologists. According to investigators of a recent study using data from the 2003-2006 National Health and Nutrition Examination Survey, looking at BMI alone may miss many people at risk for cardiovascular disease. In the study, about a third of men and almost half of women classified as nonobese had a high percentage of body fat. Some experts suggest using a BMI > 27-28 to indicate obesity, which correlates better with body-fat percentage vs the cut point of 30.[2]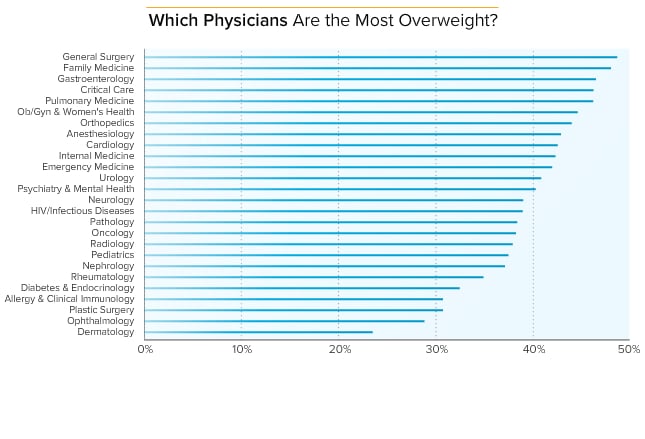 Are Male or Female Physicians More Overweight?
According to the 2013 report on obesity from the CDC,[1] the overall current prevalence rate of obesity (35%) does not differ between men and women. This gender neutrality regarding weight was supported in a 2013 Gallup poll, which found that about 58% of both men and women felt that they were over their ideal weight.[3] In the Medscape survey, obesity was also gender neutral, but in this population, only 8% of both male and female physicians reported a BMI of ≥ 30. Nevertheless, maintaining a healthy weight is still a problem among doctors who responded to the survey, and unlike the general population, more men than women report being overweight (39% and 26%, respectively).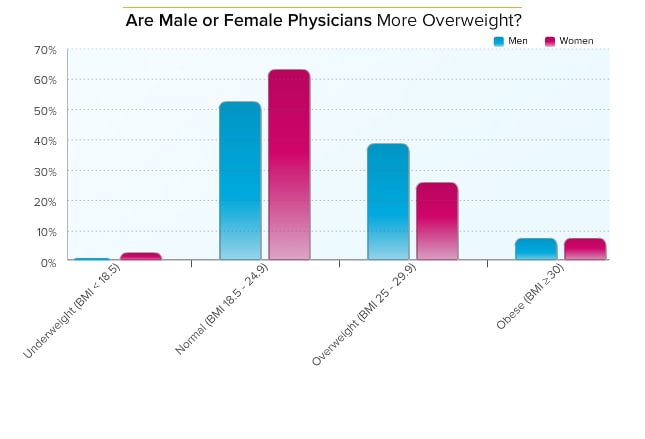 Which Diets Do Physicians Choose?
The latest guidelines from the American Heart Association/American College of Cardiology on cardiovascular risk recommend a Mediterranean-type diet (rich in fruit, vegetables, whole grains, fish, olive oil, lean poultry, nuts, legumes).[4,5] This approach is also supported by a recent major review.[6] A 2013 Gallup poll on healthy diets found that 60% of Americans eat 5 servings of fruits and vegetables 4 or more days per week,[7] the same percentage reported by physicians in a 2012 Gallup poll.[8] When Medscape survey respondents were asked which diets they routinely chose, 62% of normal- to underweight physicians (but only 39% of those who are overweight or obese) indicated diets that recommend this healthy daily amount of fruits and vegetables. Even worse, among the heavier group, 44% reported that they routinely choose either "meals on-the go" or a typical American diet (meat most days; carbs most days from white rice, potatoes, or white flour products; high fat) compared with only 28% of healthier-weight physicians. Surprisingly, only 16% in the obese and overweight groups were on weight-loss or calorie-restriction diets.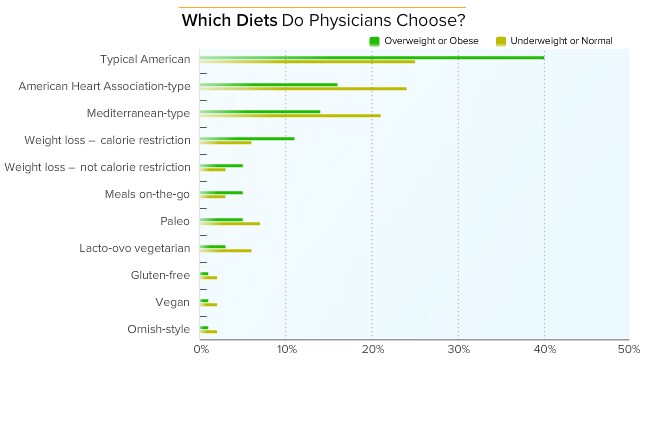 How Often Do Physicians Eat Out?
The Keystone Forum on Away-From-Home Foods reported that the percentage of American food budgets allocated to away-from-home foods rose from 26.3% in 1970 to 46% in 2002,[9] and subsequent reports in the popular press indicate that this percentage has not decreased since then.[10,11] The Forum also concluded that eating out more frequently is associated with obesity, higher percentage of body fat, and higher BMI,[9] which has been observed in other studies as well.[12-14] Still, it is uncertain whether eating out is related to obesity or whether those who eat at fast-food chains are just more vulnerable.[15,16] This is reflected in the Medscape survey, where two thirds (65%) of overweight to obese physicians say that they eat out at least once a week but so do 56% of those who are normal to underweight.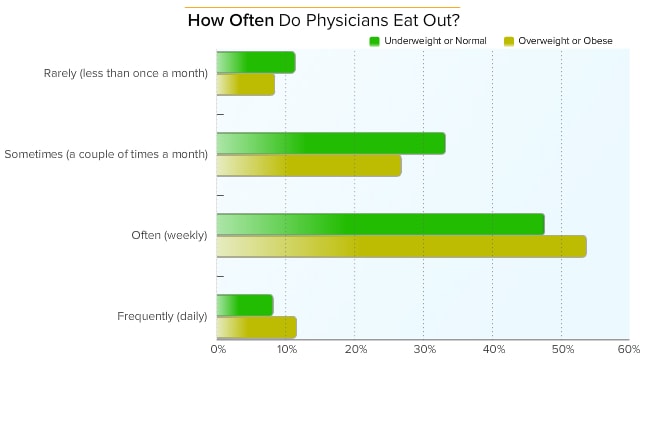 Where Do Physicians Eat Out?
In a recent Gallup poll, 80% of Americans report eating at fast-food restaurants at least monthly, with almost half (47%) saying they eat fast food at least weekly.[17] This follows a 2006 Pew report, which found that 41% of American adults ate fast food at least once a week, suggesting an increase in this unhealthy dietary habit.[18] Regardless of weight, when physicians who responded to the Medscape survey eat out, most (68%) reported eating at mid-level local restaurants. However, not surprisingly, more of the heavier physicians say they eat at mid-level (32%) or fast-food (17%) chains than do the physicians with healthier weights (26% and 11%, respectively). There is some evidence that the nutritional quality of fast-food restaurants has increased over the past few years, but improvement is still needed.[19]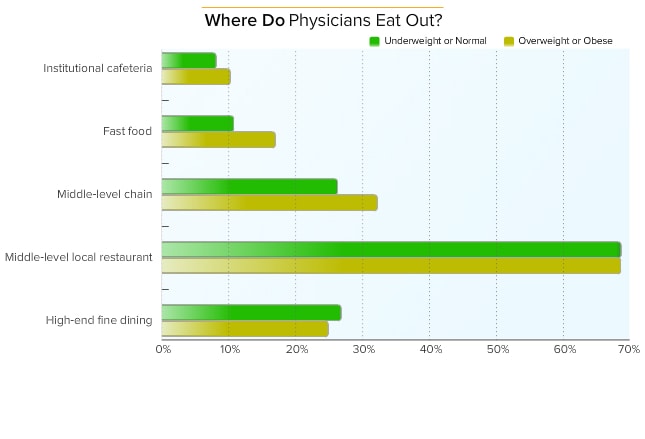 Which Physicians Take Supplements?
Nearly one half of all Americans take some form of dietary supplement.[20] Differences in age and gender appear to influence usage. In looking at a generational break between ages 45 and 46, 62% of physicians over 46 years old who answered the Medscape survey take supplements compared with 48% of physicians 45 and under. When looking at gender, 61% of women report taking supplements compared with 54% of men. Of interest, these results differed from a recent analysis of the Nurses' Health Study (NHS) and the Health Professionals Follow-Up Study (HPFS), which reported higher supplement use and an increase among both medical professional women (71.3% to 88.3%) and men (56.4% to 80.7%) from 1986 to 2006.[21]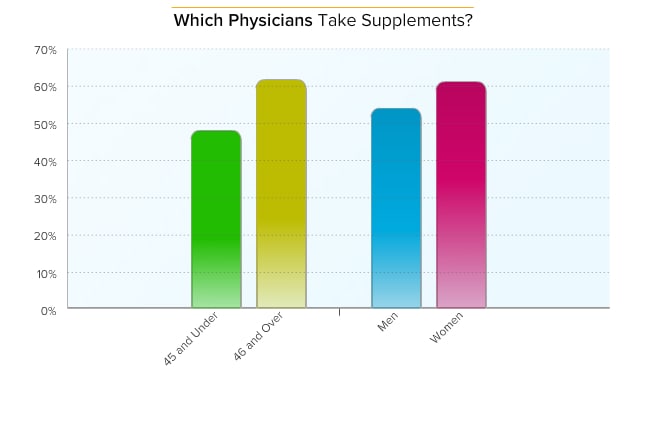 What Supplements Do Physicians Take?
About a third of male physicians and 37% of female physicians who responded take a multivitamin, which is similar to usage rates among the general US population.[20] More women take vitamin D (36%) and calcium (27%) than men (24% and 10%, respectively). Both genders take omega-3 fatty acids at the same rate (about 22%). Despite a lack of evidence supporting the value of antioxidant supplements, 19% of male and 17% of female physicians who responded use them. Eleven percent of men and 8% of women take coenzyme Q10, mostly to prevent statin-related myalgia, according to verbal responses to the question on specific CAM therapies used. In the NHS/HPFS analysis[21] mentioned in the previous slide, usage for many supplements increased among health professionals between 1986 and 2006, particularly in women taking vitamin D (2.2% to 32.2%) and folic acid (0.8% to 10.7%). Use of fish oil increased significantly for both genders (1.6% to 18.1% for women and 3.3% to 22.2% for men). On the other hand, use of antioxidants vitamin A, beta-carotene, vitamin C, and vitamin E declined steadily.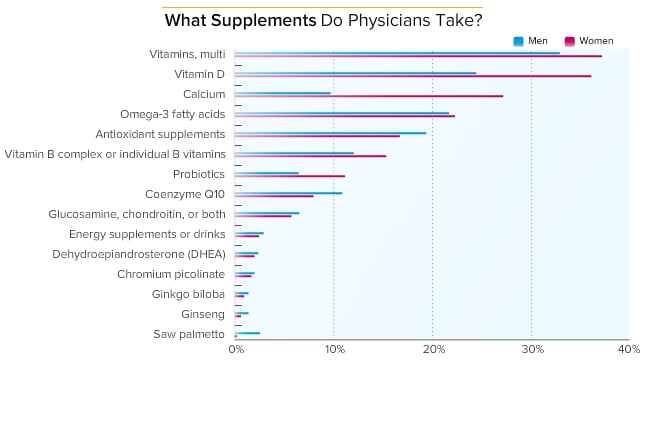 Which Physicians Use Complementary or Alternative Treatments?
In a Medscape commentary,[22] Paul Offit, MD, Chief, Division of Infectious Diseases, The Children's Hospital of Philadelphia, pointed out that since its founding in 1992, the National Center for Complementary and Alternative Medicine (NCCAM) "has received about $1.6 billion of federal money to study a variety of things...[T]he disappointing part of these studies is that they are not based on any biological principle. In fact, they seem to hark back to a much more distant time, before we really understood the pathophysiologic basis of diseases and were able to direct treatments towards them." Despite such limited evidence, 38% of adults in the United States are using some form of alternative medicine, according to NCCAM.[23] This finding matches the Medscape survey responses, in which, regardless of generation, about the same percentage of physicians (37% of those 45 and under and 38% of those 46 and over) admitted taking CAM treatments for medical conditions. There were gender differences: 48% of female physicians and 32% of male physicians say they have used CAM therapies.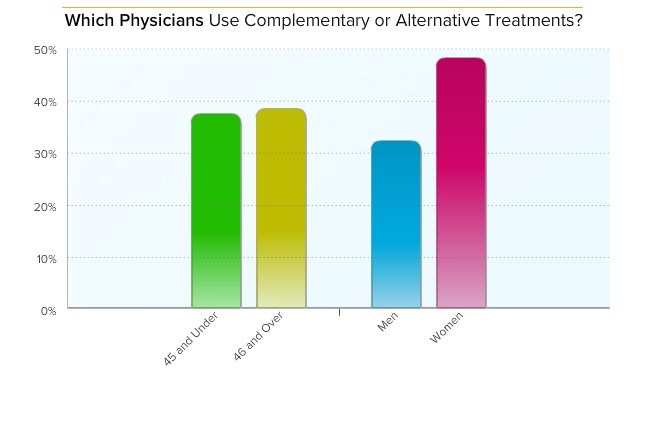 Which CAM Treatments Do Physicians Use?
In the United States, according to NCCAM, CAM is most commonly used for pain conditions: back pain (17.1%), neck pain (5.9%), and joint pain and arthritis (6.3%).[22] Such use corresponds with the verbal responses physicians made in the Medscape survey, where pain was the most common reason for using CAM, and acupuncture, massage, and chiropractic or osteopathic manipulation were the most commonly cited practices. Glucosamine, chondroitin, or both came up often as a treatment for arthritis. Eastern practices, including yoga, meditation, and Tai Chi, were also popular.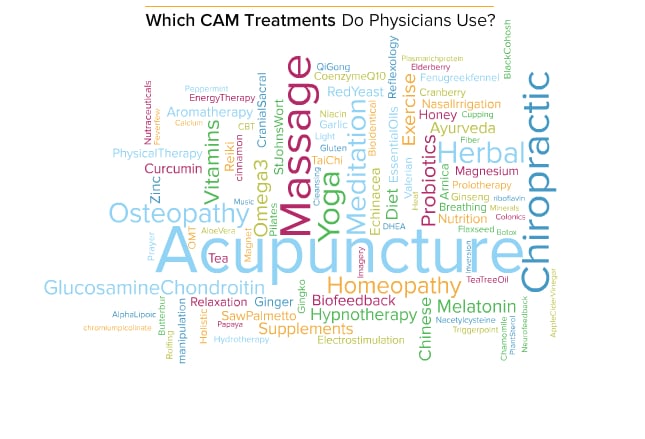 Which Physicians Take More Than 4 Weeks of Vacation?
In a recent report among 21 high-income countries, the United States is the only one that doesn't require paid vacations for employees.[24] Americans take an average of 16 paid vacation days and holidays per year, which is far fewer than citizens in other wealthy nations (eg, Italy, New Zealand, and Belgium: 30 days; France: 31; Spain and Germany: 34).[25] Vacation time among physicians varies widely by specialty. Half of anesthesiologists and radiologists claim that they take more than 4 weeks of vacation per year. Far fewer physicians in other specialties are as lucky. At 11%, endocrinologists are at the bottom of the scale, followed by family physicians, internists, and plastic surgeons, with only 13% of each group taking this much time off.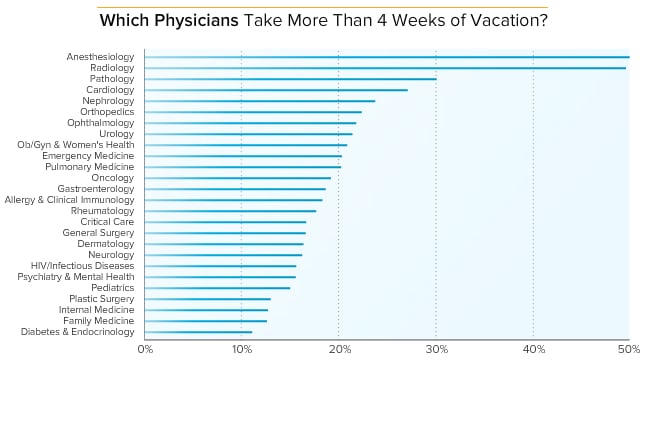 Do Physicians Volunteer?
More men (28%) than women (25%) say they never volunteer, which is a decrease from Medscape's 2012 survey, where about a third of both male and female physicians said they didn't volunteer. In this year's survey, women chose work associated with their children's school (23%) more often than other forms of volunteer work. Men are more apt to do pro-bono clinical work (22%) than other forms of volunteering, although this is far lower than what a 2008 report indicated, that 63% of US male physicians provided charity care to patients in financial need.[26] Volunteering for their religious organizations is popular for both men (19%) and women (21%). Of note, in a 2000 survey published in the Archives of Family Medicine, physicians who viewed benevolence as a guiding principle in their lives reported a higher level of professional satisfaction.[27]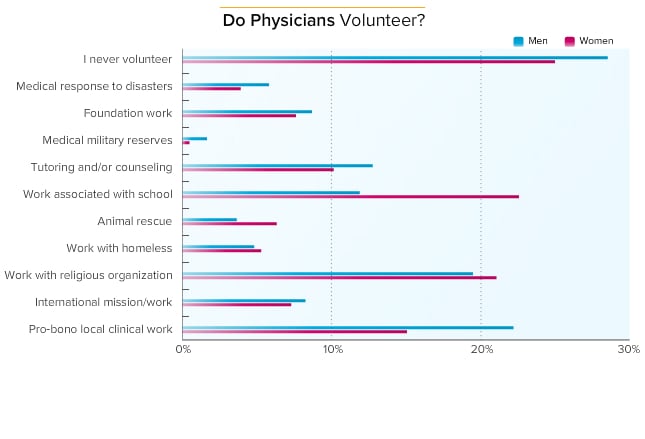 Are Physicians Happier at Home or at Work?
A large majority (62%) of physicians report being very to extremely happy at home, with only 40% of them reporting the same level of happiness at work. (When looking at men vs women, there was almost no difference between genders in their ratings of happiness either at work or at home.)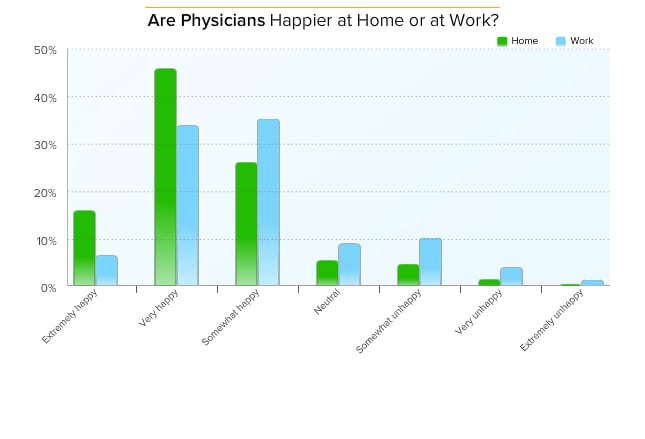 Which Physicians Are the Happiest?
When asked whether they were very to extremely happy, dermatologists and ophthalmologists, at 70%, were the most content at home, while only slightly more than half (52%) of intensivists and infectious disease physicians had that same level of happiness at home. Dermatologists are also the happiest specialists at work, with 53% claiming to be very or extremely happy there. The least happy in their work are family and emergency medicine physicians, with only 36% claiming great happiness at work. At 37%, internists and radiologists follow closely at their heels.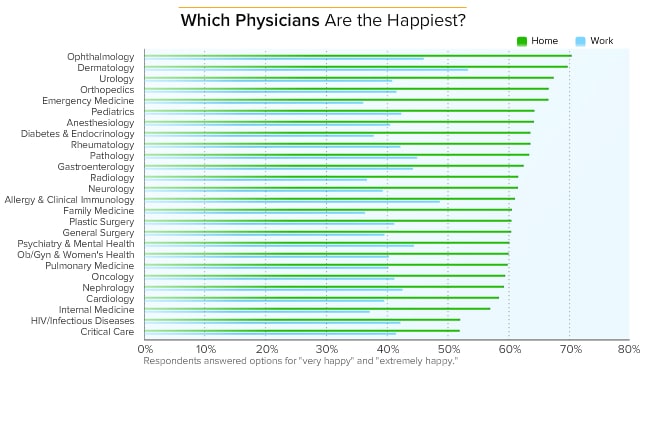 Percentage of Physicians Who Exercise at Least Twice a Week
In 2012 Gallup poll, 54.7% of Americans exercised 3 or more times a week,[28] while in a Gallup poll of physicians that same year, 58% of physicians claimed to exercise the same amount.[8] When looking at exercise by weight, respondents of the current Medscape survey who claimed normal weight did best, with 72% of them exercising at least twice a week. The heavier physicians came closer to the Gallup poll results, with 57% of those who are overweight and only 38% of those who are obese saying they exercise at least 2 times a week.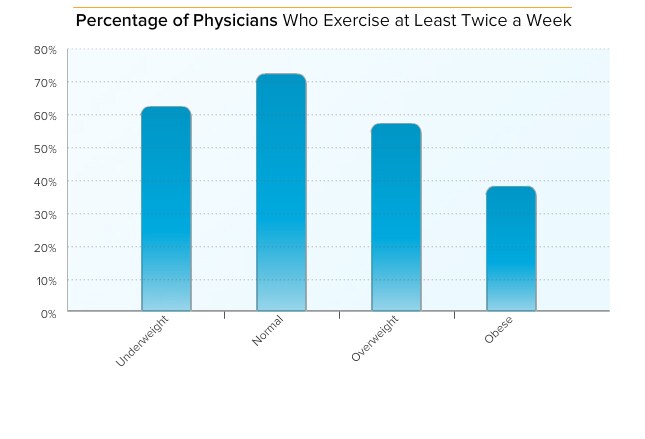 Which Physicians Rate Their Health as Good to Excellent?
At 96% and 95%, respectively, almost all dermatologists and ophthalmologists claim that their health is good to excellent. But in general, the great majority of physicians who responded to this survey reported a high level of health. Intensivists, with 87% reporting good to excellent health, are at the bottom of the chart, followed closely at 88% by psychiatrists, cardiologists, rheumatologists, internists, and nephrologists.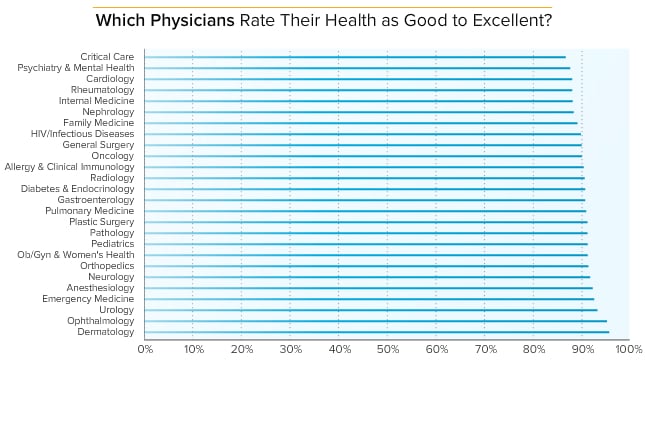 How Much Do Physicians Drink Per Week?
According to this Medscape survey and previous ones, physicians are not heavy drinkers, with very little difference among specialties. Women claim to drink slightly less than men, with 34% saying they don't drink at all compared with 27% of men. This percentage hasn't changed since the 2012 Medscape Lifestyle survey.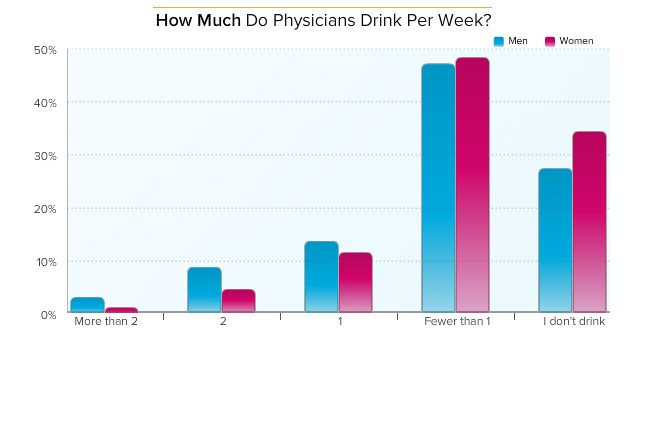 Which Physicians Have the Most Savings?
With 77% reporting at least adequate savings, orthopedists are at the top of the financially stable list of physicians, followed closely at 76% by ophthalmologists. Only 57% of family physicians and internists believed that their savings were as substantial. The income disparities between primary care physicians and many specialists has been an area of conflict and concern for years. Some of the changes that are part of the Affordable Care Act are intended to redress this problem, but it is not yet known how big a difference they will make.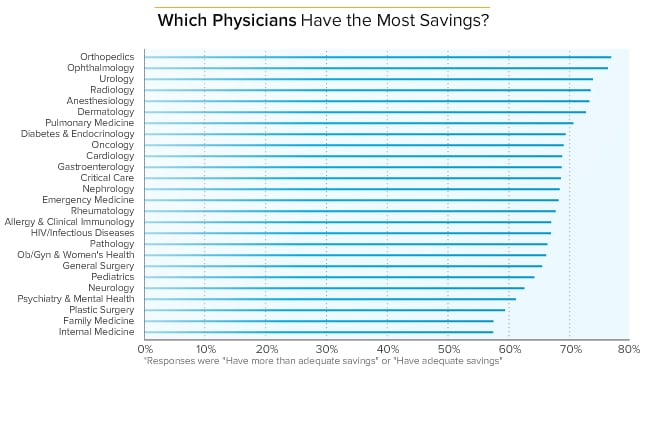 Are Men or Women More Religious or Spiritual?
In this survey, men and women almost equally claimed to be spiritual or religious (75% and 77%, respectively). Of this group, men are more likely to say that they attend services (60%) compared with women (44%). In a national Pew Research survey of all Americans, only 16% were unaffiliated with any particular faith, with half of this group saying that religion is still important or somewhat important. This suggests that physicians may be less religious than their patients. In the Pew survey, nearly 20% of men had no formal religious affiliation, compared with about 13% of women.[29]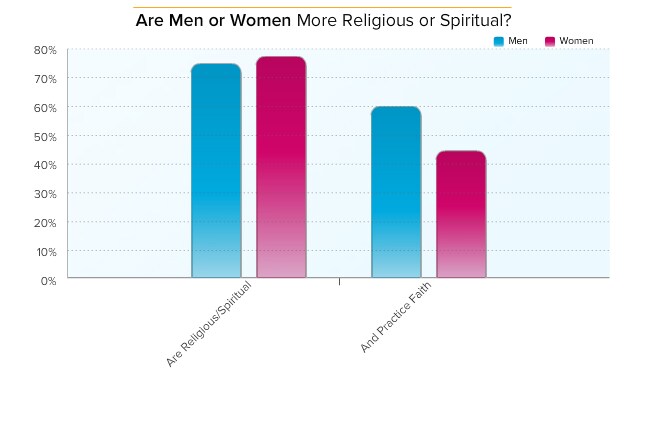 Where Do Physicians Lean on the Political Spectrum?
Male and female physicians show different political leanings, and their responses have changed since the 2012 Medscape Survey. This year, 62% of women and 56% of men claimed to be socially liberal compared with 67% of women and 59% of men in 2012. In the current survey, 58% of women and 70% of men say they are fiscal conservatives compared with 69% of women and 77% of men 2 years ago — a considerable decrease, particularly among women.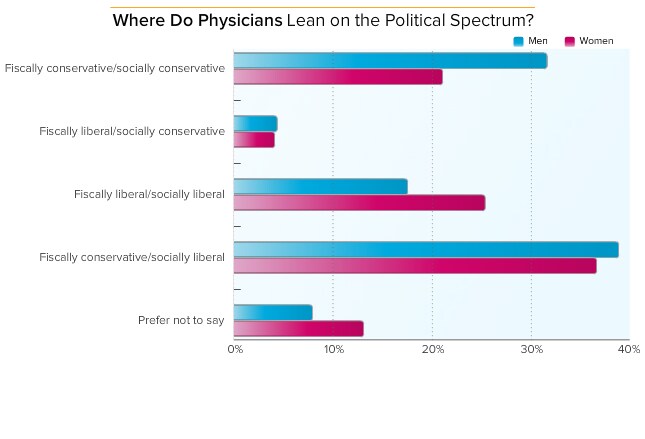 Are Physicians Likely to Marry?
The timing and duration of first marriages in the United States has changed dramatically over the past few decades, with people marrying for the first time at older ages and living longer with a partner who is not their spouse.[30] About half of all marriages end in divorce. According to CDC statistics, the marriage rate has declined by 9% from 2000 to 2011 and the divorce rate has increased by 7%.[31] Physicians appear to be doing well in this area, although male physicians are more likely to be married or living with a partner (86%) than are female physicians (76%). More women are divorced (8%) or never married (11%) and living alone than men (4% and 6%, respectively).