CV Guidelines, Sex Post-MI, and Barriers to Heart Health: Docs Weigh In
Emily Berry; Tricia Ward
March 19, 2014
Introduction
Between February 11 and 17, 2014, Medscape invited primary care physicians (PCPs) and cardiologists to participate in an online survey asking for their reaction to the new cardiovascular (CV) risk calculator and cholesterol guidelines, as well as the multiple hypertension advisories. We also asked about physician/patient interactions, including comfort level discussing sex after myocardial infarction (MI). More than 230 PCPs (64% male) and 208 cardiologists (84% male) responded. Most respondents were in an office-based practice setting (61% of cardiologists and 52% of PCPs), and 21% were hospital-based.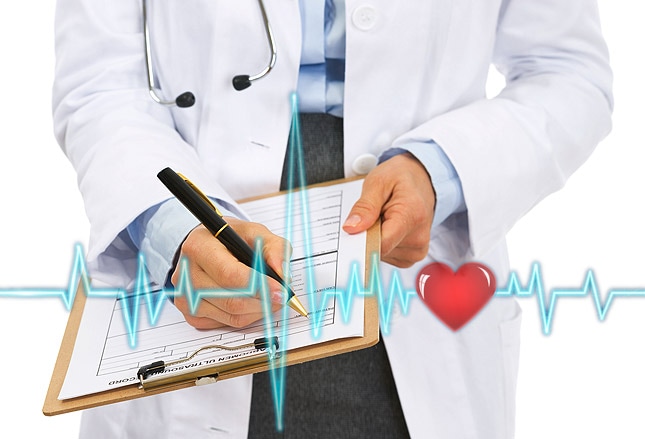 Cardiologists' Patients Higher Risk
Not surprisingly, the patients of cardiologists are a higher-risk group. Almost all cardiologists say that most of their patients are at significant risk for heart disease, compared with less than one half of PCPs. Even so, more PCPs than cardiologists (74% vs 57%) said their patients had mildly high or high cholesterol levels.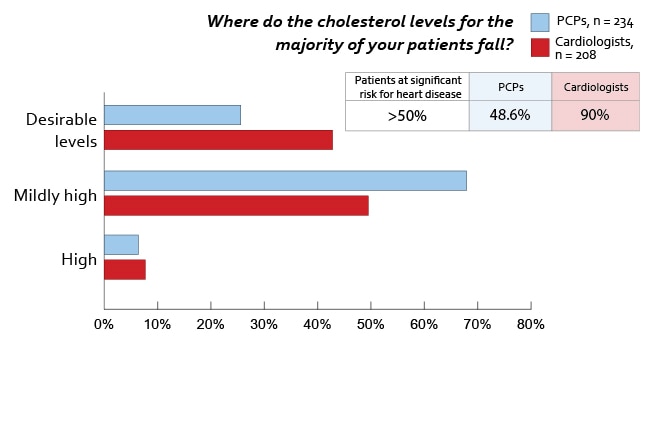 Some Heart-Healthy Advice Falling on Deaf Ears
Over the past 12 months, the vast majority of cardiologists surveyed (93%) and most PCPs (74%) had advised most of their patients to take steps to improve their heart health (not shown). However, some of this advice may have fallen on deaf ears, because 24% of cardiologists and 28% of PCPs report that more than one half of their patients did nothing.
The cardiologists appeared to be more successful than PCPs in getting their patients to make heart-healthy changes, especially in relation to improving cholesterol levels and blood pressure.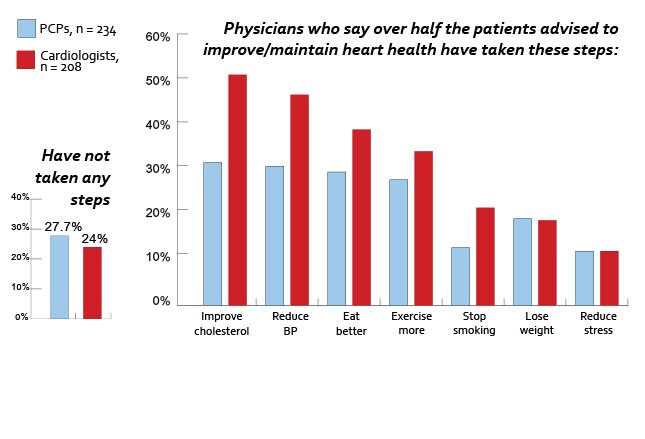 It's Not Me, It's You
What is stopping patients from achieving optimal CV health? The majority of cardiologists (88%) and PCPs (83%) surveyed laid the blame at their patients' feet, citing lack of motivation as the major barrier to them making heart healthy choices.
Cost factors were also a major concern. Pooling the costs of eating healthily or joining a gym with lack of insurance and the cost of doctors' visits, financial issues were seen as just as big a barrier to heart health as poor patient motivation.
Most respondents perceive that the major obstacles to ideal CV health for their patients are issues beyond the physician's control.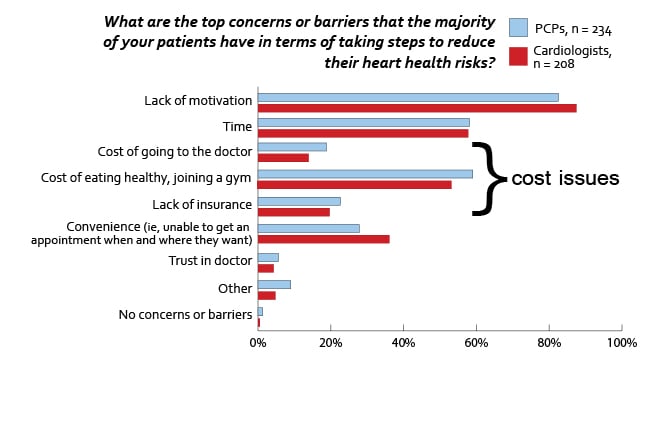 Mediterranean Diet Most Recommended
When asked what diets they recommended to patients, the Mediterranean diet was the most popular and was recommended by more than 60% of cardiologists and PCPs. Slightly more PCPs than cardiologists (47% vs 39%) recommended the Dietary Approaches to Stop Hypertension (DASH) diet. The Therapeutic Lifestyle Changes diet and a vegetarian diet were the next most popular. Few recommended stricter diets, such as the Ornish or vegan diets.
The top choice reflects the latest guidelines from the AHA/American College of Cardiology (ACC) on CV risk, which recommend a Mediterranean-style dietary pattern (rich in fruit, vegetables, whole grains, fish, olive oil, lean poultry, nuts, legumes).[1]
Do cardiologists practice what they preach? In a Medscape survey asking more than 30,000 US physicians what diets they followed, a Mediterranean-type diet was the most popular among cardiologists; however a similar percentage confessed to following a typical American diet (meat most days; carbs most days from white rice, potatoes, or white flour products; high in fat).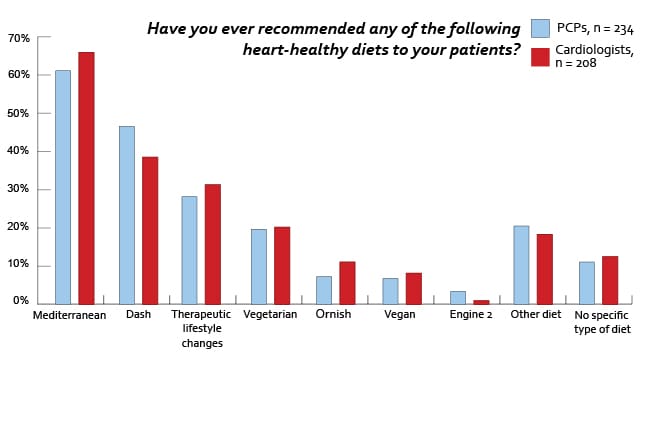 Matters of the Heart and Sex
Whereas nearly all physicians surveyed said they initiate discussions on heart health with their patients, only about one half of them would initiate a discussion on sex after MI. Both cardiologists and PCPs were split down the middle on this topic, with one half saying, "It's up to the patient" to initiate that conversation.
PCPs appeared to be slightly more comfortable than cardiologists in encouraging patients to discuss stress from personal/family issues. A State of the Art paper on psychosocial risk factors in the Journal of the American College of Cardiology Foundation[2] recommends open-ended questions to help screen for these, such as:
What kind of pressure have you been under at work or at home?
Are there any personal issues that we have not covered that you would like to share with me?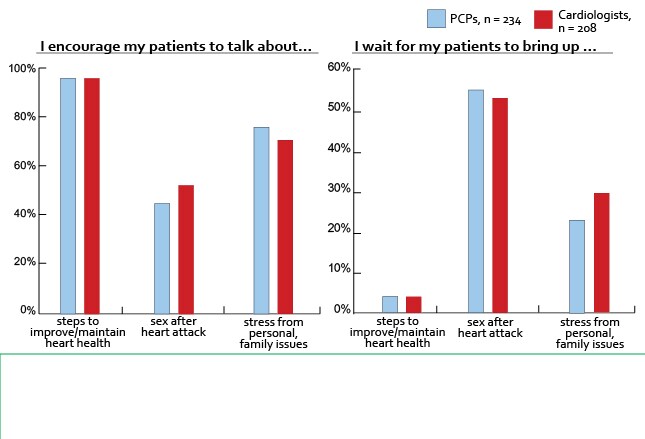 Slow to Adopt New CV Risk Calculator
The 2013 ACC/AHA Guideline on the Assessment of Cardiovascular Risk[3] marked the release of an updated CV risk calculator. The new tool was based on more diverse populations than prior calculators and estimates the risk for first atherosclerotic CVD (ASCVD) event -- defined as coronary heart disease death, or fatal or nonfatal stroke -- over a 10-year period among people initially free of ASCVD.
Before you could download the app, the critics were out in force with accusations that the algorithm overestimates risk in both US and European populations.[4,5] In the Lancet and the New York Times, Drs. Paul Ridker and Nancy Cook noted that "virtually all men older than 66 years and women older than 70 years have a calculated 10-year risk greater than 7.5%, even with optimal risk factors." This would render them candidates for statin therapy per the new cholesterol management guidelines.
Over 40% of cardiologists and PCPs surveyed were familiar with the new CV risk calculator but are not using it. Approximately one third are using it on some of their patients, and 16% say they use it on all their patients.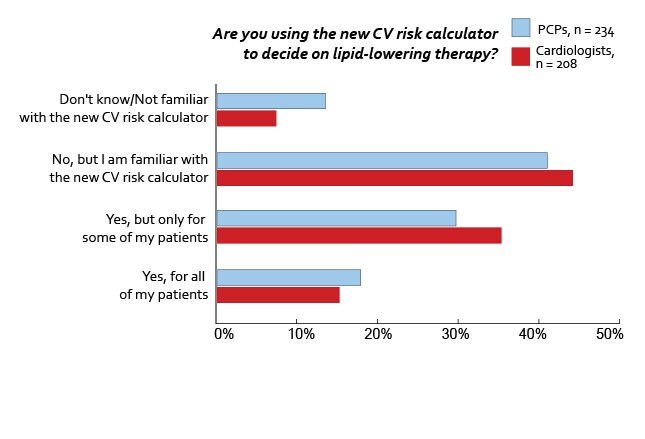 Cholesterol Guidelines Met With Confusion and Inertia
In November 2013, new guidelines on cholesterol management abandoned specific low-density lipoprotein cholesterol (LDL-C) or non-high-density lipoprotein cholesterol targets for the primary and secondary prevention of ASCVD.[6]
Almost one half of the cardiology respondents report that they have changed practice because of the new guidelines, with 21% prescribing high-potency statins and not treating to target LDL-C (vs 26% of PCPs) and another 27% prescribing statins to more primary prevention patients (vs 18% of PCPs).
Just over 20% of cardiologist responders say they are uncertain how to implement the new cholesterol guidelines. PCPs seemed a little more confident, with only 14% admitting to uncertainty.
Given the amount of confusion and the fact that 43% of PCPs and 31% of cardiologists surveyed have not changed practice at all, it appears that more outreach and education are needed before these guidelines will take hold.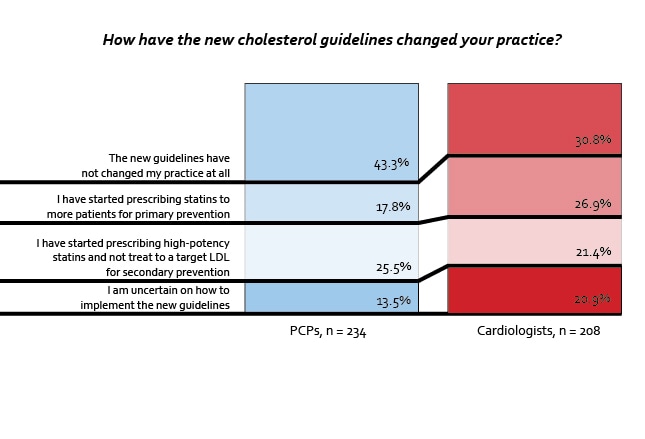 Keeping Patients in the Know
Over one third of cardiologists had discussed the new cholesterol guidelines with most of their patients, and almost one half had discussed them with a few patients. PCPs were slightly less likely to have had such discussions. More than 90% of these physician/patient interactions on the cholesterol guidelines were initiated by physicians (not shown).
As more information emerges on the appropriate integration of the new recommendations into patient management, clinicians may be more likely to have these conversations.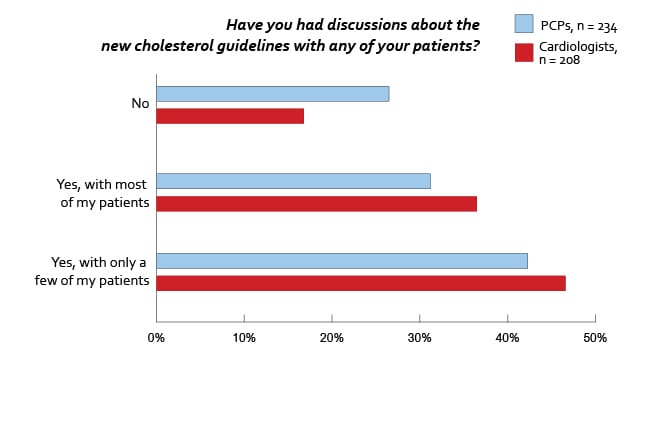 Hypertension Advisories Confuse
In December 2013, the eighth Joint National Commission (JNC 8) on hypertension published guidelines in JAMA.[7] Shortly thereafter, the American Society of Hypertension (ASH) and International Society of Hypertension (ISH) published their own recommendations.[8] There are some discrepancies between the two, most notably the age group in which to initiate therapy when blood pressure is ≥ 150/90 mm Hg:
≥ 80 years or older, per ASH/ISH, or
≥ 60 years in JNC 8.
It is therefore not surprising that only 27% of the cardiologists surveyed say they will follow one of the new guidelines (vs 36% of PCPs). Just over 30% of cardiology respondents say they will continue to treat according to clinical judgment (vs 24% of PCPs), and a stubborn 14% are sticking with JNC 7, as are 21% of PCPs.
Will the forthcoming ACC/AHA guideline on hypertension clarify matters? Almost 29% of cardiologists and 19% of PCPs surveyed are awaiting these guidelines. AHA President Dr. Mariell Jessup told heartwire that they "will be out at the end of 2014 or early 2015."