New Gout Management Guidelines: A Quick and Easy Guide
Bret S. Stetka, MD; Jonathan Kay, MD
Contributor Information
November 19, 2012
New Gout Management Guidelines: A Quick and Easy Guide
For the first time since its founding 78 years ago, the American College of Rheumatology (ACR) has released guidelines for the management of gout. The recommendations were released in 2 parts.[1,2] Part 1 addresses nonpharmacologic and pharmacologic treatment approaches to hyperuricemia, including detailed dietary measures, and part 2 advises on therapy and anti-inflammatory prophylaxis of acute gouty arthritis. To help integrate the new recommendations into your clinical practice, we've highlighted and summarized the primary management suggestions put forth by the ACR task force panel (TFP).
Photo courtesy of Wikipedia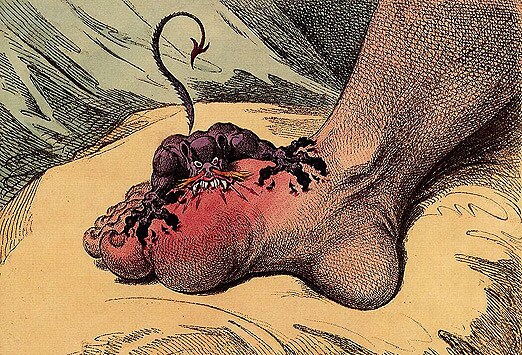 Clinical Evaluation
When evaluating a patient for gout, the ACR TFP recommends a thorough history and physical examination, gauging the frequency and severity of attacks, and assessing for signs such as tophi and synovitis.
Photo courtesy of Wikipedia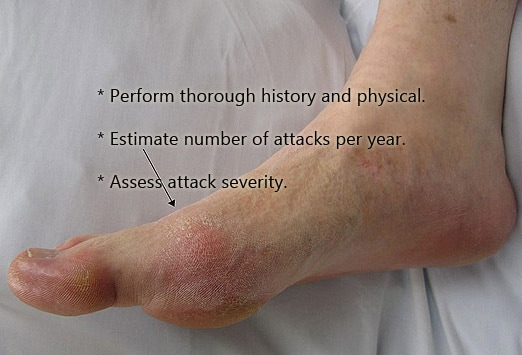 Nonpharmacologic Management in Established Gout
The TFP recommends a number of nonpharmacologic interventions aimed at lessening attack risk, lowering urate levels, and promoting general health while preventing the development of comorbidities. Dietary recommendations are divided into 3 groups: Foods to avoid are organ meats (ie, sweetbreads, liver), foods containing high-fructose corn syrup, and excessive alcohol use*; foods to limit are large portions or concentrations of meat and seafood, naturally sweet fruit juices, sugar, desserts, and salt; and foods that are encouraged include low-fat or nonfat dairy and vegetables. Weight loss in those who are overweight, smoking cessation, and exercise are also recommended as general lifestyle health considerations in patients with gout.
*In advanced gout or during periods of high disease activity, all alcohol should be avoided.
Photo courtesy of Thinkstock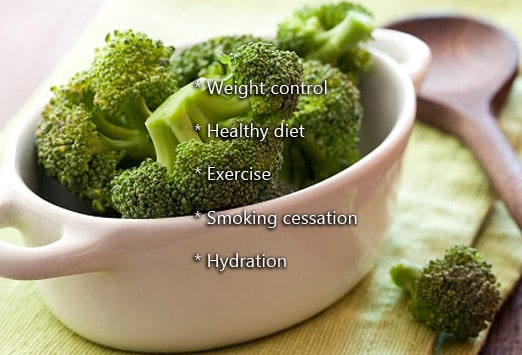 Pharmacologic Management
In patients with a potential diagnosis of gout, a number of initial steps should be taken. These include patient education, considering other causes of hyperuricemia, eliminating nonessential prescription medications associated with hyperuricemia, and evaluating the disease burden to determine the appropriate course of treatment. Management of acute attacks will be discussed later; however, urate-lowering therapy (ULT) should be considered in patients with 1 or more tophi, ≥2 attacks per year, chronic kidney disease (CKD; stage 2 or worse), or a history of urolithiasis. The TFP recommends initiating ULT with either allopurinol or febuxostat; probenecid is recommended as an alternative first-line agent when either allopurinol or febuxostat is contraindicated, or when a patient has demonstrated intolerance to at least one of the agents. ULT can be started during an acute gout attack; the serum urate level should be monitored every 2-5 weeks during ULT titration and every 6 months after the target serum level (<6 mg/dL) has been reached.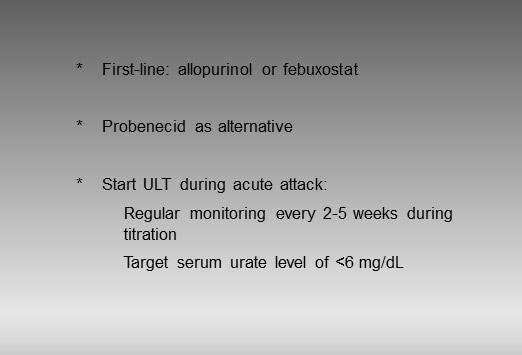 Allopurinol Dosing
Starting allopurinol dose should not exceed 100 mg/day, and patients with CKD of stage 4 or higher should be started at 50 mg/day. Dosages should be titrated up every 2-5 weeks to achieve target serum uric acid and can go above 300 mg/day as long as the patient is educated and monitored for adverse events. Screening for the HLA-B*5801 allele, which is associated with a high risk for severe allopurinol hypersensitivity reaction, should be considered in high-risk individuals, such as Koreans with an estimated glomerular filtration rate <60 mL/min/1.73 m2 or those of Han Chinese or Thai ancestry.
Photo courtesy of First Data Bank
Uricosuric Therapy
When using a uricosuric as ULT monotherapy, the ACR TFP recommends probenecid. First-line use of probenecid is contraindicated in patients with a history of urolithiasis.
Photo courtesy of First Data Bank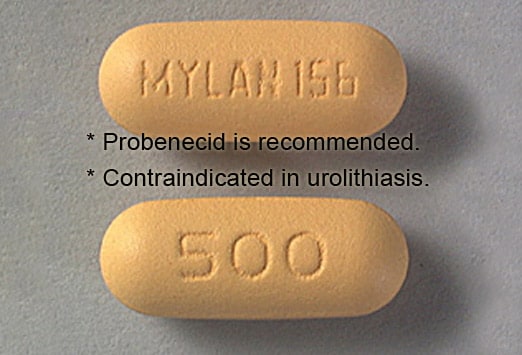 When Symptoms (and Urate) Won't Go Away: Case Scenarios
All patients with gout who experience intermittent symptoms or have chronic synovitis due to gout with tophi (chronic tophaceous gouty arthritis [CTGA]) should be treated initially with single-agent XOI titrated to its maximum appropriate dose. If the serum uric target is not achieved or if the patient experiences continuing disease activity, a uricosuric agent should be added to the XOI, with both agents titrated to their maximum appropriate doses. Pegloticase therapy may be initiated, if the serum uric target still is not achieved or if disease activity continues, in those with >7 attacks/year and no tophi, those with ≥2 attacks/year and tophi on physical examination, or those with CTGA.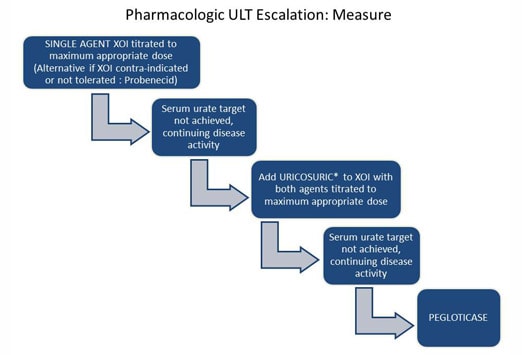 Treating an Acute Attack
The ACR TFP recommends that an acute gout attack be treated pharmacologically within 24 hours of the onset of symptoms and that any existing ULT be continued without disruption. In mild-to-moderate disease (≤6 of 10 on a 0-10 pain visual analogue scale), monotherapy with NSAIDs, systemic corticosteroids, or oral colchicine is recommended. In more severe disease, characterized by intense pain and often a polyarticular presentation, combination therapy is suggested (colchicine and NSAIDs, oral corticosteroids and colchicine, or intra-articular steroids with each of the other options). Determining which pharmacologic agent is best for a patient has been left to the treating physician's discretion.
Photo courtesy of Wikipedia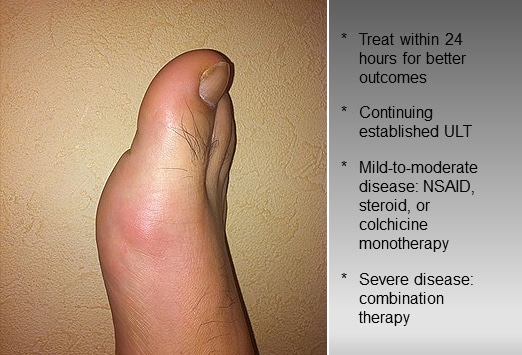 Choosing an NSAID
Full doses of FDA- or European Medicines Agency-approved NSAIDs are recommended to treat an acute attack of gout. Naproxen, indomethacin, and sulindac are FDA-approved for acute gout; however, other NSAIDs may be effective. Data also support the efficacy of COX-2 inhibitors; the TFP also recommends celecoxib (an initial dose of 800 mg, followed by 400 mg on day 1, and then dosed at 400 mg twice daily for 1 week) for acute disease in patients intolerant to or with contraindications to other NSAIDs.
Photo courtesy of Wikipedia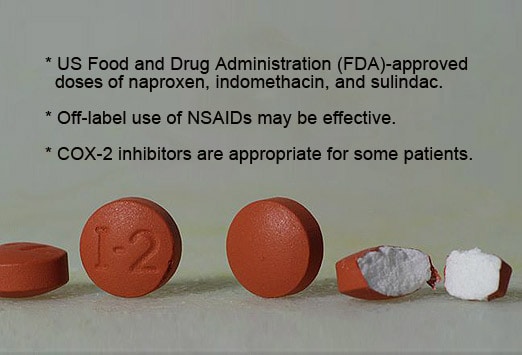 Colchicine
Colchicine is a recommended option in acute gout if the attack began within the past 36 hours. Recommended treatment consists of a loading dose of 1.2 mg of colchicine followed by 0.6 mg 1 hour later. This can then be followed, 12 hours later, by prophylactic colchicine dosing 0.6 mg once or twice daily that may be continued until the gout attack resolves. In countries where 1.0-mg or 0.5-mg tablets of colchicine are available, instead of 0.6-mg tablets, recommended treatment consists of a loading dose of 1.0 mg of colchicine followed by 0.5 mg 1 hour later. This can then be followed, 12 hours later, by prophylactic colchicine dosing 0.5 mg up to 3 times daily that may be continued until the gout attack resolves.
Photo courtesy of Evelyn Simak/Wikipedia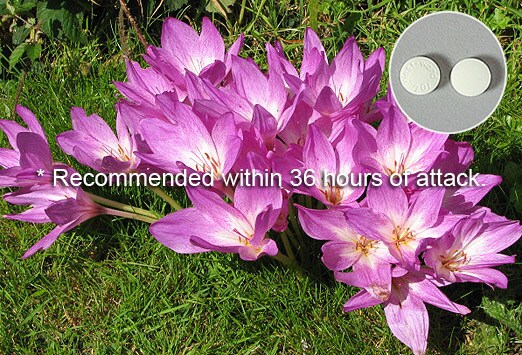 Starting Steroids
For an acute gout attack involving 1-2 joints, the ACR TFP recommends treating with oral corticosteroids; use of intra-articular corticosteroids is recommended when 1-2 large joints are involved. The decision to use intra-articular dosing should be based upon joint size. Intra-articular corticosteroids can be used in combination with NSAIDs, colchicine, or oral corticosteroids. Recommended oral corticosteroids include prednisone and prednisolone at a dose of 0.5 mg/kg/day for 5-10 days, or for 2-5 days at this full dose, followed by a 7- to 10-day taper and then discontinuation. An alternative approved approach is the administration of a single intramuscular dose of triamcinolone acetonide 60 mg, which may be followed by oral prednisone or prednisolone. Intramuscular triamcinolone acetonide is most useful when treating patients who are to take nothing by mouth or those who may be less compliant with a multidose oral treatment regimen.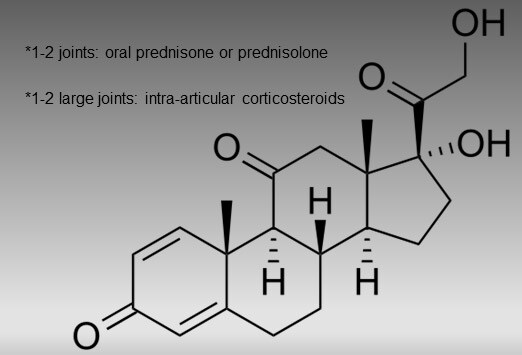 Inadequate Response to Initial Therapy
If a patient with acute gout does not experience at least 20% improvement in pain within 24 hours or at least 50% improvement in pain after 24 hours or more of pharmacologic therapy, an alternative diagnosis should be considered. If the diagnosis of gout is confirmed, the patient should be switched to another monotherapy or a second agent should be added. Because there are no randomized studies of anakinra treatment of gout and because canakinumab is not FDA-approved, the role of interleukin-1 inhibitor therapy for acute gout remains uncertain.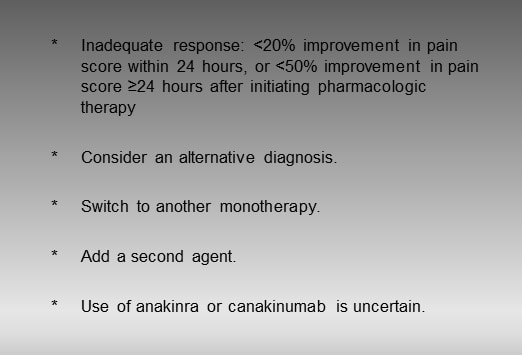 Considerations in the Setting of Comorbidities
Acute gout therapy may be associated with many potential drug-drug interactions and toxicities in the setting of comorbidities, which clinicians should consider carefully.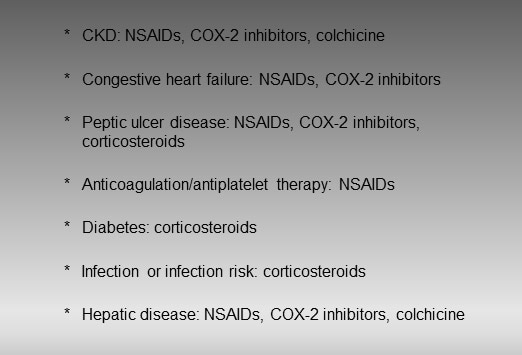 Anti-inflammatory Prophylaxis
Given the high rate of gout attacks early in ULT, pharmacologic anti-inflammatory prophylaxis with oral colchicine or low-dose NSAIDs is recommended when initiating therapy. Colchicine should be dosed modestly at 0.5-0.6 mg 1-2 times/day. In patients who are intolerant to or who have a contraindication to these agents, the ACR TFP endorses low-dose prednisone or prednisolone (≤10 mg/day); however, the TFP encourages carefully evaluating the need for such therapy given the risks of prolonged steroid use. Prophylaxis should be continued for 6 months after initiating ULT. In patients without tophi present on physical examination, prophylaxis may be stopped 3 months after achieving the target serum urate level. In patients where tophi had been present but resolved, prophylaxis should be continued for 6 months after achieving the target serum urate level. In all cases, prophylaxis should be continued while any signs of gout activity remain.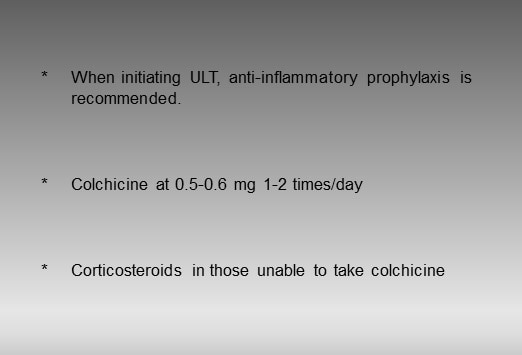 Summary
In summary, the major recommendations of the ACR TFP include patient education, pharmacologic treatment to lower serum uric acid to <6 mg/dL, prompt pharmacologic treatment of acute gouty arthritis, and pharmacologic prophylaxis against gout attacks when ULT is initiated.