2012 Ob/Gyn & Women's Health Game Changers
This year marked the release of several important guidelines in obstetrics/gynecology and women's health. Updates to guidance on preventive screenings, menopausal symptom management, pregnancy-related risks, and reproductive medicine protocols were issued by major medical organizations. Peter Kovacs highlights what he considers to be some of the top game changers in 2012 that have the potential to influence or change your practice.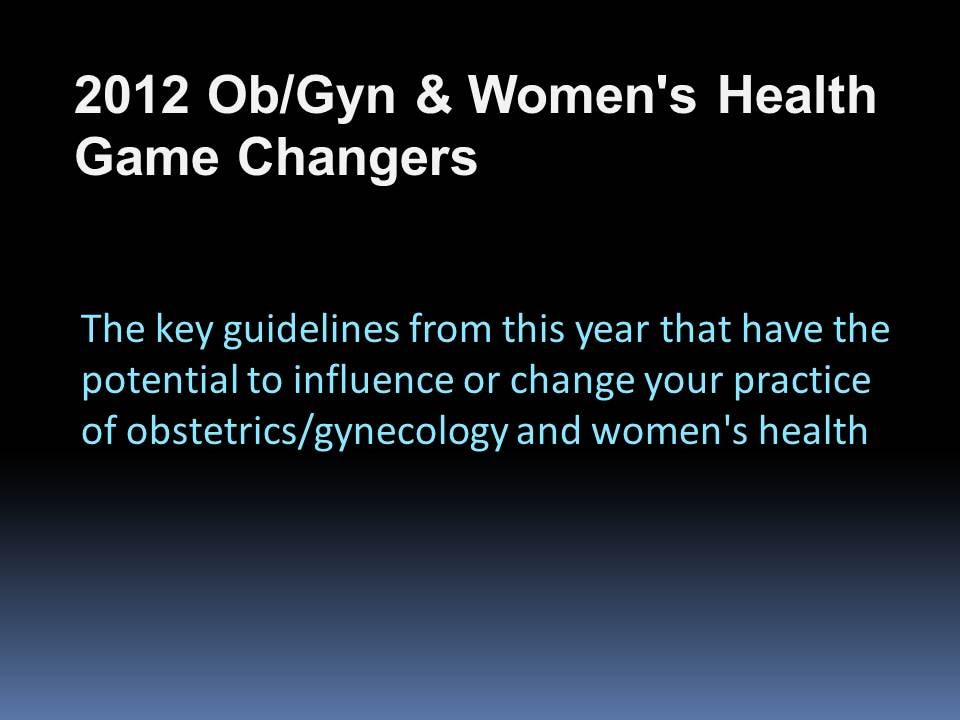 NAMS Position Statement Emphasizes Individual Risk/Benefit Assessment
Why It's Important in Ob/Gyn: Findings of large randomized controlled trials have led to a significant reduction in hormone therapy (HT) use. The Women's Health Initiative study[1] was followed by multiple other trials and reanalysis of the data modified the initial findings. It is now obvious that HT is the most effective treatment for certain menopausal symptoms and, when started soon after menopause, is not associated with increased cardiovascular risk. Therefore, the North American Menopause Society (NAMS) regularly updates its practice guidelines to reflect the latest data.[2] This guidance should help healthcare providers prescribe HT for symptomatic menopausal women without the fear of inducing negative health effects.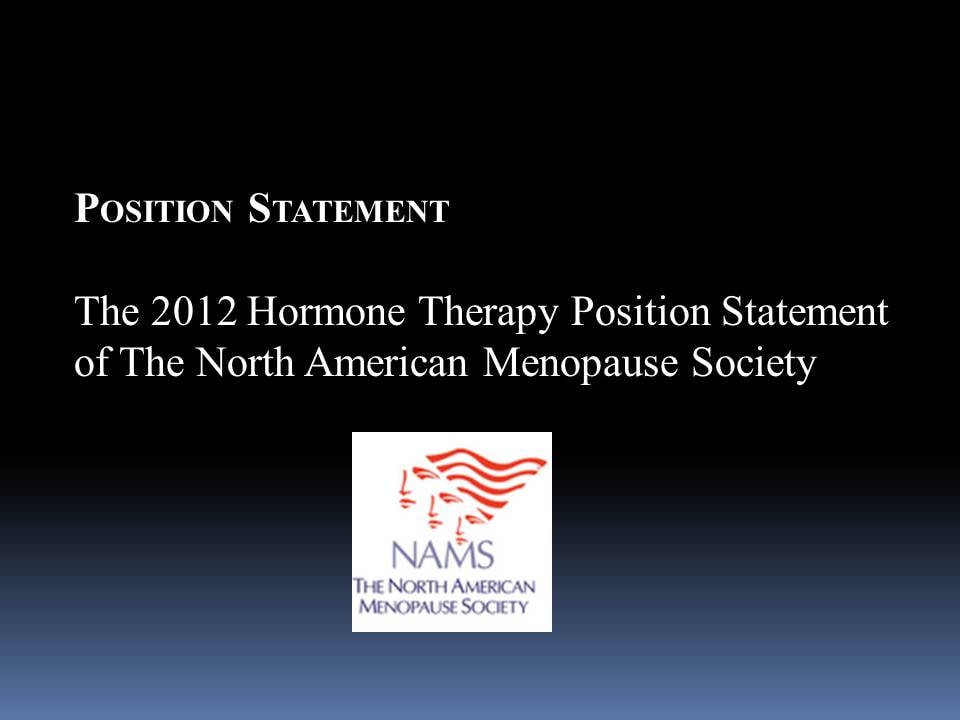 Risks and Benefits: The Timing Hypothesis
What appeared to be controversial at first look is no longer contradictory when the data are analyzed further.[3-5] Studies now support the "timing hypothesis." This suggests that if initiated early during menopause, HT has a positive effect on healthy blood vessels and may be associated with clinical benefits. When initiated at a later age, when atherosclerosis is already present, estrogen might accelerate plaque growth, leading to plaque rupture and therefore increasing risk for coronary artery disease.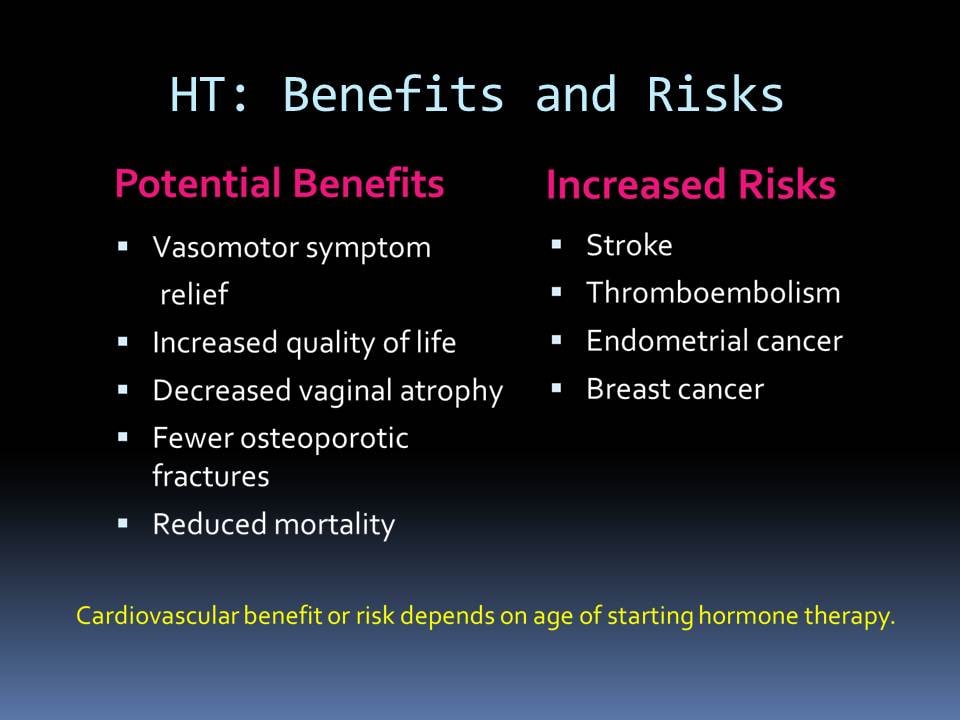 Single-Embryo Transfer Guidance From SART and ASRM
Why It's Important in Ob/Gyn: In April, the Society for Assisted Reproductive Technology (SART) and the American Society for Reproductive Medicine (ASRM) issued new guidance on single-embryo transfer (SET).[6]
The use of assisted reproductive technology has increased the incidence of multiple pregnancies, which are associated with significant maternal and neonatal risks. In well-selected cases, elective SET during in vitro fertilization can still maintain high pregnancy rates and minimize multiple pregnancy rates. SART and ASRM now support the use of SET in properly selected cases.
An ongoing problem with the use of SET is that effective tools to identify the embryo with the highest implantation potential are lacking.
Embryo Screening Methods[7]
One of the biggest challenges in the past has been to find a tool that could help with embryo selection and therefore the identification of the best single embryo for transfer. Some of these technologies are already available, and others are in advanced stages of development. Hopefully, they will prove to be useful in the embryo selection process so that SET can be offered to most couples without compromising their chances of successful pregnancy.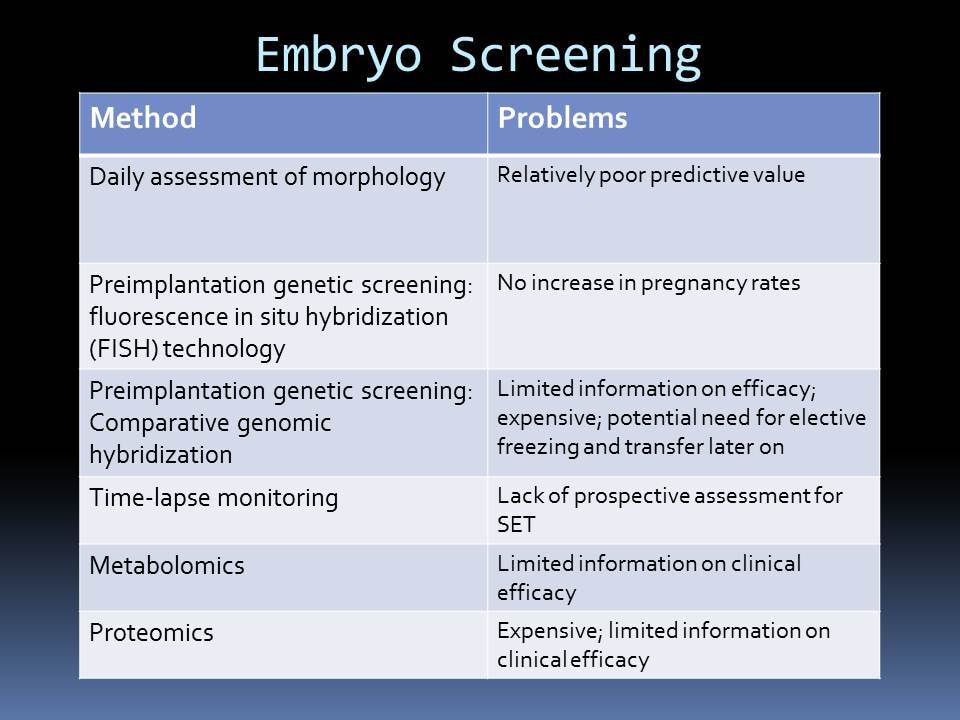 Cervical Cancer Screening: Update From the American College of Obstetricians and Gynecologists
Why It's Important in Ob/Gyn: Because most cancers occur in unscreened women, even wider availability of or improved access to proper screening is required. Effective screening tools are available for only a few cancers, one of which is cervical cancer. When used properly, screening is associated with a significant reduction in incidence, morbidity, and mortality. However, when overused, cervical cancer screening can lead to unnecessary interventions. Therefore, adherence to these age- and history-based recommendations is important.[8]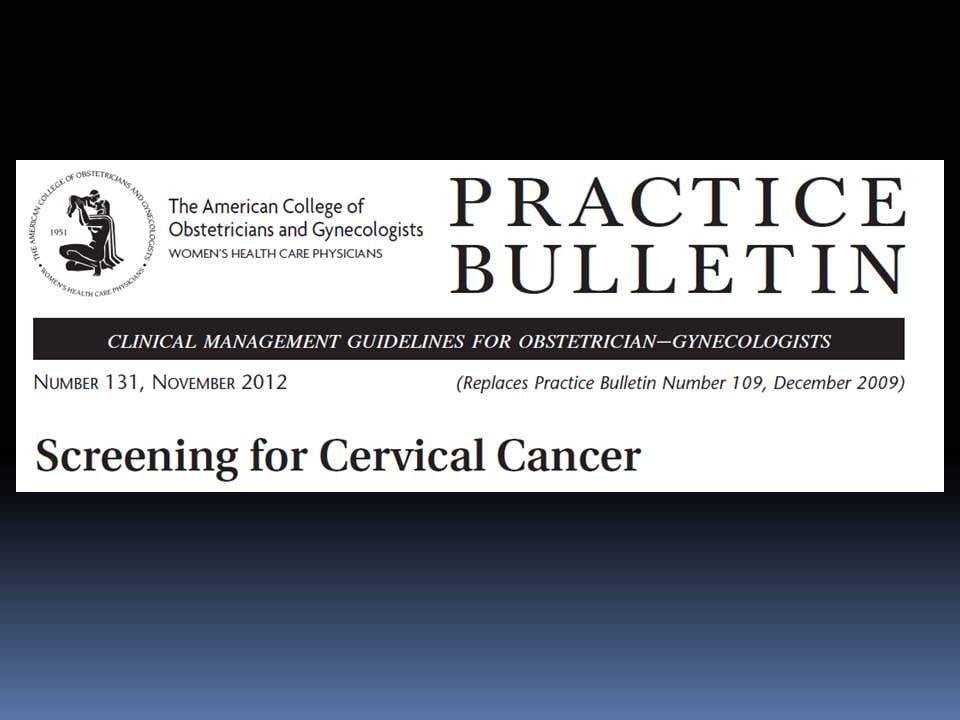 Special Actions
In addition, women aged 21-65 years who are immunocompromised or HIV-positive and those with a history of cervical intraepithelial neoplasia (CIN) grade II/III should have more frequent screening. After age 65 years, routine screening should be continued only if there is a history of CIN II/III within 20 years.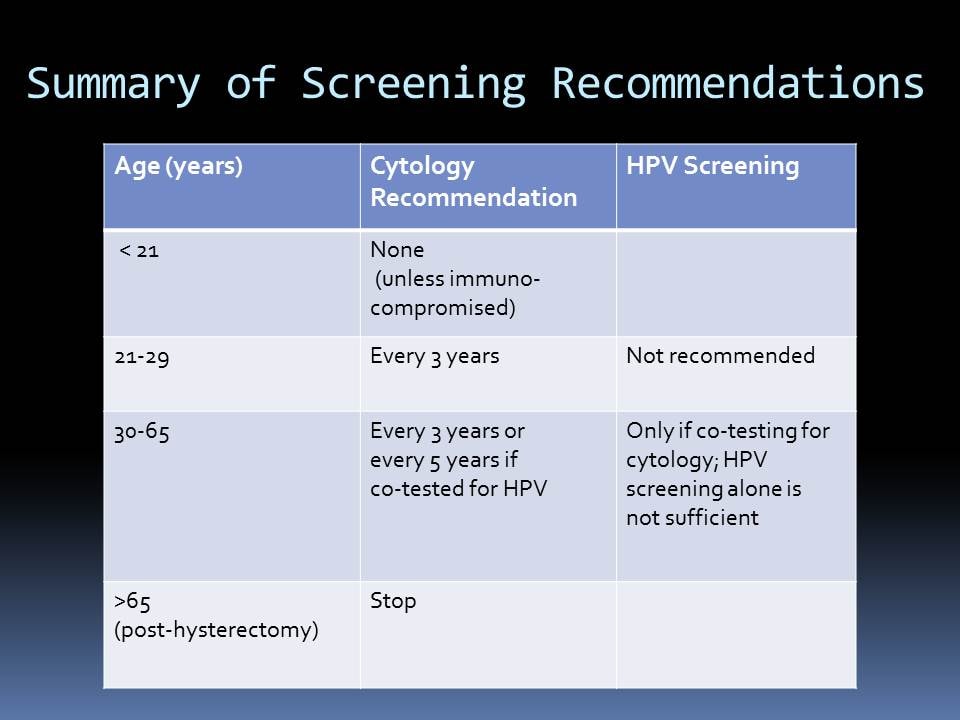 Mature Oocyte Cryopreservation: No Longer Experimental
Why It's Important in Ob/Gyn: Recent improvements in cryopreservation technology have led to the development of highly effective oocyte cryopreservation protocols. With their latest recommendation, ASRM and SART have removed the "experimental" label from oocyte cryopreservation.[9] Now, even more widespread clinical application can be expected, especially in cases when other solutions do not exist for fertility preservation.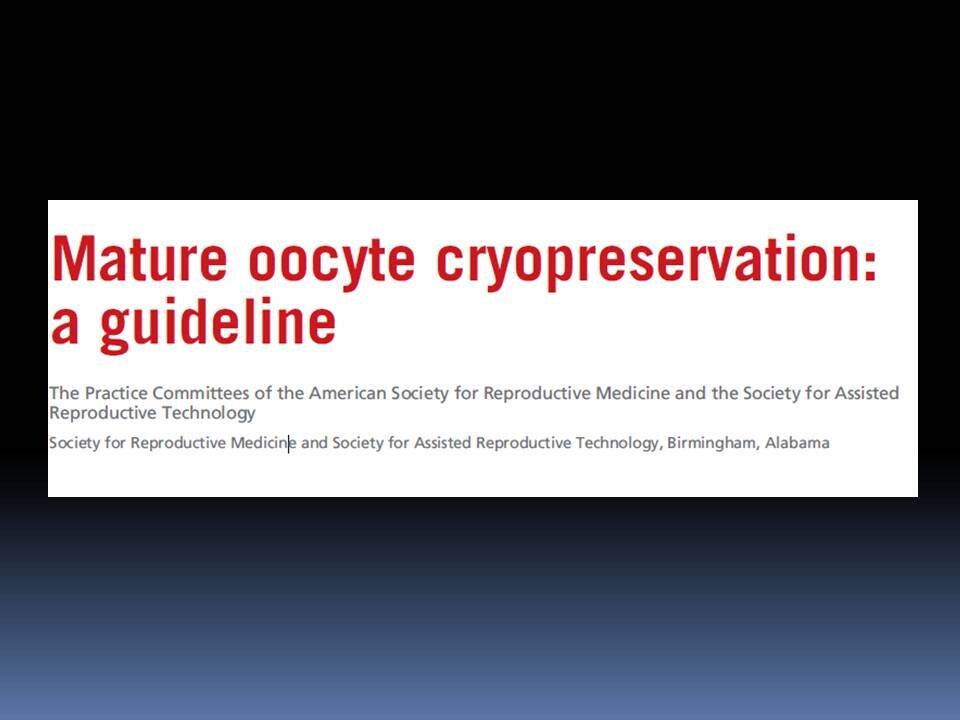 The Important Role of Oocyte Cryopreservation in Assisted Reproduction
The most widely accepted indication for oocyte preservation is before gonadotoxic therapy in a patient with cancer. Oophorectomy at a young age (eg, BRCA mutation) is another accepted indication.
In rare cases, the male partner may be unable to produce sperm on the day of oocyte retrieval, or the sperm quality may be sufficiently poor that fertilization is not possible. Oocyte cryopreservation is an alternative to cycle cancellation.
Some couples object to embryo freezing, but not to egg cryopreservation.
More women are choosing to defer reproduction. Waiting until one's late 30s or early 40s significantly lowers the success rate. Elective cryopreservation of eggs at a younger age for later use may offer a solution.