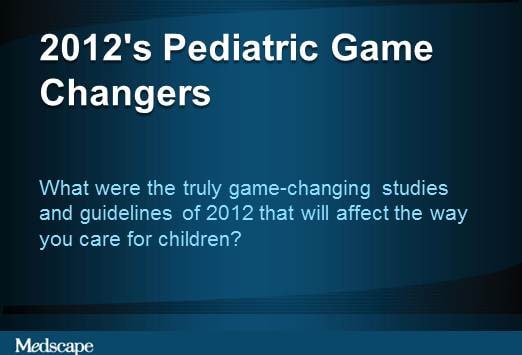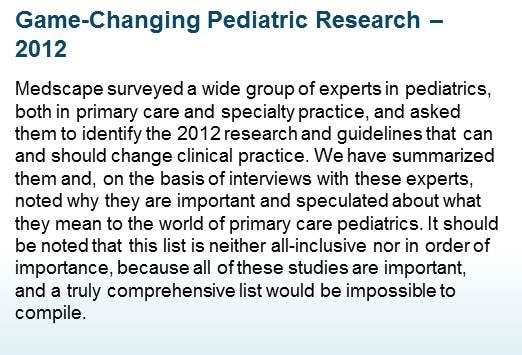 The Game Changer:
Chow AW, Benninger MS, Brook I, et al; Infectious Diseases Society of America. IDSA clinical practice guideline for acute bacterial rhinosinusitis in children and adults. Clin Infect Dis. 2012;54:e72-e112
Why Is This a Game Changer?
In reviewing this guideline, Russell Steele, MD, Division Head of Pediatric Infectious Diseases at Ochsner Medical Center for Children in New Orleans reminds clinicians that guidelines are meant to be a skeletal framework to help make clinical decisions. They are not intended to represent standards of care, and differences of opinion are healthy. This is apparent, as the expert panel repeatedly emphasized that the quality of evidence underpinning their recommendations is often of low quality even though the recommendations may be strong.
There are some surprises in this document, the major one being the recommendation for amoxicillin/clavulanate rather than amoxicillin as empiric antimicrobial therapy. The earlier guidelines on treatment of acute otitis media and pneumonia in children both recommended amoxicillin. The primary reason for the sinusitis recommendation is that placebo-controlled studies of amoxicillin/clavulanate have been undertaken and published, but similar studies have not been done of amoxicillin. Nonetheless, many infectious disease specialists, including Dr. Steele, continue to recommend amoxicillin.
Another surprise is the recommendation for levofloxacin in children who are allergic to penicillin. Although he agrees with this one, Dr. Steele doubted that many pediatric providers would be comfortable with prescribing a quinolone.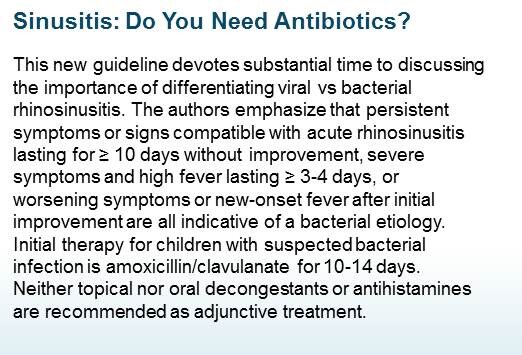 The Game Changer:
Saslow D, Solomon D, Lawson HW, et al; ACS-ASCCP-ASCP Cervical Cancer Guideline Committee. American Cancer Society, American Society for Colposcopy and Cervical Pathology, and American Society for Clinical Pathology screening guidelines for the prevention and early detection of cervical cancer. CA Cancer J Clin. 2012;62:147-172
Why Is This a Game Changer?
In a commentary on Medscape, Cora Breuner, MD, Professor in Adolescent Medicine at the University of Washington in Seattle and a member of the American Academy of Pediatrics (AAP) Committee on Adolescence, noted that these new guidelines would result in a huge change in the care of teenage girls by bringing clarity to the question of when cervical cancer screening should be done. This recommendation applies despite multiple sexual partners or early initiation of sexual activity. Only immunocompromised women or those with preexisting cervical cancer -- an exceedingly rare occurrence -- require screening before 21 years of age. In addition, whereas Papanicolaou (Pap) smear screening should be initiated at age 21 years and repeated every 3 years, human papillomavirus (HPV) screening is not needed until the age of 30 years.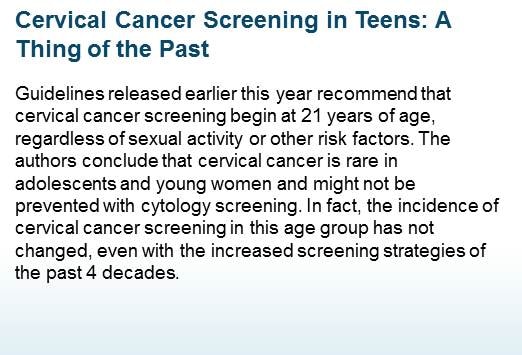 The Game Changer:
Polin RA; Committee on Fetus and Newborn. Management of neonates with suspected or proven early-onset bacterial sepsis. Pediatrics. 2012;129:1006-1015
Why Is This a Game Changer?
Praveen Kumar, MD, Professor in Pediatrics and Neonatology at Northwestern University Feinberg School of Medicine in Chicago and a member of the AAP Committee on Fetus and Newborn, emphasizes that signs and symptoms of sepsis are subtle and nonspecific and recognition presents a significant clinical challenge. Diagnostic evaluation has often varied by institution.
The AAP report assists clinicians in making these important decisions by providing clear direction regarding evaluation, including algorithms for the evaluation of infants both before and after 37 weeks' gestation, and with and without risk factors, including maternal chorioamnionitis. (In a subsequent letter to Pediatrics, the authors indicated that revised algorithms are currently being developed) Management strategies, including infants for whom observation is appropriate, are well described. The report in totality provides important guidance on not only initial management but also follow-up evaluation, early intervention services, and therapies that are essential to ensuring the best long-term outcome for these infants.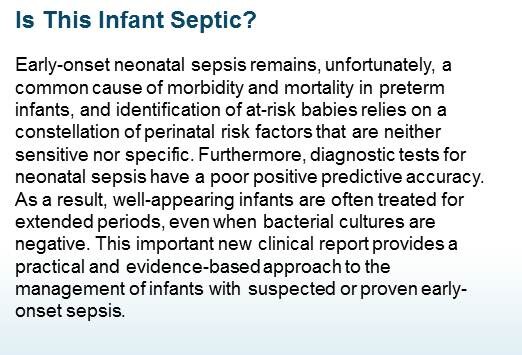 The Game Changer:
May AL, Kuklina EV, Yoon PW. Prevalence of cardiovascular disease risk factors among US adolescents, 1999-2008. Pediatrics. 2012;129:1035-1041
Why Is This a Game Changer?
Joseph Skelton, MD, Director of the Obesity Treatment and Research Center at Brenner Children's Hospital in Winston-Salem, North Carolina, professed himself "shocked" by the findings. The rate of obesity averaged 16%-18% over the study period, plateauing somewhat, yet the prevalence of CVD risk factors rose exponentially over the same period. For example, the prevalence of prediabetes or diabetes more than doubled across the whole population and was not limited to just overweight children: Over one third of normal-weight kids had at least 1 CVD risk factor. These data send a message that cardiovascular risk is not limited to only overweight and obese kids, and healthy lifestyle discussions about diet and exercise must be part of family education for all children.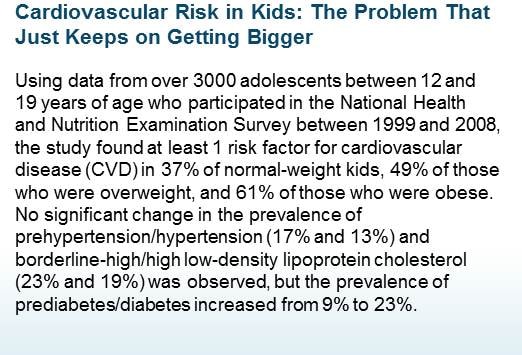 The Game Changer:
Thangaratinam S, Brown K, Zamora J, Khan KS, Ewer AK. Pulse oximetry screening for critical congenital heart defects in asymptomatic newborn babies: a systematic review and meta- analysis. Lancet. 2012;379:2459-2464.
Why Is This a Game Changer?
In a commentary on Medscape, William Basco, MD, Professor of Pediatrics and Director of the Division of General Pediatrics at The Medical University of South Carolina, Charleston, pointed out that the false-positive rate of 0.14% found in this analysis suggests that no individual center would have to do many additional echocardiographies for false-positive screens. To illustrate, a hospital with 3000 newborn births per year could anticipate referring, on average, 4 "false-positive" children for cardiology evaluations annually -- a number that could be reduced to only 1 false-positive per year if the screenings are done after 24 hours. The current emphasis on discharging infants at or before 24 hours of age could pose difficulties in instituting pulse oximetry screening programs, but postdischarge screening with pulse oximetry by home visiting nurses could address this issue.
The AAP endorsed universal newborn screening with pulse oximetry in January 2012 and stated that screening should be performed after 24 hours of age if at all possible and should include readings from both the right hand and either foot.[1] They recommend a "pass" oxygen saturation level of 95%, repeat screens for children with oxygen saturations of 90%-95%, and immediate evaluation in infants whose pulse oximetry readings are less than 90%.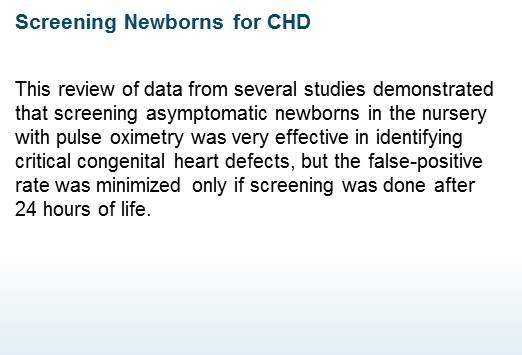 The Game Changers:
American Academy of Pediatrics Task Force on Circumcision. Circumcision policy statement. Pediatrics. 2012;130:585-586
American Academy of Pediatrics Task Force on Circumcision. Male circumcision. Pediatrics. 2012;130:e756-e785
Why Is This a Game Changer?
Pediatricians have always been strong advocates of preventive care, and The Red Book: 2012 Report of the Committee on Infectious Diseases, published by AAP, has emphasized this aspect of patient care. Russell Steele, MD, Division Head of Pediatric Infectious Diseases at Ochsner Medical Center for Children in New Orleans, reviewed this policy statement and technical report for Medscape. He noted that according to the expert committee, sufficient evidence supported a conclusion that routine circumcision reduced the incidence of urinary tract infections, both during infancy and later in life; AIDS; and HPV infection. He argued that although each of these benefits individually may not justify a recommendation for routine circumcision, in aggregate they support the conclusion that this preventive intervention would significantly reduce overall costs of medicine in the United States. "It is unfortunate that our country's medical insurance programs have not adequately appreciated the financial and quality-of-life value of preventive care. The availability of safe and effective vaccines should have taught this lesson. The science has been published. Now we need the help of public and private payers to cover the cost."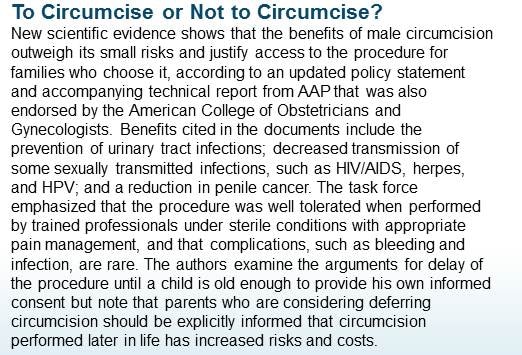 The Game Changer:
Manzoni P, Benjamin DK, Franco C, et al. Echinocandins for the nursery: an update. Curr Drug Metab. 2012 Aug 24. [Epub ahead of print].
Why Is This a Game Changer?
Paolo Manzoni, MD, coordinator and chairman of the Collaborative Network on Neonatal Fungal Infection of the Society of Neonatal Infectious Diseases and faculty in the Division of Neonatology at Sant'Anna Hospital in Torino, Italy, served as lead author of the update. He points to a game-changing quantitative review of randomized trials of almost 2000 patients published earlier this year as evidence of the importance of echinocandins in the treatment of invasive fungal disease, noting that their use is associated with improved clinical success and survival.[2] This important review should serve as inspiration for similar studies in neonatal settings, and the conclusion should change practice among all those who care about infections in pediatric patient. Prevention of candidal infections in neonates continues to be essential.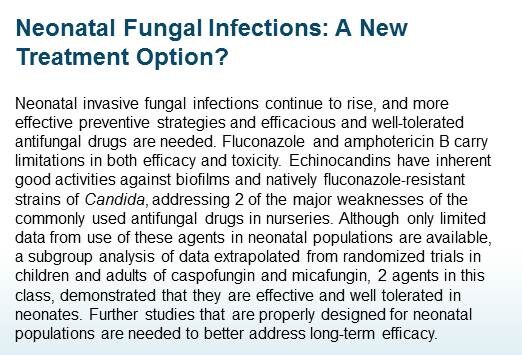 The Game Changer:
Kelly HW, Sternberg AL, Lescher R, et al; CAMP Research Group. Effect of inhaled glucocorticoids in childhood on adult height. N Engl J Med. 2012;367:904-912
Why Is This a Game Changer?
William Basco, MD, Professor of Pediatrics and Director of the Division of General Pediatrics at The Medical University of South Carolina, Charleston, calls this study his game changer of the year because it challenges pediatric providers' long-standing assumptions that even if inhaled steroids affect growth in the short term, long-term growth should be better in the child whose asthma is well controlled by inhaled steroids throughout the growing years compared with the child experiencing poorly controlled asthma during that same period. However, the results of this longitudinal study showed that prepubertal children treated with inhaled corticosteroids had a lower mean adult height. Among children who had entered puberty, however, there was no appreciable effect on adult height. Although it is undoubtedly better for these patients to have better-controlled asthma, it seems that the use of inhaled steroids comes at a real cost.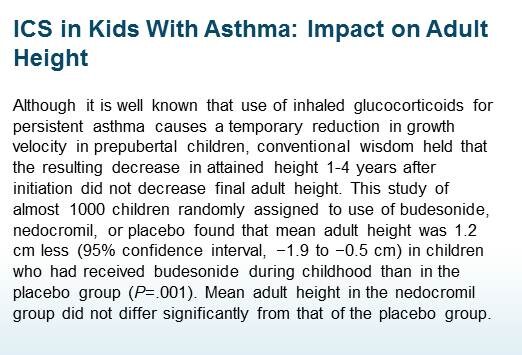 The Game Changer:
Rinaldi M, Harnack L, Oberg C, Schreiner P, St Sauver J, Travis LL. Peanut allergy diagnoses among children residing in Olmsted County, Minnesota. J Allergy Clin Immunol. 2012;130:945-950.
Why Is This a Game Changer?
Matthew Greenhawt, MD, Division of Allergy and Clinical Immunology at the University of Michigan, Ann Arbor, notes that data from earlier studies prove that food allergies overall are becoming more common.[3,4] This study is important because it offers a longitudinal assessment of the prevalence and incidence of a particular food allergy within a large healthcare system and stable geographic area. It shows that both the incidence and prevalence of peanut allergy, as measured by a physician-verified diagnosis that includes both peanut sensitization and a reaction history (which set this study apart from other prevalence studies in the United States that have not used both of these key criteria), has steadily increased over 10 years, and suggests that this increase is more exponential than linear.
This rapid increase in the incidence of peanut allergy over the past 10 years was also reported by Sicherer and colleagues in a 3-part series.[5] However, that study was based entirely on self-reported data, and thus there were no means to obtain physician verification of the actual diagnosis; self-report has often been noted to overestimate the true rate of food allergy by several-fold. Thus, the study by the Mayo Clinic group is game-changing because the methodology used to define food allergy is very good, and the data highly verifiable and less prone to reporting bias or misdiagnosis by a patient even though the study is clustered within a particular healthcare system and region. The take-home message is that yet another large study has noted a shocking increase in the rate of food allergy, an alarming trend.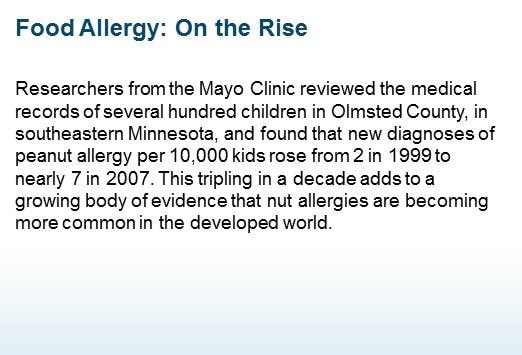 The Game Changer:
Shulman ST, Bisno AL, Clegg HW, et al. Clinical practice guideline for the diagnosis and management of group A streptococcal pharyngitis: 2012 update by the Infectious Diseases Society of America. Clin Infect Dis. 2012;55:e86-e102
Why Is This a Game Changer?
Stanford Shulman, MD, lead author of the guideline and Chief at the Division of Infectious Diseases at Children's Hospital of Chicago, emphasized in an interview with Medscape that signs and symptoms are not sufficiently reliable to allow diagnosis on clinical suspicion alone. The guideline calls for diagnostic testing in virtually all circumstances; a positive rapid antigen detection test is sufficient rationale for initiation of treatment. In children with a negative rapid antigen detection test, culture should be done to verify that result, because sensitivity is not ideal. Except in the case of penicillin allergy, penicillin or amoxicillin should be used as first-line therapy. Of note, on the basis of studies regarding efficacy, the guideline allows a single daily dose of amoxicillin for treatment of streptococcal pharyngitis if given for 10 full days.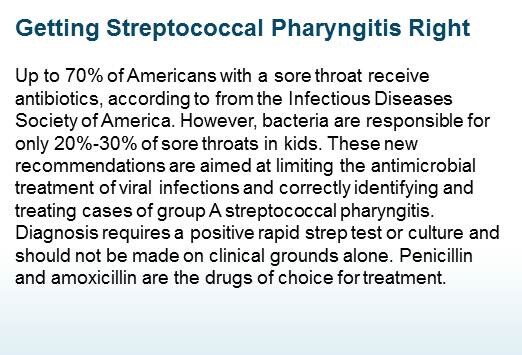 The Game Changers:
Kong A, Frigge ML, Masson G, et al. Rate of de novo mutations and the importance of father's age to disease risk. Nature. 2012;488:471-475
Sandin S, Hultman CM, Kolevzon A, Gross R, MacCabe JH, Reichenberg A. Advancing maternal age is associated with increasing risk for autism: a review and meta-analysis. J Am Acad Child Adolesc Psychiatry. 2012;51:477.e1-486.e1
Why Is This a Game Changer?
Jeremy Veenstra-Vander Weele, MD, Medical Director of the Treatment and Research Institute for Autism Spectrum Disorders and the Division of Child and Adolescent Psychiatry at Vanderbilt University, Nashville, Tennessee, noted that these 2 studies provide more solid evidence that parental age is a major risk for autism spectrum disorder (ASD). However, further research on risk factors for autism will be needed in the context of proposed changes to diagnostic criteria. The increase in numbers of affected children has led to efforts to increase diagnostic sensitivity and specificity through revisions to current Diagnostic and Statistical Manual of Mental Disorders, fourth edition (DSM-IV), criteria, which lack specificity.
Dr. Veenstra-Vander Weele points to a study examining the application of proposed DSM-V criteria, which concluded that when both parental report and clinical observation are included in the evaluation, the new criteria have substantially improved sensitivity combined with greater specificity, identifying 91% of children previously diagnosed with pervasive developmental disorder on the basis of DSM-IV criteria.[6] More important, the study provided evidence that the proposed redefinition of diagnostic criteria, which collapses pervasive developmental disorder and its subtypes into a single diagnosis of ASD, will not exclude children with the disorder and render them ineligible for services.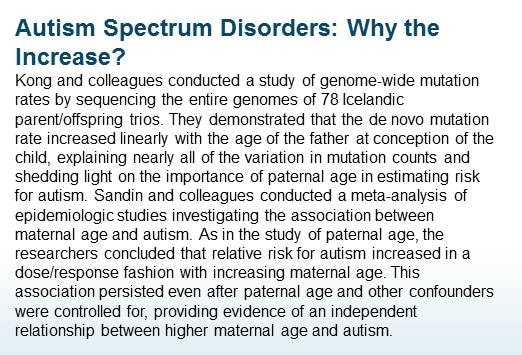 The Game Changer:
Maglione MA, Gans D, Das L, Timbie J, Kasari C; Technical Expert Panel; HRSA Autism Intervention Research -- Behavioral (AIR-B) Network. Nonmedical interventions for children with ASD: recommended guidelines and further research needs. Pediatrics. 2012;130:s169-s178.
Why Is This a Game Changer?
The growing population of children with ASD demands that more attention be paid to services that work. This guideline includes recommendations that address deficits in social, cognitive, and language skills and recognizes that interventions delivered earlier and with greater intensity are associated with the greatest improvements.
Joseph Girone, MD, a developmental pediatrician and Clinical Professor of Pediatrics at Jefferson Medical College in Philadelphia, points clinicians to the AAP's ASD toolkit. This resource compiles important resources for identification and management, including referral letters to assist with petitions to insurance companies, and focused information for families that addresses a wide range of concerns throughout childhood. Pediatric providers are a critical link to the spectrum of care required by these children and must appropriately assess even the youngest children, so that identification and initiation of services occurs as early as possible.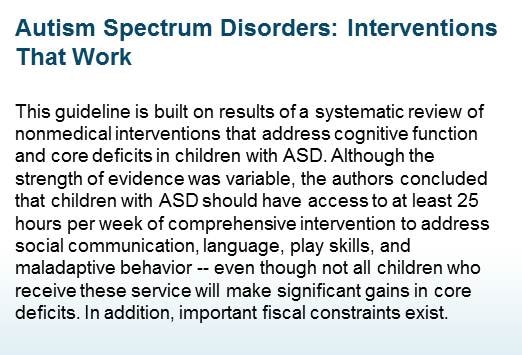 Contributor Information
Author
Laurie Scudder, DNP, PNP, Clinical Editor, Medscape from WebMD
Disclosure: Laurie Scudder, DNP, PNP, has disclosed no relevant financial relationships.