John Bartlett's Top Game Changers in Infectious Diseases in 2012
John G. Bartlett, MD Contributor Information
December 3, 2012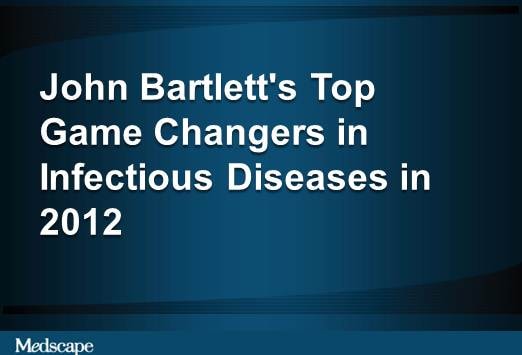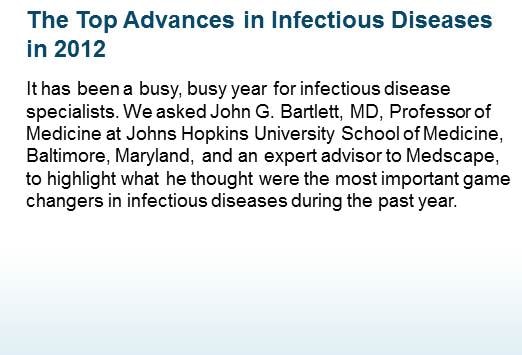 The magnitude, diversity, and unpredictability of epidemics in microbial-mediated disease reminds us that the cuts in public health support may be unjustified and lead to great downstream harm. One game changer resulting from the fungal meningitis outbreak will surely be new regulations for compounding pharmacies.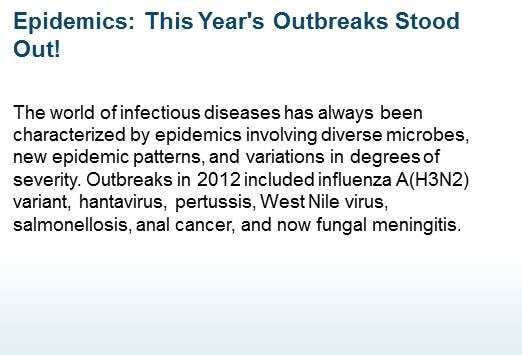 These infectious disease epidemics resulted from common and sometimes devastating pediatric infections that had been thought to be controlled by vaccines. The cause of the sudden surge may be vaccine refusal or waning immunity. The message is to 1) know how to suspect these diseases; 2) consider risks, such as travel to or from Europe (as well as travel contacts); and 3) rapid isolation. The public health issues are huge, and rapid detection and isolation are critical.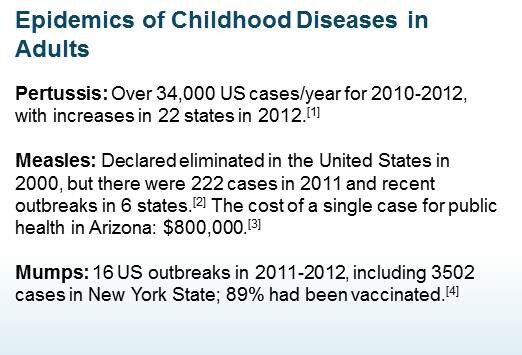 The HPV vaccine is the second vaccine to prevent cancer. (Hepatitis B virus [HBV] vaccine was the first.) HPV types 16/18 cause 70% of cervical cancer, and types 6/11 cause 90% of genital warts [8] In the United States, we currently see about 12,000 cases of cervical cancer each year.[9]
HPV vaccine also prevents anal cancer -- which is now at epidemic rates, with 6230 cases in the United States in 2011.[10] It may be important to note that teenagers worry more about genital warts than cancer and that the greatest need for the vaccine is in resource-limited countries, where cervical cancer causes 25% of cancer in women compared with 9% in the United States.[11]
The HPV vaccine should be given before sexual debut. Australia has made real progress with a school-based, government-supported program, which currently provides the HPV vaccine to girls at age 12-13 years. We have a long way to go in the United States.
Hepatitis C virus (HCV) infects about 3 million people in the United States, and 70% of those individuals are unaware of their diagnosis. The majority of cases are in persons born between 1945 and 1965.[12] HCV is the most common cause of cirrhosis, liver transplant, and liver death. The role of primary care is to test for HCV and refer persons who test positive. Remember that unlike HIV and HBV, HCV can be cured, and the new drugs will make that possible for most.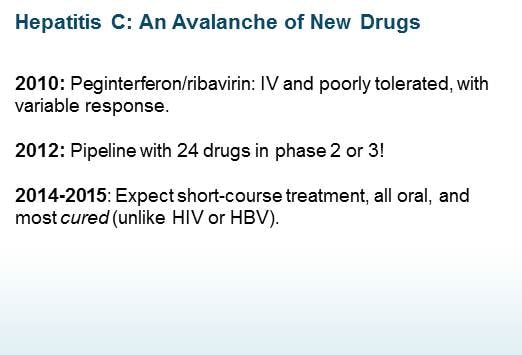 The HPTN 052 trial showed that suppressing the HIV virus nearly eliminates risk for infection of sexual partners. This legitimizes the WHO's 2009 proposal to treat everyone to eliminate HIV.[15] The role of HIV drugs to prevent HIV in persons who are not infected was tested in 4 large trials showing 90% effectiveness, provided that participants took their medication.[16]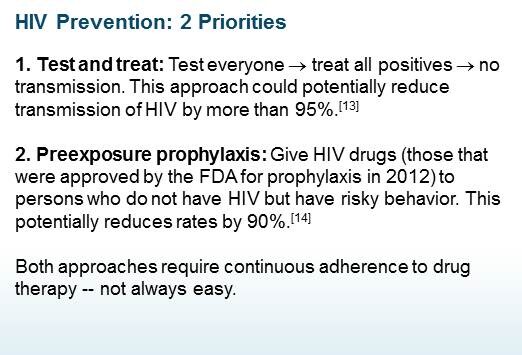 Such systems as PLEX-ID (Abbott Ibis Biosciences, Abbott Park, Illinois) now provide broad microbial screening and identification using high-resolution mass spectrometry. Consider the incredible value of this method also to 1) solve mysteries that have defied current methods -- Legionella (1978), HIV (1981), severe acute respiratory syndrome (2002), dengue (Florida 2010) and 2) track epidemics, such as anthrax (2002), pandemic flu (2009; use of PLEX-ID reported in the index case), and salmonella (15 national US outbreaks in 2012).[18]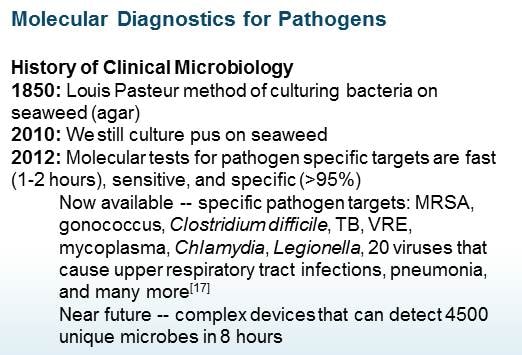 The microbiome is a newly appreciated and potentially important factor in human health that may have an important role in multiple conditions that have defied prior science. A major role for the microbiome is considered likely in the pathogenesis of diabetes, cancer, obesity, Crohn disease, hypertension, cardiovascular disease, autoimmune disease, allergies, and psoriasis.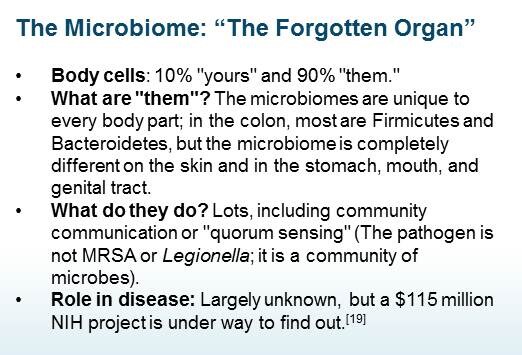 Considering the microbiome will require a shift in thinking about specific pathogens causing disease to considering microbial communities as a cause of disease. The studies are early -- but hang on, the data are coming in fast!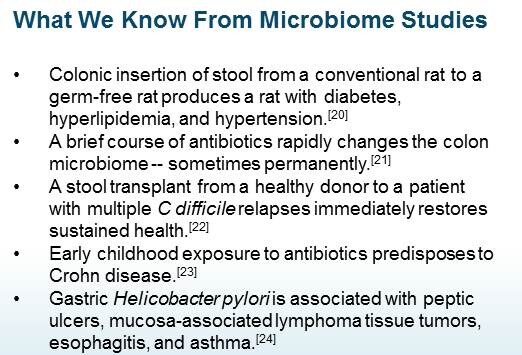 Healthcare reform has arrived in the United States and will probably establish new priorities, with an emphasis on "never events" that include many infectious diseases that are "common events." However, an early review suggests that this approach does not work to improve outcomes.[26] Many believe healthcare reform is an opportunity to implement infectious disease strategies that are needed but unfunded. This is especially important with regard to antibiotic stewardship in an era of devastating resistance and massive antibiotic abuse, with no new antibiotics available for many years. The concern is that cost issues will dwarf medical needs.