Major Foodborne Illness Outbreaks of 2012
Division of Foodborne, Waterborne, and Environmental Diseases,
National Center for Emerging and Zoonotic Infectious Diseases, CDC Contributor Information
January 29, 2013
Major Foodborne Illness Outbreaks of 2012
Foodborne illness is common and can happen to anyone. The Centers for Disease Control and Prevention (CDC) estimates that each year roughly 1 in 6 Americans (or 48 million people) get sick, 128,000 are hospitalized, and 3000 die of foodborne illness.[1,2]
These outbreaks represent serious human illness or illness caused by a food source previously unrecognized as a likely source of contamination.
In August 2012, CDC released data on trends in foodborne diseases in 10 US sites from 1996 to 2011.[1] The incidence of some infections, such as those due to Campylobacter, Listeria, Shiga toxin-producing Escherichia coli (STEC) O157 and non-O157, Shigella, and Yersinia infections, diagnosed by laboratory testing of samples from patients, declined steadily between 1996 and 2008 but has not declined much further since 2008.[2] Salmonella infection did not decline and continues to be the most common bacterial infection associated with the most hospitalizations and deaths.[2]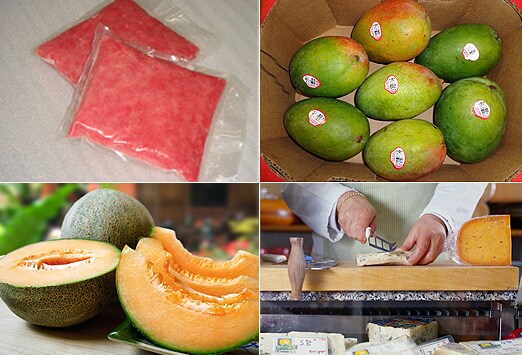 Foodborne Outbreaks: Clinicians Sound First Alarms
Each year, 800-1000 foodborne outbreak investigations are reported. Most outbreaks are local, but some affect people in many states at once. These multistate outbreaks represent serious human illness, and investigating them sometimes leads to new and unsuspected sources of contamination and insights in how to control them. The astute clinician is often critical in outbreak investigations. Sometimes the first alarm of an outbreak is signaled by a clinician who reports a case to the local public health department or who refers a patient for a stool culture that grows a pathogen like Salmonella in the laboratory.
In 2012, Salmonella and its many serotypes was the most common foodborne bacterial pathogen responsible for illness in the majority of multistate foodborne illness outbreaks.[3] This slideshow presents new and unusual foods, including pet food and imported food, linked to outbreaks. It also provides tips for clinicians on what they can tell patients to do to protect themselves, and it illustrates how some people are at higher risk for infection than others. Protecting these patients is critical.
(Photo courtesy of CDC)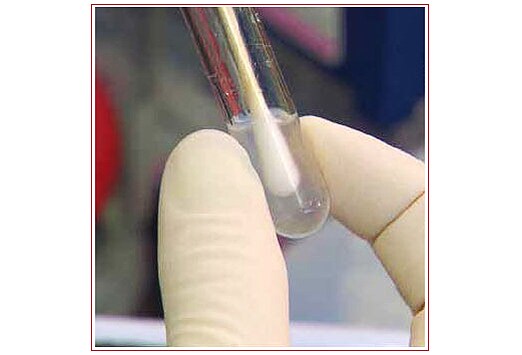 Raw Scraped Ground Tuna: Salmonella Bareilly and Salmonella Nchanga
In total, 425 persons infected with Salmonella Bareilly or Salmonella Nchanga were reported from 28 states and Washington, DC. Most ill persons reported eating sushi made with raw ground tuna product in the week before illness began.[4]
State public health officials worked with the US Food and Drug Administration (FDA) to conduct a traceback investigation of the tuna product. It was found that food establishments where ill persons ate received the same imported frozen, raw scraped ground tuna product from a single tuna-processing facility in India. The company stopped shipping the tuna and recalled 58,828 pounds of product, ending the outbreak.
(Photos courtesy of CDC and Thinkstock)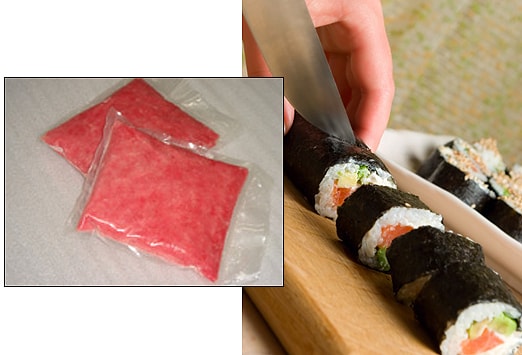 Raw Scraped Ground Tuna: Salmonella Bareilly and Salmonella Nchanga (cont)
Lessons Learned[5]: This is the first reported Salmonella outbreak linked to raw scraped ground tuna. The tuna was heavily contaminated; almost all samples tested grew Salmonella. This outbreak highlights the increasingly global nature of food production and the US food supply, as well as the importance of having strong food-safety systems internationally. Additionally, Foodborne Diseases Centers for Outbreak Response Enhancement (FoodCORE) — 7 specially designated centers with expanded foodborne-disease detection and response capabilities — played a key role in solving this outbreak by working together with other health departments and regulatory partners to pinpoint frozen, raw scraped ground tuna as the likely source of contamination. The FoodCORE centers were among the first to identify the outbreak strains in the contaminated food.
(Graph courtesy of CDC)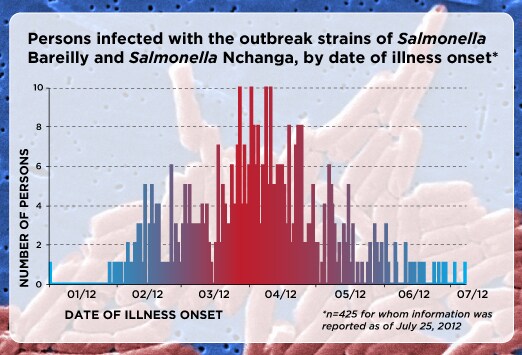 Ground Beef: Salmonella Enteritidis
In total, 46 persons infected with Salmonella Enteritidis were reported from 9 states. During interviews, most ill persons reported eating ground beef in the week before their illness began. A large number of ill persons purchased their ground beef from the same grocery store chain.[6] Using epidemiologic and traceback information, the US Department of Agriculture Food Safety and Inspection Service (FSIS) was able to link illnesses to ground beef products produced at a single establishment.
The producer recalled 29,339 pounds of fresh ground beef products. This marked the first time that ground beef was recalled due to contamination with non-multidrug-resistant Salmonella. The list of stores where the products were sold was posted on the FSIS Website, and consumers were urged to check their homes, including freezers, for the recalled products.
Lessons Learned[7]: Although outbreaks of foodborne illness linked to ground beef are typically caused by E coli O157, Salmonella and other bacteria can be present in ground beef and cause outbreaks.
(Photo courtesy of Thinkstock)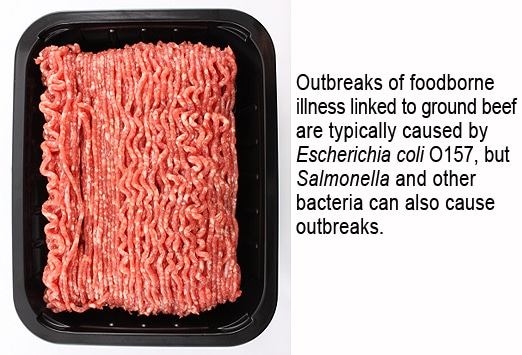 Peanut Butter: Salmonella Bredeney
In total, 42 persons infected with Salmonella Bredeney were reported from 20 states. The majority of ill persons shopped at a specialty grocery store chain and reported eating a particular type of peanut butter in the week before their illness began. Additionally, most of those ill were children under the age of 10 years.[8]
The specialty grocery store chain recalled the peanut butter linked to illnesses. The manufacturer also recalled additional products. FDA inspected the manufacturer's facilities in New Mexico and suspended its food facility registration after findings uncovered unsanitary conditions and evidence of poor food production practices.
Lessons Learned[9]: Six years after a nationwide Salmonella outbreak was first linked to peanut butter, peanut and peanut butter production remains an area for food safety improvement. Continued partnerships with regulatory agencies and industry are required to ensure safe products for consumers.
Although this outbreak appears to be over, many of the recalled products have a long shelf life and may still be in people's homes.
(Photo courtesy of Thinkstock)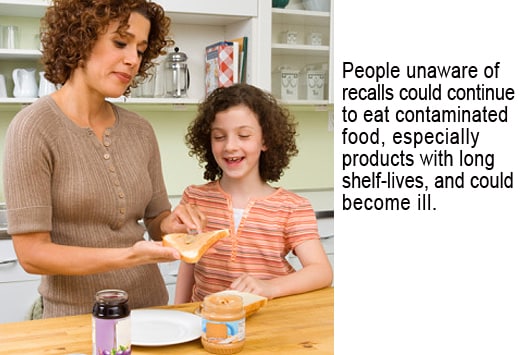 Ricotta Salata Cheese: Listeria monocytogenes
In total, 22 persons infected with Listeria monocytogenes were reported from 13 states and Washington, DC. Among them, 4 deaths, 1 fetal loss, and 20 hospitalizations were reported. Most ill persons reported eating 1 or more soft cheeses before their illness began. However, the investigation was complex because people reported consuming many different cheese brands and types from various retail locations.[10]
FDA isolated the outbreak strain of Listeria from several intact wheels of imported ricotta salata cheese. To protect the public's health, FDA denied admission of the cheese into the United States unless the exporter could show that new wheels of this cheese were not contaminated. A US distributor and major retailers of the cheese issued recalls, as did the exporter.
Lessons Learned[11]: Although most ill persons reported consuming 1 or more brands and types of soft cheese, they did not initially report consuming any particular cheese in common. This suggested that cross-contamination of cut and repackaged cheeses through common cutting boards or utensils caused the outbreak. After interviews with patients identified retail establishments that likely had sold the contaminated cheese, the investigation focused on identifying overlap in inventories of intact cheeses that were shipped to multiple retail locations, where the contaminated cheese could have cross-contaminated other cheeses purchased by ill persons.
(Photo courtesy of Thinkstock)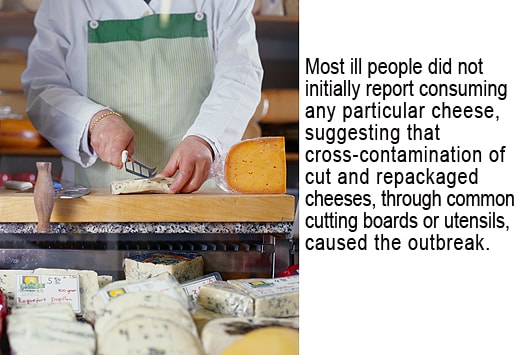 Raw Clover Sprouts: E coli O26
In total, 29 persons infected with E coli O26 were reported from 11 states. Most ill persons interviewed reported eating at the same sandwich restaurant chain in the week before their illness began. Additionally, most people reported eating a sandwich containing raw clover sprouts.[12]
FDA conducted a traceback investigation that identified a common lot of clover seeds used to grow raw clover sprouts served at the restaurant chain where ill persons ate. Two sprouting facilities were identified, and both facilities used the same lot of clover seeds. The seed supplier notified its sprouting facilities to stop using the lot of seeds.
(Photo courtesy of Thinkstock)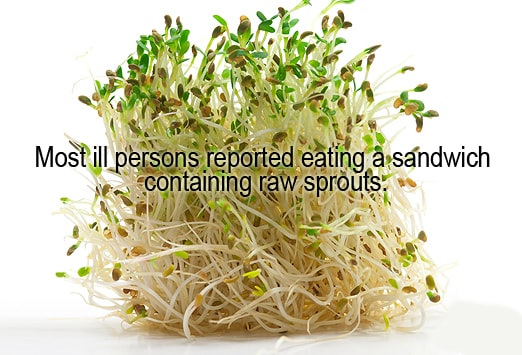 Raw Clover Sprouts: E coli O26 (cont)
Lessons Learned[13]: Raw sprouts have caused numerous outbreaks of foodborne illness in the past. Raw sprouts can become contaminated in several ways: during growth, harvest, distribution, or storage. To reduce the risk for illness from raw sprouts, it is recommended that children, elderly adults, pregnant women, and persons with weakened immune systems avoid eating raw sprouts of any kind.
(Map courtesy of CDC)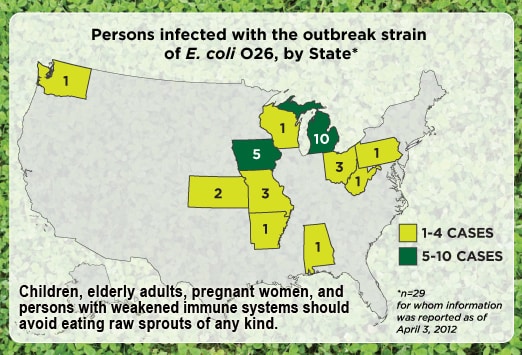 Cantaloupe: Salmonella Typhimurium and Salmonella Newport
In total, 261 persons infected with Salmonella Typhimurium or Salmonella Newport were reported from 24 states. Three deaths were reported. The majority of ill persons interviewed reported eating cantaloupe in the week before their illness began. Additionally, laboratory testing conducted in Kentucky isolated the outbreak strain from 2 cantaloupes collected at a retail location.[14]
FDA traceback investigations determined that the cantaloupe originated from an Indiana farm. FDA found poor cantaloupe production practices and identified the outbreak strain at the farm. The farm recalled all cantaloupes grown on its farm and the states that received recalled cantaloupe were notified.
Lessons Learned[15]: After the outbreak of listeriosis linked to cantaloupe in 2011, cantaloupe production remains an area for food safety improvement. The outbreak was a reminder of the need to further promote safe produce handling for producers of fresh produce and consumers to prevent illness.
(Photo courtesy of Thinkstock)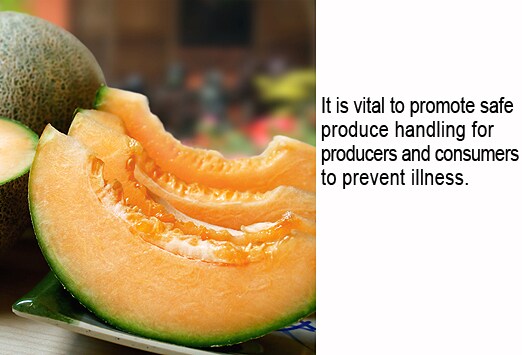 Mangoes: Salmonella Braenderup
In total, 127 persons infected with Salmonella Braenderup were reported from 15 states. In a case-control study conducted by the California Department of Public Health, ill persons were significantly more likely than well persons to report eating mangoes.[16]
Traceback investigations were conducted, and mangoes purchased by ill persons were determined to originate from a single farm in Mexico. The mango supplier voluntarily recalled certain lots of mangoes, and FDA placed the supplier on Import Alert.
Lessons Learned[17]: This outbreak of Salmonella Braenderup infections was initially detected by the Public Health Agency of Canada, which linked it to mangoes. Collaborative international investigation efforts between the Public Health Agency of Canada, CDC, and US and Canadian regulatory agencies resulted in additional illnesses being identified in the United States which were linked to the same brand of mangoes identified in Canada. International collaboration can be a critical part of investigating widespread outbreaks.
(Photo courtesy of CDC)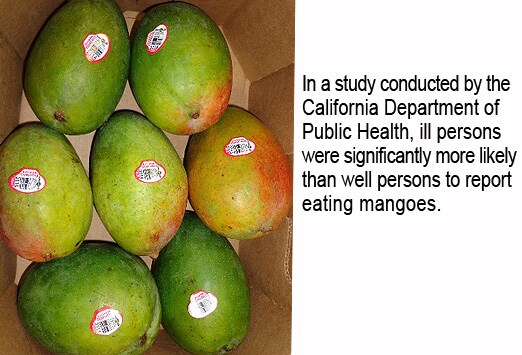 Dry Dog Food: Human Salmonella Infantis
In total, 49 ill persons infected with Salmonella Infantis were reported from 20 states and Canada. Most ill persons interviewed reported contact with a dog in the week before their illness began. Additionally, most people reported contact with particular dry dog foods produced at a single production facility in South Carolina.[18]
The outbreak strain was isolated from both open bags of dry dog food from ill persons' homes and unopened retail samples. The outbreak stopped after multiple recalls by the single producer, during which over 30,000 tons of dry dog and cat food were recalled.
Lessons Learned[19]: This is the second documented outbreak of human salmonellosis linked to dry pet food in the United States. People should be aware that dry pet food is not manufactured to be a sterile product and may be contaminated with Salmonella bacteria. Keeping children away from pet food and washing hands right after handling pet food and treats are important steps to prevent illness. Pets can be infected with Salmonella but still appear healthy and spread bacteria.
Although this outbreak appears to be over, many of the recalled pet food products have a long shelf life and could still be in people's homes. Consumers unaware of the recall could continue to come into contact with these products and potentially get sick.
(Photo courtesy of Thinkstock)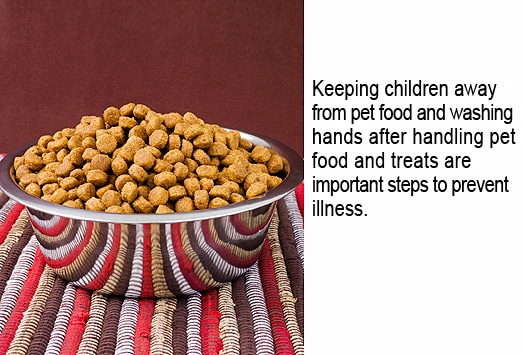 PulseNet: Tracking Outbreaks Like the FBI Tracks Criminals
Molecular subtyping of bacteria isolated from ill people in state public health laboratories was essential to detect these and many other outbreaks. This happens through the PulseNet network. The outbreaks described here are a fraction of the activity around foodborne illness. CDC monitors an average of 16 to 57 clusters of foodborne illness per week and has detected hundreds of multistate outbreaks of foodborne illness through PulseNet. PulseNet's national laboratory network is made up of 87 public health, regulatory, and agriculture laboratories. Every state has at least 1 public health laboratory with the capacity to match up bacteria from sick people in many places, using PulseNet's DNA fingerprinting technique and database. For example, public health laboratories can quickly help find a potential outbreak by revealing matching DNA patterns among the approximately 750 Listeria illnesses that occur each year. It can also link illnesses in many different states because all states are part of PulseNet.[20-22]
(Graph courtesy of CDC)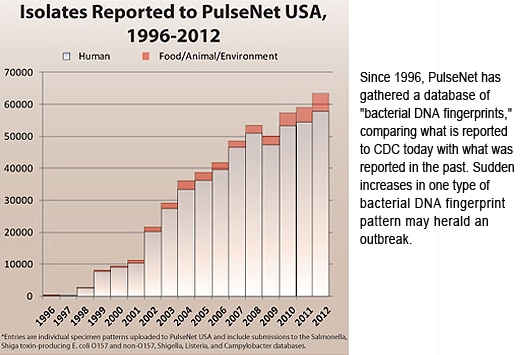 New Diagnostic Tests May Hamper Food Outbreak Detection
PulseNet relies on isolates from culture-based testing methods, the long-held standard in testing of specimens from patients with foodborne and other infections. However, more and more diagnostic tests that do not use culture are being developed and marketed for clinical use, including use by clinical laboratories in diagnosing foodborne infections. Because of their rapid turnaround times and less labor-intensive methodology, these tests may soon replace culture-based tests, necessitating fundamental changes and challenges in public health efforts to track and control infectious diseases.[23]
Partnering with the clinical diagnostic community and medical device industry is critical for finding solutions that will allow public health agencies to link similar illnesses across the country to detect outbreaks, find the source, and stop outbreaks faster.
(Photo courtesy of Thinkstock)