<< More coverage from ESMO 2014
Top News From ESMO 2014: Slideshow
Megan Brooks; Zosia Chustecka; Allison Shelley; Darbe Rotach; Miguel Gonzáles; Roxanne Nelson
October 14, 2014
Precision Medicine in Cancer Care was the theme of the European Society for Medical Oncology (ESMO) 39th Congress, held September 26 to 30 in Madrid. The idea of precision medicine has rapidly shifted from "in some distant future to just around the corner," said ESMO President Rolf Stahel, MD, from University Hospital Zurich.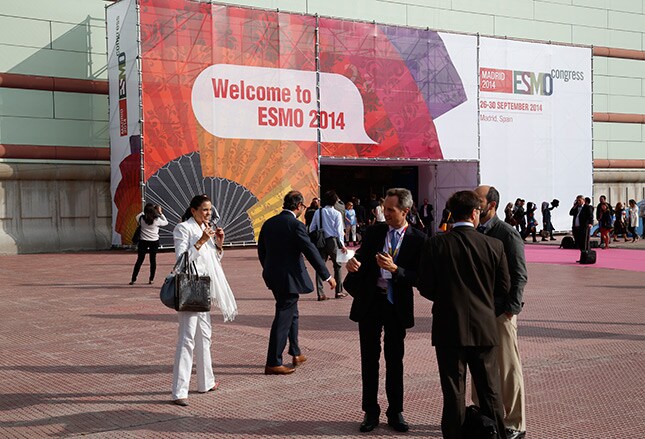 The meeting featured important clinical data, including several presentations that will "change the standard of care," said Johann de Bono, MD, chair of the 2014 ESMO scientific committee. Highlights include:
'Unprecedented' survival in HER2-positive metastatic breast cancer
BRAF plus MEK inhibitors as a new standard of care in melanoma
Anamorelin showing promise for cancer cachexia
Nivolumab showing an impressive duration of response in melanoma
What to do when EGFR inhibitors in NSCLC stop working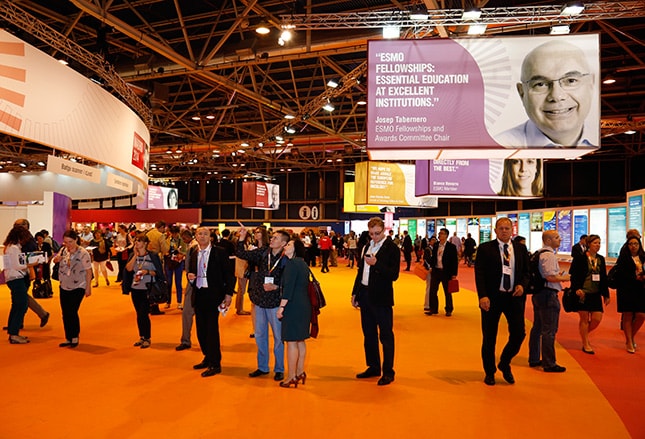 'Unprecedented' Survival in Metastatic Breast Cancer
Final results from the CLEOPATRA study show that the combination of trastuzumab (Herceptin, Roche and Genentech) and pertuzumab (Perjeta, Roche and Genentech) significantly prolongs survival in HER2-positive metastatic breast cancer, compared with trastuzumab alone. Patients treated with the combination plus docetaxel lived 15.7 months longer than those treated with trastuzumab plus chemotherapy (median overall survival, 56.5 vs 40.8 months; hazard ratio, 0.68; P = .0002). "I think these results are phenomenal," said Sandra Swain, MD, from the MedStar Washington Hospital Center in DC. The 56.5-month median overall survival is "unprecedented in this indication and confirms that the pertuzumab plus trastuzumab regimen is a first-line therapy for patients with HER2-positive metastatic breast cancer," she said.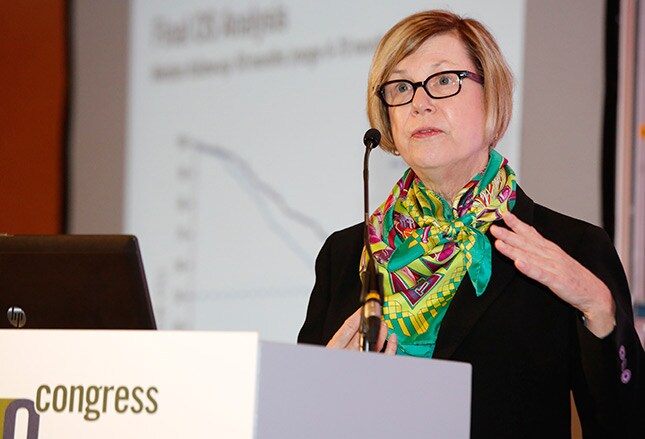 New Standard in Melanoma: Combo of BRAF and MEK Inhibitors
For BRAF-mutation-positive advanced melanoma, the combination of a BRAF inhibitor and a MEK inhibitor works better than a BRAF inhibitor alone, according to the COMBI-v and coBRIM trials, presented at the presidential session. The combinations had better response rates, progression-free survival, and overall survival than a BRAF inhibitor alone. Experts said that such combinations should be the new standard of care in this patient population. Both studies used vemurafenib (Zelboraf, Roche and Plexxikon) as the single BRAF inhibitor, but each used a different combination of BRAF and MEK inhibitors. The coBRIM study tested the combination of vemurafenib plus the investigational MEK inhibitor cobimetinib (Roche and Exelixis). The COMBI-v study tested the combination of dabrafenib (Tafinalar) plus trametinib (Mekinist), both from GlaxoSmithKline.
Image from Istock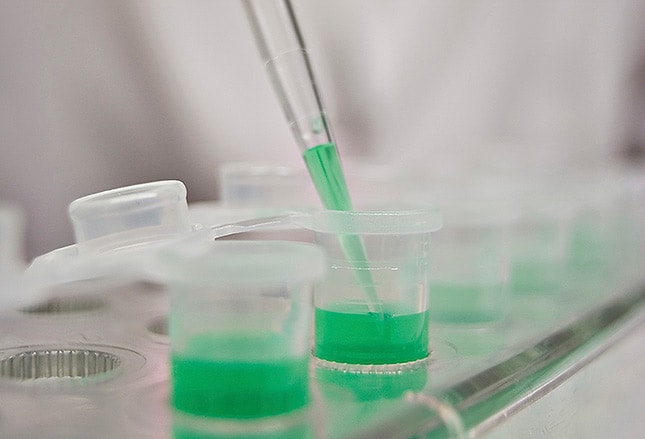 After NSCLC Progression on First-line TKI, What Next?
Results from the IMPRESS study in non–small cell lung cancer (NSCLC) address an important clinical question: Once a patient who has tested positive for EGFR and been treated with a first-line tyrosine kinase inhibitor (TKI) starts to progress, as they almost inevitably do after about 10 months, what is the next step? The results show that there is no extra benefit from the combination of TKI plus chemotherapy, so the standard treatment at this point should be chemotherapy alone, reported Tony Mok, MD, PhD, professor in the Department of Clinical Oncology at the Chinese University of Hong Kong. The IMPRESS results were "very robust and reliable, and they will help clinicians in their daily clinical practice," said Marina Garassino, MD, from the National Cancer Institute of Milan.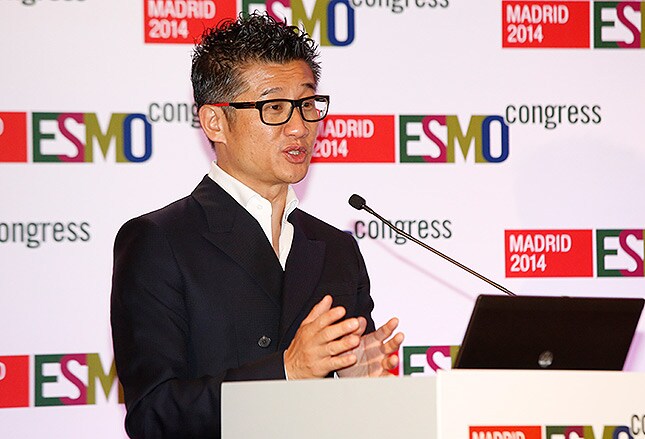 'Impressive' Duration of Response With Nivolumab in Melanoma
The investigational immunotherapy nivolumab showed an "impressive" duration of response when used as second- or third-line therapy in a phase 3 trial of patients with unresectable advanced or metastatic melanoma previously treated with ipilimumab (Yervoy). Preliminary data showed an overall response rate of 32% with nivolumab, compared with 11% with chemotherapy, reported Jeffrey Weber, MD, from the Comprehensive Melanoma Research Centers of Excellence at the Moffitt Cancer Center in Tampa, Florida. Median duration of response was 3.6 months with chemotherapy, but has not yet been reached with nivolumab. Some patients have been responding for more than 10 months. Nivolumab is awaiting approval in Europe and in the United States, where it has breakthrough drug status.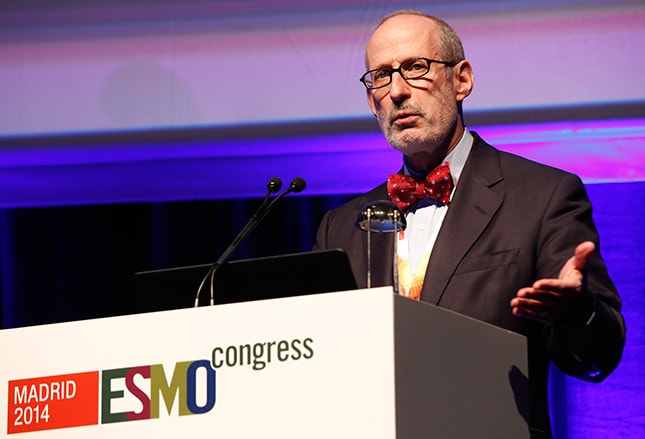 Anamorelin: First Ever Drug for Cancer Cachexia?
The investigational drug anamorelin (Helsinn) significantly increased both lean body mass and body weight, and improved appetite, in patients with advanced lung cancer and cachexia and anorexia in two phase 3 trials. The drug acts as a mimetic of the "hunger hormone" ghrelin, resulting in the release of growth hormone. "For the first time ever, we have seen a consistent benefit" from a drug in cancer cachexia, said study investigator David Currow, MD, from palliative and supportive services at Flinders University in Adelaide, Australia. Both trials show a "consistent effect" on different components of the cancer anorexia–cachexia syndrome, added Florian Strasser, MD, from Cantonal Hospital St. Gallen in Switzerland, and chair of the ESMO Palliative Care Working Group. "Anamorelin responds to a yet unmet frequent clinical need," he said.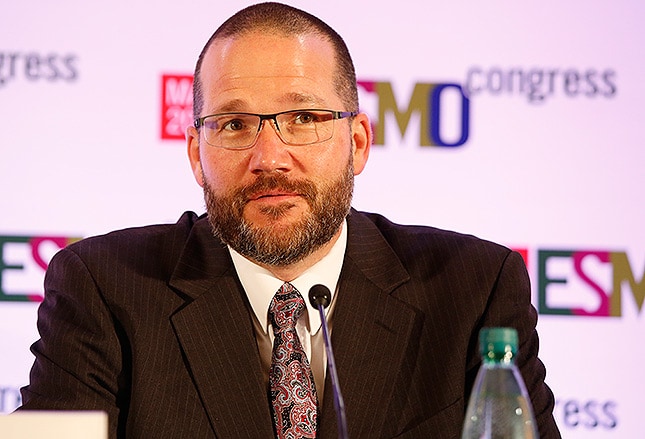 Young European Oncologists Report High Levels of Burnout
Many young oncologists in Europe are reporting signs of burnout, prompting calls for action on the issue. In the largest survey of its kind, researchers found that the overall burnout rate in young oncologists was 71%. "The most significant independent factors affecting burnout were the European region and having a good work/life balance and enough vacation time," said lead author Susana Banerjee, MBBS, PhD, a consultant medical oncologist at The Royal Marsden NHS Trust in London, United Kingdom. "We need to address a culture where oncologists are not feeling this way," Dr. Banerjee continued, "because it is an exceptionally rewarding career. We need to do everything we can to make sure we are delivering the highest quality of care."
Image from Dreamstime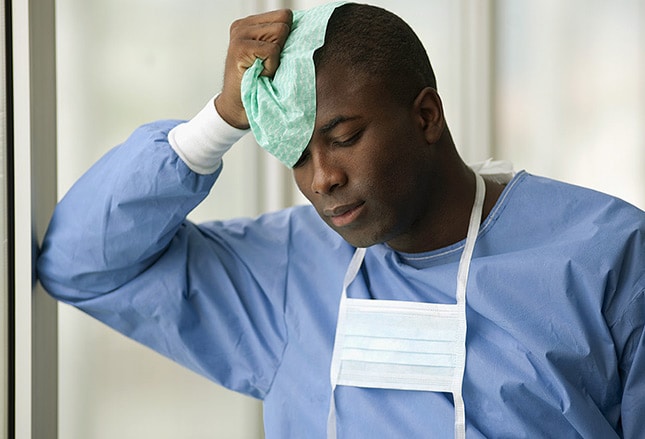 Cediranib Shows Potential in Advanced Cervical Cancer
Adding the investigational oral antiangiogenesis agent cediranib (AstraZeneca) to standard chemotherapy might be beneficial for patients with metastatic or recurrent cervical cancer, according to the phase 2 CIRCCa study. Tumor shrinkage was greater in women who received cediranib plus chemotherapy than in those who received placebo plus chemotherapy (66% vs 42%). There was a modest but significant increase in median progression-free survival with cediranib (35 vs 30 weeks), but the difference in median overall survival was not significant. This is the second recent trial to show the benefit of adding an antiangiogenic drug to chemotherapy in cervical cancer, noted Andrés Poveda, MD, head of the gynecological oncology clinic at Fundación Instituto Valenciano de Oncología in Valencia, Spain. The first trial used bevacizumab (Avastin, Genentech and Roche).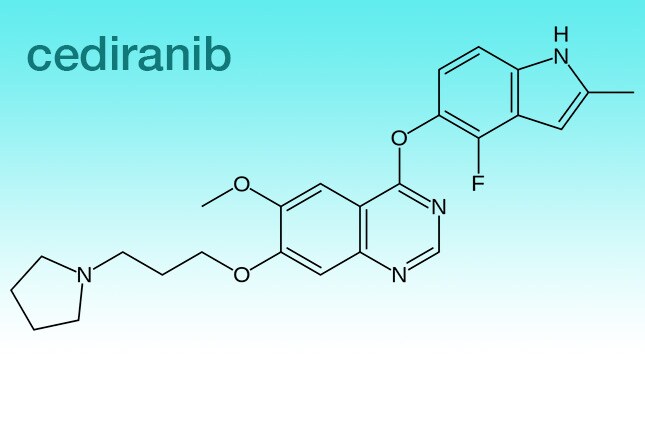 Radiation Therapy Adds No Survival Benefit in Mesothelioma
High-dose radiotherapy adds no survival benefit after chemotherapy and radical surgery in patients with malignant pleural mesothelioma, according to a phase 2 trial of 153 patients. Mesothelioma continues to be challenging to treat, said lead investigator Rolf Stahel, MD, from University Hospital Zurich, who is the current ESMO president. "We wanted to see if the adjuvant therapy could prevent relapse, or at least delay it. We aimed for a 6-month delay in local recurrence, which would be meaningful because it's an aggressive treatment for patients. To our disappointment, there was no significant improvement," he reported.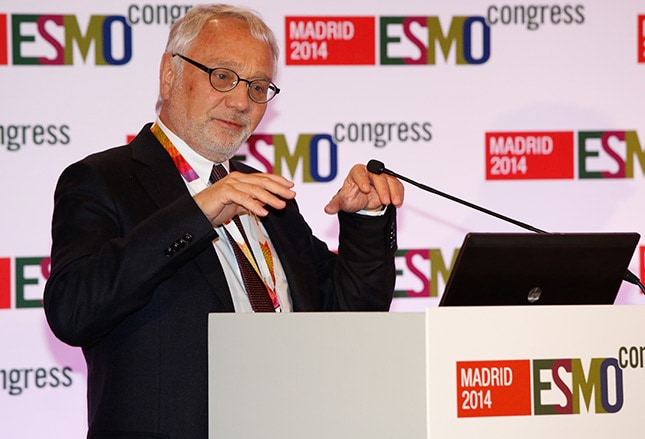 Rolapitant Curbs Chemo-Induced Nausea and Vomiting
Rolapitant (Tesaro) proved far better than placebo for preventing chemotherapy-induced nausea and vomiting (CINV) in a phase 3 study of 532 patients receiving cisplatin. All patients received granisetron and dexamethasone, and half received rolapitant and half received placebo. A complete response was achieved by more of the rolapitant group than of the placebo group for patients in the delayed phase of CINV (72.7% vs 58.4%), the acute phase (83.7% vs 73.7%), and the overall phase (70.1% vs 56.5%). Rolapitant appears to be different than other agents in this class, in that it does not interact with any other drugs and has a long half-life, said Bernardo Rapoport, MD, chief medical oncologist at the Medical Oncology Center of Rosebank in Johannesburg. The manufacturer has submitted the data for approval in the United States.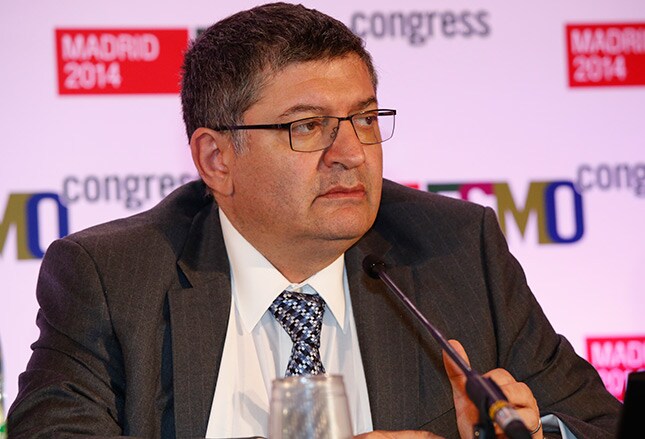 Afatinib Shows Modest Benefit in Head and Neck Cancer
The oral tyrosine kinase inhibitor afatinib (Gilotrif, Boehringer Ingelheim) showed modest benefit in patients with recurrent and metastatic head and neck cancer in a phase 3 trial. The 483 patients had incurable recurrent or metastatic head and neck squamous cell carcinoma and had progressed despite platinum-based therapy (cisplatin or carboplatin); many (60%) had also received cetuximab. Progression-free survival was significantly better with afatinib than with methotrexate (2.6 vs 1.7 months; hazard ratio, 0.80; P = .03), but overall survival was not (6.8 vs 6.0 months). Afatinib also significantly delayed the deterioration of global health status and the worsening of pain and swallowing, compared with methotrexate. Afatinib is already approved in the United States for EGFR-positive non–small cell lung cancer.
Image from Istock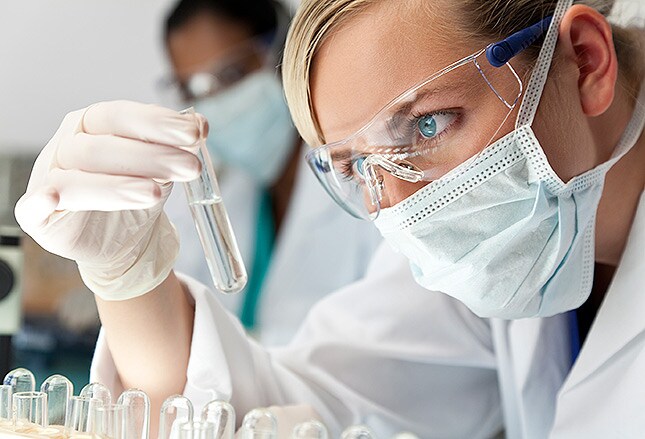 Chemo and Radiotherapy Safe for Fetus During Later Pregnancy
In utero exposure to chemotherapy appears to be safe, for the most part, when administered after the first trimester, according to data presented by Frederic Amant, MD, from University Hospitals Leuven in Belgium. The case–control study of the developmental outcome of children exposed to chemotherapy in utero showed that chemotherapy does not adversely affect mental development or cardiac functioning. "Fear about the risks of chemotherapy administration should not be a reason to terminate a pregnancy, delay cancer treatment for the mother (which can jeopardize outcomes), or deliver a baby prematurely," Dr. Amant said.