Vienna, Austria, hosted the 2012 European Society for Medical Oncology (ESMO) Congress, held September 28 to October 2, 2012. This year's gathering broke previous records, attracting 16,394 delegates and leaving standing room only at many sessions, particularly the presidential sessions where roughly 50 late-breaking abstracts were presented. More than 17% of the delegates were from outside Europe, including 1116 from the United States, 539 from Japan, 479 from China, and many from Latin America.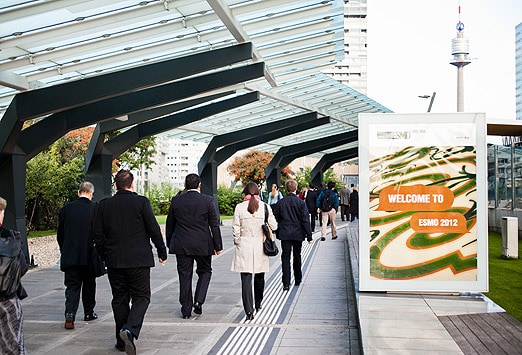 A new feature this year was an extended "Best of ESMO" session on the last day, which was an intensive session lasting from 9 am to 1 pm, but was very informative. The session covered every major tumor type, highlighted the most important abstracts presented during the meeting, and summarized what impact, if any, they should have on clinical practice.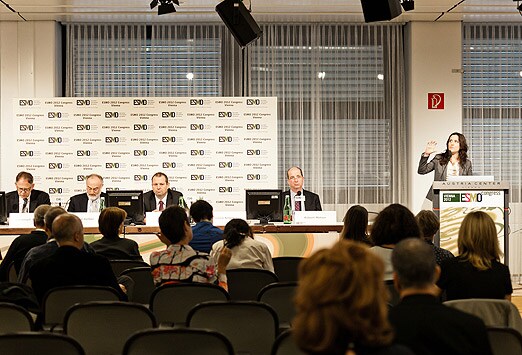 Among the study highlights of the meeting:
1 year of trastuzumab remains the standard for HER2+ breast cancer
Many women who are eligible for breast-conserving surgery aren't being offered it
Crizotinib is now the standard-of-care for ALK+ non-small-cell lung cancer (NSCLC)
A novel new-generation androgen receptor antagonist showed "impressive" antitumor activity in an early trial
Gefitinib improved progression-free survival in relapsed esophageal cancer, prompting calls for more study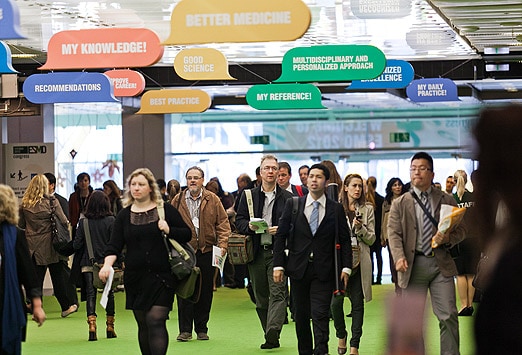 1 Year of Trastuzumab Remains Standard in HER2+ Breast Cancer
Two years of trastuzumab (Herceptin) is not better than 1 year, according to an analysis of follow-up data from the long-running Herceptin Adjuvant (HERA) trial, presented by Richard Gelber, MD, from Harvard Medical School and the Dana-Farber Cancer Institute in Boston, Massachusetts. Other data hint that 6 months might be sufficient for some women, but the data are inconclusive. "The key message in 2012 is that 1 year of treatment with trastuzumab remains the standard of care for HER2-positive early breast cancer patients," Dr. Gelber said.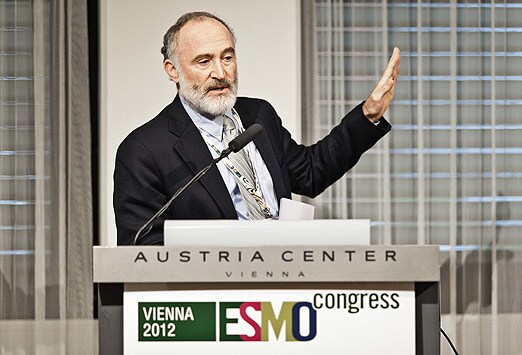 Crizotinib Now Standard of Care for ALK+ NSCLC
Crizotinib (Xalkori, Pfizer) should now be the standard of care for the small subgroup of NSCLC patients whose tumors test positive for the ALK gene rearrangement (ALK+), experts said. The recommendation is based on findings from the first phase 3 trial with crizotinib, known as PROFILE 1007, presented here during the presidential session. It showed significant improvement over standard chemotherapy (pemetrexed or docetaxel) in a selected patient population with ALK+ NSCLC.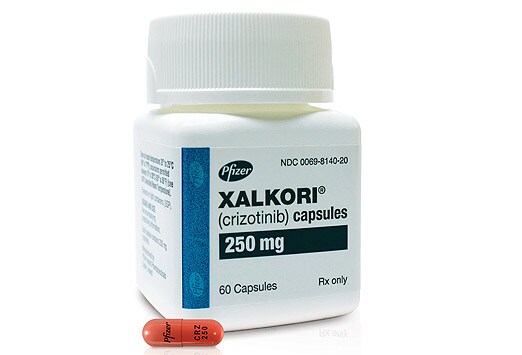 'Dramatic Response' Seen With New-Generation AR Antagonist
A novel androgen receptor antagonist ODM-201 (Orion and Endo Pharmaceuticals) showed promise in an early dose-escalation trial of men with castration-resistant prostate cancer, conference attendees learned, with 87% of 15 patients experiencing a decrease in their prostate-specific antigen (PSA) levels, defined as a 50% or more reduction at 12 weeks. ODM-201 has "impressive antitumor activity," commented lead author Christophe Massard, MD, from Institute Gustave Roussy, Paris, France, who presented the results.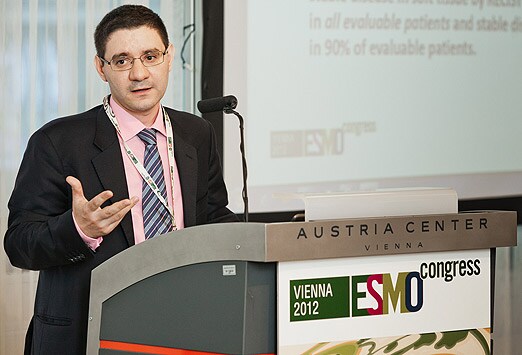 Experimental MEK Inhibitor Shows Promise in Melanoma
A preliminary study found that the investigational MEK inhibitor GDC-0973 (Exelixis and Genentech) can be combined and delivered safely with vemurafenib (Zelboraf, Hoffmann-La Roche), with tolerable and manageable adverse events and "encouraging" antitumor activity in metastatic melanoma, reported Rene Gonzalez, MD, director of the Melanoma Research Clinic at the University of Colorado Cancer Center, Denver.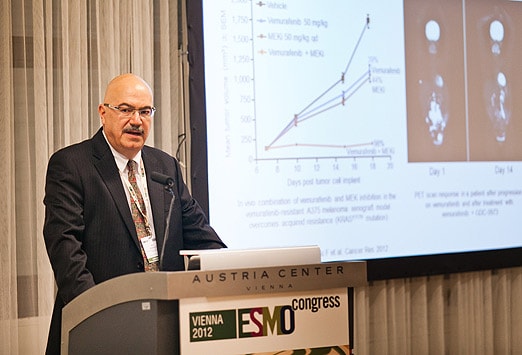 Gefitinib Raises Hopes in Relapsed Esophageal Cancer
Gefitinib (Iressa, AstraZeneca) may be useful in relapsed esophageal cancer. In a 450-patient study, progression-free survival was improved to 49 days with gefitinib vs 35 days with placebo, as was the disease control rate at 8 weeks (25.5% for gefitinib vs 16% for placebo). Improvement in dysphagia, eating, and odynophagia was also noted. But overall survival was not significantly different. David Ferry, MD, of New Cross Hospital in Wolverhampton, United Kingdom, cautioned clinicians against using it off-label for relapsed esophageal cancer now. "There is not enough evidence yet to use gefitinib in unselected patients, no matter how tempted you might be on the basis of anecdotal results that you have heard," he said.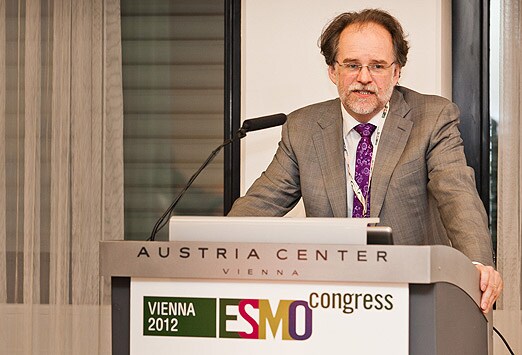 Combo BRAF and MEK Inhibitors Improve Survival in Melanoma
Combining 2 investigational drugs - BRAF inhibitor dabrafenib (GlaxoSmithKline) and MEK inhibitor trametinib (GlaxoSmithKline) - prolonged progression-free survival in patients with V600 BRAF mutation-positive metastatic melanoma, as compared with dabrafenib monotherapy, reported Georgina Long, MD, professor of medicine at the University of Sydney, Australia. The results were simultaneously published in the New England Journal of Medicine. "This is the first kinase/kinase combination showing activity over a single agent," she said. "It also showed reduced specific oncogenic toxicities with a biologic rationale."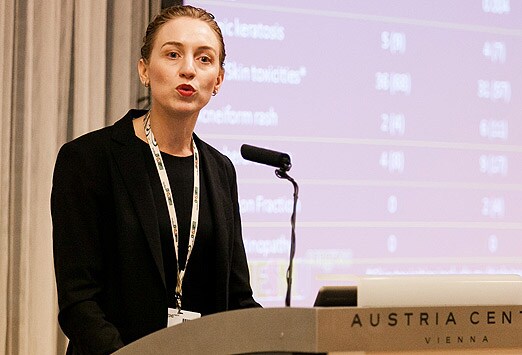 Pazopanib Better Tolerated Than Sunitinib in Renal Cancer
Pazopanib (Votrient) is challenging sunitinib (Sutent) as the reference standard for the treatment of renal cell carcinoma (RCC), conference goers heard. In the first head-to-head comparison, the 2 drugs had similar efficacy, but pazopanib appeared to have a better safety profile and was better tolerated than sunitinib, reported lead author Robert Motzer, MD, from the Memorial Sloan-Kettering Cancer Center in New York City. Pazopanib "is less troublesome for the patient, and quality of life was better," he said. "In general terms, that is the treatment of choice, in my opinion," he added.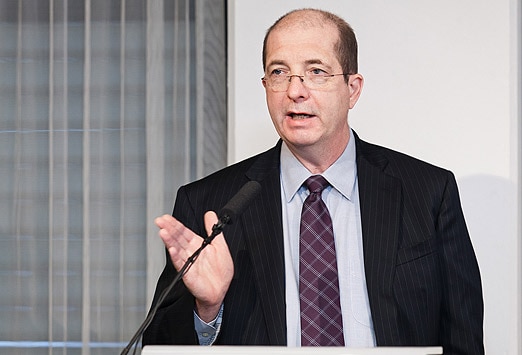 Single or Combination Chemotherapy in Sarcoma?
Is single or combination chemotherapy best in the first-line treatment of advanced or metastatic soft tissue sarcoma? A large study discussed at the Best of ESMO summary session left attendees wondering. The study tested doxorubicin alone or with ifosfamide (plus pegfilgrastim) and found no difference in the primary outcome of overall survival, but the results were of borderline significance, and secondary end points favored the combination. Alessandro Gronchi, MD, from the Instituto Nazionale Tumori in Milan, Italy, suggested that the results can be interpreted as providing evidence for both treatment options.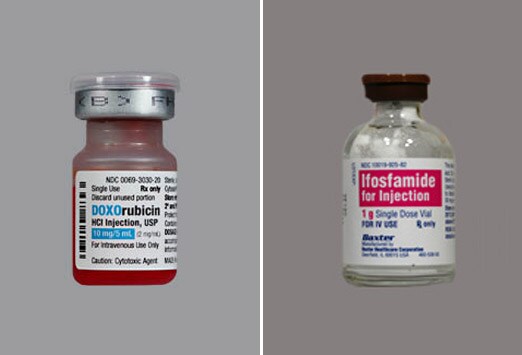 Too Few Women Being Offered Breast-Conserving Surgery
Many women who are probable candidates for breast-conserving surgery are instead undergoing mastectomies, an analysis conducted by Carmen Criscitiello, MD, from the European Institute of Oncology in Milan, Italy, and colleagues has shown. "These results call for a clear consensus on the role of breast-conserving surgery, especially in patients who respond to neoadjuvant therapy," said Dr. Criscitiello. "This will spare more women from receiving radical treatments," she added.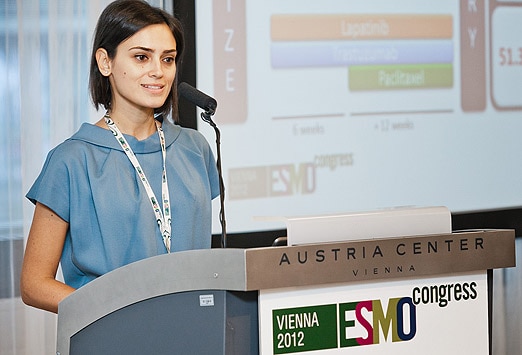 Cancer Patients Unaware of Personalized Medicine Choices
Many cancer patients are unaware of the revolution of personalized medicine that is taking place, according to a survey of cancer patients from 7 countries discussed here. "Clearly, there remains a need for patients to be better informed about personalized medicine, which is a shared responsibility amongst the multidisciplinary healthcare team, patient support groups, and the media," said Sabine Tejpar, MD, from the University Hospital of Leuven, Belgium.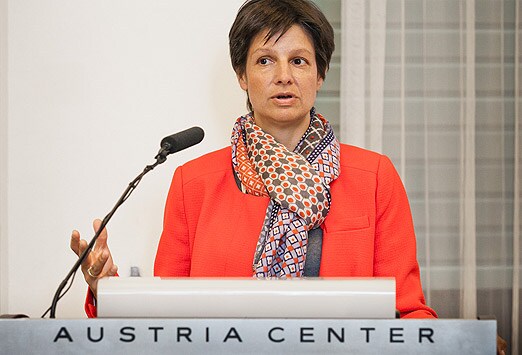 'Important' New Studies on Burden of Cancer in Europe
In Europe, cancer poses a considerable economic burden, through both direct and indirect costs and also takes a toll on caregivers, according to 2 studies released at the conference. These 2 studies are of "enormous importance," said Peter Boyle, PhD, DSc(Med), DSc, in a conference statement. Dr. Boyle is president of the International Prevention Research Institute in Lyon, France, and a member of the ESMO faculty group on cancer prevention. "These studies provide a background on which logical funding decisions can be made, noted Dr. Boyle, who was not involved in either study.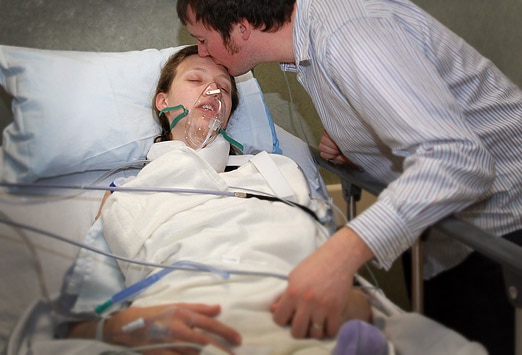 Preventing Future Physicians From Smoking: A Success Story
A Turkish study found that a program designed to keep future doctors from smoking was successful and proved far more effective than a smoking cessation program. Fikri Icli, MD, from Ankara University Medical School, reported on a series of strategies aimed at preventing medical students from starting to smoke. After 5 years, smoking rates dropped 11% among medical students; for students in their sixth year, they dropped from 35% to 8.8%. In contrast, a smoking-cessation clinic established by the university found no increase in the rate of quitting during the same 5-year period. The strategies included monthly meetings, lectures, and an annual "cigarettes or health" symposium.