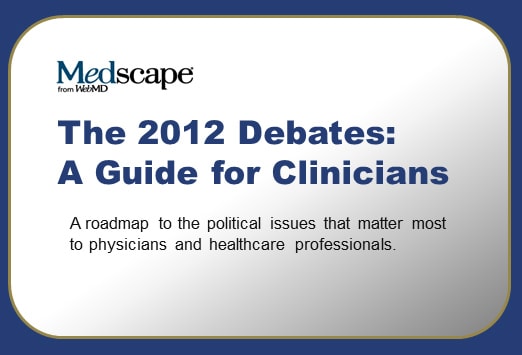 Implications: The candidates' plans to reform Medicare have been lacking in specifics. What's needed is clear-cut information on what implications reform will have on seniors' income, quality of care, and access.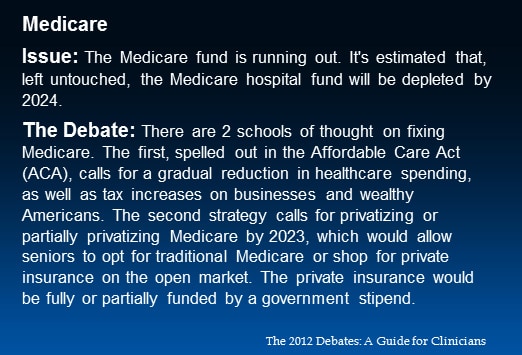 Implications: Already overburdened physicians, particularly primary care doctors, will see an uptick in patient load in states that comply with the ACA's Medicaid expansion program. States that opt out of the expansion may see an increase in uninsured and untreated patients among the very poor.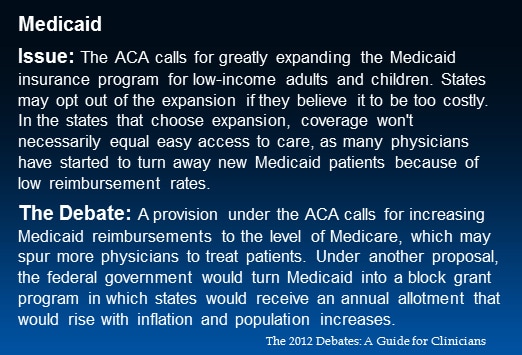 Implications: The presidential candidates have talked little about Medicare reimbursement, an important issue for US physicians who are already struggling with low reimbursement rates and could see even more cuts under the SGR. Further cuts to reimbursements could result in physicians turning away new Medicare patients.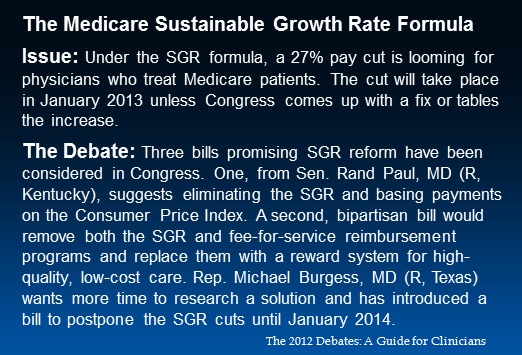 Implications: Medical liability isn't the hot political topic that it was in 2001, when malpractice awards were at their highest. But it is still an issue for physicians and consumers alike, as costs related to medical malpractice continue to increase the overall cost of healthcare.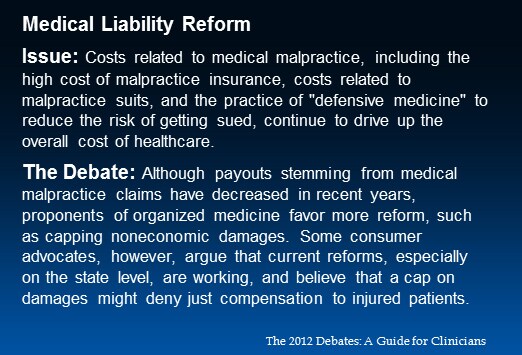 Implications: The individual mandate is not a popular component of the ACA and it's not yet clear what, if any, burden the cost of buying insurance will have on low-income Americans who do not qualify for Medicaid or Medicare. Some fear that the increase in the number of insured Americans will overburden a healthcare industry already grappling with physician shortages.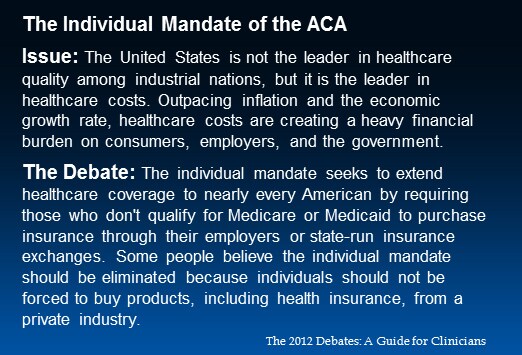 Implications: The primary care shortage may worsen if Medicare and Medicaid reimbursement rates aren't increased and the government is unable to entice doctors to practice in this field. Also, the ACA mandates that not only should all Americans have some form of insurance but also that preventive screenings be offered free of charge to consumers with health insurance. This influx of new patients could further affect the nation's PCP shortage.