Antibiotics for Carbapenem-Resistant Enterobacteriaceae: The End Is Near
Arjun Srinivasan, MD Contributor Information
March 5, 2013
Enterobacteriaceae and Carbapenem Resistance
Enterobacteriaceae are a family of bacteria that are commonly isolated from both healthcare and community infections. The most common Enterobacteriaceae reported to CDC's National Healthcare Safety Network as a cause of a healthcare-associated infection are Klebsiella species, Escherichia coli, and Enterobacter species. Although resistance to beta-lactam antimicrobials has been an issue among Enterobacteriaceae for years, carbapenem resistance has been relatively uncommon in the United States. However, the past 10 years have seen an increase in the frequency with which carbapenem-resistant Enterobacteriaceae (CRE) have been identified. Infections caused by CRE often have limited therapeutic options, and invasive CRE infections have been associated with mortality rates higher than 40%.[1]
(Photo courtesy of CDC)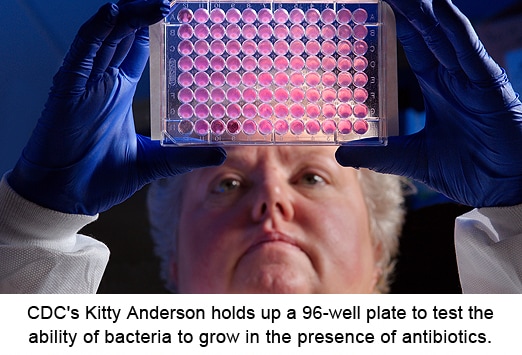 Carbapenem Resistance Is Increasing...
Carbapenem resistance among Enterobacteriaceae appears to be on the rise in the United States. Between 2001 and 2011, the proportion of common Enterobacteriaceae that were nonsusceptible to carbapenems increased from about 1% to 4%; most of this increase was among Klebsiella species, which increased from about 2% to 10%.
(Photo courtesy of CDC)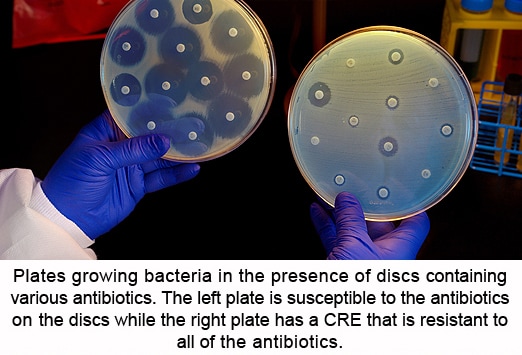 ...But Most Areas Report CRE Infrequently
The March 2013 issue of CDC's Vital Signs will take a close look at CRE epidemiology and prevention. Although the percentage of Enterobacteriaceae causing hospital-onset infections that are resistant to carbapenems is increasing, only about 4% of US short-stay acute care hospitals reported a CRE infection to CDC's National Health Safety Network during the first half of 2012. The proportion of long-term, acute-care hospitals reporting 1 CRE was higher (18%).
(Photo courtesy of CDC)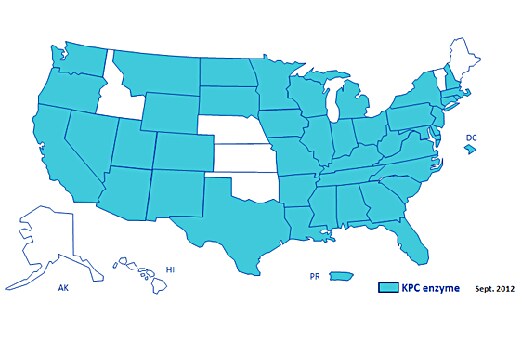 Causes of the Increase in CRE
Much of the increase in CRE is likely related to the emergence and spread of the genes coding for carbapenemases. In the United States, the most commonly identified carbapenemase is Klebsiella pneumoniae carbapenemase (KPC). This enzyme was first described in 2001 in an isolate obtained from a patient from North Carolina. Other carbapenemases produced by Enterobacteriaceae that have been described in patients hospitalized in the United States include NDM, VIM, IMP, and OXA-48. These non-KPC carbapenemases have primarily been isolated from patients who have received recent healthcare outside of the United States.
(Photo courtesy of Center for Disease Dynamics, Economics & Policy [CDDEP])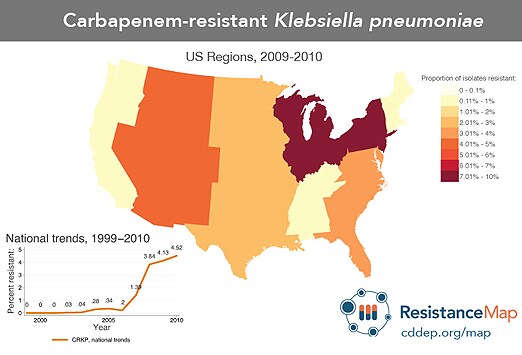 CRE Infections and Medical Care
As reported by 1 surveillance system, almost all (92%) of CRE infections occurred in patients who had received extensive medical care -- most commonly hospitalization -- within the past year.[2] Because Enterobacteriaceae are often associated with community-acquired infections, concern exists that these organisms will be an increasing source of infections in community settings.
(Photo courtesy of Thinkstock)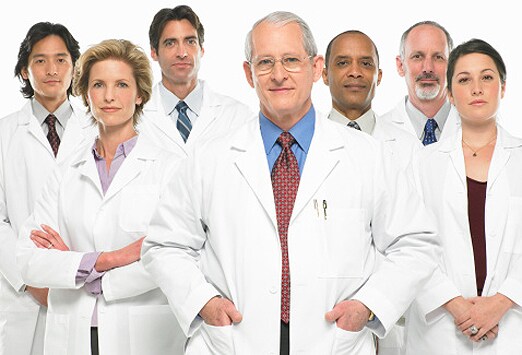 CRE Can Be Prevented
Current evidence about the prevalence of CRE suggests that these organisms are still relatively uncommon in many parts of the United States. Aggressive action now has the potential to slow the emergence of these organisms, especially in places where they are still uncommon. The recommendations in the CDC CRE toolkit have been used successfully in many settings to control the spread of these organisms. For example, a hospital in New York reduced CRE by more than 50% by implementing CDC's recommended practices.[3] The country of Israel reduced CRE infection rates in all 27 of its hospitals by more than 70% in 1 year with a coordinated prevention program.[4]
(Photo courtesy of Thinkstock)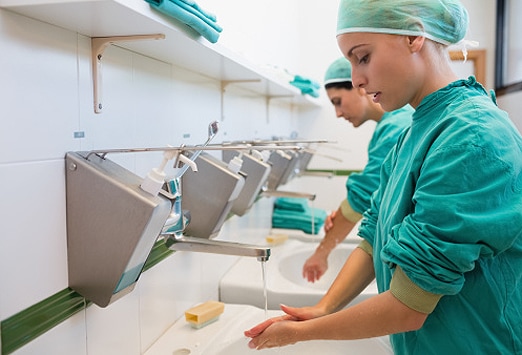 CDC's CRE Prevention Toolkit
CDC's 2012 CRE Toolkit provides detailed CRE prevention guidelines for clinicians, hospitals, long-term care facilities, and health departments. The toolkit provides step-by-step instructions for facilities experiencing CRE and for those not yet affected by CRE.
(Photo courtesy of CDC)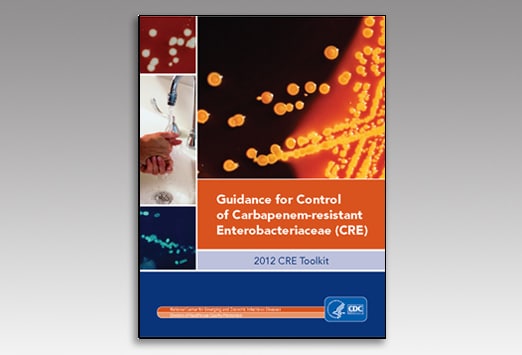 Regional Approach to CRE Prevention
Patients with multidrug-resistant organisms may receive care in several different healthcare settings (eg, short-stay acute care hospitals, long-term acute care hospitals, and long-term care facilities) during their illnesses. These patients can serve as a source for transmission to others in several facilities if appropriate infection prevention is not practiced. The high level of mobility of patients through multiple healthcare settings requires a rapid, coordinated regional approach to controlling CRE if efforts are to be successful. Similar approaches have been used for other multidrug-resistant organisms, such as vancomycin-resistant enterococci. A country-wide CRE control effort in Israel resulted in large reductions in CRE identified from clinical cultures.
(Photo courtesy of Thinkstock)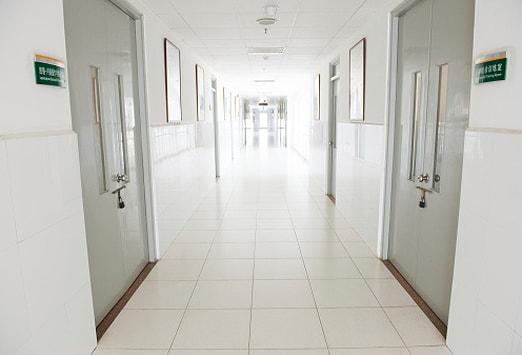 Monitoring CRE Infections
The US government conducts CRE surveillance using 2 systems: the National Healthcare Safety Network and the Emerging Infections Program. These systems provide vital information about CRE risk factors, incidence, and outcomes.
The federal government also provides extensive infection prevention expertise, guidelines, and education; outbreak investigation; and laboratory support to health departments and facilities with CRE outbreaks, and is researching new ways to prevent and control CRE in medical settings. These include implementing regional programs to stop the spread of CRE, sometimes referred to as "detect and protect." Guidance is also provided to support proper antibiotic prescribing practices.
(Photo courtesy of CDC)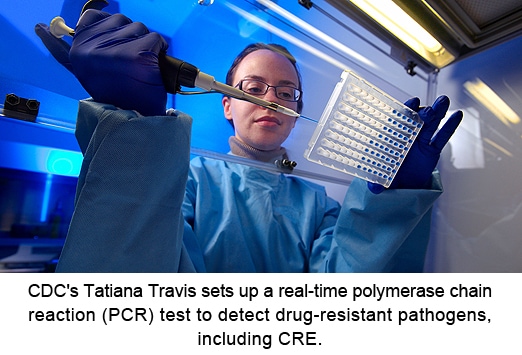 What Can Healthcare Professionals Do?
Healthcare providers can help by doing the following:
Know if patients in your facility have CRE.

Request immediate alerts when the lab identifies CRE.
Alert the receiving facility when a patient with CRE transfers out, and find out when a patient with CRE transfers into your facility.

Protect your patients from CRE.

Follow contact precautions and hand hygiene recommendations when treating patients with CRE.
Dedicate rooms, staff, and equipment to patients with CRE.
Prescribe antibiotics wisely (Get Smart for Healthcare).
Remove temporary medical devices such as catheters and ventilators from patients as soon as possible.