10 Most Costly Inpatient Conditions
Paul Cerrato, MA
February 24, 2014
10 Most Costly Inpatient Conditions
It's no surprise to find septicemia, myocardial infarction, pneumonia, and congestive heart failure on a list of the most expensive medical conditions. They're complex disorders that usually require intensive procedures, expensive medications, and highly skilled physicians to manage. The Agency for Healthcare Research and Quality (AHRQ) published National Inpatient Hospital Costs: The Most Expensive Conditions by Payer, 2011,[1] listing the most costly inpatient conditions.
Many stakeholders question whether these costs have to be quite so high. Does septicemia need to cost the nation $20.3 billion, as reported? Is $14.8 billion too high a price to pay for inhospital management of osteoarthritis? Are there any measures that physicians can take to mitigate these costs? In today's cost-conscious environment, these questions deserve answers.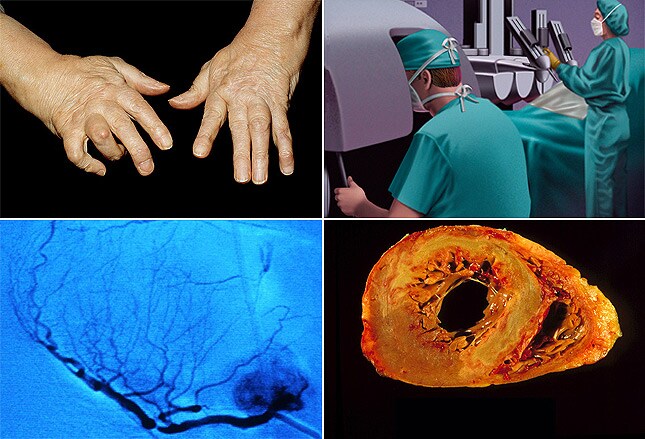 Septicemia (Except in Labor): $20.3 Billion
"Medicare is paying much more than it did before for sepsis," says Alex Shteynshlyuger, MD, a New York urologist and health economist. That's partly because the Centers for Medicare & Medicaid Services (CMS) is allowing hospitals to define less severe episodes as sepsis than it has in the past, he says.
Foley catheters, one potential contributor to septicemia, have routinely been inserted in patients upon admission. Shteynshlyuger points out that, "established practices by physicians are hard to change, and there was no incentive for hospitals to invest in 'prevention' as they got paid only for 'treatment'." New incentives from CMS are now encouraging the former, which has prompted hospitals to hire nurses to remove catheters early on and reduce the risk for infection.
Image courtesy of Centers for Disease Control and Prevention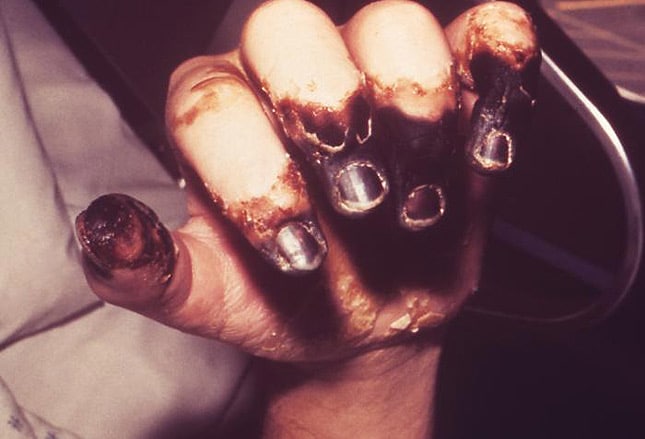 Osteoarthritis: $14.8 Billion
Digging deeper into the AHRQ report reveals a clue about the high cost of osteoarthritis. Over 90% of the hospitalizations for osteoarthritis involved a knee or hip replacement, which brings up the question: Are some joint replacements and other orthopedic procedures being performed when they aren't medically indicated?
A recent paper in the New England Journal of Medicine concluded that "knee osteoarthritis may affect more than 250 million people and is a leading contributor to disability worldwide. Persuasive evidence from randomized, controlled trials indicates that arthroscopic debridement, lavage, or both are no more effective than sham surgery and nonoperative alternatives for symptomatic knee osteoarthritis."[2]
Image from Science Source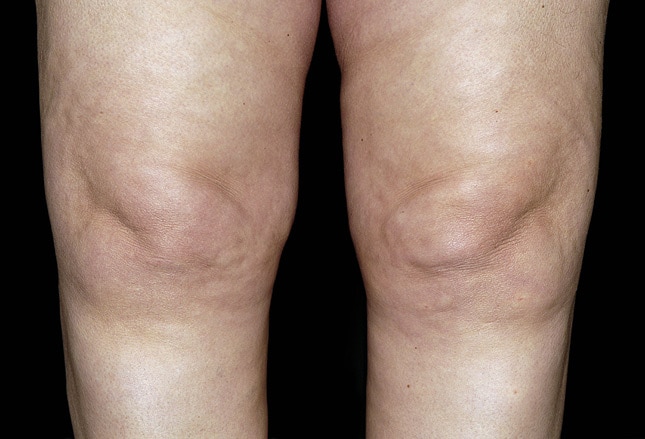 Complications From Devices, Implants, or Grafts: $12.9 Billion
One possible contributor to the high price is so-called "technophilia"; in other words, some physicians' desire to perform procedures using the latest medical technology. Robotic surgery is a case in point. A JAMA study, for instance, found that robotically assisted hysterectomy offered no better clinical outcomes than traditional laparoscopic surgery over a 3-year period; and it added, on average, an additional $2000 to the cost of the operation.[3]
That has prompted the American Congress of Obstetricians and Gynecologists to conclude that "robotic hysterectomy is best used for unusual and complex clinical conditions in which improved outcomes over standard minimally invasive approaches have been demonstrated."[4]
Image from Thinkstock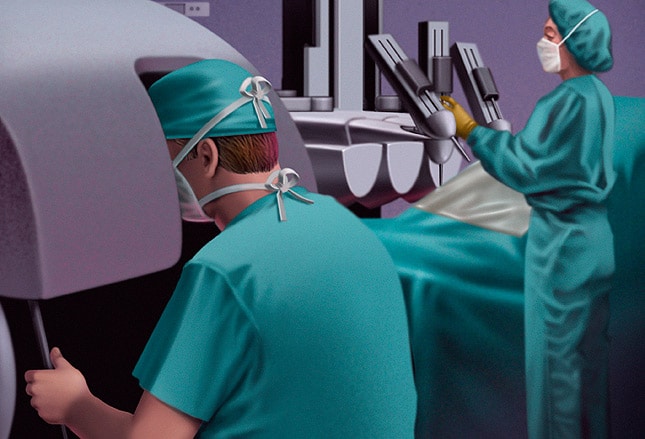 General Childbirth: $12.4 Billion
The combination of maternal and newborn care is "the largest single category of hospital expenditures for most commercial health plans and state Medicaid programs," according to the Center for Healthcare Quality and Payment Reform (CHQPR).[5] Much of the expenditure is the result of the high rate of cesarean sections in US hospitals. CHQPR estimates a third of the 4 million babies born in the United States are delivered by this method, a 50% increase over the last 10 years.
"Increased use of nonreassuring fetal testing -- some of which may reflect defensive medicine due to our broken tort system -- is one of several contributors to the high price tag," according to Charles Lockwood, MD, Editor-in-Chief of Contemporary OB/GYN and Dean of the Ohio State University College of Medicine. Lockwood mentions several other reasons for the elevated cesarean section rate, including the climbing rate in nulliparous women due to rising numbers of inductions for various indications, including pre-eclampsia.
Image from Science Source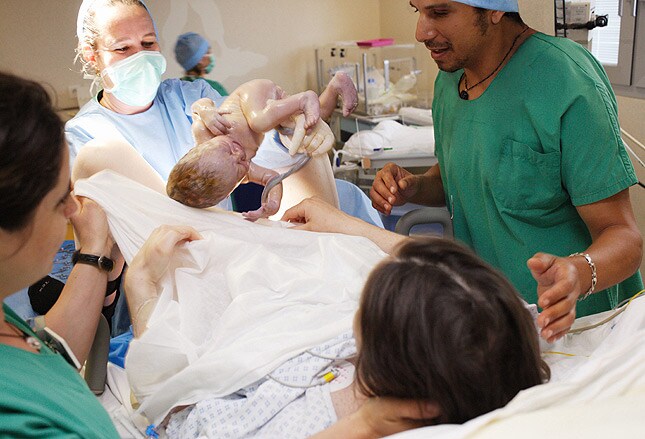 Acute Myocardial Infarction: $11.5 Billion
Myocardial infarction is a result of multiple factors, including genetics and a variety of lifestyle choices. With adequate cholesterol screening, proper nutritional counseling, and lipid-lowering statins, many of these heart attacks can be prevented. The problem is that many Americans don't have access to preventive services, can't afford a lifetime on statins, don't know enough about good diet to stem the tide, or don't make the necessary effort.
Health insurance plans vary in terms of the percentage of coverage for preventive care, explained David Prescott, PhD, Assistant Professor at Husson University in Bangor, Maine. For many patients, "it's expensive to get preventive care," which means it can be cheaper for patients to get really sick and to go to the hospital, says Prescott. The bottom line, unfortunately, is that by the time patients get inpatient care, the price tag is much higher.
Image from Science Source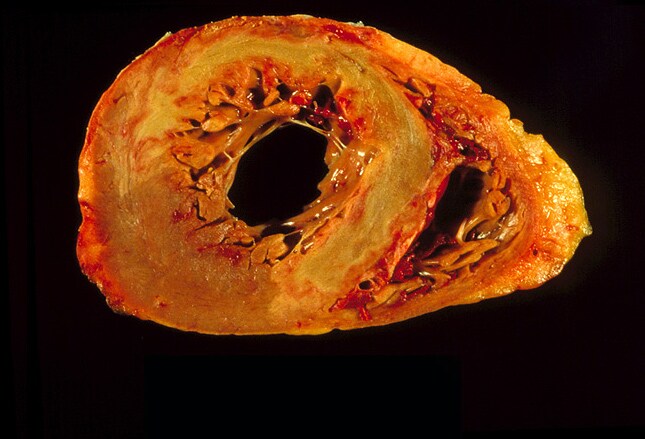 Spondylosis, Intervertebral Disc D, and Other Back Problems: $11.2 Billion
Roughly 1 out of every 4 Americans suffers from chronic low back pain during their lifetime.[6] And despite the fact that the US health system spends more than $11 billion on a variety of back disorders, research suggests the huge expenditure is not doing enough to relieve patients' suffering.
A JAMA study[7] concluded: "After adjusting for inflation, medical expenditures by Americans with back or neck problems rose an estimated 65% from 1997 through 2005, more rapidly than health expenditures by Americans overall."
Several potential inefficiencies in pain treatment may contribute to the high cost of care, including misdiagnosis, the use of unnecessary procedures and tests, and improper use of medication.
Image courtesy of Wikimedia Commons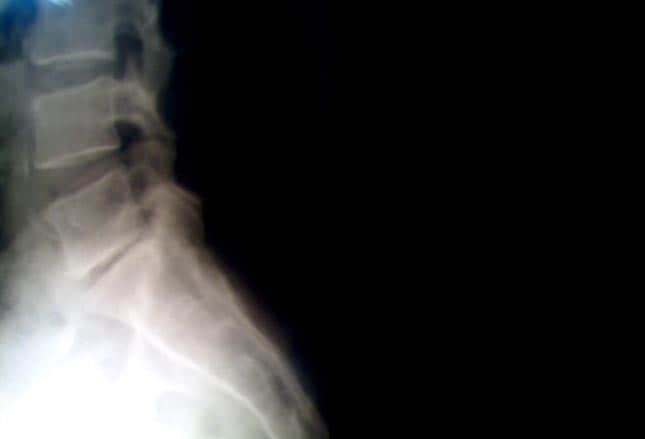 Pneumonia (Except Caused by Tuberculosis and Sexually Transmitted Diseases): $10.6 Billion
The decision to hospitalize a patient with pneumonia poses its own unique challenges, but the AHRQ suggests that many of those who are treated as inpatients could be managed at home instead. Among the tools it suggests can help clinicians identify low-risk patients is the Pneumonia Severity Index. The AHRQ says: "Used as part of a broader management strategy, this decision-support tool has been shown to reduce by up to 18 percent the number of low-risk pneumonia patients who are hospitalized, and to save between $457 and $994 per patient without diminishing the quality of care."[8]
But applying the AHRQ guidelines seems to go against the grain for many physicians who believe that clinical guidelines smack of "cookbook medicine." Such cultural resistance may be doing more harm than good, according to Peter Pronovost, MD, PhD, of Johns Hopkins School of Medicine, who believes that: "Today, adherence to guidelines often remains low...contributing to preventable harm, suboptimal patient outcomes... or waste of resources."[9]
Image from Dreamstime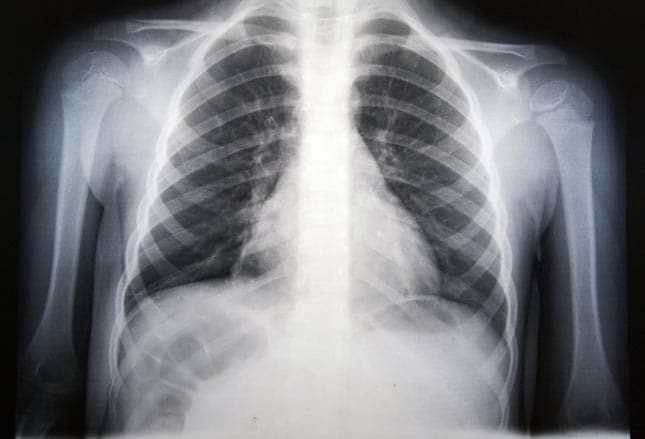 Congestive Heart Failure: $10.5 Billion
A growing number of medical thought leaders see the value of physician-delivered home care as an effective way to reduce the number of congestive heart failure patients who require hospitalization. Groups like Doctors Making House Calls and Housecall MD NY are popping up in support of this trend.
These groups take their inspiration from the Veterans Affairs home-based primary care program, which for many years has been providing cost-effective treatment for congestive heart failure and other disorders through the use of an interdisciplinary team that includes nurses, physicians, social workers, dietitians, and psychologists.[10]
Image from Science Source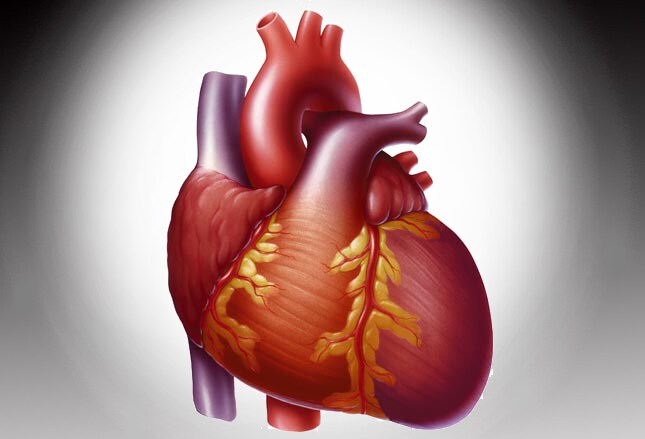 Coronary Atherosclerosis: $10.4 Billion
Coronary atherosclerosis, like many of the conditions on the list, requires the services of a specialist, which is one reason aggregate costs are so high, said Adam C. Powell, PhD, President of Payer+Provider Syndicate, a consulting firm, in an interview with Medscape. Powell also mentioned several nonclinical contributors to the cost of care. One is poor patient compliance, which leads to more complications, which often turns an asymptomatic patient with hypercholesterolemia into a hospitalized patient in need of cardiac catheterization, bypass surgery, and all of the other expensive procedures that produce the high price tag.
One statistic in the AHRQ statistic list for which the report authors offered no explanation was the fact that, while the cost per hospital stay for coronary atherosclerosis went up 52% between 1997 and 2011, the aggregate cost for hospital stays actually decreased by 34% during this time period (3% annually). The higher cost per stay may have been because disease severity has increased in recent years, the types of medical procedures performed have expanded and become more costly, or both.
Image from Science Source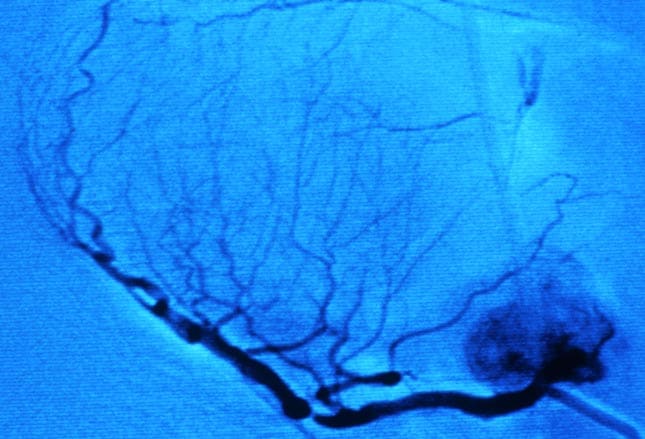 Adult Respiratory Failure: $8.7 Billion
Chronic obstructive pulmonary disease, a major cause of respiratory failure, affects about 15 million Americans. The AHRQ report found that the aggregate hospital cost of managing respiratory insufficiency and arrest in adults increased from $3.6 billion to $8.7 billion, and the mean cost per stay also went up, from $11,300 to $17,200. The average annual change in aggregate costs went up by 6.6%.
Poorly managed hospital discharge and inadequate care coordination may play a role in these statistics. A separate AHRQ statistical brief mentioned the fact that 22.6% of fee-for-service Medicare beneficiaries admitted to the hospital for chronic obstructive pulmonary disease were readmitted within 30 days.[11] CMS believes that there are too many avoidable hospital readmissions and is now penalizing hospitals when they fail to meet CMS benchmarks.
Image from Science Source