Over 24,000 physicians in 25 specialties responded to this year's Medscape Compensation Report and described their 2013 compensation, number of hours worked, practice changes resulting from healthcare reform, and adaptations to the new healthcare environment.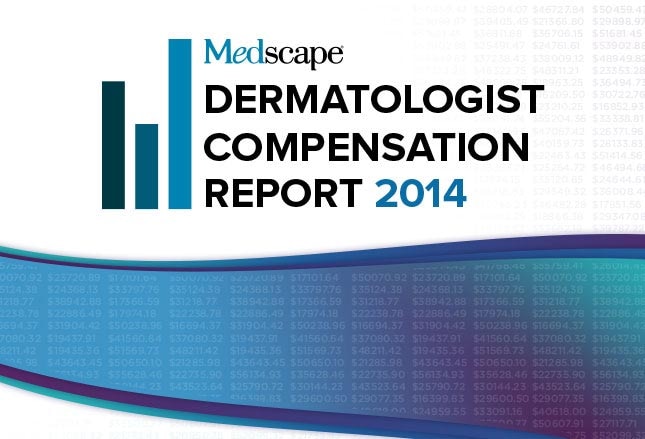 In Medscape's 2014 Compensation Report, dermatologists fall slightly toward the top among all physicians, with average earnings of $308,000. As in previous Medscape reports, orthopedists are the earning leaders, followed by cardiologists. Urologists and gastroenterologists are tied for third place. The lowest earners are physicians in HIV/ID, with primary care physicians and endocrinologists also in the bottom five. As in the past, those who perform procedures have the highest incomes compared with those who manage chronic illnesses. Earnings are for full-time work only. They include salary, bonus, and profit-sharing contributions. For partners, these are earnings after taxes and deductible business expenses but before income tax. They do not include non-patient-related earnings.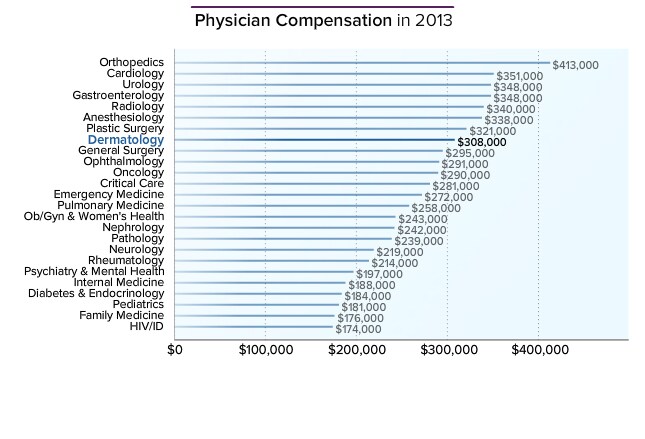 Dermatologists reported nearly the same income as they did last year, with a 0.6% increase. (Values in the chart are rounded.) It is interesting to see a small decline in compensation among some of the specialties involved in procedures and small increases among primary care physicians, which could reflect early changes in reimbursement resulting from the Affordable Care Act. The variations in compensation among all specialties between 2012 and 2013 are very small, however, and are probably not important yet.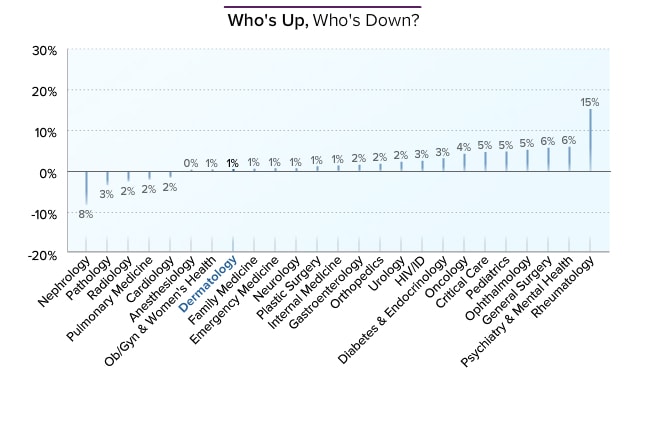 About half of all graduating physicians are now female, and 61% of female physicians are under 45 vs only 38% of men.[1] Compared with the Medscape 2010 Compensation Report, this year's respondents -- both male and female physicians -- report higher incomes. However, men are still making more money. According to the Medscape survey, male dermatologists, at $329,000, make considerably more than female dermatologists, at $272,000. This is consistent with previous years and responses from all physicians, where men are still the higher earners. "As increasing numbers of doctors start working regular set hours for large health systems, there's little variance in income based on sex," notes Judy Aburmishan, partner in FGMK, LLC, a Chicago firm that represents physicians and other providers.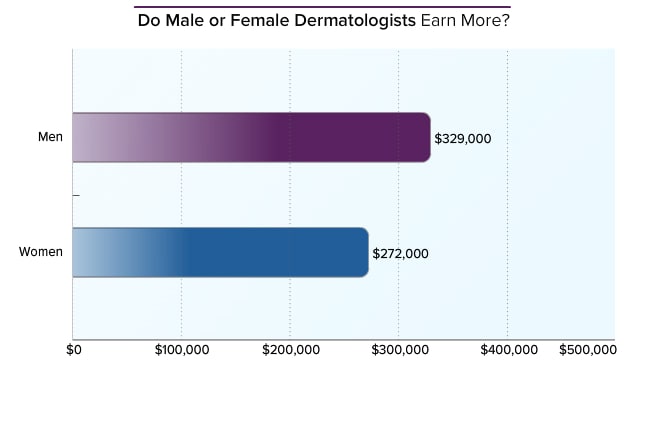 Because female dermatologists make less than their male counterparts, it is not surprising that they are less likely to feel satisfied with their income (61% of women compared with 66% of men). Dermatologists, regardless of gender, are happier with their income compared with all physicians who responded, where satisfaction rates were 50-50.
The highest dermatologist earners live in the Southwest and Northwest regions ($385,000 and $341,000, respectively). The lowest earners are in the South Central ($238,000) and Mid-Atlantic ($273,000) regions.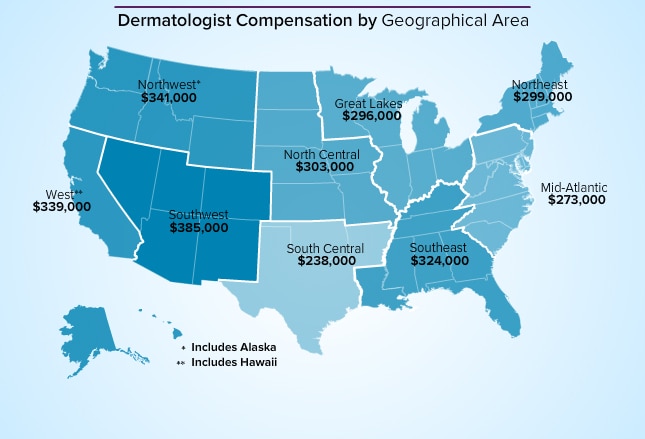 In this survey, self-employed dermatologists earned more ($338,000) than those employed ($243,000), although the differences may be mitigated by the type of practice setting (see slide 8). The most common payment method for employed doctors is straight salary, although physicians increasingly also have to meet productivity targets. A New York Times article reported that 64% of positions to be filled last year were in hospitals, compared with only 11% in 2004.[2] In another recent Medscape report, nearly 49% of employed physicians were satisfied with their income, which could reflect that even if they were making less, the benefits of a regular paycheck and possibly doing less work for the same money might compensate for not being self-employed.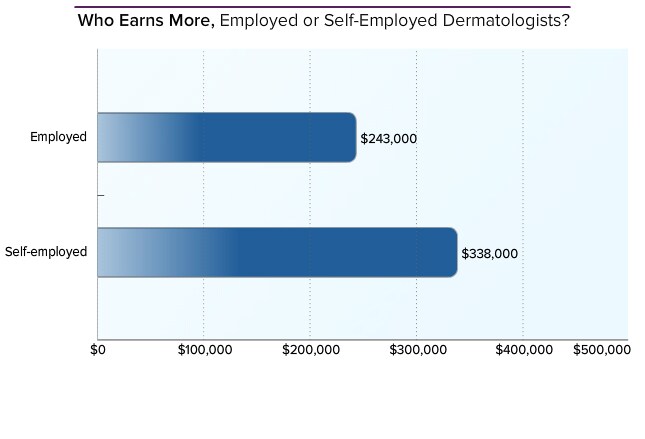 Although self-employed physicians make more than those who are employed, breaking down income by practice settings creates a more nuanced picture. Dermatologists who work for office-based multispecialty groups are the highest earners, at $361,000, followed by those in healthcare organizations, at $336,000. Those in hospital positions make the least ($169,000), while dermatologists in outpatient clinics follow next in line at $211,000. Office-based solo practitioners make $306,000 on average and are in the middle in terms of earnings. In any case, physicians in general are increasingly leaving private practice for salaried positions.[3]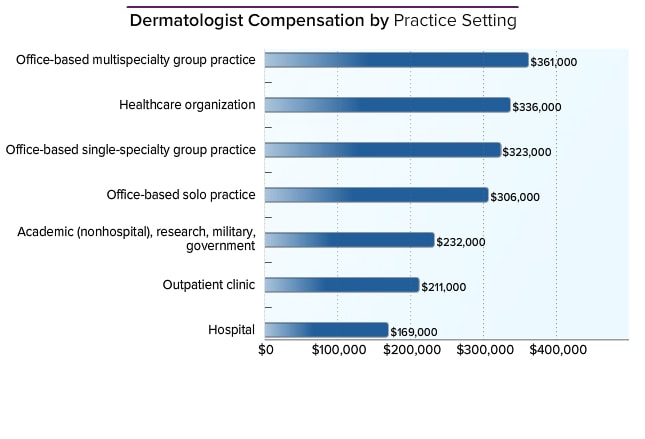 Among dermatologist survey responders, only 53% would choose medicine as a career again but a surprising 77% would choose their own specialty, and 34% would make the same decision about their practice setting. Among all physicians, 58% would choose medicine, 47% the same specialty, and 26% the same practice setting. The authors of a 2010 JAMA study[4] pointed out that in spite of declining fees starting in 1995 and anecdotal reports of discontent, physician satisfaction levels remained stable between 1997 and 2010.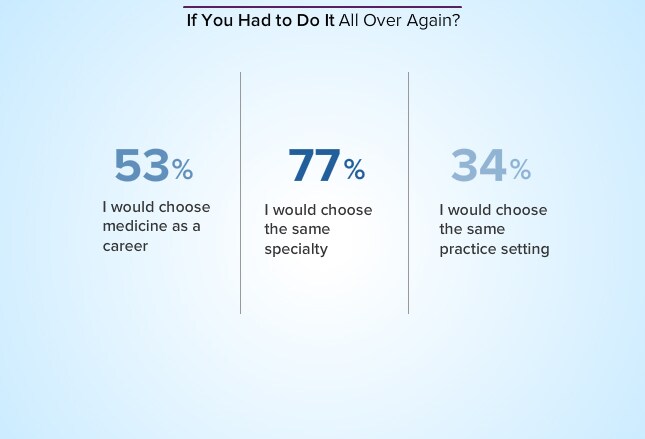 To determine general career satisfaction level, Medscape averaged the percentages of physicians who would choose medicine and their specialty again and the percentages of those who thought they were fairly compensated. Dermatologists were the most satisfied physicians (65%), with a large gap following for psychiatrists (58%). The least satisfied from the bottom up were plastic surgeons (45%) and then neurologists and internists (47%). Of note, in this year's Medscape Lifestyle Report, dermatologists also ranked as the second happiest physicians.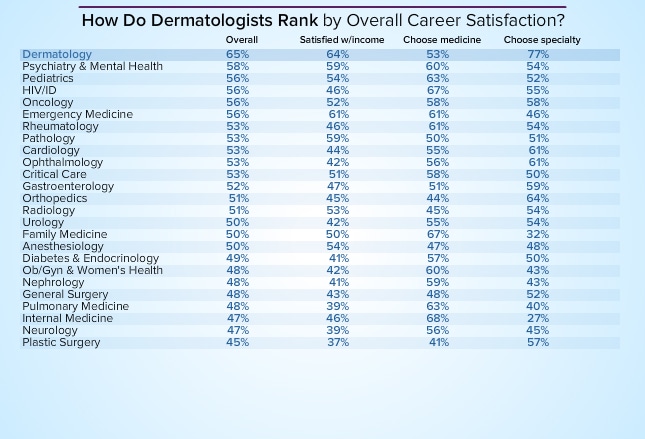 Twenty-two percent of dermatologists are already in Accountable Care Organizations (ACOs) and 6% plan on joining one this year. While fee-for-service and private practice are the most predominant forms of payment and practice, participation in ACOs is significantly higher than in the other alternative payment models, with concierge practice (also referred to as direct primary care) at 3% and cash-only at 6%. ACOs are designed to deliver improved care for patients, and within these settings there are various payment models, including shared savings programs,[5] advanced payment models (mostly for rural providers[6]), and the Pioneer ACO Model, which is for organizations and providers with experience in coordinating patient care.[7]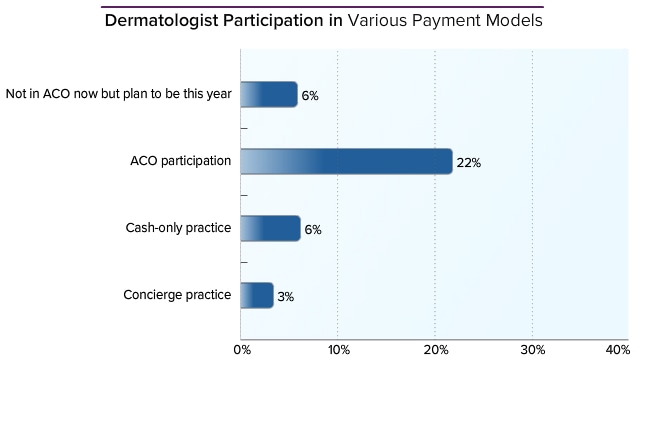 In this year's Medscape report, 10% of self-employed and 7% of employed dermatologists said they are likely to stop taking new Medicare or Medicaid patients, with more employed dermatologists (58%) than self-employed dermatologists (54%) likely to continue seeing new and current patients. A third of both self-employed and employed dermatologists were still undecided. According to CMS, the number of doctors who opted out of Medicare tripled between 2009 and 2012, although the numbers were still relatively small (3700 and 9539, respectively).[8] CDC data showed that 35% of PCPs and 29% of specialists in 2010 were not accepting new Medicaid patients, and 27% of PCPs but only 10% of specialists were not taking new Medicare patients.[9]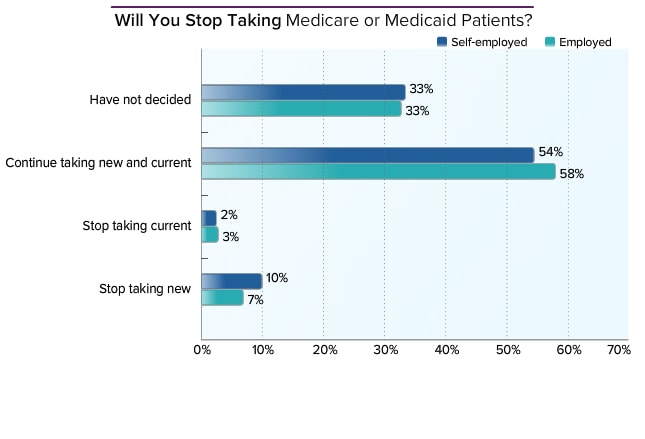 Forty-four percent of dermatologists who responded to the Medscape survey say they will drop insurers who pay poorly, which is far more than the percentage among all physicians (25%). A third of dermatologists say they will not, with 21% saying they need all their payers. (This question was not applicable to the remaining physicians.) Private insurance still pays for about 63% of patient visits.[10] According to 2009-2010 data from the CDC, 89% of PCPs and 94% of specialists take private insurance. However, although Medicare is known to have lowered fees, private insurers are also paying less, particularly to small practices without any strong influence.[2] Robert Morrow, MD, a family doctor in the Bronx and a Medscape advisor, said he now receives $82 from Medicare for an office visit but only about $45 from commercial insurers.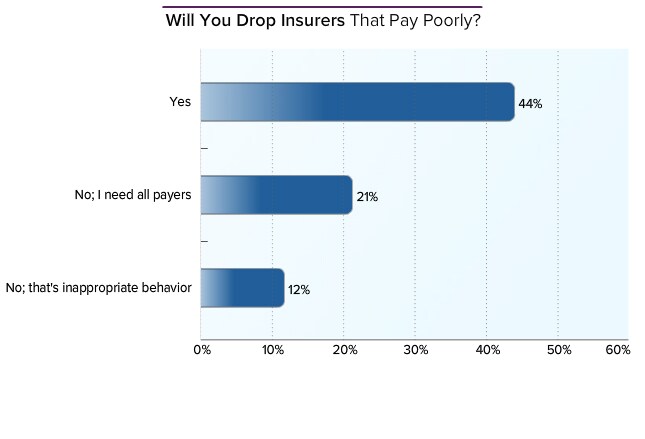 According to the dermatology survey respondents, 18% of those who are employed and 24% of the self-employed offer ancillary services. These can include in-house lab services, light treatments, and radiography.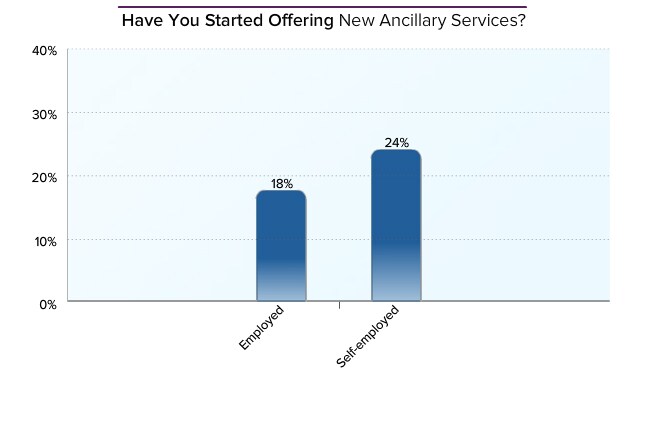 Nearly all (93%) of the dermatologists who responded to this survey regularly or occasionally discuss the cost of treatment with patients. The remaining physicians either don't have this discussion or do not see patients. Of particular current interest is whether physicians in general are discussing the new health insurance exchanges. In a recent Medscape poll,[11] 38% of health professionals thought that physicians should be prepared to discuss these issues, and although 41% of respondents did not feel that physicians should be obligated, they did think that staff should be ready for such conversations. Just 21% said that only patients -- not physicians or their staff -- should research exchanges.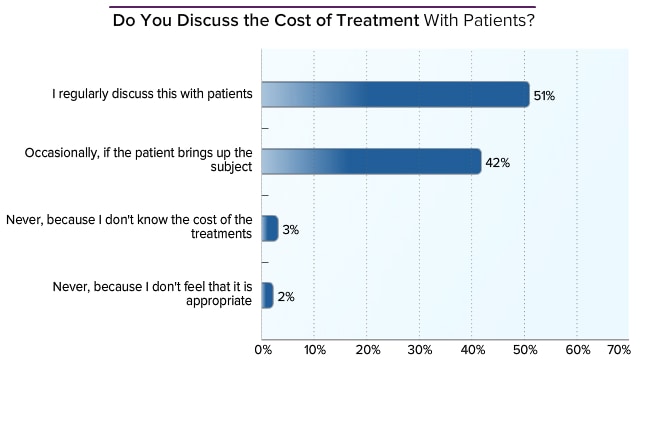 Almost three-quarters (72%) of dermatologists who responded to the survey spend 40 or fewer hours per week seeing patients, with only 28% spending more time. (Values in the charts are rounded.) A 2010 study in JAMA[4] found that after no significant change between 1977 and 1997 in the hours per week that physicians in general spend with patients, these hours decreased steadily from 54.6 to 51 between 1997 and 2007. The decline was seen regardless of gender or employment status, but it was largest for nonresident physicians under 45 and for those working outside of hospitals. The study authors attributed the decrease to a parallel 25% inflation-adjusted decline in fees between 1996 and 2006. They pointed out that some physicians may have compensated by increasing ancillary services at the expense of patient time. Hours spent on patients by specialists, such as dermatologists, pathologists, and emergency medicine physicians, who generally spend less time than other physicians, changed by less than 1% during the past decade.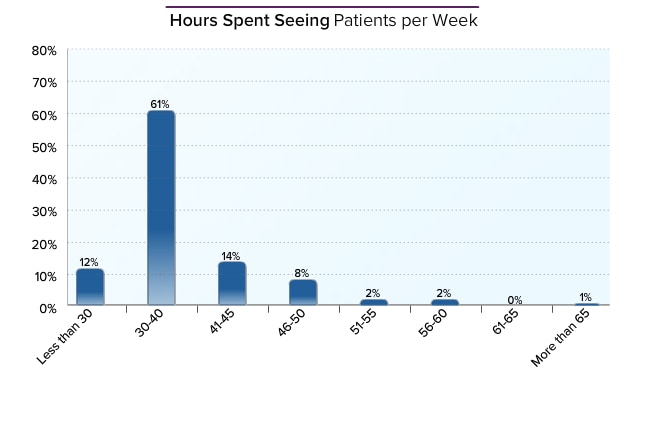 Thirteen percent of dermatologists report between 25 and 75 patient visits per week, 42% have between 76 and 124 weekly visits, and 42% have more than 125. (Values in the charts are rounded.) In spite of changes to the Affordable Care Act, an organization's or practice's revenue will still be determined largely by volume generated by physicians, and therefore the pressure to see more patients will still exist.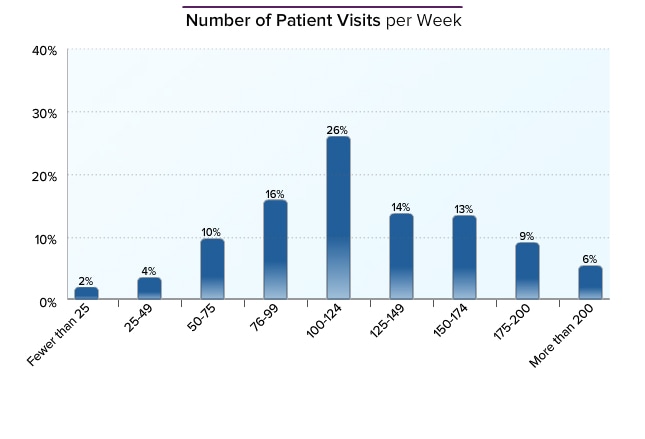 In Medscape's Compensation Report, 82% of dermatologists spend 16 minutes or less per patient, while about 17% spend more time. In comparison, nearly half (48%) of primary care physicians who responded to the Medscape survey spent over 16 minutes per patient.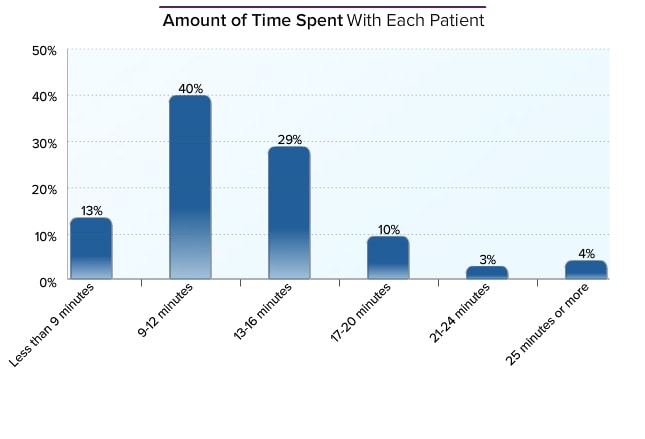 According to this year's survey, 18% of self-employed and 22% of employed dermatologists spend at least 10 hours per week on paperwork and administrative tasks. (Values in the charts are rounded.) This is less time than that reported by all physicians who responded to this survey, in which 26% of self-employed and 35% of employed physicians spend at least 10 hours per week on paperwork. What is not noted in this survey is the amount of time spent working on patient-related work not involving care, such as writing up notes, making calls, and interpreting laboratory results. For example, in a study on family physicians, a fifth of their time was related to this work.[12]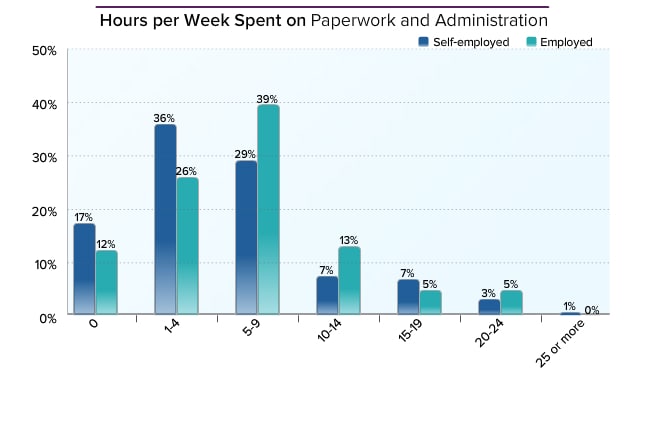 Despite the frustrations, most physicians find their careers deeply rewarding. Dermatologists cited relationships with patients (41%) and being good at what they do (35%) as the 2 top rewarding parts of their jobs. Eleven percent chose making good money. Being proud to be a doctor (4%) and "making the world a better place" (6%) were less compelling factors. A small percentage mentioned other rewards.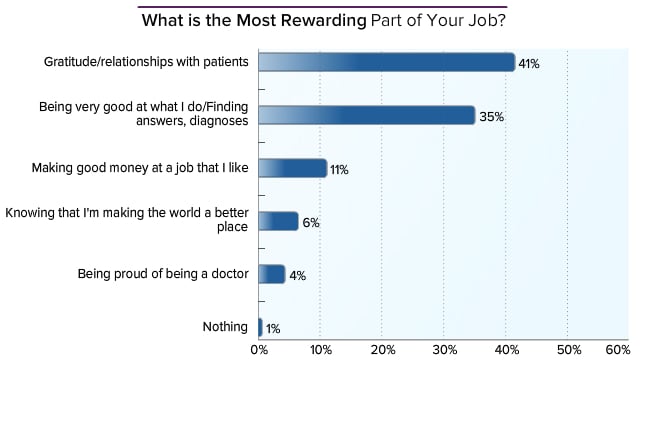 Over half (55%) of dermatologists who responded to the Medscape survey were still not sure whether they would participate in health insurance exchanges, which is the same percentage as that reported by all physicians. Only 20% were certain that they would participate in the exchanges and 25% were sure that they wouldn't. A recent survey from a major recruiter showed that even higher numbers of physicians would not participate. Reasons cited were lower compensation, higher workload, decline in quality of patient care and access, and reduced ability to make decisions.[13] The American College of Physicians has recently recommended reforms for both federally qualified health plans (QHPs) and Medicare Advantage programs, which include changes in drug formularies and ensuring that QHPs do not overly restrict physician networks.[14]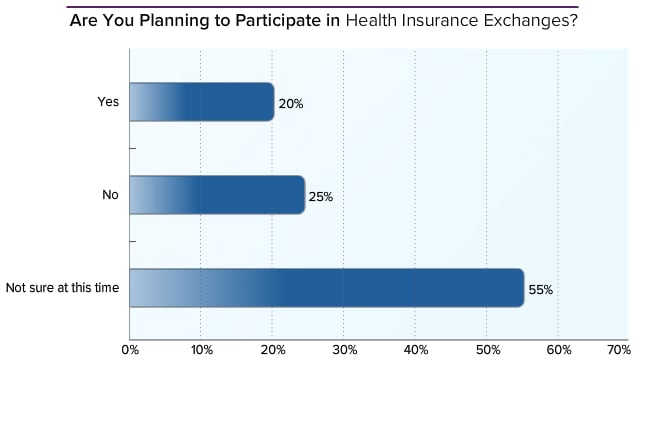 Nearly two-thirds (62%) of dermatologists expect their income to decrease under the health insurance exchanges, 36% do not foresee any change, and only 2% believe that their incomes will increase. Dermatologists are more pessimistic than all physicians, of whom 43% anticipate an income decline. Specialists who believe that they will most likely see a decline tend to be those whose income heavily relies on procedures. Fewer generalists believe that their incomes will be reduced. Such attitudes follow provisions in the Affordable Care Act intended to increase primary care income and reduce the number of unnecessary procedures. However, some private insurers are planning to reduce physician rates, particularly for those in smaller exchange networks. Anecdotal information suggests that some exchange plans are offering $60 to $70 for an office visit of a complex nature, compared with a $90 payment from Medicare and $100 or more from a commercial plan for the same visit.[15]