Best and Worst Places to Practice: 2013
Shelly Reese
May 22, 2013
Best and Worst Places to Practice: 2013
There are great places to practice all around the United States, and chances are that you've never considered many of them.
We looked at the factors that doctors told us were most important and weighed them against data related to the medical profession and the current financial landscape. The result is our list of the best -- and worst -- states to practice in, region by region. Take a look at our top places; one of them might be just the right fit.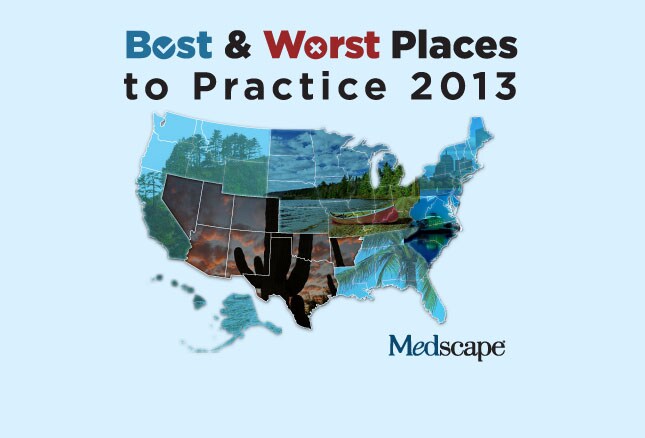 Geographic Regions
This year, as in the past, we selected winners on a regional rather than a national basis. Our logic? Although practice conditions are important, "soft" factors matter as well. Most people prefer to stay within the region where they grew up, have family members, and feel comfortable. By selecting "best places" winners on a regional basis, we are aiming to provide options that allow for individual preferences.
Southwest and South Central: Arizona, Arkansas, Colorado, Nevada, New Mexico, Oklahoma, Texas, Utah
West and Northwest: Alaska, California, Hawaii, Idaho, Montana, Oregon, Washington, Wyoming
Southeast: Alabama, Florida, Georgia, Kentucky, Louisiana, Mississippi, South Carolina, Tennessee
Mid-Atlantic: Delaware, Maryland, New Jersey, North Carolina, Pennsylvania, Virginia, West Virginia
Great Lakes and North Central: Illinois, Indiana, Iowa, Kansas, Michigan, Minnesota, Missouri, Nebraska, North Dakota, Ohio, South Dakota, Wisconsin
Northeast: Connecticut, Maine, Massachusetts, New Hampshire, New York, Rhode Island, Vermont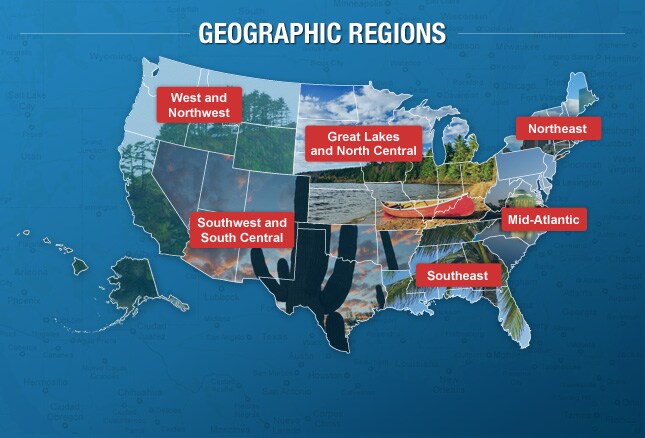 What Do Doctors Value Most?
In a March 2013 survey, we asked doctors what factors were most important to them in choosing a place to practice. More than 1000 Medscape readers responded and told us that the 3 most important factors in choosing a practice location are a "comfortable, enjoyable living environment" (69%), "family and friends live nearby" (45%), and "relative value of my specialty" (39%). The next factors named were "climate/temperature" (34%), "job opportunities" (31%), and "malpractice climate and premiums" (24%).
*Percentages add up to more than 100% because respondents were asked to make multiple choices.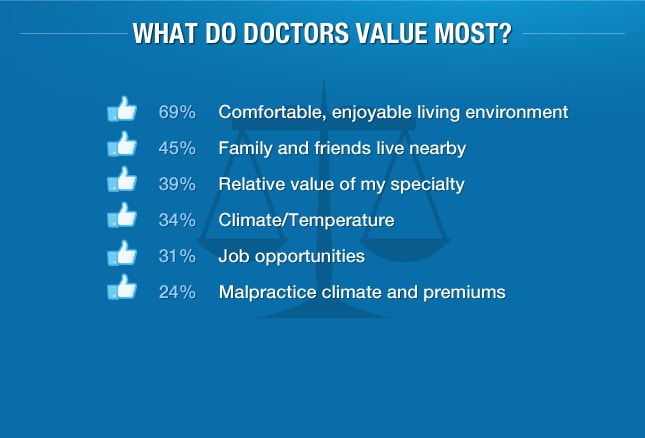 Other Important Factors
To determine the "best" and "worst" places, we also analyzed practice factors such as physician density, the malpractice environment, insurance mix and competition, medical board activity, tax burden, and cost of living in all 50 US states.
Our data come from the Medscape 2013 Physician Compensation Report, Kaiser Family Foundation, Federation of State Medical Boards, American Medical Association Market Competition Study, Missouri Economic Research and Information Center, Tax Foundation, and the Annie E. Casey Foundation.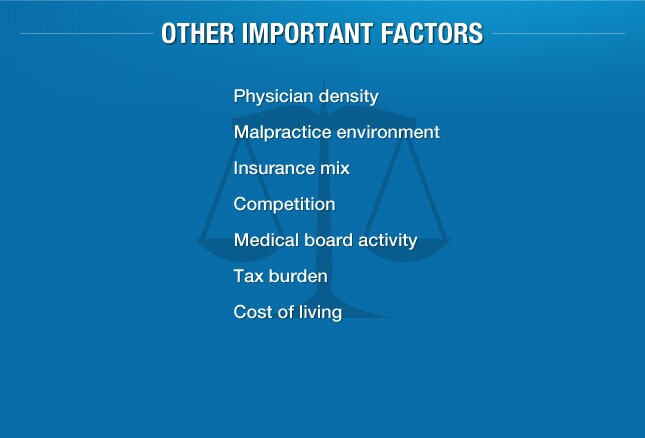 Southwest and South Central Regions
A decade after tort reform passed, Texas is physician friendly. Although Texas has seen a big influx of doctors in recent years, the state still has only 20.2 physicians per 10,000 residents, well below the national average.
Cost of living is extremely low, and compared with the other states in the Southwest/South Central region, Texas has the lowest tax burden, the fewest malpractice claims per capita, and the lowest average claim payout. Texas has several leading-edge medical institutions and is home to 6 pediatric hospitals, which have expanded dramatically. The state is known for its pro-business climate, which is propelling growth.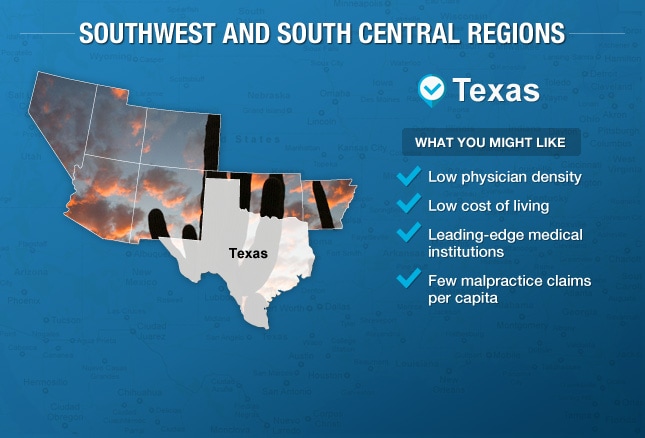 Southwest and South Central Regions
Nearly a quarter of Texans are uninsured. As health reform legislation kicks in and more individuals obtain coverage, there is likely to be a massive surge in demand, placing a huge burden on the health system. Insurance premiums have risen faster here than in other parts of the country. Texas has one of the slimmest Medicaid and Children's Health Insurance Programs in the nation. Some people may not care for Texas' blazing summers or the dry, flat topography that characterizes much of the state.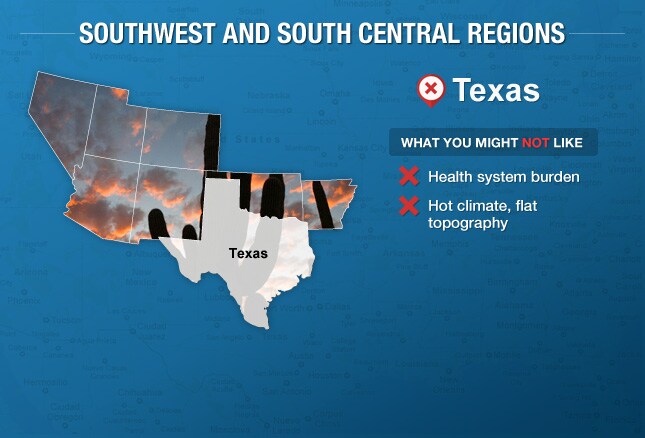 Community to Consider
If you're looking for a vibrant community, Austin is one of the hottest cities in the United States. The state capital bills itself as "the live music capital of the world." The Austin City Limits and South by Southwest music festivals attract music fans from all over the world.
Often ranked as one of the fittest cities in the United States (by the American College of Sports Medicine), Austin offers an abundance of outdoor activities, including cycling, stand-up paddle boarding, and kayaking. The 10-mile Lady Bird Lake Hike and Bike Trail offers fitness enthusiasts an off-road experience in the heart of the city, complete with lush scenery and gorgeous skyline views.
"There is balance, and physicians are searching for balance across all factors," says Steve Marsh, managing partner with The Medicus Firm, a physician recruiting service.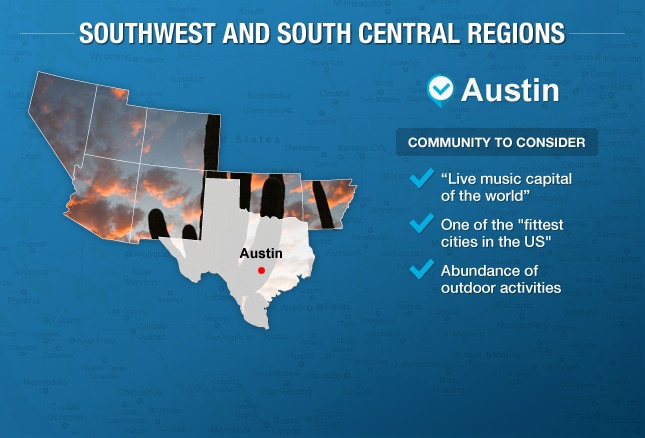 West and Northwest Regions
Idaho is back on our list again this year, and for a couple of very good reasons. Idaho is the ninth most affordable state in the country in terms of cost of living, which gives it a huge leg up over its pricey regional competitors. With only 17 doctors per 10,000 residents, it has the lowest physician density of any US state. With only about 1 paid malpractice claim per 58,000 residents in 2011, Idaho isn't a particularly litigious state.
Average physician compensation in the Northwest is $247,000. Idaho provides great access to outdoor recreational activities, including skiing, snowboarding, and hiking. Housing prices increased 10% over last year and Idaho is expected to have one of the strongest housing markets moving into 2014.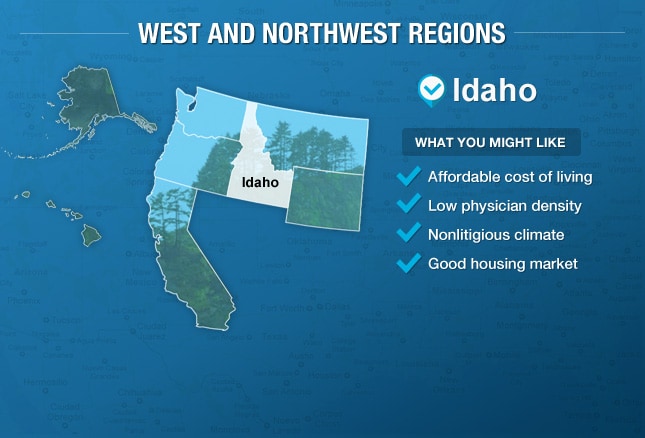 West and Northwest Regions
If you're not interested in hospital employment, Idaho may not be your cup of tea. In Boise, for example, more than half of the physicians in the Boise area are employed by 1 of 2 large hospital systems.
Idaho's rate of employer-sponsored insurance coverage is below the national average, while its uninsured rate is above. Idaho physicians could use a little more support as well; with only 736 registered nurses per 100,000 residents, Idaho is well below the national average.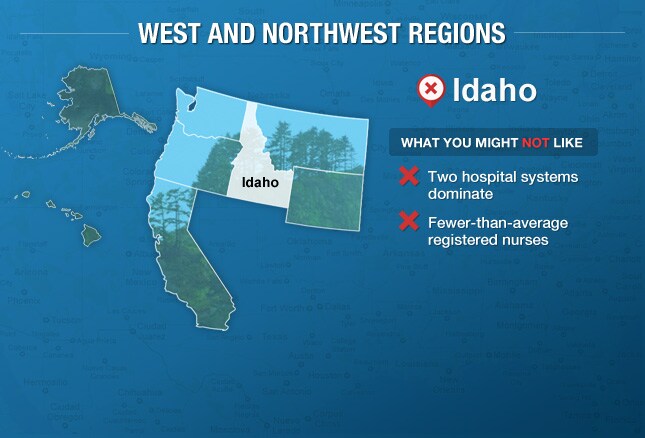 Community to Consider
Nature is a big part of the Boise experience. The snow-capped Rockies provide a scenic backdrop, and world-class skiing is a short drive away. The Boise River flows through the heart of the city, and the surrounding 25-mile greenbelt provides a scenic venue for outdoor recreational activities. Hikers and cyclists will appreciate the 130-mile Ridge to Rivers system of interconnected roads and trails that link neighborhoods and public lands throughout the foothills surrounding the city.
Forbes[1] ranks Boise the No. 2 city in which to raise a family, citing the quality of its schools and low crime rate. Boise's varied museums include the Idaho History Museum, the Boise Art Museum, the Basque Museum and Cultural Center, and the interactive Discovery Center of Idaho.
Boise offers the amenities to which physicians often become accustomed while training in urban settings, says Andy Olson, senior director of recruiting for Merritt Hawkins, a physician placement firm. Nearby Meridian, Idaho,appears on Money magazine's top 100 Best Places list.[2]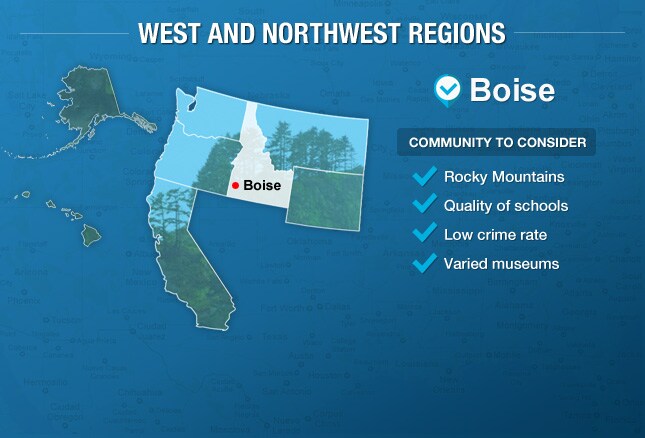 Southeast Region
Physicians considering the Southeast have lots of attractive options. Doctors practicing in the region are well compensated -- making an average of $247,000 -- and the area has low physician density and plenty of topographical diversity.
Tennessee, with the second lowest cost of living in the country and no state income tax, is particularly appealing. With an overall tax burden of just 7.7%, a business-friendly culture, a mild 4-season climate, and the Smoky Mountains, Tennessee is tough to beat. Tennessee is also home to an abundance of healthcare employers.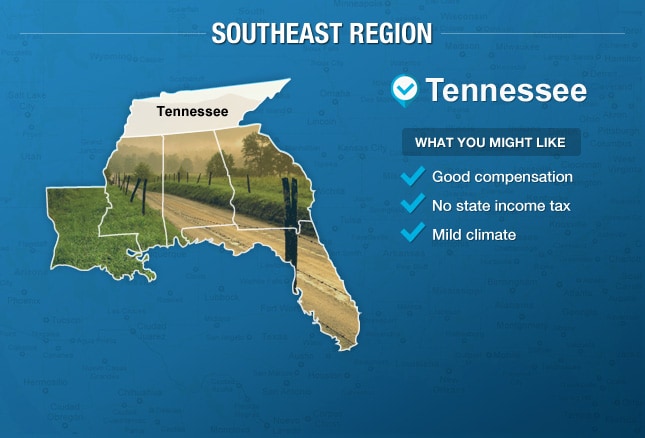 Southeast Region
Although Tennessee's physician-to-population ratio is better than the national average, it is high compared with the ratio in other Southeastern states. Also, Tennessee's school systems ranked near the bottom (No. 42) in a national study conducted by the Annie E. Casey Foundation.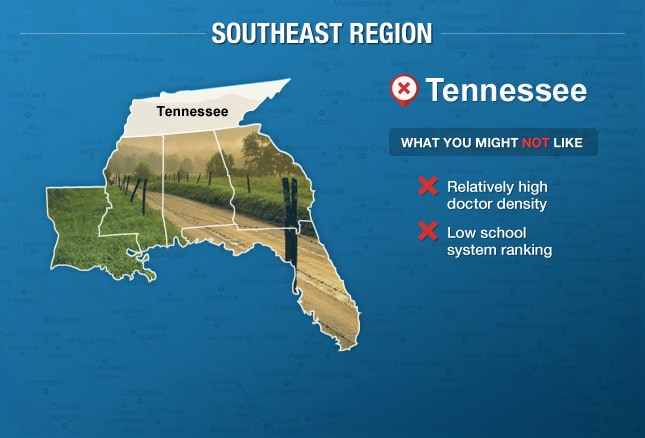 Communities to Consider
Home of the Grand Ole Opry, Nashville's identity is bound to its musical heritage. Known since the 1950s as Music City, the state capital is located on the Cumberland River in the north central part of the state. Nashville is known for country music, but all genres of music thrive here. The Grammy-winning Nashville Symphony performs more than 200 concerts annually in downtown's Schermerhorn Symphony Center.
The Tennessee Performing Arts Center hosts a Broadway series and is home to the Nashville Opera, Nashville Ballet, and Tennessee Repertory Theatre. The W.O. Smith Music School provides instruments and musical education to low-income children.
Nashville, home to Vanderbilt University, as well as other Tennessee university towns such as Memphis, offer the work-life balance and amenities that doctors seek, says Steve Marsh, managing partner with The Medicus Firm.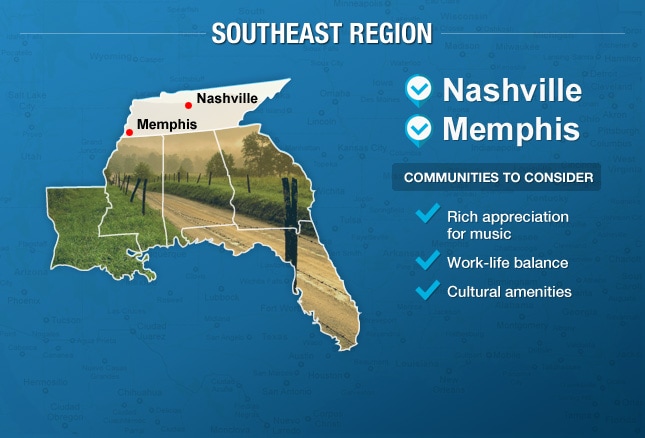 Mid-Atlantic Region
The Mid-Atlantic region has an abundance of doctors, particularly near the major metropolitan areas. Still, if you're drawn to the region, Virginia has plenty to offer. The state ranks near the middle -- No. 23 -- in terms of cost of living. With 25.5 physicians per 10,000 population, it falls just below the national average of 25.7. Relative to the size of its overall population, Virginia had fewer paid malpractice claims in 2011 than any other Mid-Atlantic state except North Carolina.

The state's 9.3% overall tax burden is the second lowest in the region. As for quality of life, Virginia has a lot going for it, including beaches, the Shenandoah Valley, good schools, and easy access to metro regions. Unemployment in February 2013 was a low 5.6%.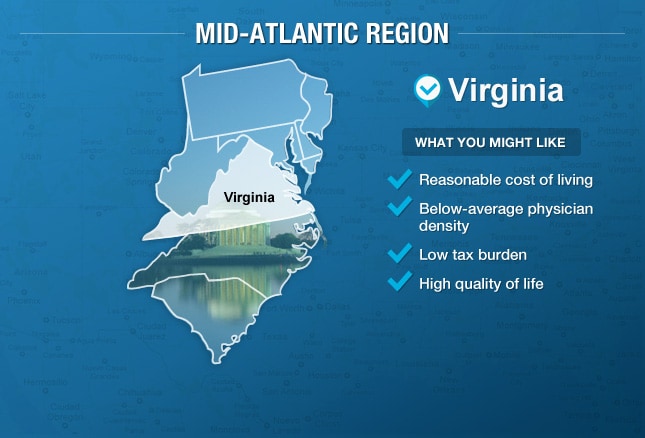 Mid-Atlantic Region
At an average of $232,000, physician compensation in the Mid-Atlantic is the second lowest of any region.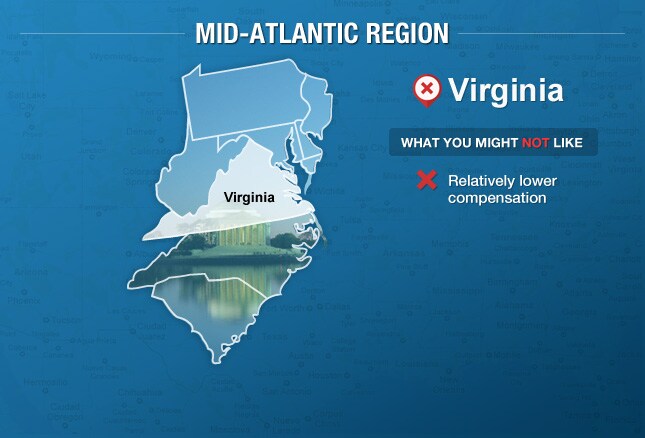 Communities to Consider
Last year, 5 Virginia towns made it onto Money magazine's list of the 100 best small cities in which to live,[2] and all are in the top 50. Reston, a planned community with just over 60,000 residents and located near Washington, DC, topped the list at No. 7.
Reston offers something for everyone, with an active downtown, 55 miles of bike paths, 52 tennis courts, and 15 pools. Located near Washington Dulles Airport, Reston will have Metro service in 2013, thanks to the nearly completed Silver Line extension, providing great transportation options for commuters and travelers. Reston has a growing reputation as a technology hub.
Other Virginia cities that made the list were Centreville (No. 15, population 72,900), Ashburn (No. 29, population 59,800), Arlington (No. 44, population 210,000), and Dale City (No. 48, population 68,300).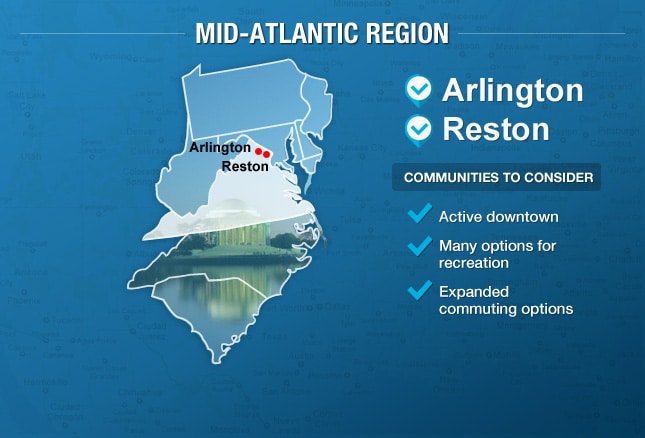 Great Lakes and North Central Regions
The Great Lakes and North Central Region offer good value, a balanced lifestyle, and excellent compensation.
One factor that differentiates Indiana from other states in the area is its affordability: Indiana has the fifth lowest cost of living in the nation.
The American Medical Association has designated Indiana one of the most physician-friendly states for its favorable malpractice environment. In 2011, Indiana had the lowest average payout per malpractice claim -- $134,574 -- of any state. It also has low physician density, with just 21 doctors per 10,000 residents. Indiana has an above average rate of employer-sponsored insurance.
Accessibility, universities (including Notre Dame, Purdue, and Ball State), and beautiful state parks add to the state's appeal. Physician income in the Great Lakes region averages $248,000. Average income in the adjacent North Central region is slightly higher at $259,000.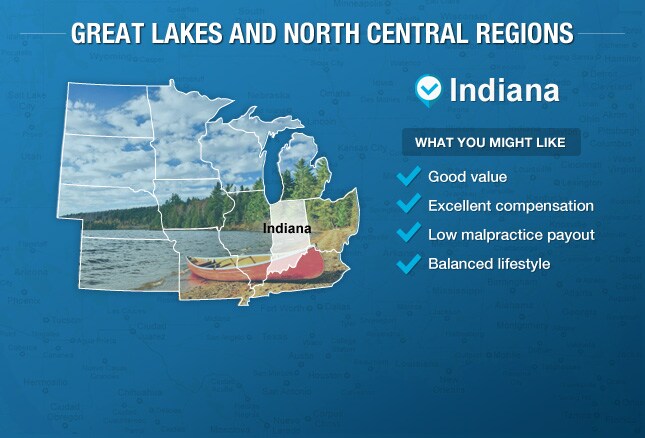 Great Lakes and North Central Regions
Indiana is rock-solid, but those who are used to larger metropolitan regions might think that it has less to offer. There aren't a lot of large urban centers from which to choose. The state's unemployment rate -- 8.7% in February -- is above the national average. If your heart is set on working in a major metropolitan area, nearby states like Ohio may offer more options.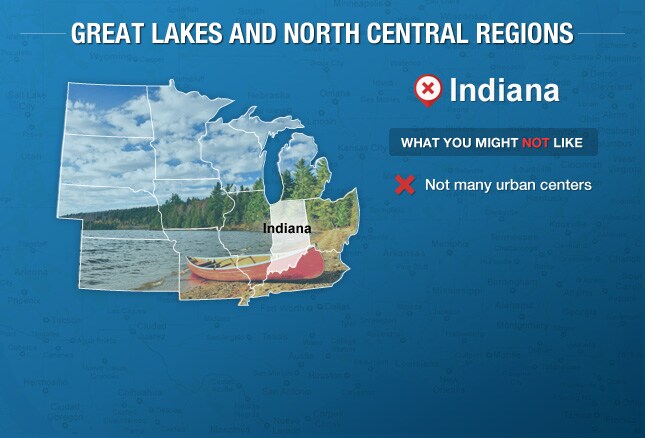 Community to Consider
Indianapolis, the largest city in the state, boasts small-town appeal with urban amenities. Home to the Indy 500, Indianapolis is synonymous with auto racing, but Hoosiers know that there's plenty more to be found in the state capital. The city is home to professional sports teams, including the Indians, Colts, and Pacers.
The 473,000-square-foot Indianapolis Children's Museum is the largest children's museum in the world and attracts more than 1 million visitors each year.
The city's riverfront is a model of urban regeneration, consisting of a 7-mile ribbon of walking and cycling paths surrounded by restaurants, museums, and recreational facilities. Healthcare and pharmaceuticals are huge industries in Indianapolis, so physician density there is higher than in the typical metropolitan area.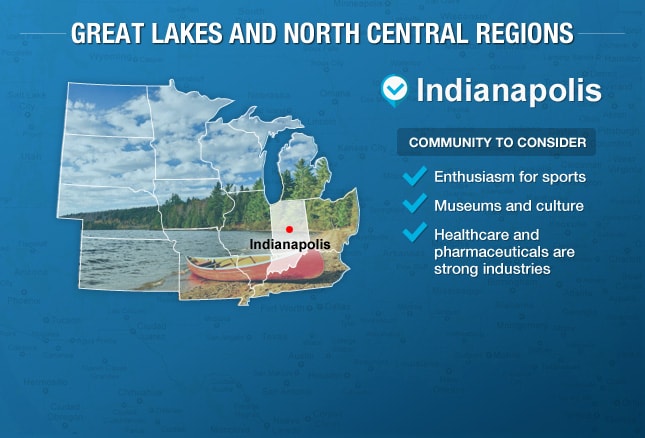 Northeast Region
New Hampshire is a progressive state: Currently, 61% of the population has employer-sponsored insurance coverage, and the schools rank No. 4 overall, according to the Annie E. Casey Foundation. Although the cost of living in New England is high, New Hampshire is one of the more affordable states. And with 26.9 physicians per 10,000 residents, competition isn't nearly as steep as in neighboring Massachusetts (39.7 physicians per 10,000).
What's more, New Hampshire physicians have ample nursing and physician assistant support. The overall tax burden of 8.1% is far lower than that of any other Northeastern state. Both the unemployment and the poverty rates are well below the national average.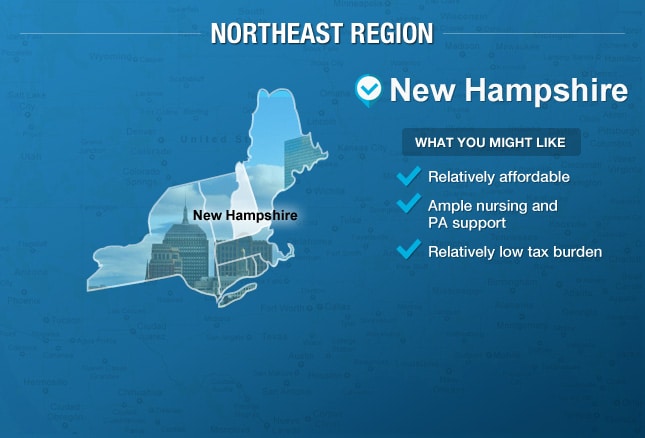 Northeast Region
Physician compensation in the Northeast is lower than anywhere else in the country: an average of $228,000 last year. Unless you love to ski, snowboard, or snowshoe, you may struggle with a New Hampshire winter.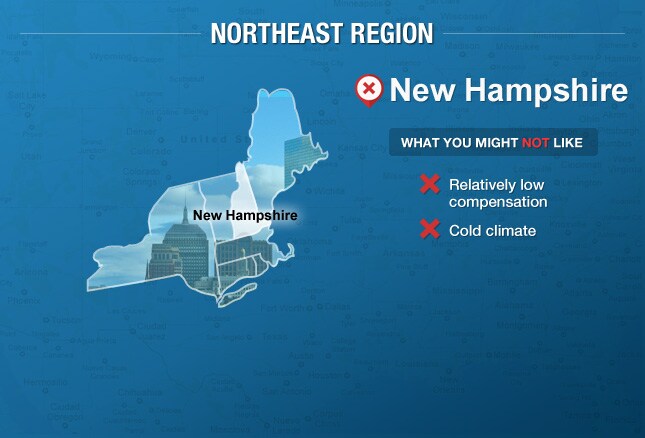 Communities to Consider
Forbes[1] ranks Manchester-Nashua the seventh most livable metro area in the nation, citing its low crime rate, rising incomes, and below-average unemployment rate. Originally built around the textile industry, Nashua is now a high-tech hub. Although many of the town's 86,600 residents must make the 50-minute commute into Boston for work, living in scenic New Hampshire affords distinct advantages, including a lower cost of living and lower tax base.
Thanks to the lack of sales tax, New Hampshire has become a shopping destination. Popular retail spots include the 1-million-square-foot Pheasant Lane Mall, the shops lining Daniel Webster Highway, and the Amherst Street retail corridor. Last year, Money magazine ranked Nashua No. 92 on its list of best small cities in which to live.[2] During the past 25 years, the town has twice claimed the No. 1 spot. The Nashua Symphony and the Northern Ballet offer a full season of performances, and local art galleries feature the work of local artists.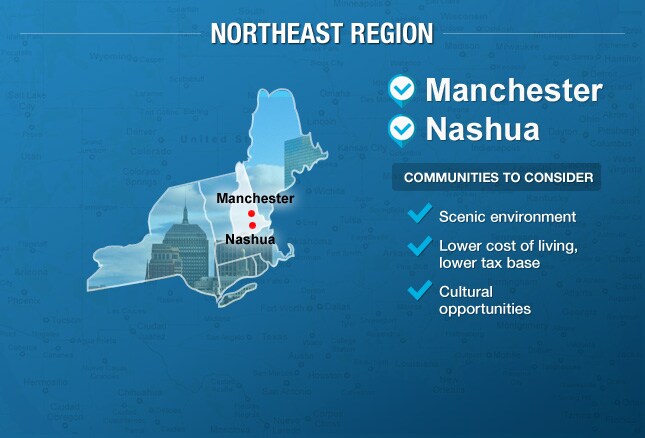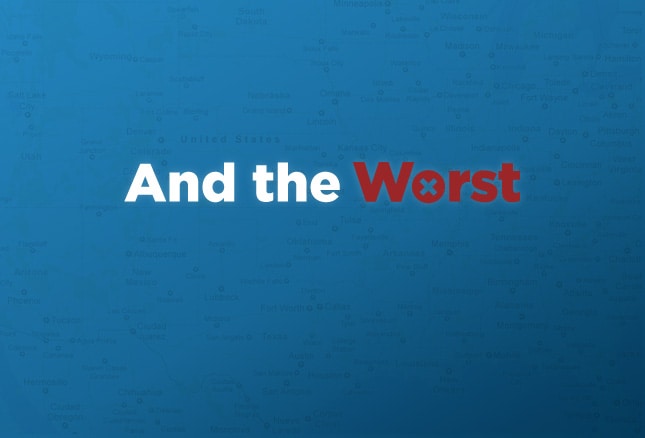 Southwest and South Central Regions
When Merritt Hawkins, an Irving, Texas-based physician recruiting firm, sends out solicitations to physicians to find out whether they're interested in exploring new opportunities, it always receives the most responses from physicians in Nevada, says Andy Olson, senior director of recruiting.
Why do so many doctors want out? One problem: Beyond Las Vegas and Reno, there aren't a lot of practice options. Nevada suffers from a chronic physician shortage partly due to a lack of residency and training programs, particularly in specialty areas such as gastroenterology. Although the employment picture is improving in Nevada, the state's 9.6% unemployment rate (as of February 2013) remains well above the national average.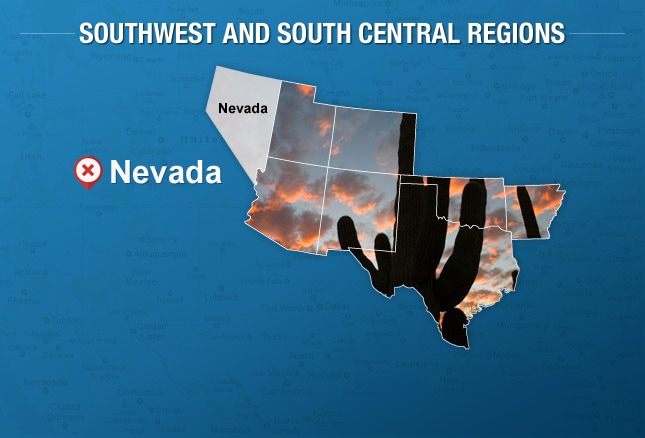 West and Northwest Regions
Hawaii is far and away the most expensive state in which to live, and it is overrun with doctors. The average medical malpractice claim paid in 2011 was a whopping $884,000 -- more than in any other state -- and the state tax burden is north of 10%.
A single insurer, Hawaii Medical Service Association (Blue Cross Blue Shield), commands a 69% market share. Although the islands may be a tropical paradise, their remote location makes travel to the mainland a major undertaking. Hawaii is regarded as one of the most challenging states for business.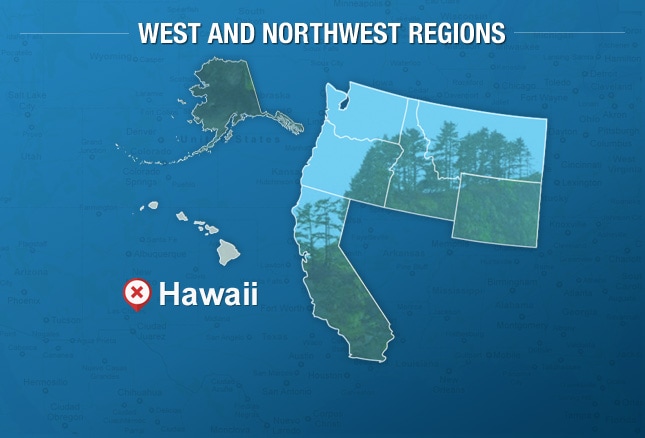 Southeast Region
Although physicians flock to Florida for the warm climate and sunny beaches, those who are not planning to retire soon may not stay long. Medicare fraud is rampant, and the state's litigious environment, hefty malpractice coverage, and large populations of uninsured and Medicare patients make it an expensive place to practice.
The state's lack of income tax belies a 9.3% overall tax burden -- the second highest in the Southeast region. Florida currently has the highest foreclosure rate in the country, topping even Nevada's. Seven of the 10 metro areas with the worst-performing real estate markets are located in Florida, according to the Trulia Housing Barometer.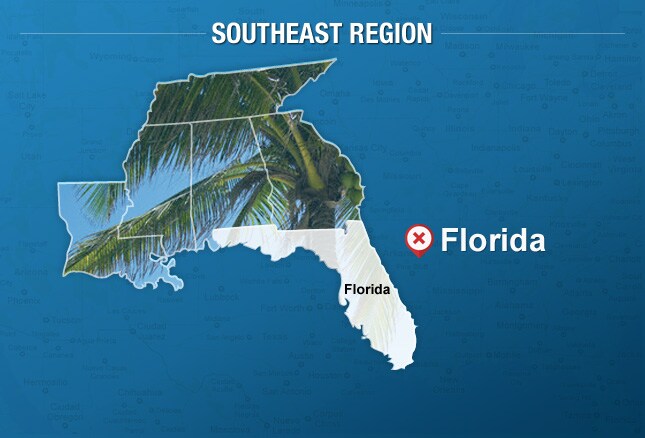 Mid-Atlantic Region
From a physician's perspective, Maryland presents many of the same challenges that plague the adjacent District of Columbia. Only Massachusetts and the District have more physicians per 10,000 residents. Malpractice coverage here is expensive.
Maryland is in the nation's top quintile in terms of cost of living, and with a 10.2% tax burden, Maryland has one of the highest tax rates in the region. Economically, foreclosures are still a big problem for Maryland. As of March 2013, 1 in every 630 Maryland houses was in foreclosure, according to the RealtyTrac Website. That compares with a national rate of 1 per 859.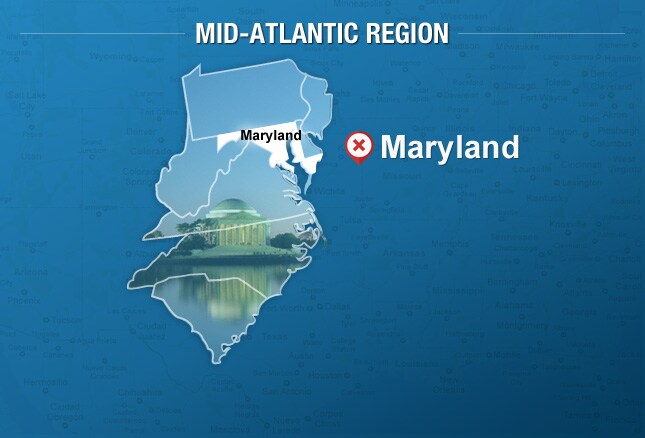 Great Lakes and North Central Regions
Illinois is one of the most physician-dense states in the Great Lakes/North Central region and one of the most expensive states in which to purchase medical malpractice insurance. With an average malpractice claim payout of nearly $585,000 in 2011, those high rates are no surprise.
The Institute for Legal Reform, part of the US Chamber of Commerce, ranked Illinois 45th among the 50 states in terms of the fairness of its treatment of tort cases, which include medical malpractice cases. At 10.2%, Illinois' tax burden is among the highest in the region. The state economy is suffering as well. The February unemployment rate was 9.5%, and the rate of foreclosures in March was nearly twice the national average.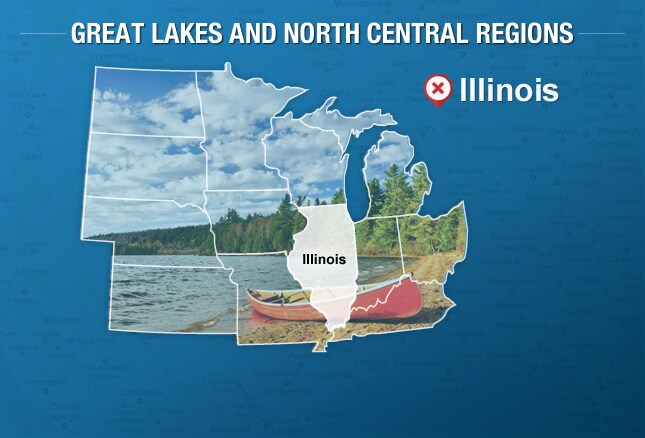 Northeast Region
There's no doubt that many physicians are attracted to the cities and state-of-the-art medical facilities of the Northeast, but the move involves tradeoffs. Connecticut typifies some of those tradeoffs. Connecticut has the highest cost of living of any state in the continental United States. Physician density is high, with 33.5 physicians per 10,000 population. That's more than 30% above the national average. At 12.3%, the tax burden is high as well.
Unfortunately, compensation in the Northeast doesn't offset the expense of living there. Physicians' compensation in the Northeast averages $228,000, the lowest of any of the 9 regions. In a 2009 survey of nearly 500 primary care physicians, conducted by the Connecticut State Medical Society, 25% of family physicians and 22% of internists said that they were contemplating a career change because of the practice environment in Connecticut.