<< More coverage from ASH 2014
Top News From ASH 2014: Slideshow
Megan Brooks; Nick Mulcahy; Allison Shelley; Darbe Rotach; Kiya Gibbons; Roxanne Nelson
December 19, 2014
The American Society of Hematology 56th Annual Meeting, held December 6 to 9 in San Francisco, featured several precedent-setting studies and a lot of exciting early research. At the meeting, the society announced its second list of recommendations from the Choosing Wisely campaign, outlining practices that should stop.
Highlights of the meeting:
"Encouraging" data on PD-1 inhibitors in Hodgkin's lymphoma
Mutant IDH2 inhibition: The future of AML treatment?
First randomized evidence of TKI benefit in AML
"Unprecedented" results with triple combo in relapsed multiple myeloma
A new standard of care in post-ASCT Hodgkin's lymphoma
Novel immunotherapeutic eradicates minimal residual disease in ALL
ASH reveals second installment of Choosing Wisely campaign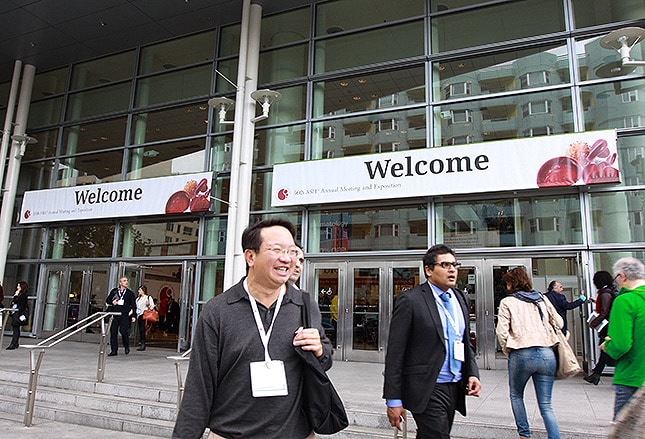 PD-1 Blockade Arrives in Hematologic Cancer
The cancer immunotherapy strategy known as programmed cell death 1 (PD-1) blockade, which has previously yielded impressive results in several solid tumors, looks to be very effective for Hodgkin's lymphoma as well, according to preliminary research. In a phase 1 study of 23 patients with heavily pretreated relapsed or resistant Hodgkin's lymphoma, the PD-1 inhibitor nivolumab (Opdivo, Bristol-Myers Squibb) produced an overall response rate of 87% (20 of 23 patients), with a complete response in four of the patients (17%) and a partial response in 16 (70%). In a separate phase 1 study of 29 similar patients, 66% responded to the anti-PD-1 inhibitor pembrolizumab (Keytruda, Merck), with six patients (21%) achieving a complete remission and 13 (45%) achieving a partial remission.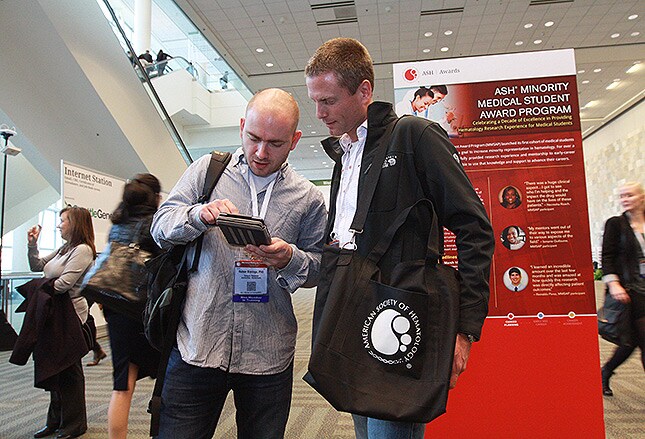 "Revolutionary" Approach to AML
A first-in-class oral selective inhibitor of mutant IDH2 induced responses in 24 of 45 patients with IDH2-positive acute myeloid leukemia (AML) and myelodysplastic syndromes in an ongoing phase 1 study. An estimated 15% to 20% of AML patients harbor this mutation, which leads to increased production of an oncometabolite and contributes to AML. "These early results in this hard-to-treat population demonstrate that when we inhibit mutant IDH2, we can transform leukemia cells into healthy normal adult white blood cells and eradicate disease without the use of traditional chemotherapy," said lead author Eytan M. Stein, MD, from the Memorial Sloan Kettering Cancer Center in New York City. "This approach to treat leukemia is revolutionary and represents the future of treatment for hematologic diseases," he said.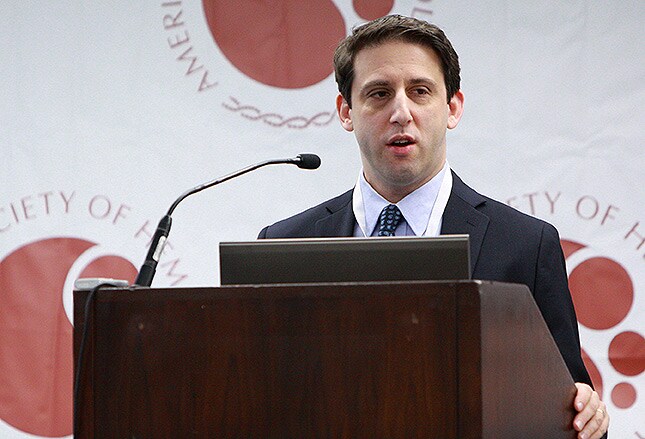 First Top-flight Evidence of TKI Benefit in AML
Adding sorafenib (Nexavar, Onyx) to standard chemotherapy improves relapse-free and event-free survival in younger patients with newly diagnosed acute myeloid leukemia (AML), according to a randomized study reported during a plenary session. The study involved 278 patients, 18 to 60 years old, from 25 centers. Three-year event-free survival was better with sorafenib than with placebo (40% vs 22%), as was relapse-free survival (58% vs 36%). This is the first randomized evidence of clinical benefit with a tyrosine kinase inhibitor in this type of leukemia, said lead author Christoph Röllig, MD, from University Hospital Dresden in Germany. "These data provide a high level of efficacy for the use of sorafenib in younger patients," he said.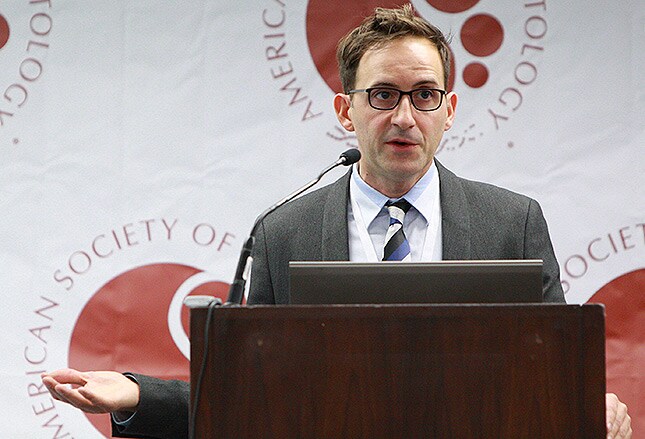 'Unprecedented Results' in Relapsed Multiple Myeloma
Adding carfilzomib (Kyprolis, Onyx) to standard therapy with lenalidomide (Revlimid, Celgene) and dexamethasone in patients with relapsed multiple myeloma led to "unprecedented" results, reported lead author A. Keith Stewart, MD, from Mayo Clinic Arizona in Scottsdale. In an interim analysis, progression-free survival was better in the group that received carfilzomib than in the group that did not (26.3 vs 17.6 months; P = .0001). In addition, overall and complete response rates were significantly better for the triplet combination than for the doublet. "By adding carfilzomib to the gold standard in multiple myeloma therapy, we are observing an unprecedented duration of remission without additional toxicity — a promising outcome in relapsed and heavily pretreated patients," Dr Stewart noted. Session moderator Brad Kahl, MD, from the University of Wisconsin Carbone Cancer Center in Madison, said he thinks this might be a "new standard of care for this population."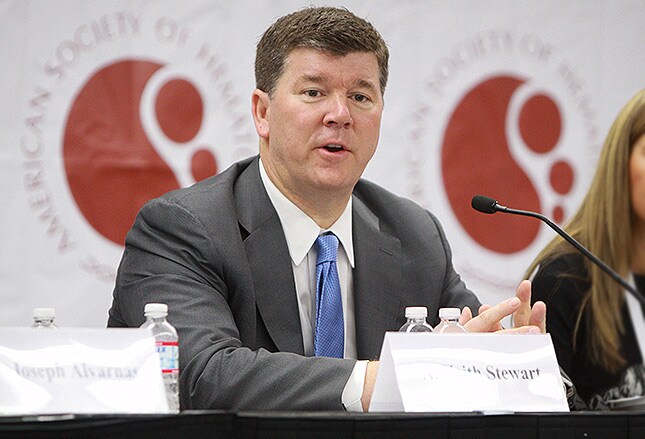 First Finding in Post-transplant Hodgkin's Lymphoma
Maintenance therapy with brentuximab vedotin (Adcetris, Seattle Genetics) extends progression-free survival in high-risk Hodgkin's lymphoma patients after transplantation, according to new data. At a median follow-up of 2 years, progression-free survival was better with brentuximab than with placebo (65% vs 45%). "This was sustained across all subgroups," said lead author Craig H. Moskowitz, MD, from the Memorial Sloan Kettering Cancer Center in New York City. This is the first time a study has demonstrated that adding maintenance therapy after transplantation can improve outcomes. "Among patients who meet the eligibility criteria to be on the study, in my opinion, this treatment could be the standard of care," Dr Moskowitz said.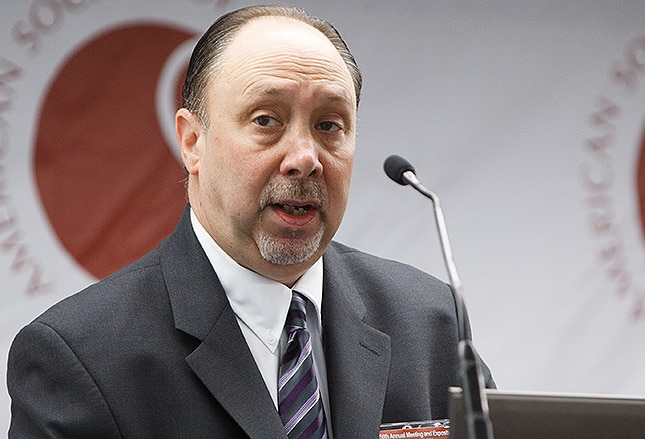 Blinatumomab Eradicates Minimal Residual Disease in ALL
More than three-quarters of patients with acute lymphocytic leukemia (ALL) and minimal residual disease (MRD) who had been treated with chemotherapy achieved complete eradication after subsequent treatment with the immunotherapeutic blinatumomab (Blincyto, Amgen). The phase 2 study met its primary objective, with 78% of patients achieving a complete MRD response, a measure of eradication of residual disease at the molecular level, after only one treatment cycle, reported lead author Nicola Gökbuget, MD, from Goethe University in Frankfurt, Germany. Blinatumomab received FDA approval earlier this month for patients with Philadelphia chromosome-negative precursor B-cell ALL who experience a relapse or whose disease is refractory to previous treatment.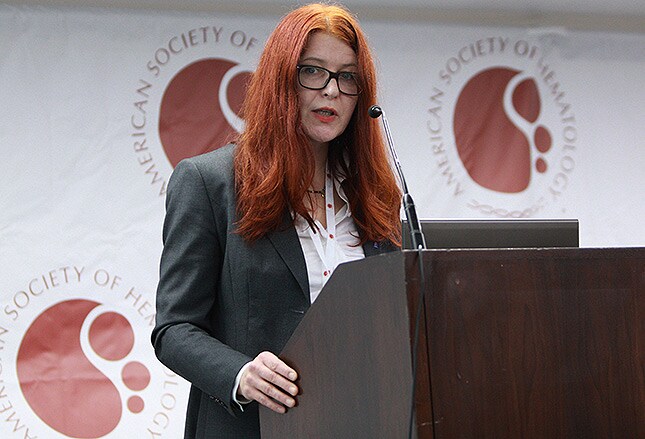 Treat Young Adults With ALL as Children for Better Outcomes
Adolescents and young adults with acute lymphocytic leukemia (ALL) fare better when treated with pediatric regimens, new data confirm. Outcomes are often better in children, in part because of differences in the biology of the disease, but also because of the higher-intensity protocols used to treat children, explained lead author Wendy Stock, MD, from the University of Chicago Comprehensive Cancer Center. Therapeutic protocols geared toward adults with leukemia tend to be less intense and less toxic. This study helps confirm what has been seen in other studies, said Karen K. Ballen, MD, from the Massachusetts General Hospital in Boston. "I think this is already becoming the standard of care. We use what we refer to as a 'pediatric-inspired' regimen for this age group," she said.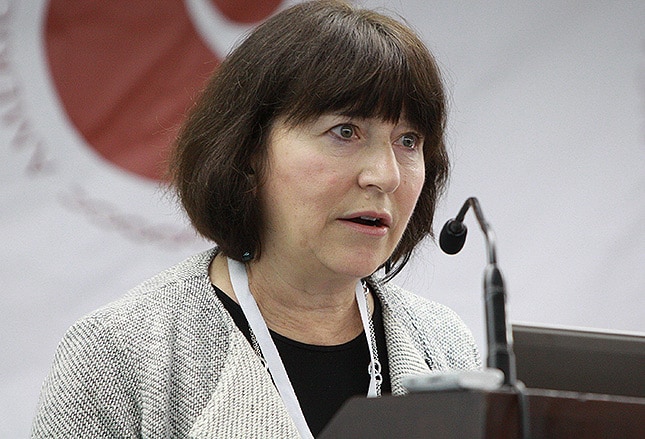 Practice-changing Study in HIV-related Lymphoma
Patients whose HIV is responsive to antiviral treatment and who have lymphoma should be considered candidates for autologous hematopoietic stem cell transplantation (AHCT) if they meet standard transplant criteria, said Joseph Alvarnas, MD, from City of Hope Medical Center in Monrovia, California. In a clinical trial of AHCT in 40 patients with HIV-related relapsed or refractory lymphoma, the overall 1-year survival rate was 86.6% and the progression-free survival rate was 82.3%, both of which compared well with rates in the 151 matched control patients with lymphoma but not HIV. There was no statistically significant between-group differences for rates of survival, treatment failure, disease progression, or treatment-related mortality. These data "will change the standard of practice," said Brad Kahl, MD, from the University of Wisconsin Carbone Cancer Center in Madison.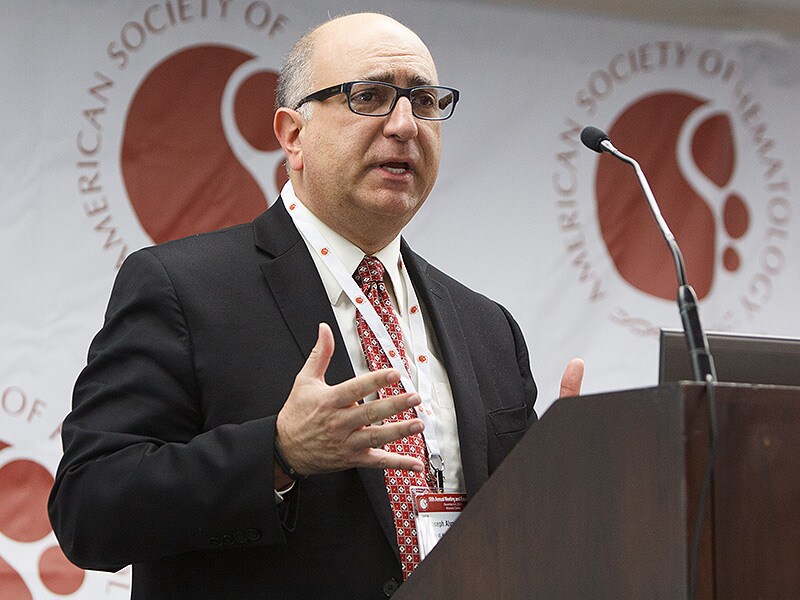 ASH Adds to Choosing Wisely List: Five More No-Nos
The second installment of the ASH's Choosing Wisely campaign has been unveiled. There are five newcomers to the list: don't use an anticoagulant for more than 3 months in a patient with a first venous thromboembolism occurring in the setting of a major transient risk factor; don't routinely transfuse patients with sickle cell disease for chronic anemia or uncomplicated pain crisis without appropriate clinical indication; don't do baseline or routine CT surveillance in asymptomatic early-stage chronic lymphocytic leukemia; don't test or treat for suspected heparin-induced thrombocytopenia in cases of low pretest probability; and don't treat immune thrombocytopenic purpura in the absence of bleeding or a very low platelet count.
Image courtesy of the National Institute of Health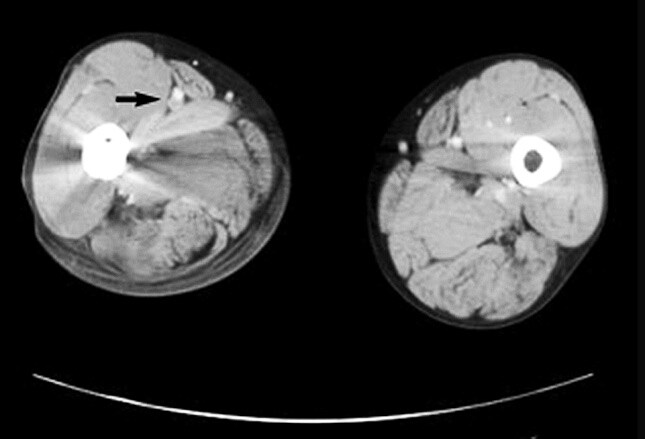 Experimental Antibodies Target Multiple Myeloma
Adding an anti-CD38 monoclonal antibody to standard therapy for multiple myeloma could be a viable and effective strategy. The agents bind to a CD38 antigen expressed on a myeloma cell and signal the patient's immune cells to attack myeloma cells. Thomas Martin, MD, from the University of California, San Francisco, presented early data on one such agent — SAR650984 (Sanofi Oncology) — used in combination with lenalidomide and dexamethasone to treat relapsed or refractory multiple myeloma. The combination had an overall response rate of 58% in the phase 1b dose-escalation trial, which is a "fairly dramatic response," Dr Martin said, given that the 31 patients had received an average of four previous lines of therapy. He said he thinks the CD38 drugs are "blockbuster drugs."