<< More coverage from ASH 2013
Top News From ASH 2013: Slideshow
Megan Brooks; Adrienne Battistella; Allison Shelley; Darbe Rotach; Zosia Chustecka; Roxanne Nelson
December 18, 2013
The American Society of Hematology 55th Annual Meeting, held December 7 to 10 in New Orleans, featured several practice-changing studies and exciting preliminary research.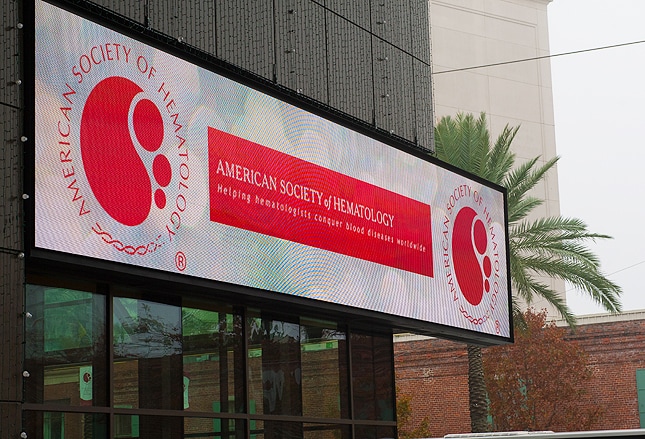 Excitement Over CAR-Engineered T-cells in Leukemia and Lymphoma
There was palpable excitement over CAR-engineered T-cells here at the meeting. Although the results come from pilot clinical trials conducted in a small number of patients with very aggressive and refractory disease, some have shown dramatic responses to therapy and have gone into complete remission. "It looks like the disease has disappeared after a single infusion of these engineered T-cells," said James Kochenderfer, MD, from the Experimental Transplantation and Immunology Branch of the National Cancer Institute (NCI). He presented data on 15 patients with refractory lymphoma who were treated with CAR-engineered T-cells developed at the NCI and licensed to Kite Pharmaceuticals.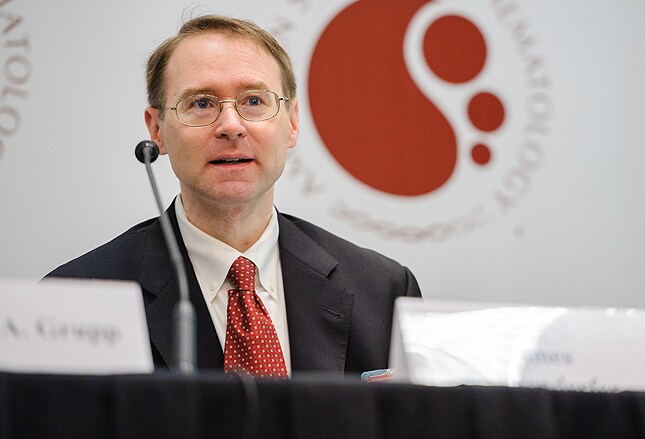 Unprecedented Responses to CARs in Leukemia
Most clinical data to date with CAR-engineered T-cells have been collected at the University of Pennsylvania, which has licensed the technology to Lilly. At the meeting, Stephen Grupp, MD, from the Children's Hospital of Philadelphia, presented data on 22 pediatric patients with acute lymphocytic leukemia; 19 achieved a complete response, which is ongoing in 14 patients out to 18 months, he said. In addition, 5 adult patients had complete responses. A group from the University of Pennsylvania also reported data on chronic lymphocytic leukemia; in some patients, remission has continued out to 3 years.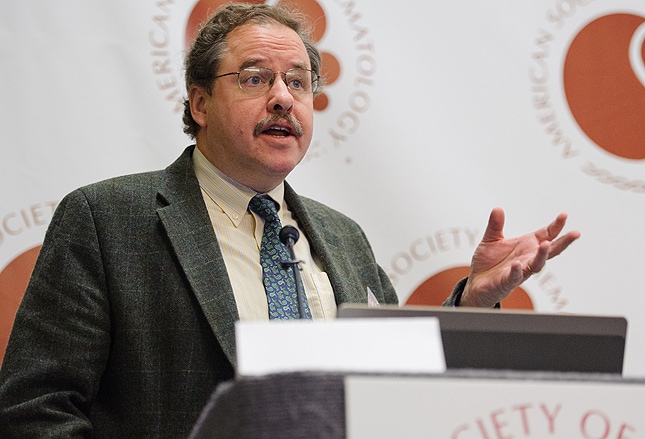 First Disease-Modifying Agent in Myelofibrosis?
Early results from a small trial in myelofibrosis suggest that the investigational agent imetelstat (Geron) has disease-modifying activity. Results from the first 22 patients show a complete or partial response in 23% of patients, which has never been seen with any previous drug, reported Ayalew Tefferi, MD, from the Mayo Clinic in Rochester, Minnesota. In addition, 4 patients had complete reversal of bone marrow fibrosis and 2 patients had complete molecular remissions, he said. Imetelstat is a novel telomerase inhibitor that might have applications in other cancers, he suggested.
Photo courtesy of Wikimedia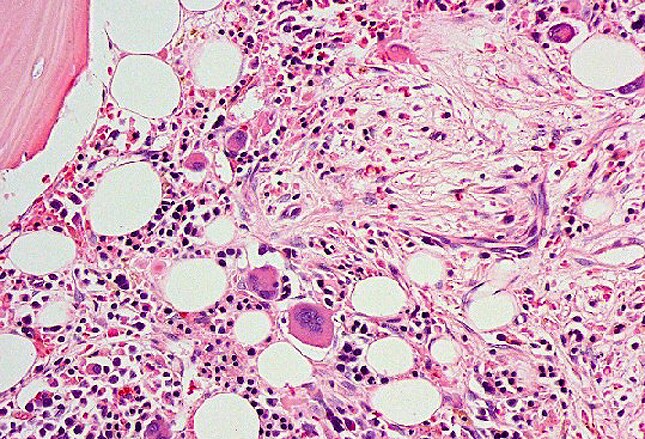 New Drug Combo Potentially Practice Changing in Lymphocytic Leukemia
The meeting also featured more clinical results showing that the new monoclonal antibody obinutuzumab (Gazvya, Roche) is superior to the standard, rituximab (Rituxan, Roche), when both are used in combination with chlorambucil in the treatment of chronic lymphocytic leukemia (CLL). Obinutuzumab was recently approved by the US Food and Drug Administration for use in treatment-naive CLL. "I think this is a potential practice-changing treatment for this population," said study author Valentin Goede, MD, from the University Hospital Cologne in Germany. "While we will continue to evaluate these results through a longer follow-up period, these findings suggest that obinutuzumab has the potential to eventually replace rituximab for the care of CLL patients."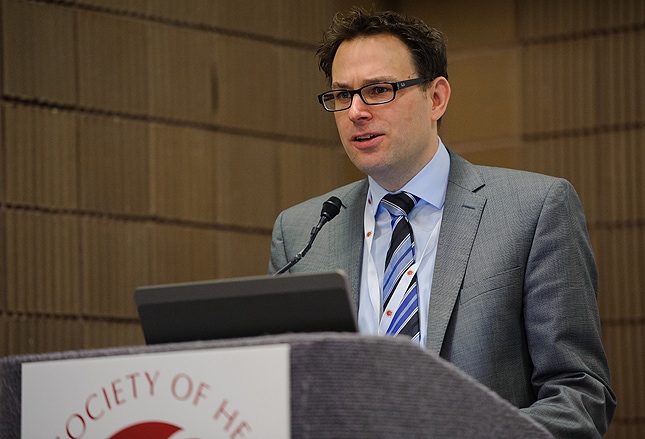 Novel Targeted Therapies May Expand Leukemia Treatment Options
Two new targeted therapies — IPI-145, under development by Infinity, and ABT-199 (GDC-0199), under development by AbbVie and Genentech — are both highly active in chronic lymphocytic leukemia (CLL), preliminary data show. IPI-145 is a potent inhibitor of phosphoinositide 3-kinase (PI3K), which is responsible for CLL cell signaling. ABT-199 inhibits Bcl-2, which is critical to the pathogenesis of many hematologic malignancies and is overexpressed in CLL. "These exciting developments in CLL therapy represent a shift toward treatments that hone in on specific regulators of cancer, ultimately providing a safer and more effective treatment regimen," said Jennifer Brown, MD, director of the CLL Center at the Dana-Farber Cancer Institute in Boston.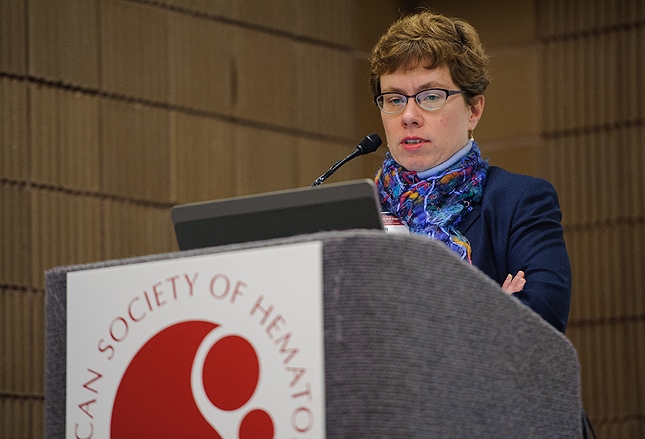 Age No Barrier to Stem Cell Transplant Success
Age is no longer a barrier to hematopoetic stem cell transplantation, but ageism still exists, and many older patients are not being referred for transplantation, even though it offers the only chance of a cure for hematologic malignancies, said Mary Horowitz, MD, chief of the division of hematology and oncology at the Medical College of Wisconsin in Milwaukee. Advances in transplant technology have greatly improved success rates, and outcomes in older patients are now similar to those seen in younger patients, as shown in several ASH 2013 presentations. "However, these advances have not penetrated through to the general oncology community and are not widely appreciated, so the idea persists that transplants are only feasible for patients younger than 55 years," Dr. Horowitz said.
Graphic courtesy of Wikimedia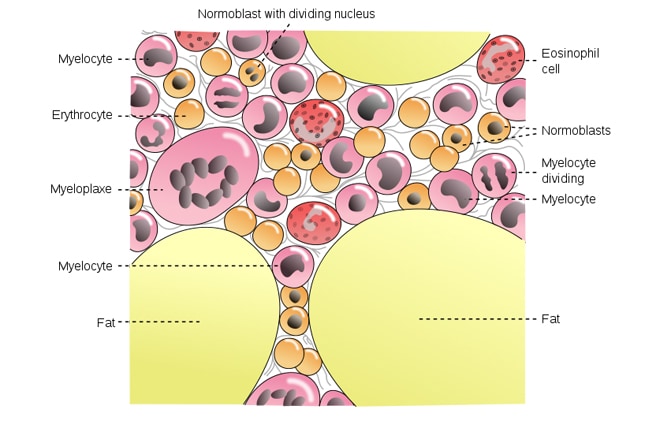 Gemtuzumab Reduces Relapse in Children With Acute Myeloid Leukemia
Adding gemtuzumab ozogamicin to the treatment regimen can improve event-free survival in patients with acute myeloid leukemia, reported Alan Gamis, MD, from Children's Mercy Hospital and Clinics in Kansas City, Missouri. The addition of this drug appears to lower the risk for relapse in those who have achieved remission. Gemtuzumab ozogamicin is not currently available; it was marketed as Mylotarg (Pfizer), but was voluntarily withdrawn in 2010. However, it is still being investigated, and positive results from several clinical trials conducted during the past few years have led to calls for the drug to be returned to the market.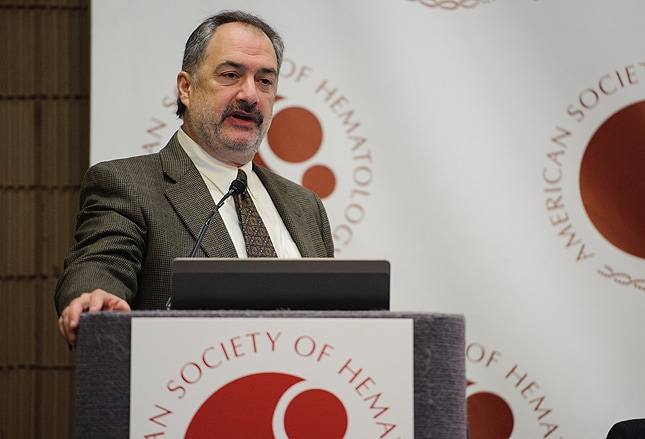 Lenalidomide Plus Dex Trumps Standard Treatment in Multiple Myeloma
Lenalidomide (Revlimid, Celgene Corporation) plus low-dose dexamethasone used in the first-line treatment of multiple myeloma significantly improved progression-free and overall survival, compared with standard therapy, reported Thierry Facon, MD, from Hôpital Claude Huriez and CHRU Lille in France. Patients treated with low-dose dexamethasone were 28% less likely to experience disease progression or death than patients treated with the standard triplet of melphalan, prednisone, and thalidomide. In newly diagnosed patients with multiple myeloma who are ineligible for transplant, this study establishes low-dose dexamethasone as a new standard of care, he said during a news conference.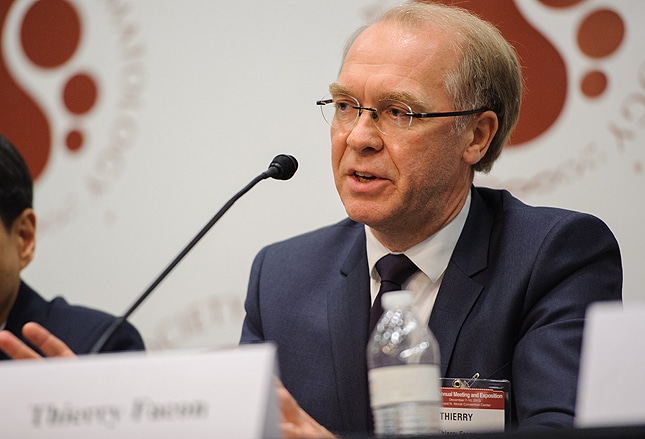 New Gene Mutation Found in Myeloproliferative Neoplasms
Researchers might be one step closer to deciphering the underlying mechanisms of myeloproliferative neoplasm (MPN). A previously unrecognized gene has turned out to be a primary driver of MPN in patients without JAK2 and MPL mutations. One new study shows that frequent mutations in the calreticulin gene CALR occur in MPN. A related study shows that somatic mutations in CALR exist in the majority of patients with JAK2 wildtype MPN. Both studies, reported here and published online simultaneously in the New England Journal of Medicine, "are critically important contributions to hematology," said ASH president Janis Abkowitz, MD, from the University of Washington in Seattle.
Illustration from Thinkstock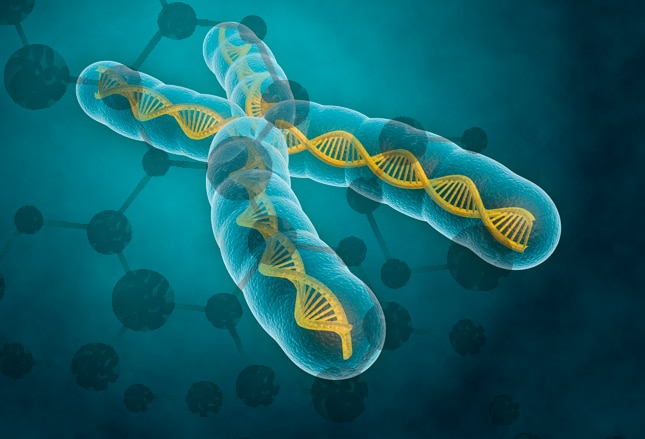 Cognitive Impairment After Stem Cell Transplant Varies With Treatment Intensity
Hematopoietic stem cell transplantation offers the hope of a cure for patients with leukemia and lymphoma, but the treatments can have lasting adverse effects on cognitive function, reported Smita Bhatia, MD, from City of Hope in Duarte, California. "This is a real effect," and patients and their parents should be aware of it because it can cause frustration, she said. The results come from a 2-year prospective study conducted in 242 stem cell recipients and 98 healthy control subjects. They show that cognitive impairment was seen only in patients who had full-intensity conditioning prior to transplantation; "those who had reduced-intensity conditioning were spared," she said.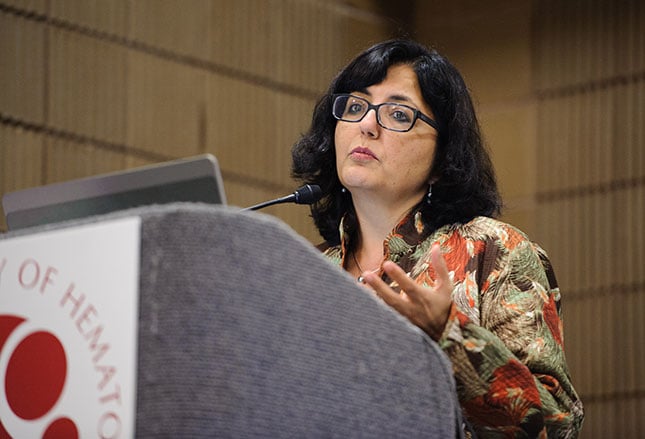 Limit CT Surveillance of Lymphoma After Curative Therapy
Also at the meeting, ASH publicized its Choosing Wisely campaign, highlighting 5 practices that hematologists should stop or cut down on. The one relevant to oncology is the recommendation to "limit the use of CT scans in asymptomatic patients following curative-intent treatment for aggressive lymphoma." For most lymphoma patients who have been in remission and asymptomatic out to 2 years, routine scans are not required, said lead author Lisa Hicks MD, from the University of Toronto.
Photo from Thinkstock