"Doing more with less" was one of the main themes of the American Society of Hematology (ASH) 54th Annual Meeting, held December 7 to 11, 2012, in Atlanta, Georgia. Several presentations described innovative ways to achieve better outcomes with lower doses of drugs.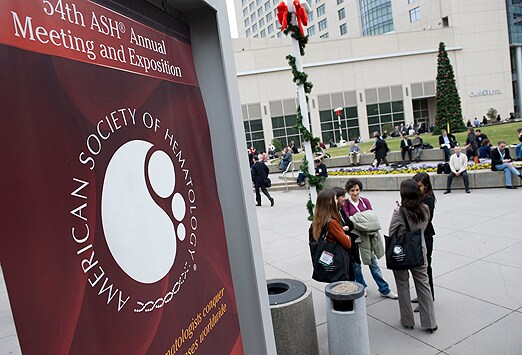 Among this year's conference highlights:
Chemotherapy is not necessary for acute promyelocytic leukemia (APL)
New study does not resolve the debate about platelet transfusions in patients with hematologic malignancies
Investigational drug quizartinib has unprecedented activity in relapsed acute myeloid leukemia (AML)
Ibrutinib predicted to change the treatment landscape in chronic lymphocytic leukemia (CLL)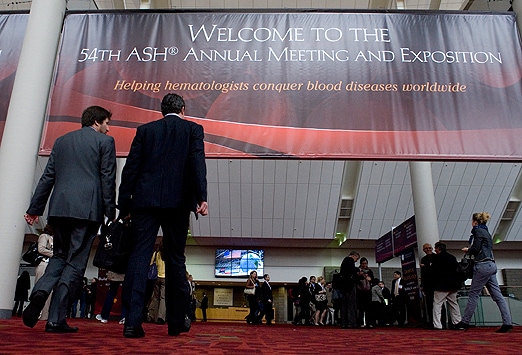 Worst Hematologic Malignancy Treated Without Chemotherapy
APL can be treated without chemotherapy, according to a study presented at a plenary session. Instead, it can be treated with a combination of all-trans retinoic acid (ATRA) and arsenic trioxide (ATO), compounds long used in traditional Chinese medicine, reported Francesco Lo-Coco, MD, professor of hematology at the University of Tor Vergata in Rome, Italy. He said the results show that it is possible to transform malignant cancer cells (with ATRA) instead of killing them (with chemotherapy) and that "cancer is not an irreversible condition." Two experts described the findings as "exciting" and "amazing."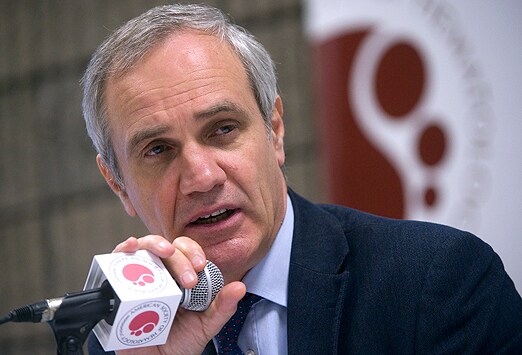 Platelet Transfusions in HemOnc Patients: Questions Remain
A new study does not resolve the ongoing debate as to the value of prophylactic platelet transfusions in patients with leukemia, lymphoma, or myeloma who have undergone stem cell transplantation as well as those undergoing intensive induction and consolidation regimens. The TOPPS trial involved 600 patients randomly assigned to receive or go without platelet transfusions. Both strategies had similar outcomes, reported Simon Stanworth, MRCP, FRCPath, DPhil, from the John Radcliffe Hospital, Oxford University Hospital National Health Service Trust, United Kingdom.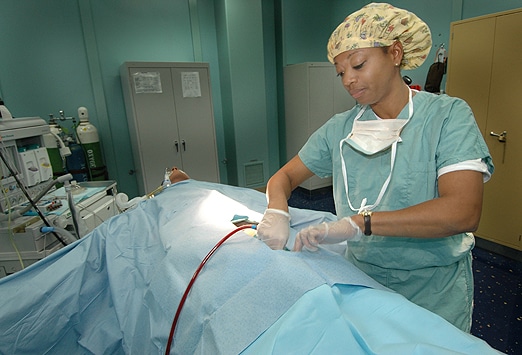 Quizartinib: Surprising, Unprecedented Activity in Relapsed AML
The investigational drug quizartinib (Astellas/Ambit) showed unprecedented activity in patients with relapsed and refractory AML in a phase 2 trial. Quizartinib is the "first and only single-agent drug" that has produced a clinical benefit in AML patients with FLT3 internal tandem duplications who have failed previous therapy, said Mark Levis, MD, PhD, associate professor of oncology, pharmacology, and medicine at the Sidney Kimmel Comprehensive Cancer Center at Johns Hopkins Medicine in Baltimore, Maryland. "It caught us by surprise how well it worked," he added. Larger phase 3 studies are planned.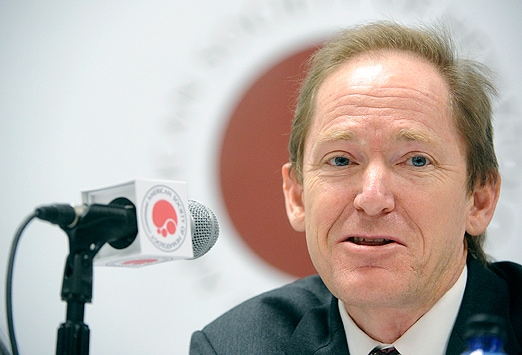 Ibrutinib Effective and Safe Treatment Option in CLL
For patients with CLL, the novel Bruton's tyrosine kinase (BTK) inhibitor ibrutinib (Pharmacyclics, Inc) is highly active and well tolerated and can induce durable remissions in patients who are treatment-naive or relapsed/refractory, according to 2 studies. Ibrutinib "offers great potential to significantly change the treatment landscape in CLL," said John C. Byrd, MD, director of the Division of Hematology at the Ohio State University Comprehensive Cancer Center, Columbus, who led one of the studies.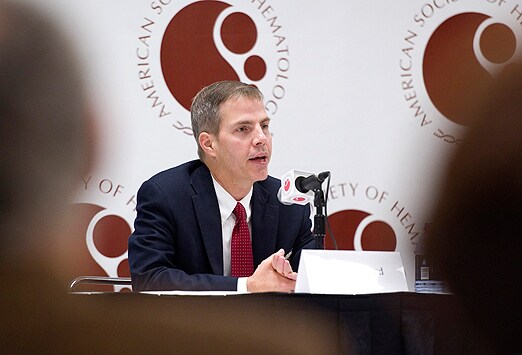 Ponatinib Works in CML When Nothing Else Is Effective
The investigational drug ponatinib (Ariad Pharmaceuticals) offers hope to patients with CML who have stopped responding to all other therapies, according to the PACE trial reported here. "We have simply never had any treatment produce such high rates of durable response in a heavily pretreated group of patients," said Jorges Cortes, MD, deputy chair of the Department of Leukemia at the University of Texas M.D. Anderson Cancer Center in Houston. The PACE trial was highlighted as "a major advance" by ASH President Armand Keating, MD, director of hematology at the University of Toronto in Ontario, Canada. The drug has just been approved in the United States.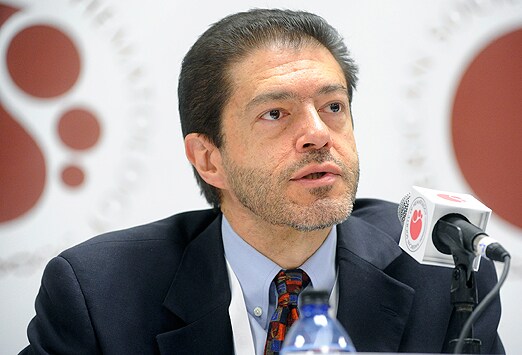 Pomalidomide: The Next New Drug for Multiple Myeloma
Celgene's pomalidomide, the next new drug for multiple myeloma expected to be approved early in 2013, "is the most active by far," said David Siegel, MD, PhD, chief of multiple myeloma at the John Theurer Cancer Center at Hackensack University Medical Center, in New Jersey. Pomalidomide, an immunomodulatory drug from the same stable as thalidomide (Thalomid, Celgene) and lenalidomide (Revlimid, Celgene), is the most potent of the 3. Its potent activity means that it can overcome resistance to the other similar agents and "this is significant," Dr. Siegel said. It offers a treatment for those patients who have stopped responding to thalidomide and lenalidomide, he added.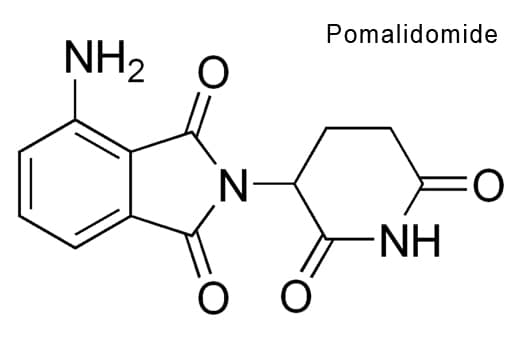 New Oral Drug in Multiple Myeloma May Be 'Game Changer'
An investigational proteasome inhibitor for multiple myeloma has shown promising results in an early phase1/2 clinical trial and has progressed straight into phase 3 clinical trials. Currently known as MLN9708 (Millennium), the drug is taken orally once weekly and will offer an alternative to parenterally administered bortezomib (Velcade, Millennium), explained Shaji Kumar, MD, from the Hematology Division at the Mayo Clinic in Rochester, Minnesota, who presented clinical results with MLN9708. In addition, the new drug appears to be associated with a reduced incidence of peripheral neuropathy as an adverse effect when compared with bortezomib.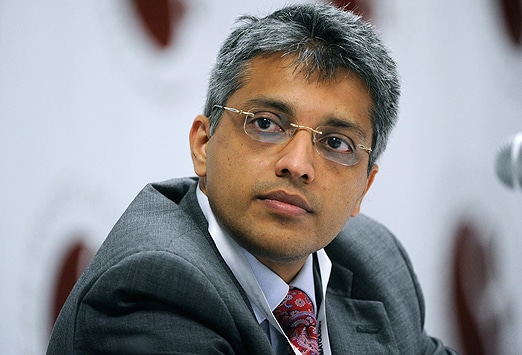 Same Outcomes if Daunorubicin Omitted in ALL Induction
A study from France confirms that the cardiotoxic anthracycline daunorubicin can be omitted from the induction treatment of patients with childhood acute lymphoblastic leukemia (ALL). It is already standard practice in the United States, but this practice is based on a study that did not address exactly the role of daunorubicin in induction, whereas this one does, explained Andre Baruchel, PhD, MD, head of the Department of Pediatric Hematology at the Robert Debré University Hospital in Paris. Many other countries still use daunorubicin in the induction regimen, and it has been unclear whether it is really necessary, he added. "Our trial shows that it is dispensable," Dr. Baruchel said.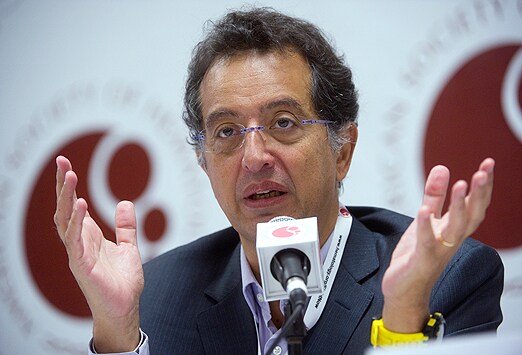 Genotype Predicts Treatment-Related Mortality in AML
A specific genetic marker might be associated with less toxicity from chemotherapy in some pediatric populations with AML, according to data presented by Phoenix Ho, MD, attending physician at Seattle Children's Hospital and research associate at the Fred Hutchinson Cancer Research Center in Seattle, Washington. In his study, the presence of single-nucleotide polymorphism (SNP) rs16754 in the WT1 gene correlated with improved outcomes in certain ethnic populations — predominantly Asian and black children with AML.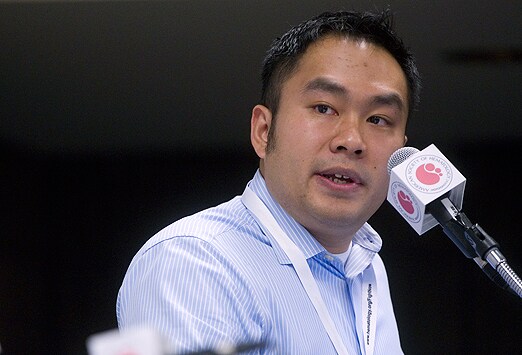 More Not Better: Single vs Double UCB Treatment
Children with blood cancers who receive a double umbilical cord blood (UCB) transplant do not gain a survival advantage, according to results of a study presented by John E. Wagner, MD, director of the pediatric blood and marrow transplant program at the University of Minnesota in Minneapolis. In patients who underwent transplantation, 1-year overall survival was similar in those who received a single UCB unit and those who received a double UCB unit (71% vs 66%; P = .12). "Single UCB should be considered the standard graft for children; double UCB graft is appropriate for those without a suitable single UCB unit," said Dr. Wagner.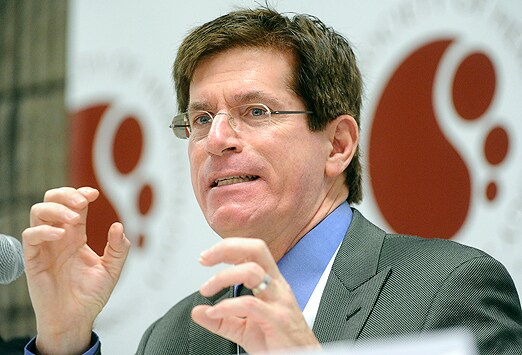 Lower HCT Prevents CV Events in Polycythemia Vera
Maintaining a lower hematocrit (HCT) can help lower the risk for cardiovascular (CV) death in patients with polycythemia vera, according to the results of a study presented at a plenary session. Those who had an HCT of 45% to 50% had a risk for death from CV causes or major thrombosis that was 4 times that of patients who maintained an HCT of less than 45%. "Therefore, a hematocrit level of less than 45% is the target of therapy in polycythemia vera," said Tiziano Barbui, MD, lead author and professor of hematology and scientific director of the Research Foundation at Ospedali Riuniti di Bergamo in Italy.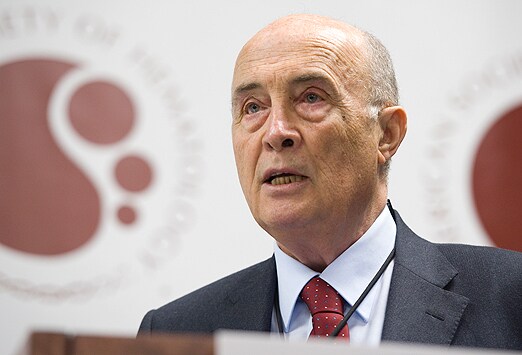 Fight 4 Hematology: As Budget Cuts Loom, ASH Fights Back
Facing budget cuts to biomedical research, ASH is calling on its members to take action. The Fight 4 Hematology campaign emphasizes the importance of National Institutes of Health–funded research grants. The ASH is asking members to demonstrate the value of biomedical research and the importance of investing in the NIH to elected officials and the public. On January 2, 2013, the NIH budget faces severe cuts when automatic cuts to all federally funded programs, known as sequestration, will come into effect unless Congress acts to halt them. Sequestration would have a dire effect on cancer research, said Robert Hromas, MD, chair of the ASH Committee on Scientific Affairs. "We are literally at the edge of a cliff."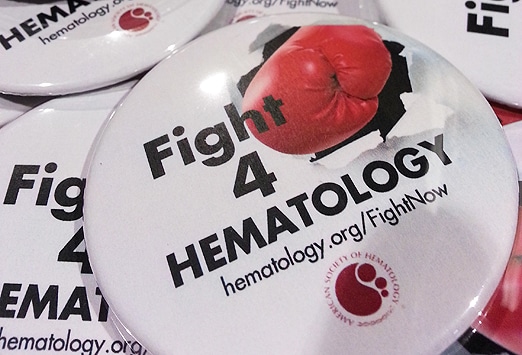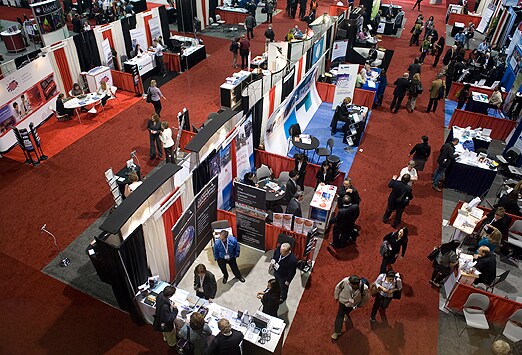 Contributors
Deborah Flapan
Director, Medscape Medical News, Chicago, Illinois
Darbe Rotach
Medscape Senior Photo Editor, New York City
John Amis
Freelance Photographer, Alpharetta, Georgia
Zosia Chustecka
News Editor, Medscape Oncology, London, United Kingdom
Roxanne Nelson
Journalist, Bellingham, Washington
Megan Brooks
Freelance Journalist, Weston, Connecticut