Must-Have Smartphone Apps for Clinicians
Bruno S. Oliveira, MD
March 25, 2014
Smartphone Apps to Change Your Practice
In 2012, I recommended 15 smartphone apps that could change your practice. But 2 years is a lifetime where technology and smartphones are concerned. Helpful new apps have been released; established apps have been updated. This slideshow looks at the smartphone apps that I now find most useful. And though I use them in my practice as a rheumatologist, many aren't necessarily designed specifically for medical use, but more as general time-savers and improve organization and productivity.
Images from Unbound Medicine; Medscape; Jamawkinaw Enterprises LLC; Tweetdeck, Inc; Evernote; Dropbox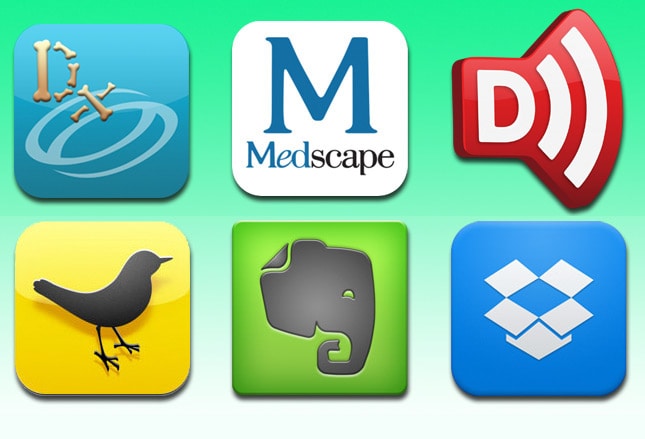 Managing Tasks
An efficient task system is one of the cornerstones of being productive. I have used different to-do apps over the past 5 years but have settled on Todo®. My basic requirements for a task app are the following:
Being able to create custom lists, tasks, subtasks, and tags;
Being able to assign task priorities;
A reminders function;
A function in which emails requiring an action can be forwarded to the app, helping to clear my inbox; and
Easy task entry.
I decided on the Todo app because of its integration with Siri® in iOS, which makes task-setting incredibly easy. I don't use the iOS stock reminder app, given that creating different task lists is difficult, I don't find the user interface friendly, and it doesn't support priority ranking, tags, and context assignment.
Image from Appigo, Inc.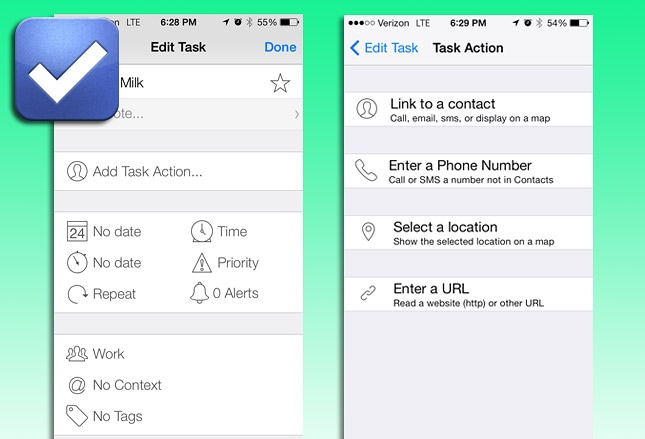 Managing Tasks (cont.)
Todo's email and Siri parsing functions are great time-savers, and setting a task with a due date, priority and context is very quick and easy. Alternative task-managing apps to consider are Remember the Milk™, Astrid, Wunderlist, OmniFocus, Clear, and Any.do. Of course, make sure to confirm that any app of interest is supported by your operating system. Also note that paying models vary: Some are free, whereas some require a monthly or yearly subscription.
Image from Appigo, Inc.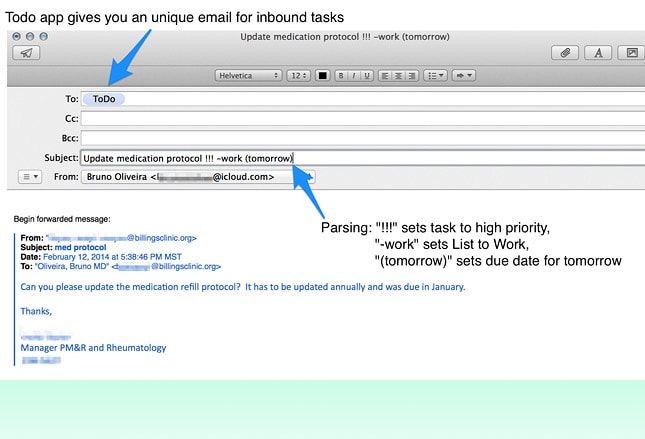 Staying Current With Medical News
Unfortunately, my favorite news reader (Google reader) was discontinued, and on the whole, feed readers (or RSS readers) didn't gain much traction because they weren't very user-friendly. I've moved on to simply using Twitter and Twitter-related apps to access medical news. Most medical journals and news organizations have Twitter feeds, and I use TweetDeck on my desktop to view and keep track of news. Twitter's own desktop app doesn't allow me to separate my news into different sections (eg, medical news, tech news). On my phone, I use Flipboard instead of Twitter's app for the same reason. Some folks are still using RSS readers, such as feedly, Feedler RSS Reader, and NewsBlur, but I've decided to cut my losses and move on, as it looks like RSS feed readers are living on life support.
Images from Tweetdeck, Inc; Flipboard, Inc.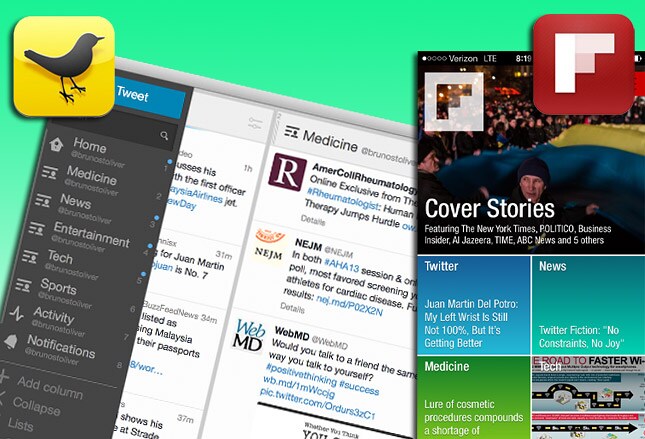 Staying Current With Podcasts
For those with long commutes, listening to podcasts is a great way to stay on top of medical news and information. I use Downcast and subscribe to podcasts from multiple medical journals -- including JAMA, New England Journal of Medicine, Annals of Internal Medicine, and the Lancet -- and to curated podcasts, such as the Medscape Rheumatology podcast.
Image from Jamawkinaw Enterprises LLC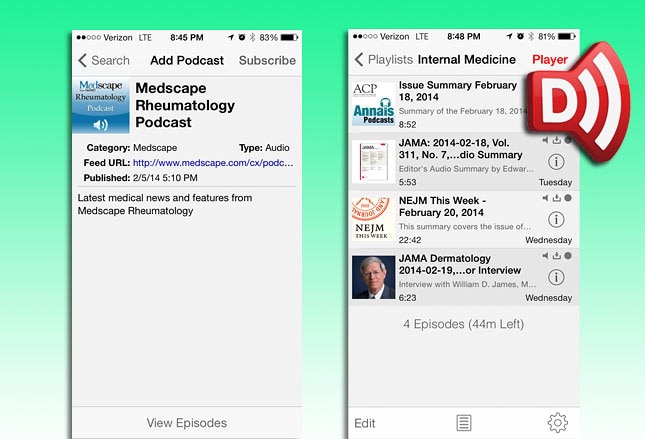 Universal Capture
I use Evernote® to keep track of almost everything! Here are some examples:
Going paper-free -- I scan receipts, medical bills, and other such items into Evernote. I used to be quite a hoarder of paper documents; now, I only have one drawer for documents I would rather not save online.
Keeping track of tax-deductible items using tags: When tax season rolls around, I just access everything tagged "Taxes."
Keeping track of confirmation Webpages, such as online purchases, airline tickets, and hotel confirmations.
Saving and organizing medical articles for future reference. I choose not to scan certain documents (such as Social Security cards or W2s) into Evernote. Even though they guarantee privacy, I prefer not to take any chances.
Alternatives: Springpad, Quip, OneNote® and SkyDrive® by Microsoft, Google Drive™ (formerly Google Docs), and iCloud®.
Images from Evernote; Instapaper Holdings, Inc.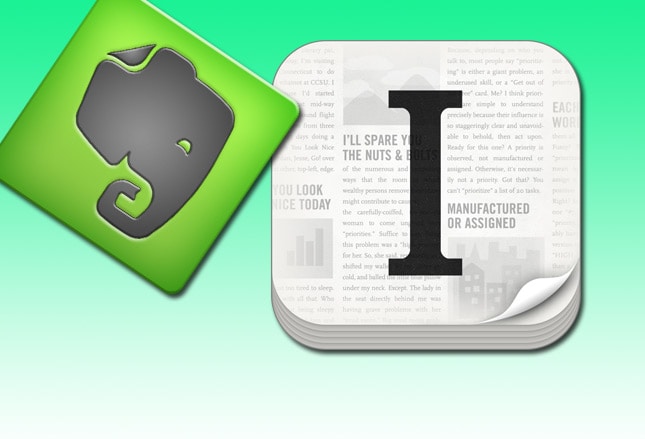 I'll Read It Later
Another app that I continue to use is Instapaper®. Although Evernote can serve as a "read it later" app, Instapaper offers more customizable views and more comfortable reading. For example, you can choose the font size, line spacing, and background color. There is even an option to scroll up or down (touch-free) by tilting the phone. Alternatives: Pocket (formerly Read It Later), Readability™, and the Reading List on Safari.
Image from Instapaper Holdings, Inc.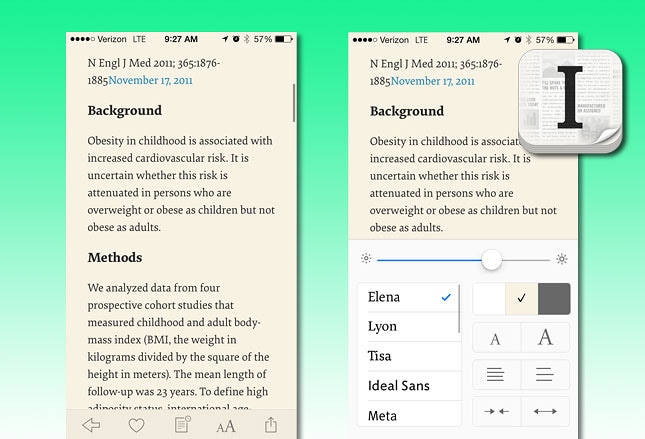 Syncing Files
Dropbox™ has survived the test of time for me. I started using it in 2010. It works by creating a folder in your computer that saves files online in a cloud server. Everything in the Dropbox folder is available to you on other computers and smartphones via the Dropbox mobile app. I put almost everything in Dropbox, but again, I choose not to sync certain sensitive documents. It speaks for their excellent service that Dropbox has held its own in this area against such big names as Microsoft, Apple, and Google. Alternatives: SugarSync®, Box™, iCloud, SkyDrive, and Google Drive.
Image from Dropbox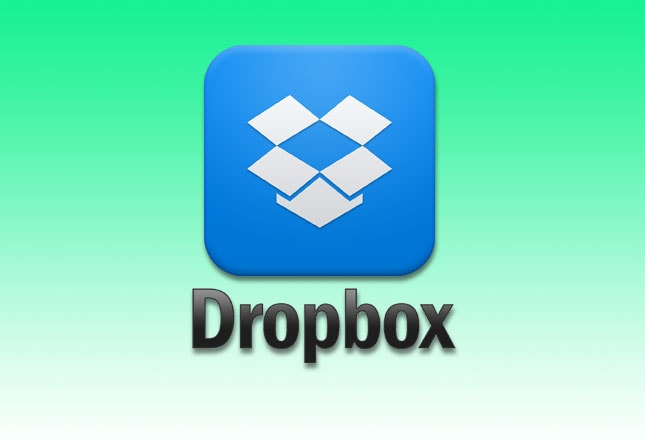 Password Management
It's almost impossible to remember passwords for so many Websites, unless you use the same unsafe password everywhere (which you should not!). With LastPass, you just have to remember one: the one to access LastPass. I save almost all passwords into LastPass. It comes with a handy browser extension that will fill passwords for you wherever there is a sign-in page. Some users are uneasy about saving passwords online; I am too. I do not save bank and credit card passwords into LastPass. I commit these passwords to memory. But for everything else, I use LastPass. It is also available as a mobile app, so the pesky task of entering password on a tiny mobile screen becomes much easier. In case you can't come up with any secure passwords, LastPass can generate random passwords for you. By the way, these were the most commonly used passwords in 2013: 123456, password, abc123, qwerty, 111111, and 000000. Alternatives: 1Password, RoboForm®, and KeePass.
Image from LastPass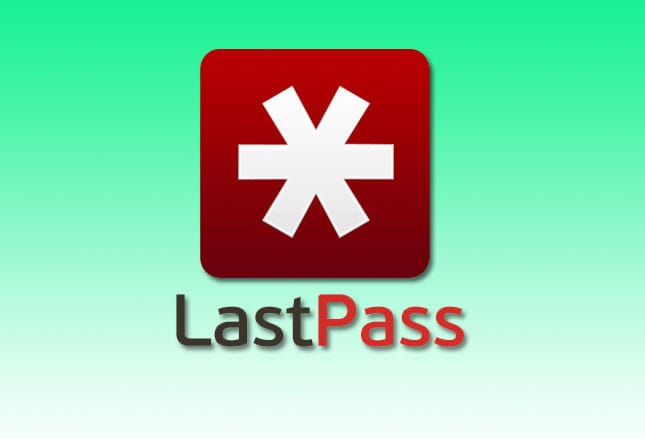 Browser Bookmark Syncing
Having your bookmarks organized and synced in different computers and mobile devices can be a great time-saver. I use Xmarks™ for this job. It is available for major browsers (Safari, Chrome, and Internet Explorer). Any computers or smartphones that have Xmarks installed and sign-in with your credentials will have your bookmarks ready. Alternatives: iCloud and Google Chrome Sync.
Image from Marvasol, Inc.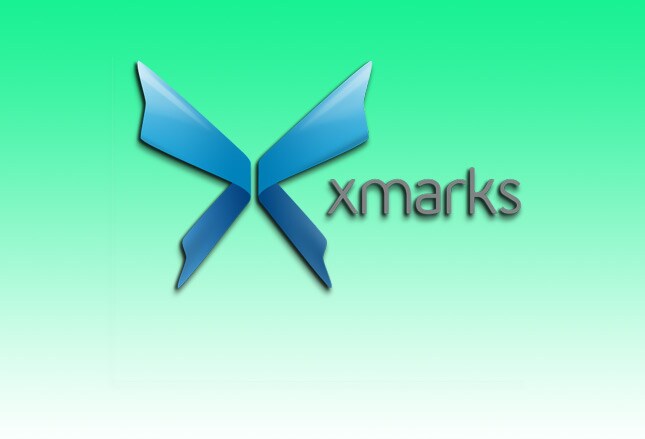 Point-of-Care Consultation
Full disclaimer: I did receive a fee from Medscape to write this article and will discuss their app here. However they did not influence my comments, and in my experience the app has a lot of useful features. For example, you can do the following with the Medscape app:
Check information on medications, including dose, side effects, interactions, formulary, and pregnancy risks
Read up on conditions -- summaries are written by specialists in the area and organized into Overview, Clinical Presentation, Differential Diagnosis, Work-up, Treatment and Management, and Follow-up.
Review procedure information, including indications, contraindications, anesthesia, equipment necessary, patient positioning, technique, and complications.
Use medical calculators -- I often use the corticosteroid conversion.
Get CME on-the-go!
Read medical news, although I also follow these on Twitter: @MedscapeRheum, @Medscape, and @WebMD, via TweetDeck and Flipboard.
Image from Medscape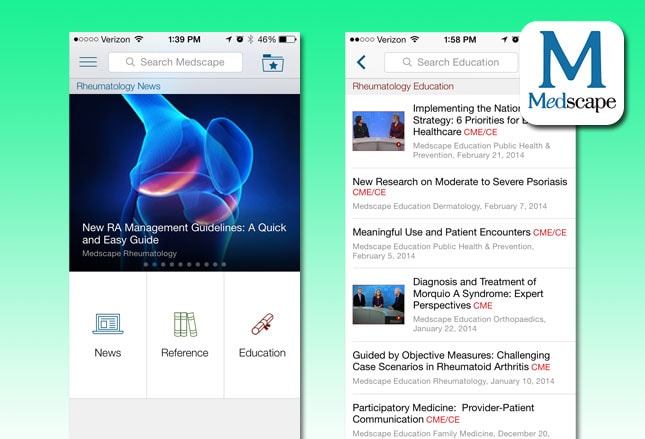 Differential Diagnosis
As a rheumatologist, I often have to think about comprehensive lists of differential diagnosis. I always try to come up with my own differential first; I then use a differential diagnosis app to check whether I forgot a disease. An app called Diagnosaurus® is a great differential diagnosis tool. The Medscape app can also be used to check differentials on specific conditions, as can Churchill's Pocket Book of Differential Diagnosis, offered by the Elsevier App Shelf. I also use an app called LabGear to generate differential diagnoses. I will admit that it is kind of backward. Nevertheless, in our current medical environment, we are often consulted when a lab value is found to be abnormal, and it can be helpful to look up what conditions can raise ferritin or parathyroid levels. If you are interested in following up patient scores over time and need to calculate complex scores, I suggest trying the Disease Activity Score calculator for rheumatoid arthritis patients and the MRSS (modified Rodnan skin score) to follow skin scores in scleroderma patients.
Images from Medscape; Unbound Medicine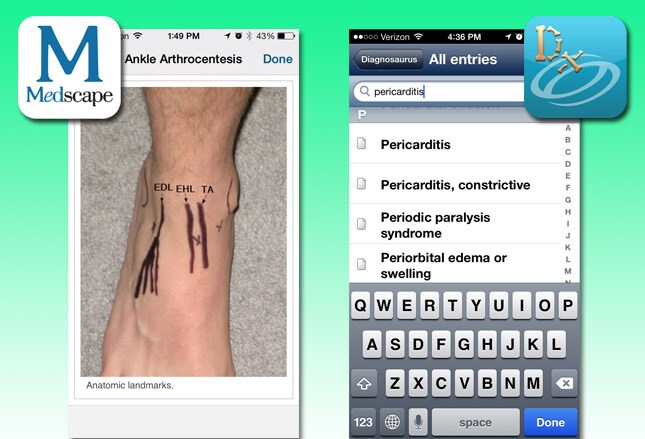 Encryption
I do scan and save certain sensitive files in my computer. Some examples are copies of passports, visas, Social Security cards, birth certificates, and wedding certificates. But I encrypt all of them and don't save them online. I save them outside my Dropbox folder, so they don't wind up in a cloud server. Depending on which software you choose, encrypting your files can be a very involved process. Nevertheless, it is worth it. If any of your original documents are lost or damaged, it is much easier to obtain a second copy if you have a picture of the original. I used TrueCrypt®. After installing the software in your computer, you will be guided through a series of steps for file creation and password generation. This password is not your typical "abc123." It should contain a minimum on 20 characters with a mix of numbers, uppercase and lowercase characters, and symbols. Alternatives: AxCrypt, 7-Zip™, and AES Crypt™.
Image from TrueCrypt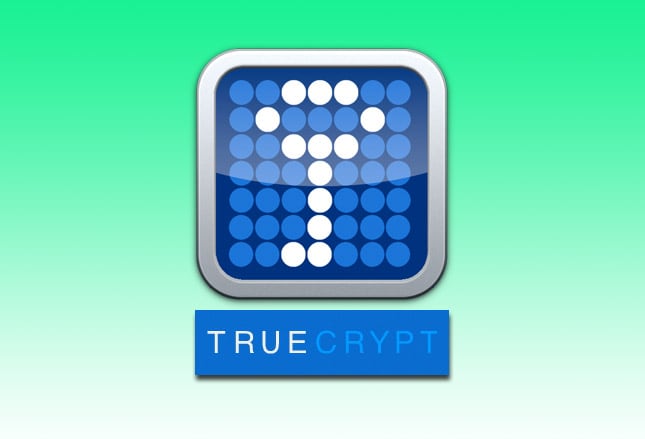 Remote Computer Access
Sometimes I want to access my home or work computer on the go. For instance, if I need to log into my electronic medical record (EMR) and I am not in the hospital or home, I can remotely access my home computer from my phone/tablet using LogMeIn®, then log into the EMR. Remote connections also allow you to access a work computer within the institution network, allowing external access to, say, restricted library content. For example, I will login to my work computer and save papers (eg, PDFs) into my Dropbox folder, and it will appear in my home computer or mobile device. I also access my work computer to read medical articles that are not in PDF format -- for this I use the Evernote Webclipper to save them into Evernote. As noted before, I can also use Instapaper for this purpose. Of course, consult with your IT department to make sure they don't have any objections to you remotely accessing their network. I recently discovered that LogMeIn discontinued their free offering, so I'm contemplating trying these alternatives: Microsoft Remote Desktop Connection (free), Teamviewer®, various VNC clients, join.me, and WebEx™. There's also Apple Remote Desktop, but it will set you back $79.99!
Image from LogMeIn, Inc.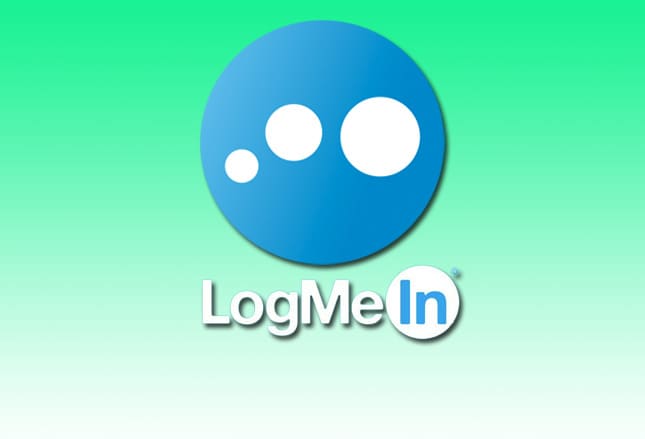 Screen Capture and Annotation
Sometimes, you may need to take screenshots from your computer screen. The most common situation this happens to me is when something goes wrong with the EMR, and I need to convey to the IT department what is going on. Both PCs and Macs already come with stock applications that can do this job, but these are pretty barebones. Skitch can do this job very easily while offering more functionality. It allows you to annotate over the picture with text, add arrows, circle things, and so on. Caution! EMR screenshots may contain protected patient information, so make sure you blur any identifiable information before sending the screenshots.
Image from Evernote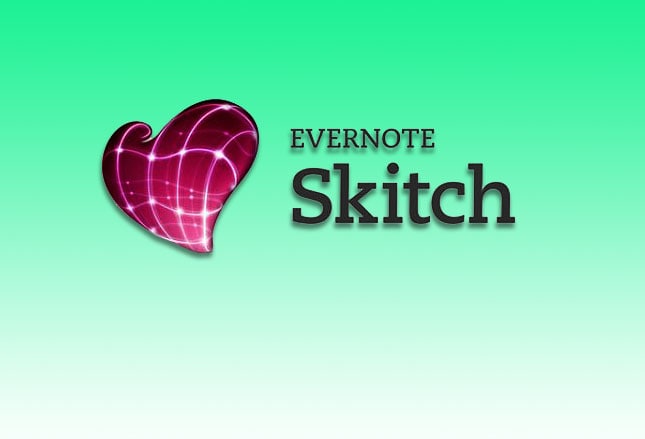 Text Automation
Automating text or sentences that you type frequently can be a great time-saver. Some EMRs have in-built text expansion options (sometimes referred as "macros"). If you want a more system-wide approach, there are several softwares that can perform this task. The first step consists of creating a string (which can be a short word of 3-4 letters) and typing a sentence to replace the string. Then, you will need to choose a trigger event, such as hitting the space bar, tab key, or esc key. Once you type the saved string followed by the trigger key, the whole sentence replaces the string. I have used TextExpander® on the Mac for a few years, but it seems that aText may have a better price value. Both are also available as smartphone apps. Alternatives: PhraseExpress (Windows), Texter (Windows), and OS X built-in text expansion.
Image from SmileOnMyMac LLC