Top News From ACC 2015: Slideshow
Steve Stiles; Darbe Rotach; Allison Shelley; Michael O'Riordan; Deborah Brauser; Marlene Busko; Megan Brooks
March 26, 2015
Results from the latest clinical trials and vibrant discussions on issues confronting cardiology greeted attendees at the American College of Cardiology 2015 Scientific Sessions, held March 14 to 16, in sunny San Diego, California. Among the highlights:
PEGASUS: Ticagrelor tussle of reduced events vs bleeding for MI secondary prevention
MATRIX: Radial PCI cuts major bleeding, death in ACS patients
PROMISE: CTA not the holy grail once thought for suspected CAD testing
LEGACY: Atrial-fibrillation symptoms may improve with weight loss
PARTNER cohort A: data at 5 years confirm TAVR benefit
CSPPT: Folate supplements lower first stroke risk
Studies trumpet long-term efficacy of PCSK9 inhibitors
Does testosterone-replacement really raise CV risk?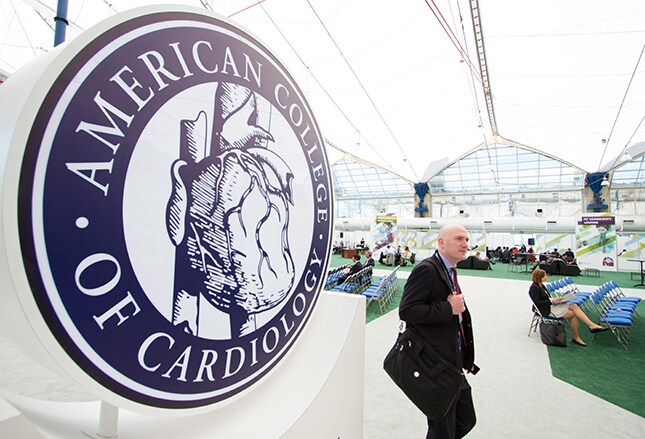 PEGASUS: Ticagrelor Tussle of Reduced Events vs Bleeding in MI Secondary Prevention
Patients who had an MI about 2 years earlier and were randomized to receive ticagrelor (Brilinta, AstraZeneca) plus aspirin had a 15% lower risk of MI, stroke, or CV death compared with patients who received placebo plus aspirin during a median of 33 months in the PEGASUS-TIMI 54 study. However, there was a higher risk of clinically significant bleeding and transfusion with ticagrelor, as well as dyspnea, and roughly 30% of patients discontinued the drug. Nonetheless, "long-term dual antiplatelet therapy with low-dose aspirin and ticagrelor should be considered in appropriate patients with a myocardial infarction," said Dr Marc Sabatine (Brigham and Women's Hospital, Boston, MA) in presenting the findings in a late-breaking clinical-trials session.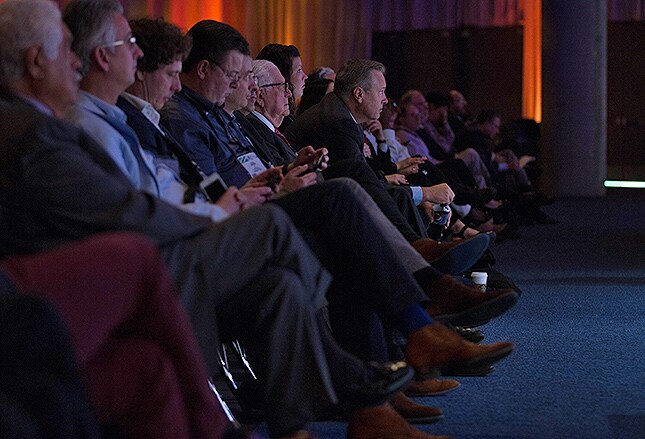 MATRIX: Radial- vs Femoral-Access PCI Reduces Major Bleeding, Mortality in ACS
PCI performed via the radial artery resulted in a statistically significant 33% reduction in the rate of major bleeding and a significantly 28% reduction in all-cause mortality in the MATRIX study. The MATRIX study was a randomized multicenter superiority trial comparing transradial vs transfemoral access in 8404 patients with ACS, 48% of whom were STEMI patients. The results of the study are so compelling that radial access should be the first approach for interventionalists treating ACS patients undergoing invasive management, said lead investigator Dr Marco Valgimigli (Erasmus Medical Center, Rotterdam, the Netherlands) in a late-breaking clinical-trials session. Dr Sanjit Jolly (McMaster University, Hamilton, ON), a proponent of the radial approach for many years, agreed. "I think that this will now be the study to, perhaps, change guidelines to make radial access the default approach," he said.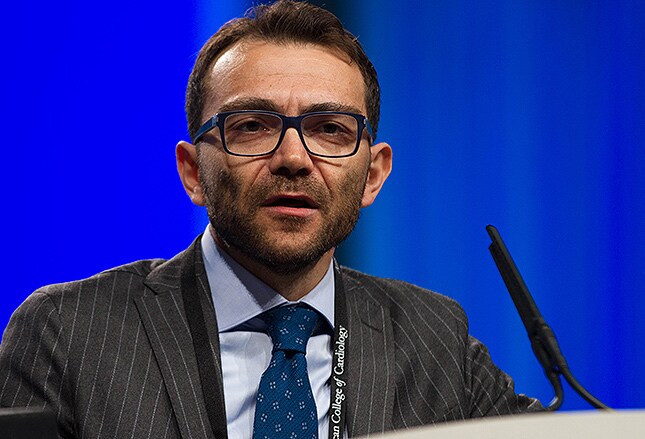 CTA Does Not Reduce Hard Events Compared With Functional Testing Strategy
A clinical strategy of anatomic testing with coronary computed-tomography angiography (CTA) did not significantly improve clinical outcomes among patients with suspected coronary artery disease when compared with a strategy of functional testing in the PROMISE study, led by Dr Pamela Douglas (Duke Clinical Research Institute, Durham, NC) and presented here with simultaneous publication in the New England Journal of Medicine. Dr Daniel Mark (also from Duke), who conducted an economic analysis of PROMISE, said, "It does appear, as hypothesized, that CTA allows a more efficient use of downstream catheterization." On the whole, he said that CTA might not be the holy grail it was once hoped to be—that being the complete solution for diagnostic testing—"but its more liberal use following the PROMISE standards will definitely improve some aspects of care without causing the economic Armageddon in the healthcare system."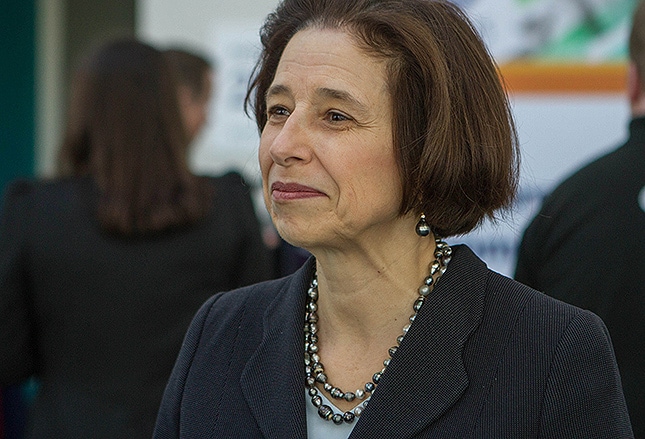 LEGACY: Long-term Weight Loss Decreases AF Symptoms
Obesity and AF often coexist, and structured programs that promote healthy eating and behaviors for long-term weight loss may spell relief from AF symptoms, suggests new research presented during a late-breaking clinical-trials session and simultaneously published in the Journal of the American College of Cardiology. The study included more than 300 adults with AF and a body-mass index (BMI) of at least 27 kg/m2. The subgroup that had at least a 10% weight loss 1 year after completing a physician-led management program had more reductions in severe symptoms of AF than the groups who lost less weight. They were also six times more likely to achieve arrhythmia-free survival. "Weight-loss is associated with a dose-dependent reduction in AF burden," write the investigators, led by Dr Rajeev Pathak (University of Adelaide and Royal Adelaide Hospital, Australia). They note, though, that weight fluctuations can lead to adverse effects.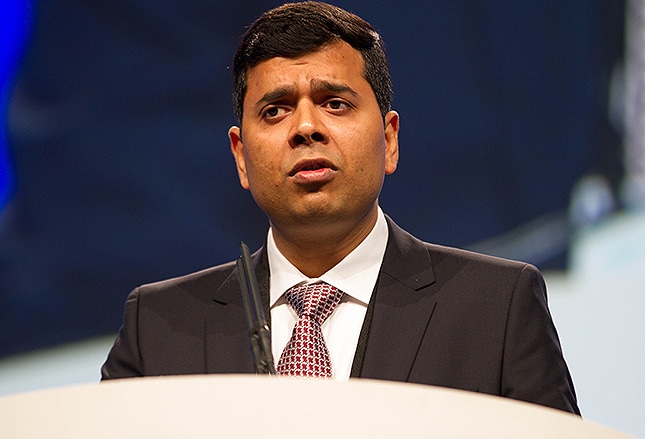 Treating Sleep Apnea May Cut 6-Month Acute-HF Rehospitalization
In a small study of 70 patients with acute decompensated heart failure found to have sleep apnea soon after hospital discharge, those who were compliant with continuous positive airway pressure (CPAP) treatment were less apt to return to the emergency room or be readmitted within 6 months, reported Dr Sunil Sharma (Thomas Jefferson University and Hospitals, Philadelphia, PA). This study adds to the growing body of evidence identifying sleep-disordered breathing in HF patients as a significant risk factor for clinical outcomes in patients with different forms of HF, Sharma said. "I think it is a very strong signal that there is underlying sleep-disordered breathing in the vast majority of these patients, and it is untreated," Sharma added. "If we were to intervene early and treat these patients, we would substantially lower the amount of readmissions, which would be a huge cost saving."
Image from iStock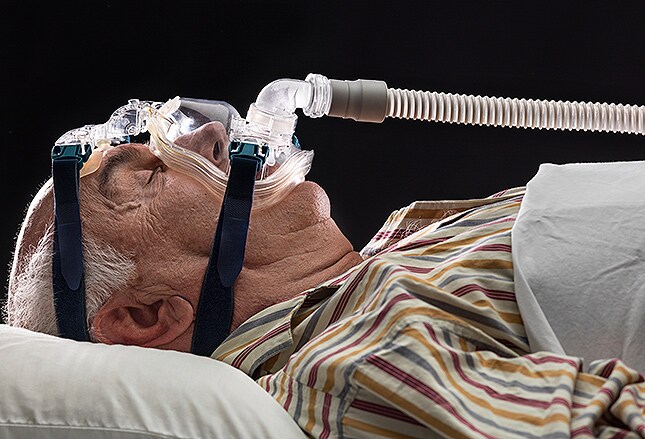 Folate Supplementation in HTN May Lower Risk for First Stroke
The China Stroke Primary Prevention Trial (CSPPT), which included more than 20 000 adults with hypertension and no history of MI, showed that daily treatment of 10-mg enalapril plus 0.8 mg of folic acid for 4.5 years reduced the risk of first stroke by 21% compared with enalapril alone. The folic-acid/enalapril group also showed significant risk reduction in first ischemic stroke and a composite of CV events. "We believe these findings are universal. They're applicable not only to the Chinese population but also populations throughout the world, including the United States," said Dr Yong Huo (Peking University First Hospital, Beijing, China), who presented the results.
Image courtesy of Deborah Brauser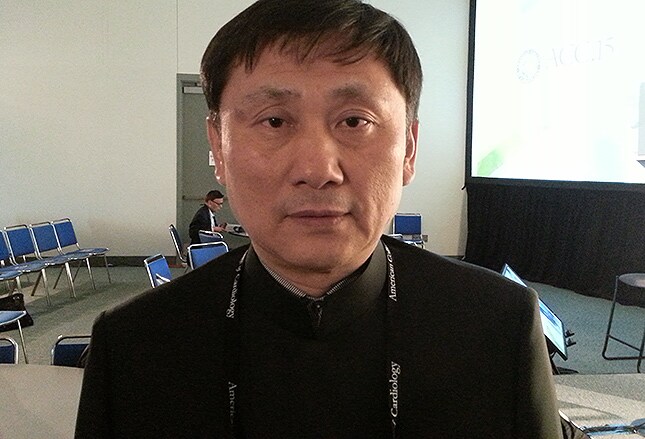 Studies Trumpet Long-term Efficacy of PCSK9 Inhibitors
Positive long-term efficacy results for two investigational PCSK9 inhibitors greeted attendees this year. In the OSLER-1 and OSLER-2 trials, evolocumab (Repatha, Amgen) plus standard therapy cut LDL cholesterol by 61% after 11 months of use vs standard therapy alone. Exploratory analysis also showed a reduced incidence of CV events. In the ODYSSEY Long Term trial, high-risk patients with hypercholesterolemia who received alirocumab (Sanofi/Regeneron) plus statins for up to 78 weeks had consistently lowered LDL-C levels compared with those receiving placebo plus statins. Post hoc analysis also showed lower rates of adverse cardiac events. "We now have many studies in a variety of different populations where we've seen the ability of these drugs to significantly reduce LDL cholesterol," said OSLER lead author Dr Marc Sabatine (Brigham and Women's Hospital, Boston, MA). "And all the data we have point to the fact that the reduction in clinical events is tied to the reduction in LDL cholesterol," he added.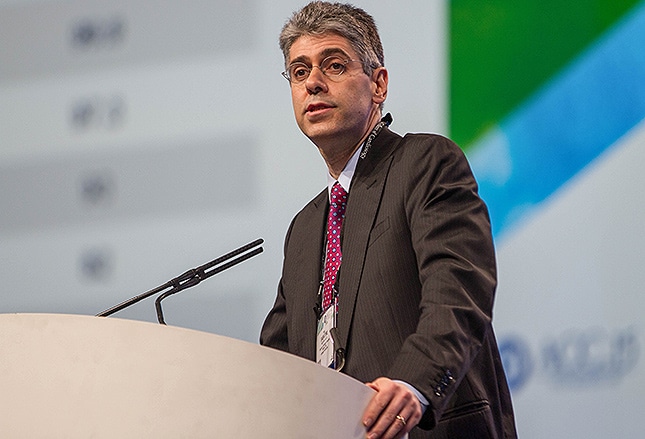 Testosterone Might Not Increase Risks of Cardiovascular Events
Two new studies muddy the waters on the potential cardiovascular risks previously linked to testosterone-replacement therapy in men, with both studies suggesting the therapy might not cause the cardiovascular harm suggested in previous analyses. The first study included 7245 men with low testosterone levels from 15 hospitals and 150 clinics. After adjustment for baseline differences between the treated and untreated patients, the difference in the cardiovascular event rate was not statistically significant. In the second study, a meta-analysis with more than 122 000 men, testosterone therapy was not associated with a significantly increased risk of adverse CV outcomes. Earlier this month, the US Food and Drug Administration warned about the potential CV risks with testosterone therapy. Dr Pawan Patel (Regions Hospital, St Paul, MN), lead investigator of the meta-analysis, believes the FDA warning might be premature.
Image from Science Source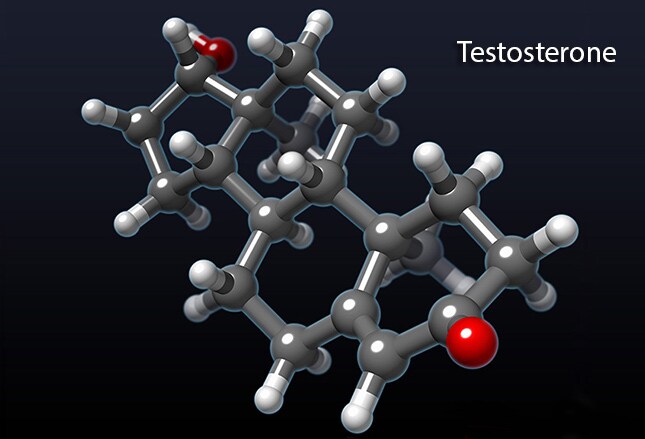 Five-Year PARTNER Cohort A Data Confirm TAVR Benefit
Five-year results from the PARTNER cohort A study showed transcatheter aortic-valve replacement (TAVR) in high-risk patients with aortic stenosis achieved similar long-term clinical outcomes compared with patients who underwent surgical aortic-valve replacement. The mortality rate was 67.8% in the TAVR arm compared with 62.4% in the surgical valve-replacement arm, a difference that was not statistically significant, reported Dr Michael Mack (Baylor Scott and White Health, Plano, TX). The results were presented during the late-breaking clinical-trials session and published online simultaneously in the Lancet. The 5-year findings "challenge whether surgery can still be considered the gold standard for patients at high surgical risk," Dr Arte Kappetein (Erasmus University Medical Center, Rotterdam, the Netherlands) wrote in a linked editorial.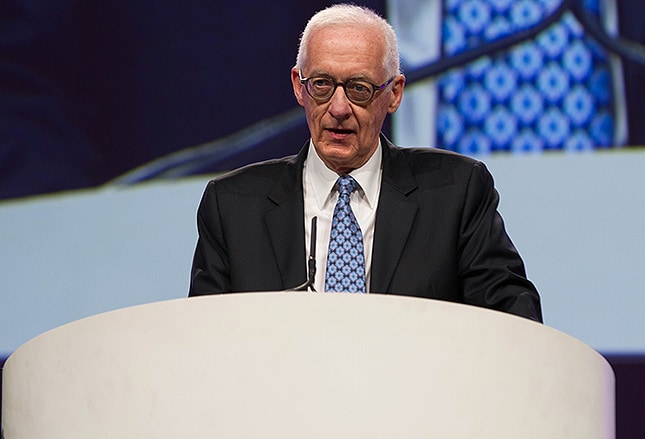 CTA Increases Certainty of Angina Diagnosis and Alters Planned Treatment
For chest-pain patients, the use of coronary computed tomography angiography (CTA) helps reclassify the diagnoses of coronary heart disease and angina compared with standard clinical care, according to results of the Scottish Computed Tomography of the Heart Trial (SCOT-HEART). Overall, 4146 patients assessed for new-onset chest pain were assigned to CTA plus usual care or usual care alone. In the clinic at baseline, 47% of patients had a diagnosis of coronary heart disease and 36% had a diagnosis of angina due to coronary heart disease. At 6 weeks, use of CTA reclassified the diagnosis of coronary heart disease in 27% of patients and the diagnosis of angina in 23% of patients. Adding CTA to usual care changed planned investigations and treatment options and was associated with a trend toward a reduction in fatal and nonfatal MI.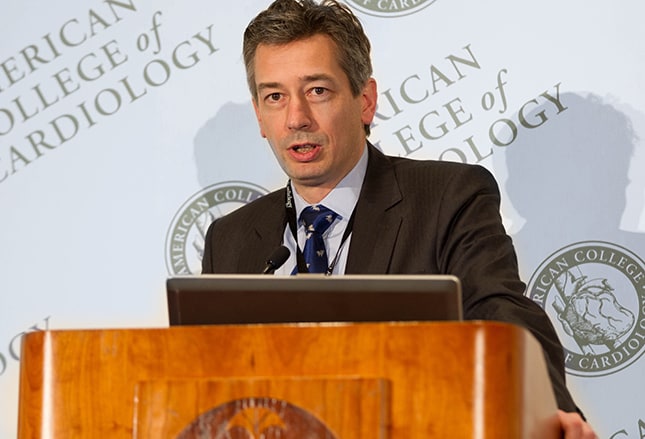 Antidepressants, Statins Have Separate Impact on CV Mortality
Among nondepressed or mildly depressed patients, statin use was tied to a lower risk of major adverse CV events at 3 years; however, in outpatients with newly diagnosed moderate to severe depression, antidepressant therapy was tied to a lower risk of this outcome, a study shows. "We hypothesized that taking both statins and antidepressants would reduce cardiovascular risk more than either medication alone," said Dr Heidi Thomas May (Intermountain Medical Heart Institute, Murray, UT). "However, we did not find this. Instead we found that the effectiveness of antidepressants and statin therapy to reduce death and incident cardiovascular disease at 3 years varied by the severity of depressive symptoms." This study reinforces the importance of treating depression, since it is linked with worse cardiovascular disease outcomes, she added.
Image from iStock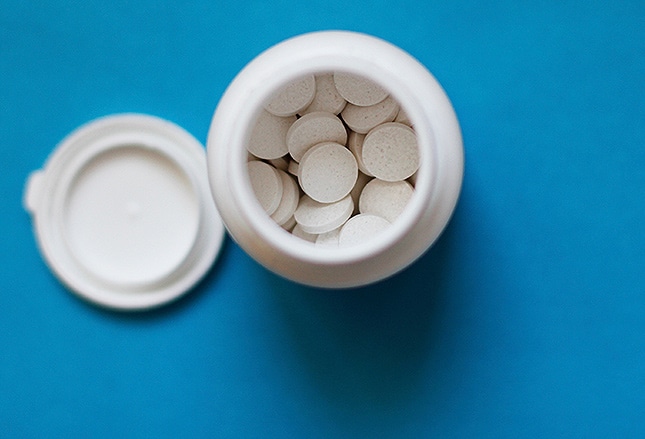 Too Much Sitting May Up Risk of Coronary Artery Calcification
Each added hour spent sitting was associated with a 14% increase in coronary artery calcium (CAC) score, independent of traditional risk factors, in middle-aged adults without cardiovascular disease participating in the Dallas Heart Study. "Our study contributes to the growing body of evidence whereby health consequences of 'sitting too much' appear to be distinct from those of 'too little exercise,' and [it] suggests that increased subclinical atherosclerosis may be one of the mechanisms through which sedentary behavior increases CV risk," said Dr Jacquelyn Kulinski (Medical College of Wisconsin, Milwaukee). "As [healthcare] providers, we really have to start thinking about 'lack of exercise' and 'too much sitting' as two distinct [cardiovascular] risk factors," she stressed.
Image from iStock